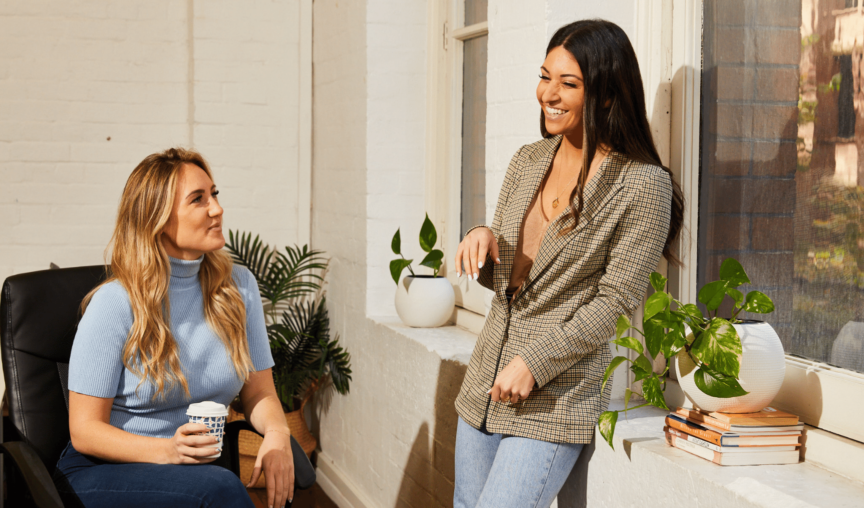 The future of recruitment is transforming. The future of recruitment is huge. The future of recruitment is global…. Are you ready?
After two challenging years of employment insecurity, employees are ready to make their move. Although business confidence is improving and money is starting to flow through the economy once again, employees are feeling the strain and burnout of the last few years.
We're now seeing a unique storm of motivators causing employee movement. We know that many employees are being forced to return to the office and they're feeling like their loyalty throughout the pandemic isn't being recognised.
As a result, they're looking for a change of scenery and asking themselves; is there something better for me out there?
In this article, we're not talking about the 'why' when it comes to employee movement. Instead, we're looking at how you can leverage the situation to have your best recruitment year ever.
What is talent sourcing?
Talent sourcing is the process of finding and attracting exceptional and qualified candidates for your open roles. It requires hiring managers and HR to be actively pursuing and seeking candidates rather than just waiting for potential applicants to come to us.
When HR uses a strong talent sourcing strategy, they take a more active role in finding the kind of quality candidates that they really want. They don't just post job ads on job boards and hope for the best.
They work on sourcing candidates for the role and help the potential candidate realise that, even if they weren't actively searching for a new role, that they should make a move.
How can businesses create a talent sourcing strategy?
A classic talent sourcing process would include things like uploading job ads to different job boards or cold contacting (contacting someone without an introduction) people that you believe would be a good fit for the role.
But, such a competitive job market demands a little bit more.
HR and hiring managers need to be more strategic when they are sourcing candidates moving into 2022.
To capture the attention of the best candidates, you need to think outside the box.
Read more: When should you hire an HR manager?
13 creative ways to source top talent and broaden your talent pool
1. Network meaningfully
Networking can sometimes have a bad reputation, but it doesn't have to feel forced. When you're networking for new talent, you're in a great spot because you're not pursuing opportunities, you're sharing opportunities for current and future positions with potential candidates.
Attend local events, meetups, job fairs, and participate in online events. When it comes to having conversations, be authentic. Remember, it may be professional, but it's important to be friendly and have fun. This will reflect well on yourself and the business.
Arm yourself with conversation starters that showcase your personality; light-hearted anecdotes will serve you far better than a rehearsed elevator pitch. Avoid overusing buzzwords and technical jargon, ask meaningful questions and listen.
After the event, always remember to follow up and make a note of your interactions with the person. You've just made a new contact that could be interested in future positions.
2. Leverage your employees
When it comes to a talent acquisition strategy, an employee referral program is one of the most powerful tools in your arsenal. Asking your staff to become advocates of your business can help you tap into quality talent within their extensive professional networks, and help you boost your appeal as an employer.
Through incentivised employee referral programs, businesses can leverage their own teams' networks and turn team members into advocates for working at the business. It's a great, personal way to source the best talent that hiring managers otherwise wouldn't have access to.
According to the job site CareerBuilder, 82% of employers rated employee referrals above all other sources for generating the best return on investment for recruitment. Employees hired through referrals also come into the candidate pipeline 55% faster than those sourced through career sites.
Are you looking to set up an employee referral program for the first time? Our employee referral outreach template can help you get started.
3. Approach passive candidates
A passive candidate can be defined as a person who is not actively seeking a new job. However, a hiring or HR manager identifies that this person could be the right fit for an open role at another company.
Passive candidates often have a wealth of experience or knowledge in niche areas or have highly sought-after skills.
Highly qualified talent would have had their inboxes overflowing recently due to the Great Resignation, so cold contact is not always the best way to approach prospective candidates. Try seeking a 'warm introduction' instead.
A 'warm introduction' is where you find someone in your network who knows your ideal candidate. Reach out to this mutual person to see if they could facilitate an introduction.
This creates a better pathway for the candidate and fosters a sense of trust before you've even let them know about the role.
If you have zero mutual contacts, cold contacting is still worth a try. Use our passive candidate outreach template for the best chance of candidate engagement.
4. Keep candidates 'warm'
Speaking of warm – have you ever had two fantastic final candidates for a role, but one of them won the role by a small margin? The other candidate could become a 'warm' candidate, and be part of your talent pipeline.
In order to do this, HR needs to be strategic when they let the candidate know they haven't been successful in getting the role. When you're calling the person to let them know they haven't been successful, you might say;
'While you haven't been successful for this particular role, the whole hiring team were really impressed with your knowledge of [specific skill] and we believe that you would be a great fit for our team. We have some open positions coming up in the near future, are you happy for me to reach back out soon with the details?"
If the person agrees to keep in touch, you now have a warm candidate in your talent pipeline. Make sure that you contact them as soon as anything relevant comes up.
Read more: Template for creating job descriptions
5. Advertise in unlikely places
Are you sure that your job ads are reaching the right candidate? While it can be easy to use channels like LinkedIn or online job boards, the right talent pools actually might be more active on channels like Github or Stack Overflow. If you're looking for local talent, you might have some luck advertising job ads in the local paper.
You might also need to seek great candidates abroad to widen your talent pool. Hiring internationally can seem a little daunting at first, but with a service like an employer of record, you can have the international compliance and payroll easily taken care of. Learn more about hiring tech and sales talent overseas.
Read more: Ways to make your job ads stand out
6. Find PR opportunities for your leaders
PR shouldn't just apply to promoting your product or service, it can also help you elevate the profile of your company leaders. It's a key part of recruitment marketing that can often be forgotten about.
There are lots of leadership and business publications, media platforms and podcasts that are always on the lookout for knowledgeable guests. You might even be able to nab a spot on a webinar series or panel for a similar business in your industry (if they're a non-competitor).
Getting your leaders' faces out there really boosts your business but also your employer profile. Passive and active candidates can begin to put a face and personality to your company, aligning their own values and career goals.
7. Create a unique employee value proposition (EVP)
The talent sourcing game has changed drastically over recent years. Compensation is not the only part of the decision-making for qualified candidates in the market.
This is where creating an EVP can help with the talent acquisition strategy.
What is it that makes working at your business a unique experience for your employees? When you go beyond employment and a salary; what else makes working for your business special?
Its perks, benefits and programs. It's business values, vibe and structure. All of these things make up your EVP.
Your EVP should be unique to your business. If it isn't, 2022 is the time to bolster it. What additional rewards, benefits or programs could you introduce that make your business a place that potential candidates just can't say no to?
Employment Hero can help boost your EVP and give you solid foundations to build on with your own flair. Learn more about what employee benefits you can offer.
8. Design creative expressions of your EVP
Sometimes when you're trying to attract new talent, you have to think like a marketer to get in front of the eyeballs of the right talent. Get some ideas from your marketing team about how to make some creative content around your EVP and team culture.
Members of your team could write a blog or article about what it's like to work at your business or their employee experience around a certain theme. For example, I wrote a blog about my Employment Hero experience and posted it directly on LinkedIn.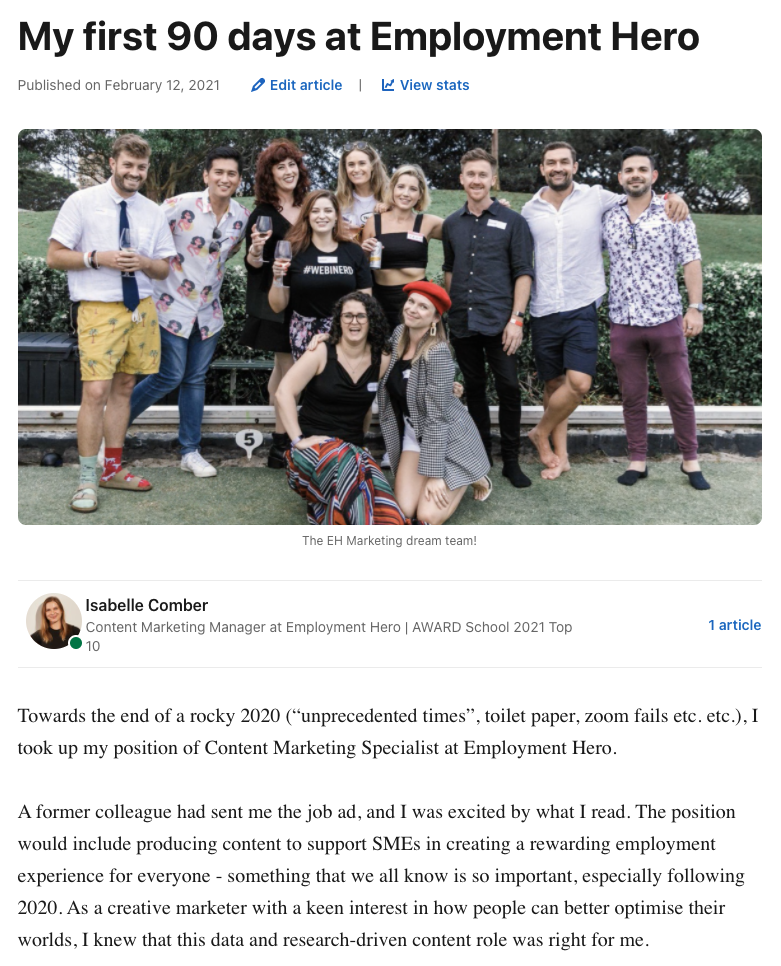 A visual representation of what working for your business is like is also an absolute must. Whether it's a photo of a work event or a more creative execution of workplace life and values, there are lots of ways that imagery can help tell your story.
Here's a silly example of 'Employment Hero Bingo' that our designer made for social media to creatively show some of the day-to-day fun we have.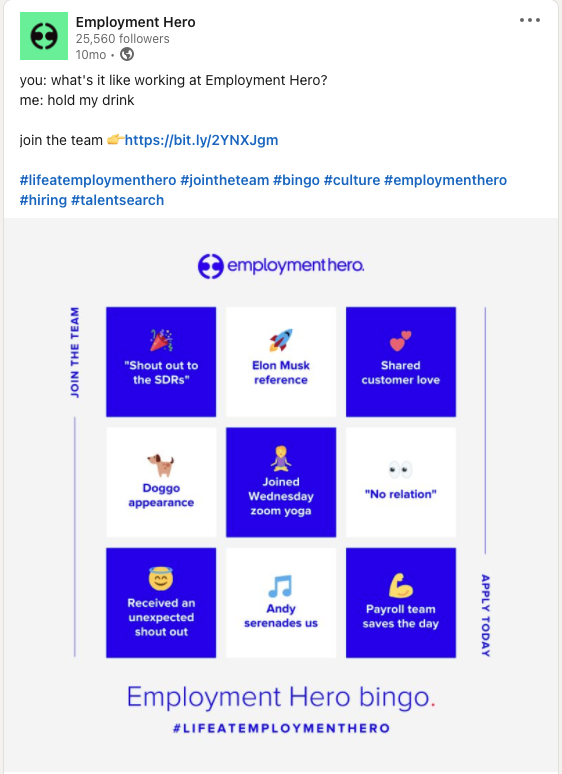 9. Develop employer branding
It's a harsh truth, but if you don't shout about your EVP, all of your efforts putting it together go to waste when attracting new candidates. This is where employer branding comes in.
Employer branding is the voice and image of your business as a workplace. It captures the vibe of your employee experience and tells the world who you are as an employer and your reputation. It's everything when it comes to promoting your EVP.
To develop your employer brand, ask yourself questions like;
Are our potential candidates active on LinkedIn? Are they looking at what others in their network are sharing?
Do they have Facebook and Instagram accounts? Are they often exposed to advertising on these channels?
Are there any influencers that they follow? Who do they look up to?
Where would they look for job opportunities? Would it be LinkedIn, Seek, Indeed, a company's own social media channels or a newspaper?
What is most important to our candidates? What would win them over?
Read more: Checklist for a great candidate experience
10. Encourage working flexibility (and actually mean it!)
Let's face it. No one loves the idea of being chained to their desk in the office. It's all well and good to say you're a flexible workplace, but it's another thing to actually mean it. You need to live and breathe it. This is where it's important to lead by example.
Describe how your workplace supports flexible working by providing examples in job descriptions. Whether it's leaving early for a doctor's appointment, ducking out for a gym session or taking the kids to a soccer game, empowering your team to choose where and when they work is an attractive thought and can instantly expand your talent pool.
Looking for more information on how to be a flexible workplace? Take a look at our guide to implementing a flexible work policy.
11. Champion a culture of diversity and inclusion
According to our Gen Z at work report, 13% of Gen Z workers say that people and culture are their top priority when considering a new job.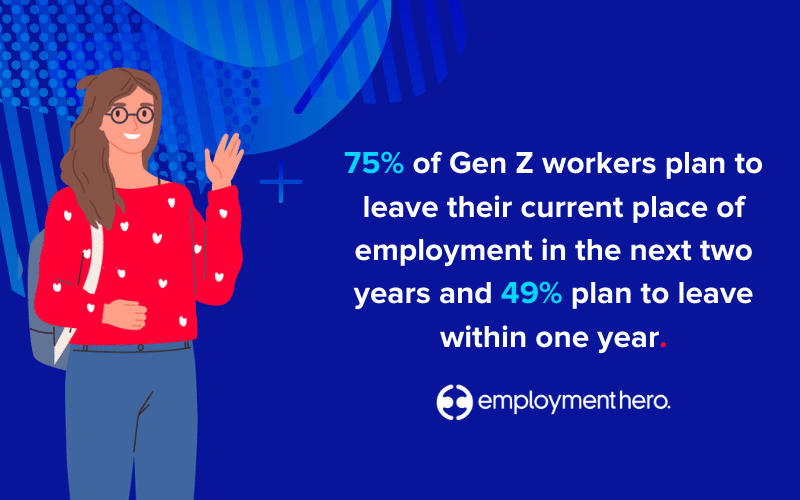 With the younger generation entering the workforce, there's never a better time to look at your company culture and work on diversity and inclusion in the workplace.
For Gen Z, work isn't just a means to make ends meet. It's also an experience. 75% of Gen Z workers expect their employer to provide mental health tools or strategies.
Building a positive company culture isn't just trendy, it's essential for attracting and retaining Gen Z workers. Think creatively about how you can value employees, as individuals and as a team.
12. Use an Applicant Tracking System (ATS)
This might not be the most creative suggestion on this list, but it's absolutely essential to the recruitment process and is often overlooked.
What's your standard recruitment process at the moment from the candidate's point of view? How long does it take job seekers to get from applying for the role to being offered the position?
It's not unusual for a quality candidate to have to go through a screening call, 3-4 rounds of interviews and complete a task as part of their recruitment process.
During that time, there's lots of administration happening on the other side, as internal stakeholders swap feedback and manually move candidates through the funnel.
There's a common recruitment statistic to remember here; the best talent is off the market within 10 days. A robust talent pipeline is crucial in capturing target candidates.
From your candidate's point of view, try to keep the entire talent pipeline to a minimum, don't make them jump through any hoops.
An applicant tracking system (ATS) can help dramatically reduce admin on the backend. Easily move your candidates through the pipeline, from application to interviews to onboarding.
Our ATS recruiting software provides a singular source of truth for all stakeholder feedback and allows you to easily track candidate progress from your Employment Hero account.
13. Allow employees to be 100% remote
When you think of expanding your talent pool, you know that changes will need to occur to accommodate candidates. Gone are the days of being bound by borders or being chained to your desk.
By allowing your team to be 100% remote, you'll be able to engage with talent all across the globe – no matter their location.
This instantly opens up your talent pool and puts you ahead of the competition. If you want to access the best talent the world has to offer, you should consider the remote first approach to work.
Want to learn more? We've created this comprehensive remote working playbook that will take you through everything you need to know.
Use an Employer of Record to expand your talent pool globally
What if we told you there was an easy way to hire the best talent from anywhere in the world?
That you don't have to deal with setting up a separate entity in a different country to access that talent?
And that everything will be set up compliantly in line with local government laws?
*Drumroll…* It's all possible with a professional employer organisation (PEO). With a PEO, businesses no matter how big or small can tap into the biggest talent pool the world has ever seen.
This means that businesses can now access top talent, no matter where they live. With Employment Hero's Global Team service you can:
Hire top talent from anywhere in the world
Feel confident you're complying with local legislation (for example, hiring NZ employees)
Boost company culture as everyone will feel part of the team
💡 Did you know that Employment Hero has its very own professional employer organisation service? Global Teams allows businesses to easily hire anyone, anywhere in the world.
Interested? Book a demo today with our HR specialist.
The ultimate recruitment and onboarding guide