Create a company culture like no other
Everyone should enjoy work. Create a work culture your team loves. Give them what they want and create loyalty now – and for many years to come.

Keep your team strategically aligned
Different teams? Different locations? Different goals? Not a worry. Get – and stay – on the same page company-wide with our suite of strategic alignment features.

Build and maintain trust company-wide
Employee monitoring? It's not needed. Your team are your cheerleaders. Your champions. Instill the trust they deserve so you can focus on output over hours.
Boost your employer brand for free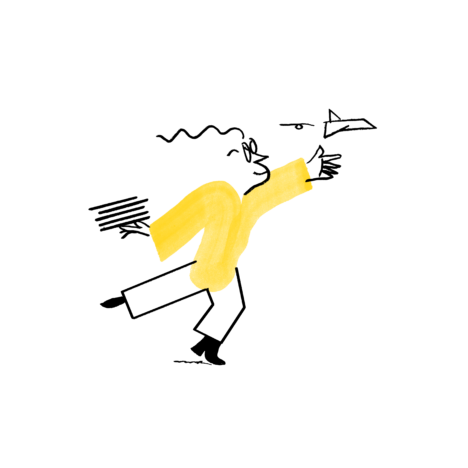 Build a compelling employer brand
Compete for great talent with exclusive perks and benefits only large corporates could offer.

By using Employer Hero software, your employees get access to a world of benefits included free within the Swag app. Perks like InstaPay, Swag Spend account, the Swag Store and up to 20% Cashback offers are all available at no extra cost.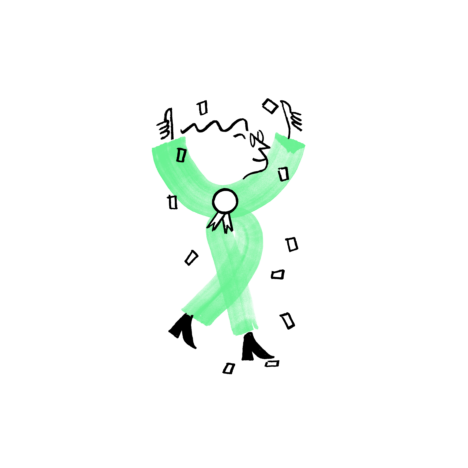 Reward top-performing employees with Hero Dollars.* Purchase and award Hero Dollars to be used by employees like real cash in the Swag store. Employees can also redeem their Hero Dollars using their Swag Visa Debit card, so they can spend their Hero Dollars anywhere and anytime they choose.

The best bit? An issue of Hero Dollars may be exempt from employer fringe benefits tax!*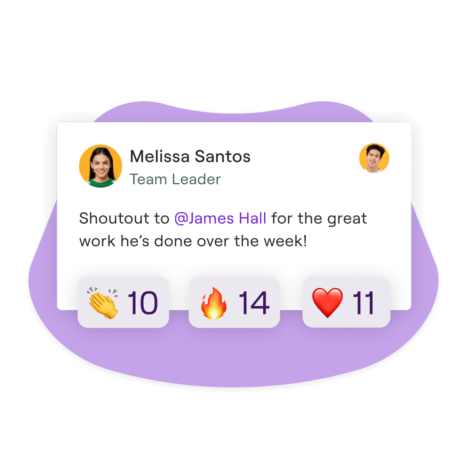 Great work should never go unnoticed. Lift the energy of your workplace with peer-to-peer recognition - everyone loves feeling appreciated. Thank your team for their hard work.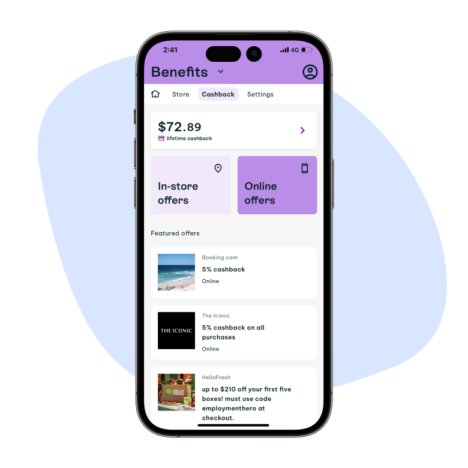 Cashback offers and the Swag store
Reward your employees with up to 20% cash back on top brands like: Hertz, The Iconic, Hello Fresh, booking.com and more.

Offer generous savings to employees in the Swag store on gift cards from Uber Eats, JB Hifi, Big W, Myer, Dan Murphy's and more.

Employees can find the Swag store and Cashback offers in the Swag app under Benefits.
InstaPay is an Earned Wage Access product that gives users early access to their earned wages before payday. For a $3-$4 fee** per transaction your employees can request up to 50% of their earned wages, which is capped at a maximum of $250 per week.

Because it's money they've already earned, there's no interest, credit or late fees involved.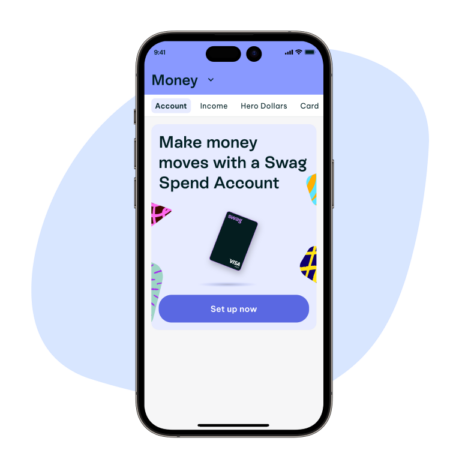 The Swag Spend account is a feature within Swag that enables employees to manage their money, earn Cashback on everyday purchases, and budget better.

The Swag Spend Account also includes a linked Visa Debit card that can be used with Apple Pay and Google Pay.

With the Swag Spend Account feature, you can give your people the tools to tackle their finances and help lower the cost of living.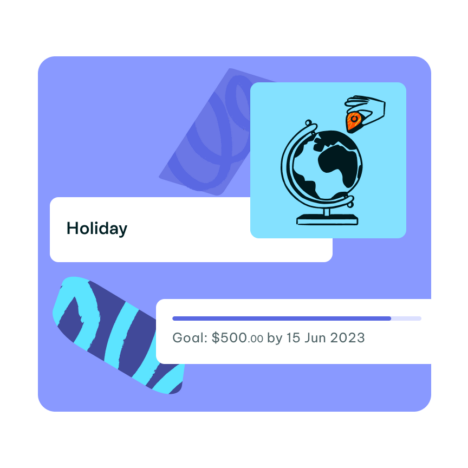 Users who have set up a Swag Spend account will be able to open up to nine sub-accounts to transfer and allocate funds from their main Swag Spend account.

Stash accounts can be used to budget - split savings for Travel, Bills, Groceries and more. We designed Stash accounts to give Swag users complete visibility of their expenses to help simplify budgeting.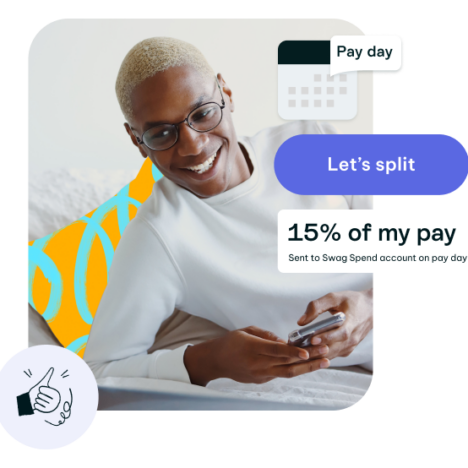 Pay Split ensures employees always have funds on-hand and ready to use in their Swag Spend account. Employees can choose how much they want automatically deposited into their account each time they get paid.

Pay Split is in the Swag app under Money > Split.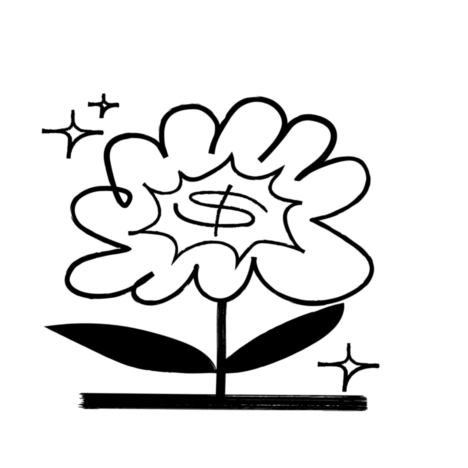 Coming soon: Bill Management
Bill Management helps users lower the cost of living by cutting the cost of their essential bills each month. Not only do employees have access to discounts on everyday bills, they can also choose to have these bills automatically deducted from their payrun
Terms & Conditions
*Access to fringe benefits tax exemptions will depend on a number of factors, we recommend that you obtain your own tax advice to confirm what criteria apply to you.
Employees can spend their Hero Dollars in our Discounts store on gift cards or other items. Employees can find their Hero Dollars under Money in the Swag app.
**InstaPay is only available to employees that have an employer that uses Employment Hero payroll software. Access to InstaPay for employees is via the Swag app only. Instapay is not a credit product, and there are no related interest charges. InstaPay fees are $3 per withdrawal into a Swag Spend account and $4 per withdrawal into an external bank account.
InstaPay terms and conditions are here
Any general advice or factual information we provide has been prepared without taking into account your objectives, financial situation or needs. Before acting on any information, you should consider whether it is appropriate for you. Before making any decision about whether to acquire one of Employment Hero's products, you should obtain and read the relevant terms and conditions relating to that product and also seek independent financial, legal and taxation advice.

"Before Employment Hero, everything was on paper. Now it takes half the time to do everything."
Employee engagement software FAQs
Employee engagement software is a digital tool designed to measure and improve employee engagement, satisfaction, and motivation. Employee engagement software typically includes features such as employee feedback surveys, employee recognition tools, and provides engagement analytics along with actionable insights to improve employee experience.
One of the primary benefits of having engaged employees is it helps businesses improve retention rates and employee satisfaction. Employees who feel more engaged and motivated are more likely to stay with their employer and perform at a higher level.
One of the key features of employee engagement tools is the peer-to-peer employee feedback.
Peer-to-peer recognition has been found to have a positive effect on employee motivation, performance and job satisfaction. By acknowledging and appreciating the work of individual employees, organisations can not only increase employee engagement, but also build a strong sense of community among their workforce – leading to improved communication and performance.
Employee engagement software can be a great asset for HR teams to get an accurate view of the overall employee experience. With the data and insights obtained from employee feedback, HR teams can focus on key areas of improvement and design initiatives that are best suited to engage employees.
Manage all your HR with ease.
We're the all-in-one employment solution for businesses with big ambitions.
Innovation, reliability, customer service. A tick, gold medal, five stars.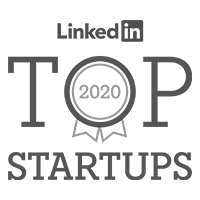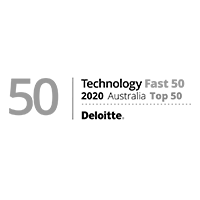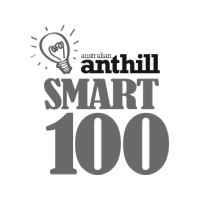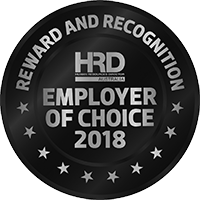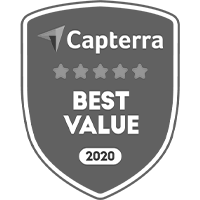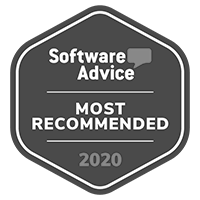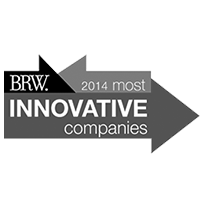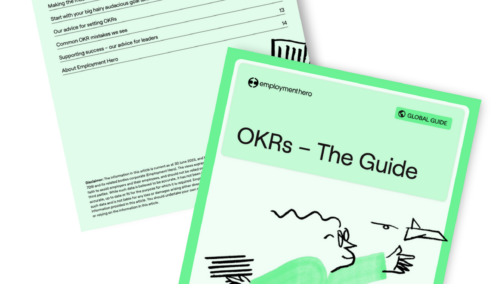 OKRs Guide: Objectives and Key Results Explained
The goal-setting framework that helps you and your team work towards one big ambitious company goal.
Employee Rewards and Recognition Guide
Have you read this blog? It's all about rewarding your employees, but not in the traditional way.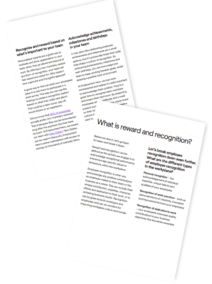 The Ultimate Employee Engagement Guide
Learn how to engage your employees and improve business outcomes with our free whitepaper.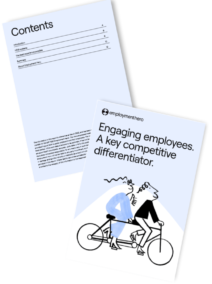 Work easy.
Create a workplace that your team loves, and foster talents for long-term success.