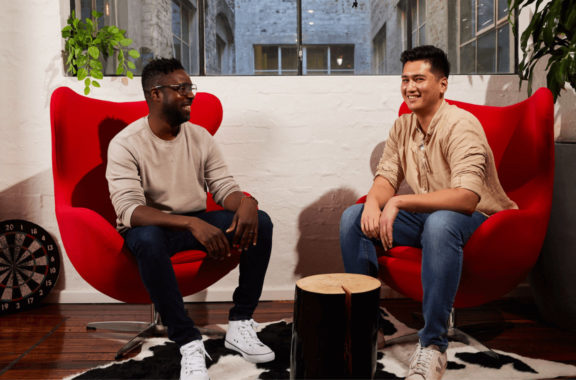 HR Technology and recruitment systems has altered how we access and process information, completely changing the candidate experience and how job ads are designed for them.
Looking to hire some new talent? This job ad template has all the information you need to put together an ideal job ad.
What's included in this job advertisement template?
This template is fully customisable to your business's situation and includes helpful tips on what to write and how to write it.
From there, you just upload it to the Employment Hero Applicant Tracking System or directly to your job ad platforms of choice.
This job ad template tips for transforming a good job ad into a great one, with tips for:
Using the right text layout
Using inclusive language
Here's a sneak peek at job advertisement must-haves included in our template:
About your company
About the role
Salary details
Responsibilities
Benefits
Company wins
What is a job advertisement?
A job advertisement is a job listing used to seek a potential employee for an open position.
Besides a general job description, a good job ad should include key details about the role, such as key responsibilities, qualifications, and compensation.
Remember to include information on how to apply for the open position so you don't lose any potential candidates in the application process!
By taking the time to write a well-crafted job ad, you will attract better candidates and improve your chances of finding the right person for the job.
Pro tip: Get a comprehensive breakdown of the hiring process with our ultimate recruitment guide.
How to write your own job ad
How can you create the best possible job ad to attract the Mr Darcy to your Elizabeth Bennet? The Vegemite to your buttery toast? The… okay, you get the idea.
We think we have a pretty good idea of how to write a good job ad. Here's how.
1. Use a highly-relevant job title
The job title is the most important part of your job ad. You need to make sure it stands out the moment an applicant comes across it.
It should also explicitly state what the job is. As fun and creative as they sound, no one is going to type "sales guru" into Google… So, we suggest that you aim to use industry-standard titles instead.
Mention the level and type of role, and use terms that candidates would search for. This means you'll receive more applications for the role.
Pro tip: Steer clear from adding jargon, using terms like 'ninja', 'guru', and 'superstar' are often seen as being gimmicky.
2. Share your company's story
Most candidates will have no idea about your company or clients before stumbling across your job ad. So it's good to lay the groundwork in the job ad, so they know what your company does before they apply.
Start off with a small introduction to who you are and what you do.
Highlight your achievements and reputation and include your company mission and core values.
Here's an example of one of the job ads we posted for a role here at Employment Hero: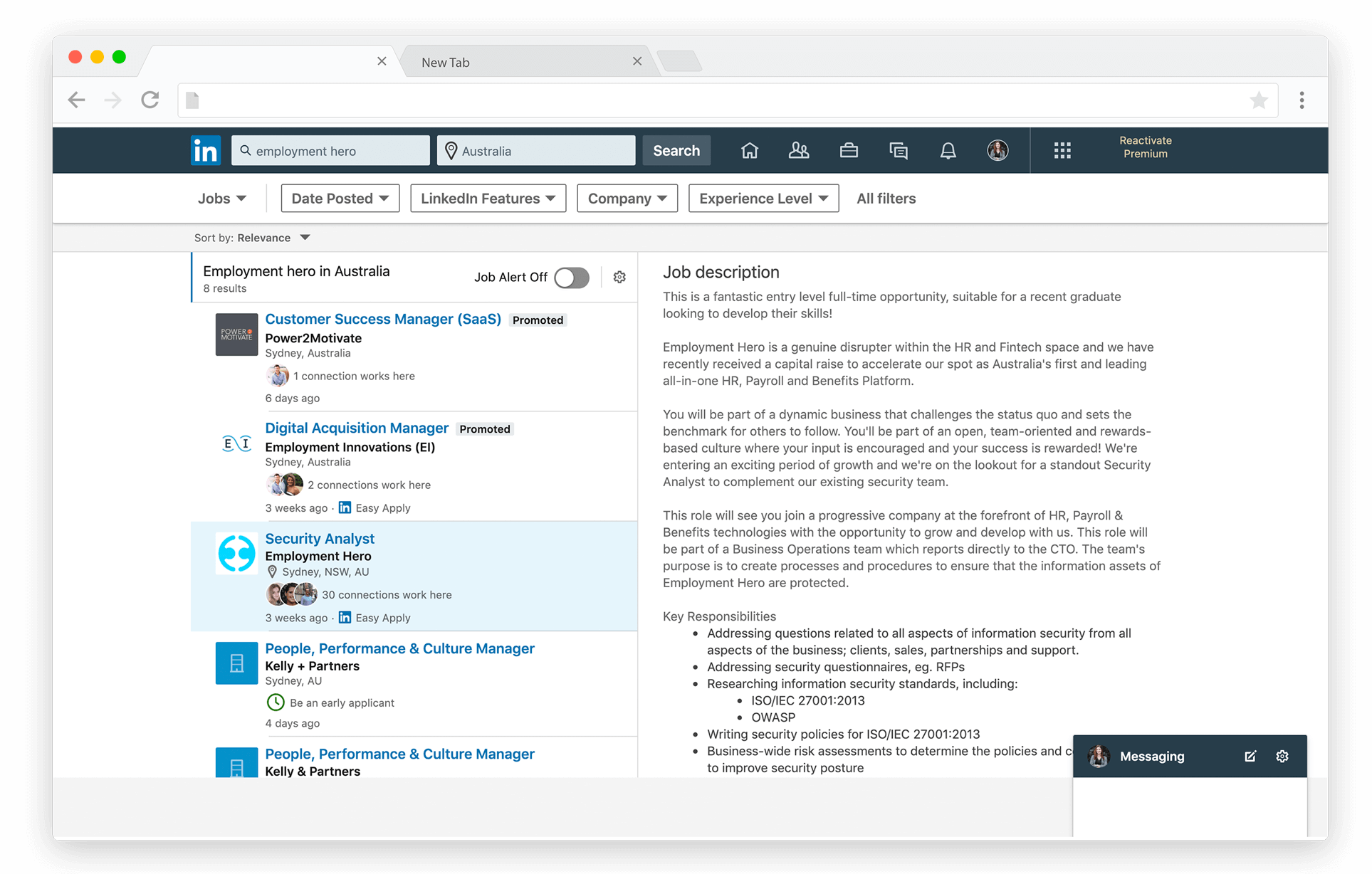 Source: Linkedin
We clearly demonstrate what the company does and what our mission is to potential candidates.
They now know that the company works in the HR tech industry and that we have a clear mission statement to be Australia's first and leading all-in-one HR, payroll and benefits platform.
Read more: Why sharing your company's story is great for marketing
3. Grab their attention with key selling points
You want to make sure your key selling points for the job role are clear and concise for people thinking about applying. Showcase the best things about the role, such as:
What will the candidate do?
What's a company highlight?
What's a benefit that your target candidate would care about?
4. Show them the money
We released research last year that delved into what Australian Employees expect. The findings revealed that pay was the top thing that influences candidates when accepting a job.
It doesn't just help at the offer stage either; While not all companies feel comfortable doing this, adding "please contact me to discuss" or "salary negotiable" will motivate your applicants to reach out, especially if they're really interested in the role.
Read more: Hiring full-time employees vs independent contractors
5. Provide a job summary
A job summary is very important for making sure any potential candidates know exactly what they are applying for. Here are a few things you should include in a job summary:
Describe the basic purpose of the job and why the role is actually needed within the business
List the various duties included in that role. Describe what those duties are, how they are performed and why they need to be done
Even if a job title is similar to a role they have done before, this doesn't mean the role will be exactly the same. Assume the candidate knows nothing about your job and explain it as clearly as possible
Provide business information about who they would be reporting to, what other positions report to the same supervisor and if anyone reports to them
Read more: How to write a job description (with a template)
6. Set clear goals
Defining the role with clear goals will tell job applicants what they will need to accomplish to reach and deliver key results for your business. Lou Adler, CEO of performance-based Hiring Learning Systems is a huge advocate for performance-based job descriptions over skills-based ones.
The idea is to focus on the results you want from the new hire instead of education or experience.
Add a list of the primary responsibilities and set tasks they will be doing, but don't overwhelm your applicants with too much information.
Read more: What are OKRs?
7. Language and layout
When writing a job ad it's important to not get stuck on the details. Use simple language and a clear structure to help candidates to understand the role and the business. Use bold subheadings to break your content up into clear themes which will help candidates scan-read the ad.
Pro tip: Make sure you're being concise with your language. Trim any unnecessary words to make your job ad punchy but meaningful.
8. Sell your benefits
Employee benefits are something we happen to know a lot about at Employment Hero. We ran a nationwide survey to find out exactly what employees want from their employees.
The survey revealed that the top things that influence candidates when accepting a job offer are pay (63%), location (52%), flexible work (45%) and career progression (43%).
These are all things that you should be showcasing in your job ad. Especially salary and employee benefits.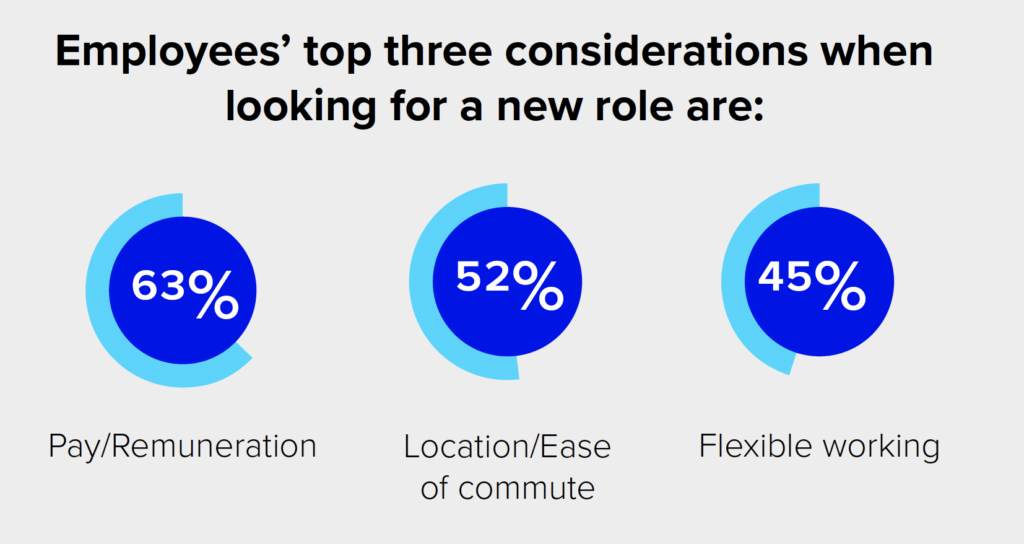 Source: What Employees Want Report
Add any employee benefits you offer in your job ad – things such as training programs, commission schemes, incentives and employee wellness programmes. Demonstrate that your company have a good work-life balance.
This is really important to candidates who are attracted to a job because it offers flexible hours.
Understanding what motivates your candidates, whether it's remote work or flexible hours, will give you an advantage over your competitors.
Read more: Where to promote job openings
9. Location is key
It's clear that location is key when it comes to candidates looking for a new job. Candidates will pay close attention to this part of the job ad.
Make sure you are showcasing detail to the office layout, such as:
Easy access to public transport, such as where the nearest train station
Free on-site car park or nearby parking options
Meeting rooms in the office
Details on the kitchen and break rooms available in the office
Nearby food outlets and cafes for their morning coffee
Explaining some of these smaller details about the location of your office will make the candidate feel like they're welcome and already part of the team.
Pro tip: Make sure you have photos of your office on Google My Business, Linkedin and Glassdoor.
10. Culture Fit
Ensuring a new hire is the right cultural fit is really important. You want to make sure all potential employees are going to fit seamlessly into your business dynamic, so both you and they feel comfortable. Employees that fit your culture are also more likely to stay longer and improve morale and productivity.
Culture fit in the context of recruiting and job ads is all about attracting employees whose beliefs, values and behaviours are in alignment with those of your business.
Candidates want to know if you share their values as well. Company culture is increasingly important for potential candidates when assessing whether they would be a good fit for a company
A video is a great way to introduce candidates to your company's culture and brand. This video could include;
Testimonials from current employees about why they enjoy working at your company
Information on what kind of people thrive in your business environment
Showcase how your business promotes a work/life balance
Pro tip: Incorporate the language of your company in your ad. Simply using some humour or jargon can add flavour to an otherwise dull ad. Do this sparingly; you don't want to deter a potentially good fit because you're seen as too niche.
Start with your job posting using our template
Get a head start on your recruitment process with our job ad template, designed with all these factors in mind.
Download our template now.