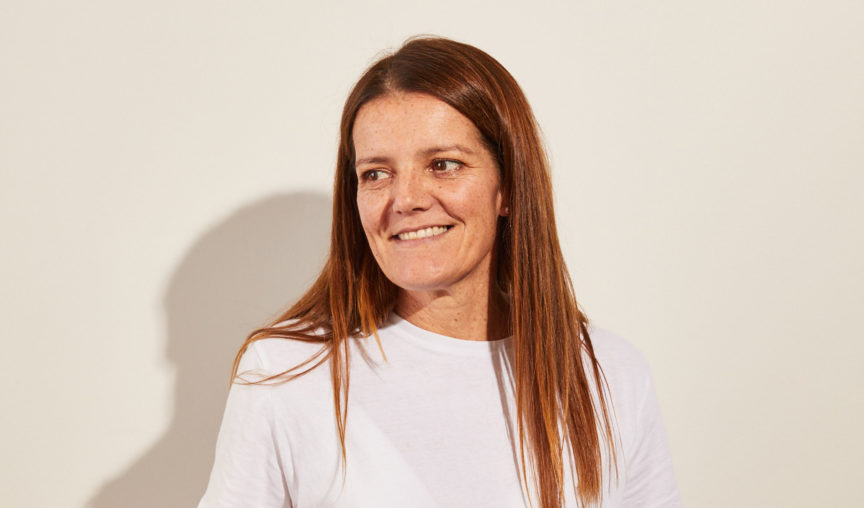 Employee benefits are an elusive term here in Australia. They can mean anything from a fancy coffee machine to discounted or even subsidised health insurance. It can therefore be frustrating for employers to constantly read that employee benefits are on the rise without a clear indication of what job benefits are coveted by employees. We get it. In a recent Australia-wide study conducted by YouGov Galaxy for Employment Hero, we asked employees what benefits they'd most like their employers to provide.
The top 10 employee benefits Australian workers would like their companies to provide
Flexible working 59%
Discounts on electricity, gas and water 32%
Continued education options 30%
Petrol discounts 29%
Free meals 27%
Supermarket discounts 26%
Mental wellness initiatives 26%
Subsidised massages, yoga and gym memberships 25%
Special company deals on loans, mortgages, health insurance 23%
Discounts on mobile phone and data services 22%
Here's a chart with the results you can save for your future reference: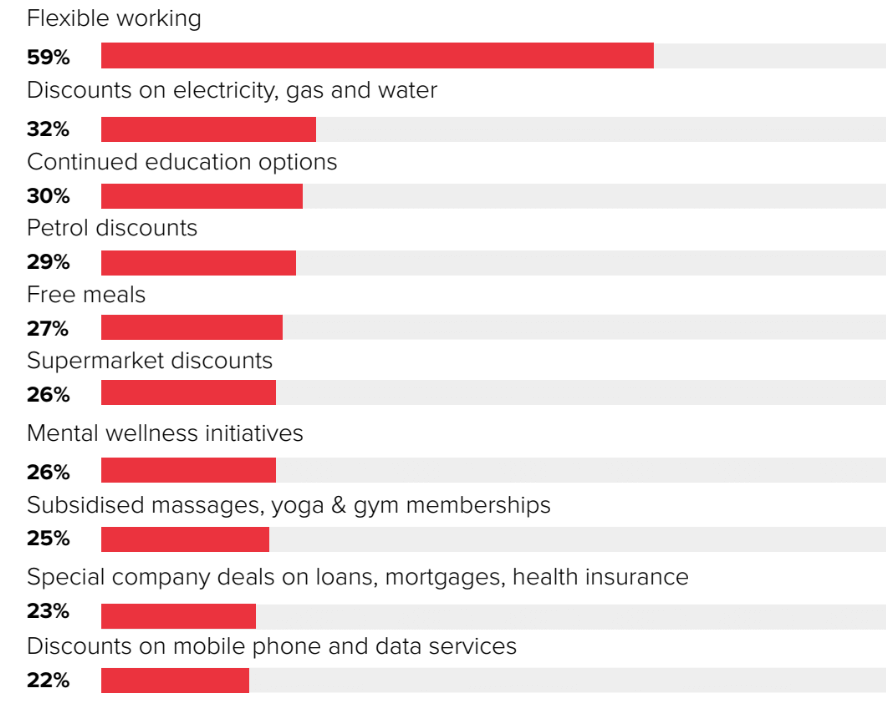 The most popular benefit? Flexible work, which won by a landslide! Our data reveals that flexible work is a key consideration for employees in all aspects of their work life. Indeed, in this case 59% of employees said they would like their employers to offer flexible work.
The good news is businesses of any size can easily adopt flexible work policies, a move that will likely make them immensely more attractive to potential candidates and increase the loyalty of current employees. As a result of COVID-19, flexible working has become the new norm for Australian employees with many companies shifting to remote working. If you're an employer, you can learn more about this in one of our previous blogs on Remote First Working and whether it's right for your business.
Other top-ranking benefits demonstrated financial value for employees (discounts on electricity and water) or spoke to some aspect of wellness and personal improvement (continued education options). Overall, it can be seen that the benefits Australian employees most desire are those that improve work-life balance, offer financial savings and promote personal growth and wellness. There you have it, not a ping pong table in sight (although we must confess we do have a ping pong table at Employment Hero HQ and it is fun).
Demographic analysis
A demographic breakdown of our data showed that flexible working conditions are especially important to female employees (62%) and part-time workers (63%).
It also found that those on lower incomes (64%) found flexible work to be more desirable than those on higher incomes (54%). This echoes data that shows those on lower incomes are more likely to take flexible work into serious consideration before accepting a job offer, whereas those on higher incomes are more likely to place more value on remuneration.
High vs low income workers
Flexible working is a point of difference between high and low income workers but other than this, desires align between both groups when it comes to employee benefits in Australia.

Software solutions
So, now you know the facts about employee benefits and what employees really want it's time to put them into action. An employee benefits software solution is the best way to do that! The best employee benefit software solutions come with the following features.
5 features to look for in employee benefit software solutions
1. Payroll Integration
Employee benefits software should always be able to integrate with your company's payroll software. So, when an employee is hired and added to your payroll system, the hire date, employee information, and benefits eligibility automatically flow to the benefits administration system.
When an existing employee elects benefit choices, that information needs to flow from the benefits program to the payroll system as it has a direct bearing on the employee's take-home package. Likewise, when an employee is terminated in the payroll system, that information must flow automatically to the benefits system. Integration saves time and frees you up from dreaded duplicate data entry and reconciliation.
2. Employee self-service functionality
With self-service functionality, employees are able to log in and quickly review the details of their employee benefits program, or make changes as required. Choosing a system that's optimised for mobile devices is also a smart move as your employees can access their benefits information when it's most convenient for them.
The more your employee benefits software allows employees to set up their available benefits, the less work there is for you to do.
3. Reporting and visibility
A major advantage of using software is it makes it so easy for you to set up and oversee your employee benefits program. With a comprehensive admin dashboard, you can see your entire program on one screen.
At a glance, you can see employee uptake and registrations of your benefit options. And when it comes to data-driven decision making, a centralised platform also makes it easy for your management team to quickly and easily access the information they need. This greatly simplifies the process of managing employee benefits data, and streamlines the reporting process.
4. Automated record-keeping
Without technology to help, managing benefits programs can be a highly manual process. Today, it's possible to select a system that allows you to handle the promotion, onboarding and management of job benefits online. The employee benefits software stores all the records, and you can easily tap into the information when you need to undertake audits or create reports.
5. Happier employees
Giving employees an easy way to access their job benefits transforms this once highly manual process into a simple and efficient way for you to give your employees more of what they want. With the right benefits solution you'll have happier, more engaged, and more loyal employees, and reduced administrative costs. Of course, increasingly employee satisfaction ultimately lifts business performance.
What you can do as a boss to increase employee engagement rates
When your employees don't see the point in the work they do, receive little recognition or inadequate feedback, it quickly impacts job satisfaction and of course performance. It's not just Millennials who famously need to feel they play a significant role in their company's success.
Innovative thinking happens across all generations of employees. Businesses risk losing out on valuable contributions by not giving staff the opportunity to showcase their talents. It's no surprise that people tend to leave organisations where there's little meaning or significance in their work.
1. Align individual goals with broader company goals
As a business owner, it's important that you take the time to ensure everyone in your company understands how their goals connect to and align with the broader company goals. And at the same time, ensure there are sufficient opportunities for all employees to fully utilise their abilities and develop skills. When you better understand your employee's goals, you can help them connect those expectations to the overall goals of the business. And don't forget about recognition. Sometimes, a simple pat on the back, or a thoughtful note thanking employees for their contribution goes a long way.
2. Get your people into the right roles
In an earlier post, we talked at length about ways you can keep your employees happy even when budgets are tight. But sometimes, the employee engagement disconnect comes down to the quality of your leaders and managers.
The most common reason people give for leaving their jobs is their relationship with their boss. It's important to do all you can to develop the people skills of your managers. All too often managers get promoted because they excel at their job, and not necessarily because they make great managers. In other research by Gallup, the research company says an alarmingly high percentage of managers around the world are not meeting the needs of their employees.
Actively disengaged employees (24%) outnumber engaged employees (13%) by a radio of almost 2:1. According to these numbers, it seems that work is more commonly a source of frustration rather than fulfilment. In short, managers who lack people skills and are entirely focused on bottom line results become a barrier to company performance. And if you are the manager, could you be the problem?
3. Learn how to be a better boss
No-one likes to work for a boss who isn't personally involved or concerned about anything other than on-the-job performance. It's the fastest way to create disengagement. By contrast, high levels of employee engagement come from a manager who helps people feel like they're the future of the organisation and they are helping them do what they do best.
Traits of a good boss include:
Clearly communicating performance expectations

Publicly and privately recognising team members for their contributions

Empowering employees with responsibility

Trusting employees to complete tasks without micromanaging

Showing empathy and listening

Delegating effectively

Providing timely and meaningful feedback

Supporting employee growth and development