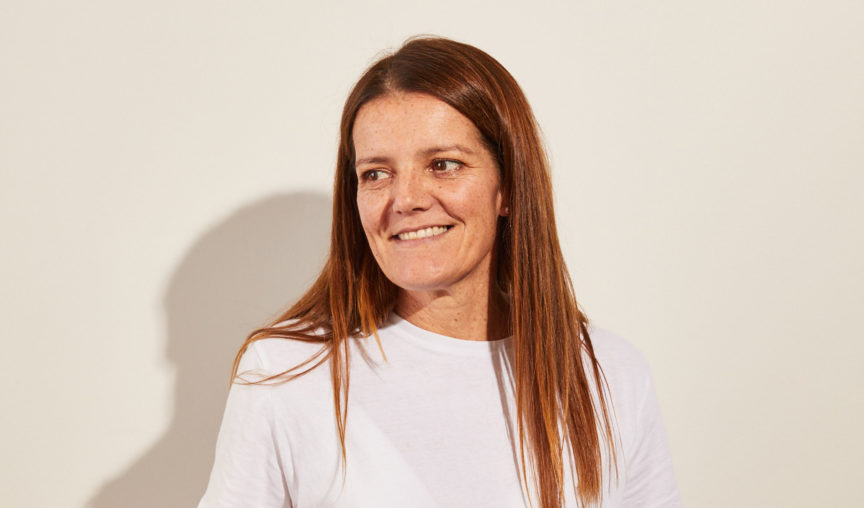 Attracting and retaining employees is vital for your business. And the easiest way to do that is through employee benefits.
These are just some of the compelling employee benefits that leading companies offer:
Free lunches at work
Employee discounts
Reimbursed travel expenses
Discounted health insurance
Opportunities for personal development
Flexible hours
Paid parental leave
And while it's easy to see why many businesses don't offer these work benefits because of a limited budget, having employee benefits can help companies gain a competitive edge in the market.
Having a workplace culture that takes care of its employees helps attract top talent and can really help to retain employees, too.
Here we'll examine the role of employee benefits in attracting and retaining employees.
What are employee benefits?
Simply put, employee benefits are the non-wage benefits that make up your employee's compensation package. These are separate from the mandatory employee benefits such as paid leave and other benefits that employees are legally entitled to.
But having an employee benefits package is so much more than a way to compensate employees. Employee benefits actually reflect your company's culture and how you value your employees.
The top 10 employee benefits Australian workers would like their companies to provide
Employee benefits are an elusive term here in Australia. They can mean anything from a fancy coffee machine to discounted or even subsidised health insurance. It can therefore be frustrating for employers to constantly read that employee benefits are on the rise without a clear indication of what job benefits are coveted by employees. We get it.
In a recent Australia-wide study conducted by YouGov Galaxy for Employment Hero, we asked employees what benefits they'd most like their employers to provide.
Flexible working 59%
Discounts on electricity, gas and water 32%
Continued education options 30%
Petrol discounts 29%
Free meals 27%
Supermarket discounts 26%
Mental wellness initiatives 26%
Subsidised massages, yoga and gym memberships 25%
Special company deals on loans, mortgages, health insurance 23%
Discounts on mobile phone and data services 22%
Here's a chart with the results you can save for your future reference: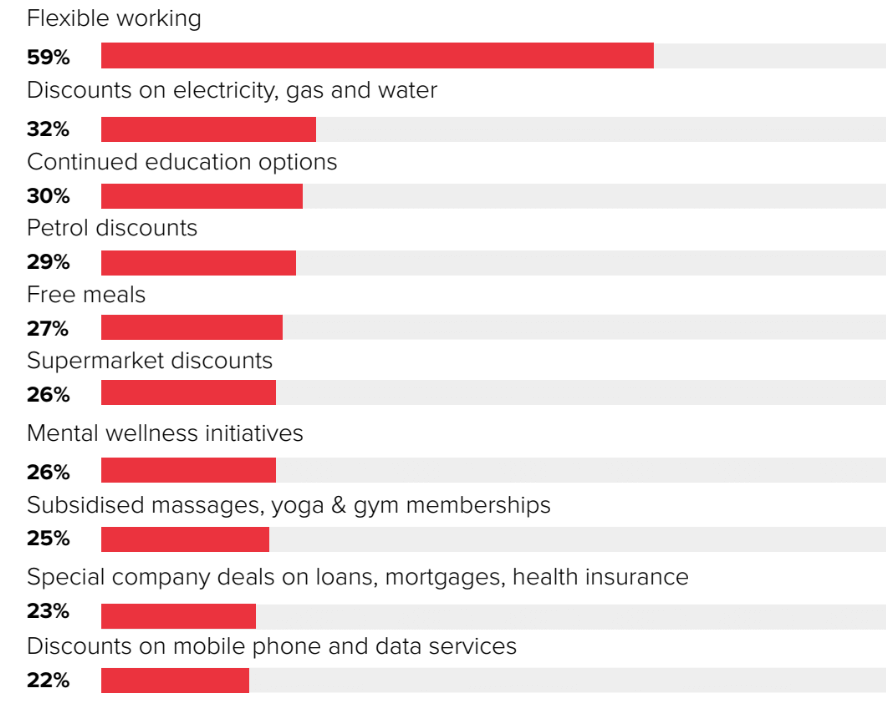 The most popular benefit? Flexible work, which won by a landslide! Our data reveals that flexible work is a key consideration for employees in all aspects of their work life. Indeed, in this case, 59% of employees said they would like their employers to offer flexible work.
The good news is businesses of any size can easily adopt flexible work policies, a move that will likely make them immensely more attractive to potential candidates and increase the loyalty of current employees.
Flexible working has become the new norm for Australian employees with many companies shifting to remote working.
If you're an employer, you can learn more about this in one of our previous blogs on Remote First Working and whether it's right for your business.
Other top-ranking benefits demonstrated financial value for employees (discounts on electricity and water) or spoke to some aspect of wellness and personal improvement (continued education options).
Overall, it can be seen that the benefits Australian employees most desires are those that improve work-life balance, offer financial savings and promote personal growth and wellness.
There you have it, not a ping pong table in sight (although we must confess we do have a ping pong table at Employment Hero HQ and it is fun).
Demographic analysis
A demographic breakdown of our data showed that flexible working conditions are especially important to female employees (62%) and part-time workers (63%).
It also found that those on lower incomes (64%) found flexible work to be more desirable than those on higher incomes (54%).
This echoes data that shows those on lower incomes are more likely to take flexible work into serious consideration before accepting a job offer, whereas those on higher incomes are more likely to place more value on remuneration.
High vs low-income workers
Flexible working is a point of difference between high and low-income workers but other than this, desires align between both groups when it comes to employee benefits in Australia.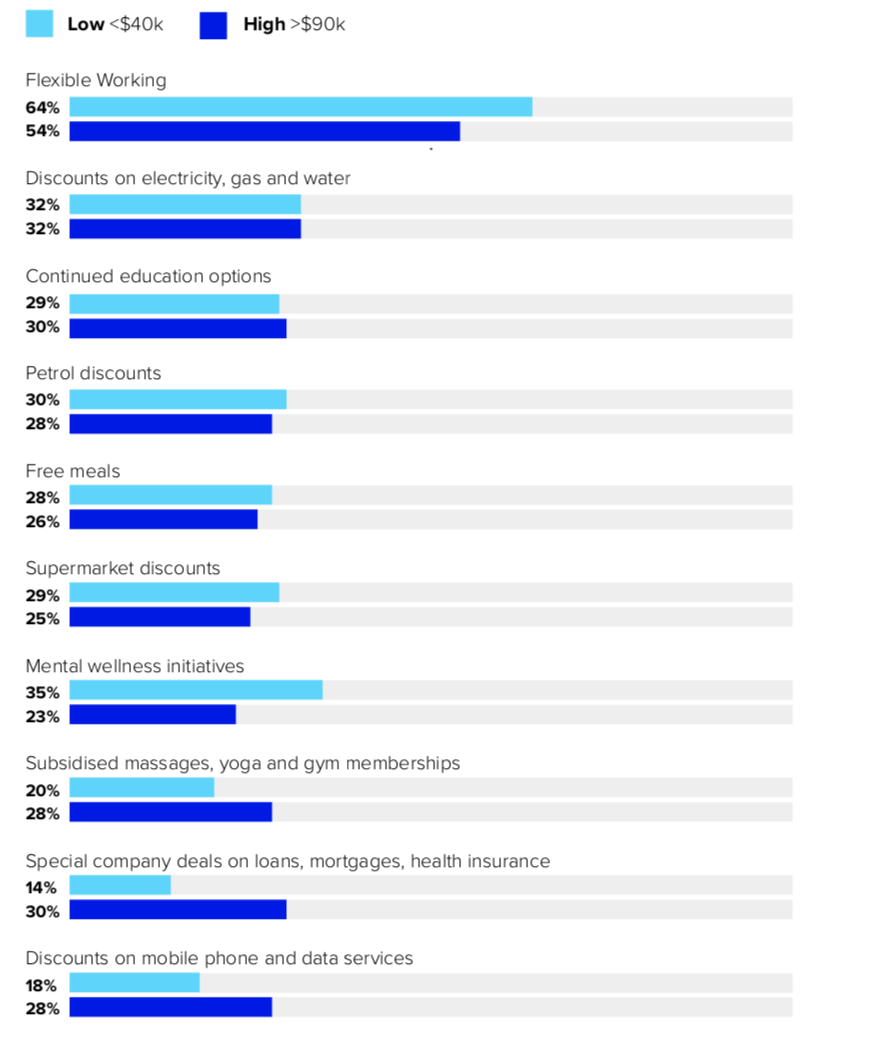 Employee benefits programs help employers with
1. Attracting talented employees
Job seekers do their research in advance and take employee benefits into account when weighing up similar opportunities.
There are no right or wrong answers when it comes to what employee benefits to offer. It all depends on what your employee groups value.
For example, if you have a large number of younger Millennials on staff, offering financial literacy help and support to pay off student loans may be a winner. Helping employees with their personal finances provide financial security and can often result in better productivity.
Older Millennials, on the other hand, might be more compelled by work-from-home arrangements, on-site daycare facilities or help with childcare fees. Whereas, older employees may value flexible working arrangements, or help with financial and retirement planning.
The only right way is to offer different choices and take the time to find out so you spend your company's benefit program dollars wisely.
2. Improving employee retention
While employee benefits can certainly help with staff retention, you can't mask poor workplace culture by offering a few employee benefits in place of creating positive workplace culture.
Benefits only work when employees are motivated and appropriately challenged by the work they do and feel that their work is valued.
Through professional development, for instance, employee benefits can underpin an employee's tenure in your business. If this increases their stay in your company from two years to four, that's not only good for the business, it's great for your clients and for other employees.
By increasing retention rates, you reduce the often considerable time, effort and costs required to replace outgoing staff.
How are other companies using employee benefits to attract and retain employees?
Companies that invest in employees by offering a wide range of employee benefits see the positive effects on the bottom line in terms of increased productivity, improved morale, and greater engagement.
So, even though our research shows that 59% of Australians favour flexible working arrangements as the most desired employee benefit, leading companies continue to raise the bar with a shifting emphasis on employee mental health and work-life balance.
Recognised as the very best place to work in Australia in LinkedIn's annual survey, PwC offers employee benefits aplenty. These include flexible working, 18 weeks' parental leave, no dress code, free coffee with full-time baristas on site, health and fitness perks, and professional memberships among many other perks.
The professional services firm also encourages employees to personalise their working style. As their website says, "From meetings on treadmills, to connecting remotely using Google Hangouts, or simply playing with Lego on a much-needed mental health break, you'll completely re-invent the way your work, for the better!"
Elsewhere, employee benefits programs offered by big firms feature an endlessly innovative lineup of special treats. Qantas offers staff up to 90% off flights, Salesforce employees receive six days of paid volunteer time off a year, as well as $1,000 a year to donate to a charity of their choice.
Among its many employee benefits, Google also has its gourmet cafes offering multiple free meals every week and world-class baristas on site who pour coffee just the way employees like it.
Meanwhile, Deloitte offers generous sabbatical programs. Employees can take an unpaid, one-month sabbatical for any reason, or they can take a paid three to six-month sabbatical to pursue personal or professional growth opportunities. The list goes on.
So, why do these successful companies go way beyond simply offering flexible working and invest in highly compelling employee benefits? It's all about helping to keep staff happy and productive, and in doing so creating an environment where employees want to work. One that recognises people don't just come to work to make money. They need purpose and meaning. They need to feel valued.
Employee benefit software solutions
So, now you know the facts about employee benefits and what employees really want it's time to put them into action. An employee benefits software solution is the best way to do that! The best employee benefit software solutions come with the following features.
5 features to look for in employee benefit software solutions
1. Payroll Integration
Employee benefits software should always be able to integrate with your company's payroll software. So, when an employee is hired and added to your payroll system, the hire date, employee information, and benefits eligibility automatically flow to the benefits administration system.
When an existing employee elects benefit choices, that information needs to flow from the benefits program to the payroll system as it has a direct bearing on the employee's take-home package. Likewise, when an employee is terminated in the payroll system, that information must flow automatically to the benefits system. Integration saves time and frees you up from dreaded duplicate data entry and reconciliation.
2. Employee self-service functionality
With self-service functionality, employees are able to log in and quickly review the details of their employee benefits program or make changes as required. Choosing a system that's optimised for mobile devices is also a smart move as your employees can access their benefits information when it's most convenient for them.
The more your employee benefits software allows employees to set up their available benefits, the less work there is for you to do.
3. Reporting and visibility
A major advantage of using software is it makes it so easy for you to set up and oversee your employee benefits program. With a comprehensive admin dashboard, you can see your entire program on one screen.
At a glance, you can see employee uptake and registrations of your benefit options. And when it comes to data-driven decision-making, a centralised platform also makes it easy for your management team to quickly and easily access the information they need. This greatly simplifies the process of managing employee benefits data and streamlines the reporting process.
4. Automated record-keeping
Without technology to help, managing benefits programs can be a highly manual process. Today, it's possible to select a system that allows you to handle the promotion, onboarding and management of job benefits online. The employee benefits software stores all the records, and you can easily tap into the information when you need to undertake audits or create reports.
5. Happier employees
Giving employees an easy way to access their job benefits transforms this once highly manual process into a simple and efficient way for you to give your employees more of what they want. With the right benefits solution, you'll have happier, more engaged, and more loyal employees, and reduced administrative costs. Of course, increasing employee satisfaction ultimately lifts business performance.
Learn more about employee benefits
Want to learn more about how you can fit employee benefits into your work culture? Download our guide to engaging employees to learn more about how you can attract, engage and retain your staff.
Engaging Employees: A Competitive Differentiator