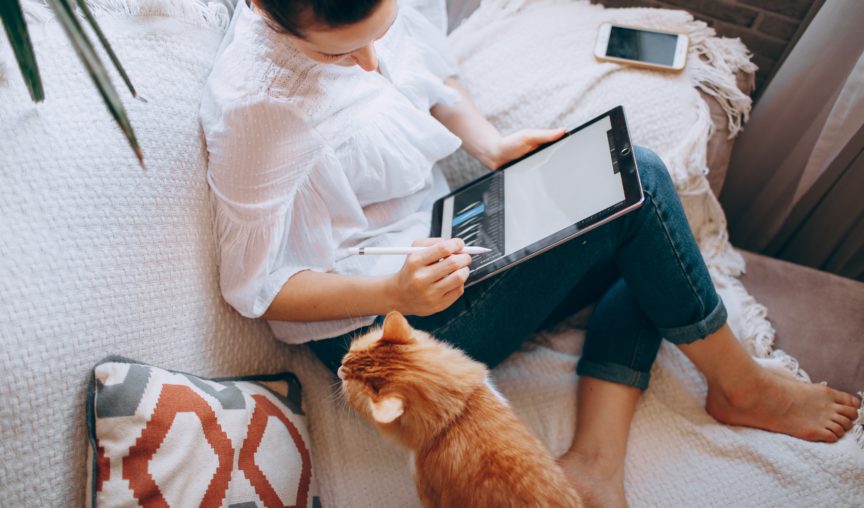 Remote Work. What began, for most, as an involuntary and short-term solution to our current climate is now a front-of-mind consideration for many business owners and employees across Australia and around the world.
For some, this newfound work style has had a positive impact, opening doors to a range of opportunities that before were beyond reach.
For others, having a distributed team of remote workers has led to challenges that feel unsolvable with even a week's worth of video calls, remote check-ins and virtual team meetings on the calendar.
Wherever your business is positioned on this compass, working remotely is an important matter to navigate.
According to Employment Hero's Remote Work Survey, 84% of Australians enjoy working from home and 92% would opt to do so regularly if given the opportunity.
We can safely assume then that the option to work remotely will become an employee expectation.
As an employer, it's important to take note of this and allow for remote jobs, or you could see top talent walk out the door to a more flexible organisation.
Read more: Check out our 2022 remote work report
What is remote work, exactly?
Remote work enables employees to work outside of a traditional office environment and the conventional 9-5 hours.
Whether that environment is a home office, a co-working space or a local coffee shop, it's about empowering your employees to choose where and when they work best.
A remote work approach is driven by the belief that work can be completed successfully without workers being bound to a physical location.
For an employee, to work remotely means no commute to the office, no designated desk and more flexibility in completing projects and achieving goals in a location of their choice.
For an employer, this can result in increased staff retention, reduced overheads and a happier, more productive team – but more on the benefits of a remote work approach later.
When it comes to remote working, there isn't a one size fits all solution. It's important to remember that remote work will mean different things to different remote companies.
As an employer, it's up to you to develop your own definition of remote work that meets your organisation's unique structure, goals and objectives.
Read more: How to outsource hiring international employees
Developing your own remote work definition
It's no secret that working remotely (or from home) is a popular workplace trend seen by many as a short-term solution to our current situation. The idea in itself suggests that there is an office waiting for you, a desk to go back to and a coffee machine in the kitchen with your name on it.
What this trend has revealed is the immense potential of businesses and their remote employees in the digital age. With the right attitudes, tools and technology in place, we are seeing firsthand the lasting benefits that remote work can provide.
This realisation has compelled many business owners to use learnings from their quick-fix solutions to develop long-term remote work plans that fit their organisation.
Designing your own definition of remote work means thinking from two different perspectives; your own and your employees.
What does a mutually beneficial solution look like in your organisation?
How does remote work impact team culture?
A remote first approach, for example, could provide your employees with the flexibility they need to work when and where is best for them, depending on their current situation.
With this model, deep work is completed at home or in a remote location, and physical workplaces are for socialising, coworker interaction, and collaboration.
The best part about a remote-first approach is that you can still support and guide those who are unable to work from home effectively, as they have the option to work in the office should they choose to.
A hybrid work-from-home model is a happy medium that allows employees to enjoy the benefits of both a traditional and virtual workspace. It's an option being considered by Google, following a recent internal survey that found 62% of Google employees want to get back to the office at some point, just not every day of the week.
A hybrid model with long-term remote work options will allow Google employees to benefit from face time with their colleagues as well as greater flexibility and family time.
On the other hand, in a fully remote company there is no office setting and your employees or freelancers never attend a physical workspace.
Having a fully remote team is an increasingly popular option for many businesses who want to access a much wider candidate pool to fill their positions and enjoy the many other advantages of a remote friendly structure.
Whatever the arrangement, make it a priority to build company culture in your remote team. You don't want your distributed workers to be socially distanced as well as physically.
Read more: How do you welcome a remote employee virtually?
Understanding the trends of remote working
Our notion of 'work' is on the verge of transforming completely, becoming a thing we do as opposed to a location we go to. Work hours will become fluid as we focus more on output instead of input.
To support this, emerging technologies will expand the possibilities of remote work and leaders will be required to play a more active role in supporting mental health and connection in their teams.
So, if this is the case, will we have offices at all in the future? Our research found that the thing workers miss the most about the workplace is the social aspect.
They miss easily bouncing ideas off coworkers (63%), the camaraderie and friendship of colleagues (50%), ease of communication with a team leader or manager (36%) and the general energy of the workplace (34%).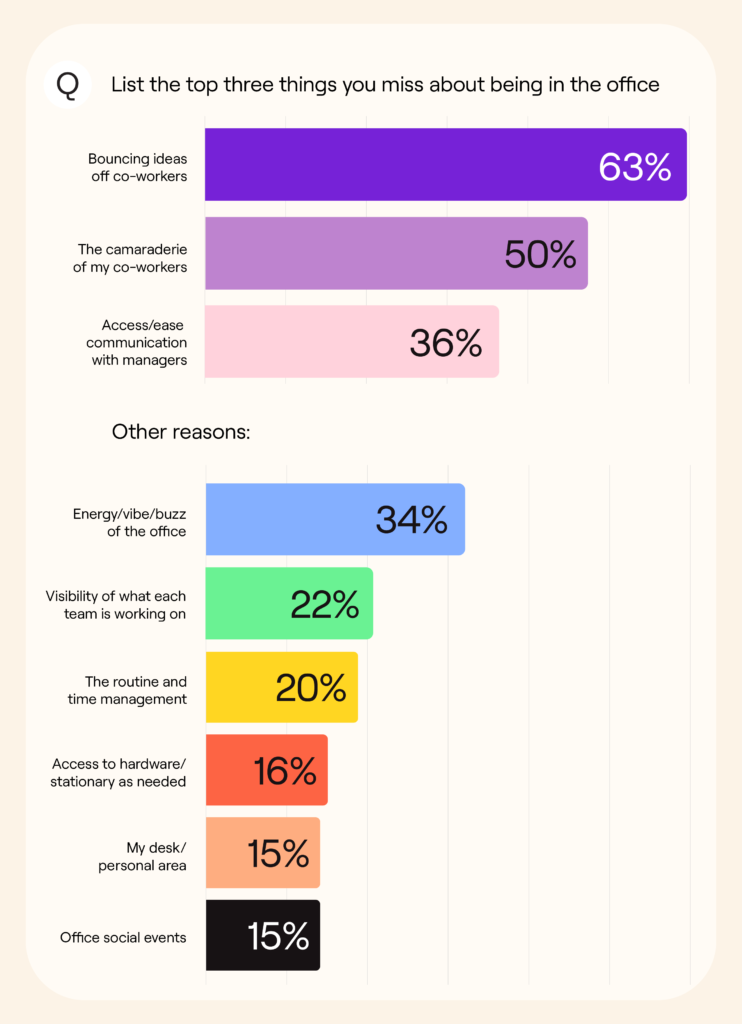 Clearly, face-to-face interaction with co-workers is one of the things that we value the most about our work experience, and we predict that future offices and workplaces will become dynamic environments to cater for this.
Designed to facilitate a range of social activities, we believe that offices will transform into vibrant places for collaboration, creation, learning and team bonding.
Read more: Remote work statistics you should know
What are the benefits of a remote team?
It's taken a global pandemic to teach us that we can perform our role away from our traditional workspaces.
Before the crisis, the vast majority of us would manage the pressure of our daily routines without realising just how exhausted we were, partly because it's all we'd ever known.
Lengthy commutes were the norm, but now, thanks to remote work, we're using that time to be with our families.
1. Help your team facilitate a greater work and life balance
We know that working remotely instantly grants your team greater work/life balance and without this, the daily grind can cause workers to burn out.
Based on our recent remote working survey of over 1,200 Australian employees, we've found that the commute is the thing that people (56%) miss the least about the office.
If you're an employer or manager and think your employee's commute isn't your problem, think again.
According to the HILDA survey, long-distance commuters have lower levels of overall job satisfaction and are also more likely to quit or lose their jobs within the next year.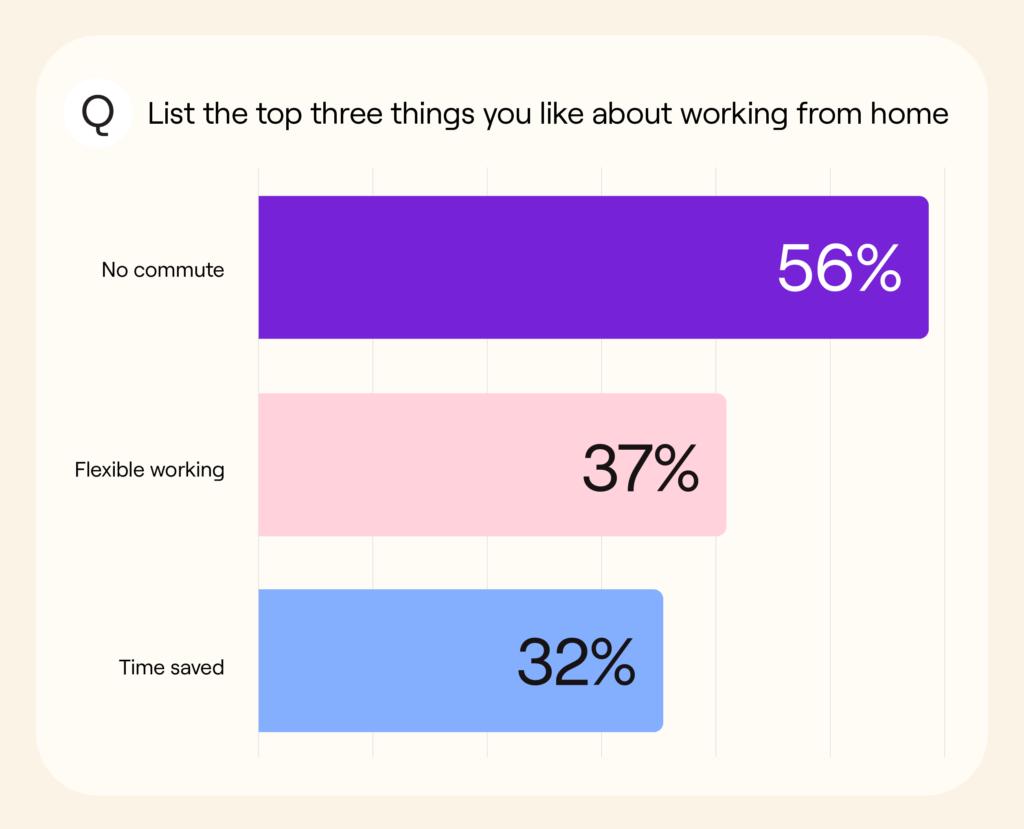 Get mindful at your morning yoga session, take a stroll down to the beach, spend longer sipping that morning coffee, or just spend an extra hour in bed if you need to.
It's things like this that can make all the difference to your remote team. It's up to them to manage their new remote work environment and it's up to you to guide and above all, trust your team.
Read more: Tips for employees working from home
2. Instantly open up your talent pool domestically and internationally
Gone are the days of attracting top talent within a 50km radius of your office. A remote approach means no boundaries when it comes to location. This means that your talent pool instantly increases and your new employee could work in the U.S, UK, Canada or anywhere!
The career opportunities that you provide are no longer bound by location but instead are open to different states and even countries. This means you'll have more choice when it comes to hiring top talent. Better yet, this can lead to a decrease in time to fill roles, which can save you money in the long run.
Read more: How can an employer of record help hire internationally?
3. Reduce your overheads
This one is a no-brainer. No office space at all means no overheads for that cost centre, just like a smaller space means reduced overheads, and offices used less frequently or by less people will result in lower bills than when operating at full capacity.
Remote work. Sounds good – right?
4. Create an inclusive working environment
When introducing remote work to the mix, you create the opportunity to improve inclusiveness and diversity within your business.
Essentially, you are broadening your candidate pool to include people with different backgrounds or beliefs. This approach can help reduce inequality by creating more equitable employment opportunities for those who may not have them otherwise.
People such as parents, carers, people with disabilities and those unable to commute to the office due to their geographical location have often been excluded from the full range of career options, and this is your opportunity to change that.
5. Contribute to increased employee happiness and productivity
This one is a biggie. The general outcome of our recent research into remote working found that remote employees are enjoying the experience of working from home (84%) and would continue to work from home regularly if given the opportunity (92%).
Ultimately, it contributes to them feeling happier and more productive in their roles.
Australia's Biggest Mental Health Check-In, a 2018 study into the mental health of corporate Australia, found that almost one in three workers from a range of industries were suffering from some form of mental illness. The study showed that 36% of people were suffering from depression, 33% from anxiety and 31% from unsustainable workplace stress.
Unfortunately, mental health conditions are common and when left untreated, expensive for a business owner. According to the Workplace Mental Health Institute, a survey of over 5,000 employees, found that 25% of them took time off each year for stress related purposes.
In addition to this, an employee suffering from depression takes 3-4 days off each month. Safe Work Australia estimates that this loss in productivity costs Australian organisations a total of $6 billion per year.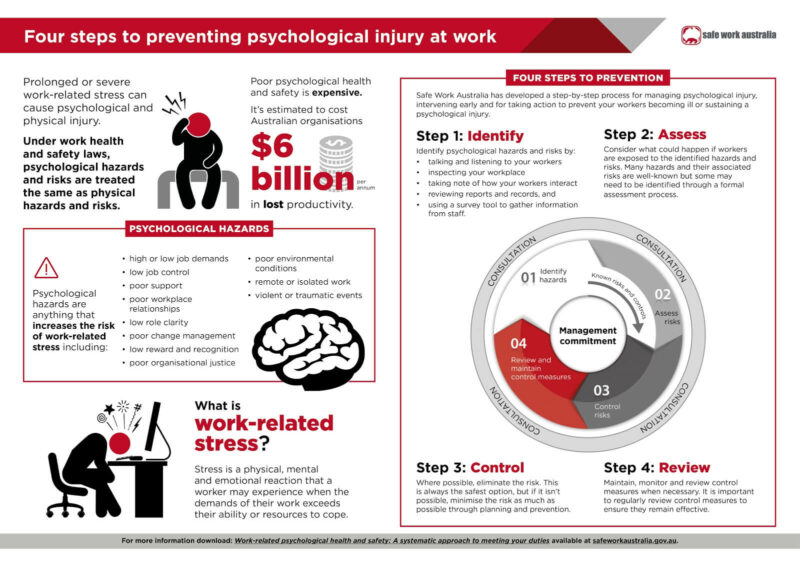 Of course many factors can contribute to workplace stress. A holistic approach should be adopted to ensure that as an employer, you are taking the appropriate measures to guide your team on finding the right work life balance.
In saying this, it's fair to say that many Australians like to work remote and are happier when doing so. Besides no commute to the office, workers are also enjoying flexibility (37%) and additional time saved (32%).
By introducing flexible work policies, businesses stand to improve their desirability, increase retention rates and create a healthier (and thus more productive) work culture.
Remote work, or the option to work remotely, is a win win for both businesses and employees.
Looking for transition into a flexible workplace? Download our flexible work policy template here.
What does remote working in Australia look like?
With three time zones, six states and two territories totalling over seven million square kilometres, operating a remote business or managing remote workers in Australia can have its own unique challenges.
Organisation is key to understanding when and how to communicate with fellow remote coworkers.
If you're based in Sydney, your morning huddle or team video call can't be at 8:30am, because you may risk catching your colleagues in Perth in their pajamas, or interrupting their early morning gym session.
Similarly, whilst you're eating snacks on the couch and winding down with movies after a long day, you probably don't want to hear how the Skype meeting went between finance and human resources over at the WA headquarters.
As an employer or manager, setting boundaries and liaising with your remote teams to create a schedule that works for everyone puts you in a much better position to ensure your remote meetings are a success. On the flip side, operating across time zones means that there are more hours in the day for your business.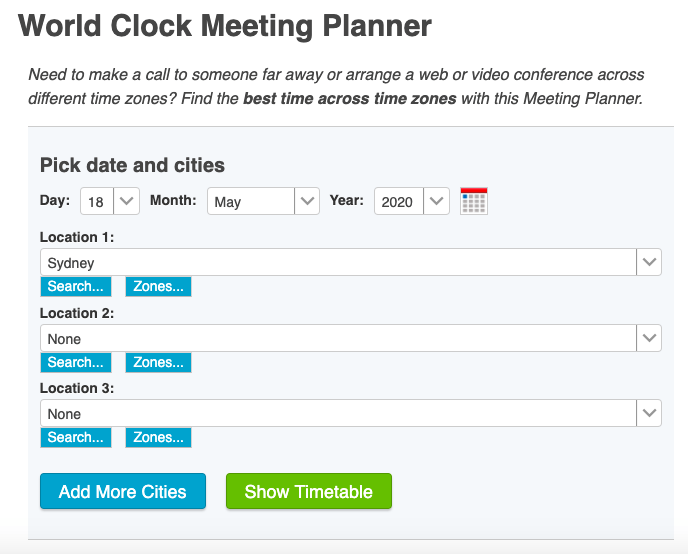 Aside from ensuring your work calendar is timezone appropriate, Australian employers should also be aware that minimum wage rates are the same across every state. Minimum wages are set by awards for each industry, and these awards are applicable Australia-wide, so no matter where your remote worker is based, make sure you're aware of the going rate.
Developing your remote working policy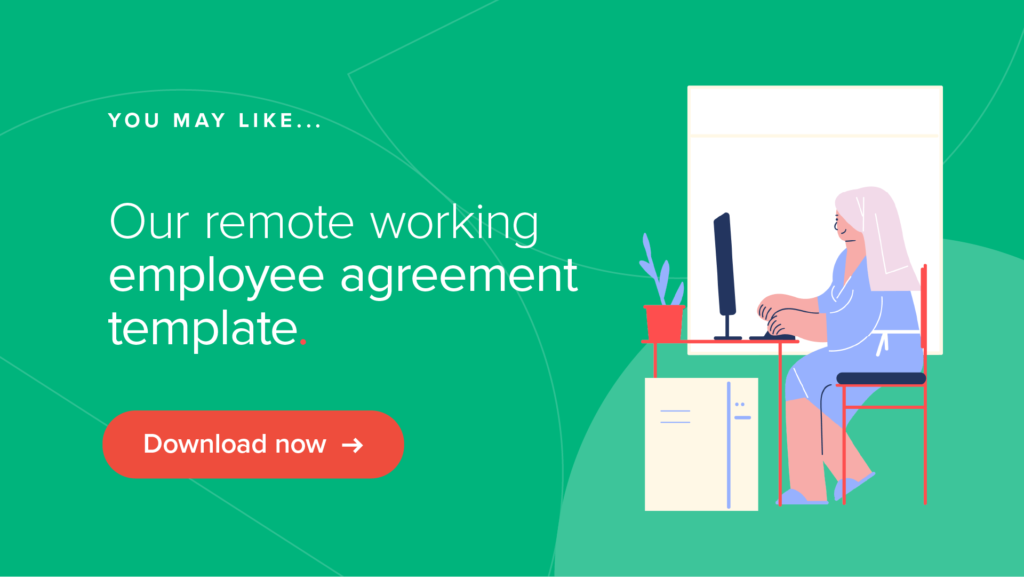 As an employer, you want to ensure that your organisation is covered legally and that your duty of care obligations to your remote teams are met.
Developing a policy for your business may feel like a daunting task, but our Remote and Flexible Working Policy and Remote Working Employee Agreement template can help.
Essentially, what you need to know as an employer is that the model WHS laws still apply if your team members work from somewhere other than their usual workplace, for example, from home.
Whatever the work situation, as an employer you have a duty of care to ensure the health and safety of your remote workers. It is your responsibility to guide your team and provide advice on best practices advice on how to safely work from home.
Additionally, you should ensure your workforce understands how to work from home and complete their jobs efficiently.
Having certain work processes and procedures in place can assist in supporting your "work from anywhere" policy.
These include:
Providing equipment and training to facilitate offsite productivity
Encouraging transparent communication with clients, suppliers and teammates regarding a remote coworker's arrangements
Ensuring employees who work remotely are offered opportunities that are aligned with their office-bound team members
And don't forget the little things! Put remote employee anniversaries and birthdays in the calendar and make sure you celebrate them.
Together, these processes can go a long way in supporting your remote work model.
How to develop trust with remote employees
Despite many Australian's favouring remote work and the mutual benefits for both employers and their workers, managers are still having difficulty trusting their employees to work productively from the comfort of their home environments.
The questions we are hearing frequently are – how can I trust my employees to be productive? And, how can my employees prove that they are getting the work done? The simple answer to these questions is that it's a two-way street and both parties need to work that little bit harder to foster trust when working remotely.
If we go back to basics, trust is foundational for creating an effective team. Employees need to trust that they are safe, respected and will get paid correctly by the company that they work for, and companies need to trust that their teams are positively engaged and will deliver what the business needs of them.
As an employer, it's important that you are equipped with the solutions and practical strategies needed to develop a high trust culture within a remote workplace.
Here are a few that keep our remote teams assured and accountable.
Communicate often
When operating from a remote environment, communication and trust has never been more important. It goes further than just spoken words but includes tone and body language.
This is why it's so important to encourage everyone in your team to have their cameras on during meetings.
Set clear expectations
Setting clear goals and expectations is critical for building trusting relationships. Be sure to clearly articulate what it is you want each team member to achieve throughout the course of the day.
If an activity needs to be finished before a deadline, set reminders for those responsible to prevent anyone steering off track.
Focus on output over hours
One of the biggest concerns that managers face when their employees are remote is that they're unable to track how long each person remains in their seat or at their laptop as they would with 9-5 hours in the office.
Monitoring teams who work remotely means trusting them to accomplish exactly what was agreed to. The last thing any employee wants is to feel as though they're continually being watched. In truth, your employees may well be making a snack in the kitchen, spending longer preparing lunch than usual or even watching cute dog videos on youtube.
Remote work requires accountability, and if a worker fails to deliver, they must communicate why.
Establish Objectives and Key Results (OKRs)
OKRs are an effective way to manage your team's goals. They provide transparency across the entire business and allow your team to know how they're contributing to the broader business goals.
Having goals in place provides structure and alignment to help your employees stay focused. Be aware that successfully establishing OKRs remotely will involve a different approach compared to sitting around a table in the office.
Reward and recognise your team for great work
Leveraging work-from-home perks is a great way to build a feeling of trust making your remote workers feel like valued team members.
Rewarding hard work is also a surefire way to make your employees feel motivated and committed to optimising their productivity.
Why not treat your remote work staff with a voucher for one of their favourite coffee shops for getting all of that data entry in before the deadline, or offer them a longer lunch break for nailing the topic on that blog post?
Remote working software for productivity
Thankfully, technology had our back when the world went into lockdown, equipping us with communication tools, project management platforms and video conferencing apps.
Many of us have become so familiar with letting participants into a Zoom presentation that we're questioning the necessity of the eleven interstate flights we made earlier this year.
Whilst there are certainly downsides to our current situation, the technologies that we have rapidly adapted to have taught us how to build connections, sustain community and remain productive in isolation; learnings that the whole planet will likely take forward as normality continues to resume. But which project management platform or collaboration tool is right for your business?
Here are a few that we've found to be the most effective in remaining productive whilst working from home:
Have 10,000 things on your do list? Asana can help you manage those endless priorities. Asana offers transparency across your remote team so that you can see what everyone has planned for their workday and for the week ahead.
Create collaborative projects with other remote team members, assign responsibilities and get notifications when a teammate completes a milestone. You can also set timeframes, deadlines and assign tasks to other remote working colleagues.
With integrations into Gmail and Outlook connecting your emails and inbox and a surprisingly motivating unicorn that appears each time a task is completed, Asana is an all-in-one project management system that helps make people work better.
When your entire team begins to work from home, it can be a shock to the system. Between getting your team's set up right and maintaining focus on their work schedule throughout the day, it can be easy to lose sight of your big overarching goals.
That's where we can help. Employment Hero's built-in OKR feature can help your team stay productive when working remotely towards the company's goals.
Trello is a collaborative task management tool that manages the day-to-day activities and action items of your team.
A Trello board can be individual or collaborative and is a great way to communicate with your team internally, or even external departments and suppliers who you engage for regular work.
It's a highly visual platform and one of our favourite collaboration tools for teamwork that allows for easy prioritisation of tasks.
If you're new to remote work, there's a chance your company hasn't yet transferred to paperless. Google Drive is a cloud-based file management tool that allows your team to access and create files online.
Google Drive allows your team to create documents, spreadsheets, forms, presentations and much more. It's simple to use and a change that will greatly benefit your team's efficiency, whilst saving paper in the long run.
Remote working tools for team communication
Having conversations, sharing knowledge and fitting in a lunchtime chat has never been easier thanks to the plethora of corporate messaging resources at our fingertips.
With tools like Facebook Messenger and Whatsapp ingrained in our every day, it was about time for the work-appropriate equivalent to join the club.
Here are a couple that we have found to be especially helpful in keeping up conversation and company culture when we feel like we need it most.
Zoom is a remote video call platform that aims to make communication easy from any location.
Remote work from presentations, company forums and virtual tours are made possible with functional tools like the waiting room and screen share. With different plans available and the most basic options for free, Zoom is a great way to connect distributed teams and make remote work work for your business.
An effective communication tool is key when it comes to setting your remote team up for success.
There are plenty of chat tools available to facilitate remote work and this one, in particular, is simple and effective. Keep your team accountable for their work arrangements and ensure no one misses an update in the business. With Slack, you can create channels for different topics as an easy alternative to email. It also has inbuilt video conferencing capability for hosting online meetings.
Workplace is a collaborative tool by Facebook that enables businesses to stay connected no matter where staff are located.
It works by mimicking the social media experience we're all used to; share team-wide announcements and video content via your feed, run polls and join project groups. Chat and video call functions are also available, along with features like the Knowledge Library that allows users to easily share static content.
The wrap up
The traditional office of yesteryear could soon disappear as remote companies encourage workers to perform deep work and business as usual from anywhere and save the inspiring and creative events for the workplace.
Remote work; makes a whole lot of sense when you think about it, doesn't it?
If you are looking for software that helps you manage your remote staff from onboarding to employee management, performance reviews and OKRs, book a demo with Employment Hero today!
The remote first workplace playbook
A complete guide to remote management.