Employees working from home? You still have a duty of care regarding their workstation setup.
For most workplaces, workplace health and safety (WHS) is a big deal. You still need to keep your employees safe and well, but it's easy for them to let risk-aversion practices slip in when they're on their own.
This WHS working-from-home checklist will help get them set up safely.
Your duty of care to employees working from home
In the context of the Work Health and Safety (WHS) legislation, the duty of care an employer owes to its employees extends beyond the traditional physical office and premises of the business.
Most Australian WHS legislation gives duties of care to "persons in control of a business or undertaking" – and employers are in this category.
The duty of care applies to areas where a worker is performing an activity that is reasonable and incidental to employment and is within the terms and expectations of the employment. So, working from home would fit this definition.
Safety Obligations
Employers have a duty of care to ensure the health and safety of their workers, regardless of where they work. Just the same as any workplace, you have a legal obligation to make sure the remote work environment is safe.
In other words, you must complete a risk assessment of the workplace, identify hazards and implement controls before you allow employees to work in that space. Lack of supervision, potential security issues, trips, slips and falls are common factors that may elevate the risk.
What risk mitigation should employers have in place for employees working from home?
Having clear policies and procedures around working from home is a must, particularly with a low amount of supervision. Written instructions on how to set up the work area ergonomically, security procedures and how to report incidents should be a priority.
Insurances. A variety of insurances are required to accommodate workers in this age of work flexibility. Your liability in respect of workers compensation claims extend to employees working from home. You should also make sure that your business insurances cover any company property and you also need your public liability insurance to cover customers who may be injured at your employee's home as a result of any business activities. You should also make sure that your employees' own home and contents policies are current.
Establish a system of regular contact – It is also important to note the risk of psychological injuries in any workplace. Employers should check in with their employees regularly to ask how they are going working from home. This will give the employee a chance to raise any issues, such as lack of support, equipment, communication issues with colleagues or management.
A "work from home" safety checklist. Your employees should inspect their home and complete this checklist before they commence their arrangement.
Workers compensation implications
Employers also could be liable for workers compensation and future damages claims from an employee who is injured while working from home. An employee could be involved in an accident while taking a lunch break, cooking in their own kitchen or simply walking around their own house.
Personal injuries sustained in those circumstances are likely to be deemed to have arisen out of or in the course of employment as the injury was sustained in the workplace (defined under WHS legislation as 'a place where work is carried out for a business or undertaking and includes any place where a worker goes, or is likely to be, while at work').
An employee's actual entitlement to workers compensation will always depend on the relevant state or territory workers compensation legislation, and the particular facts and circumstances of the case.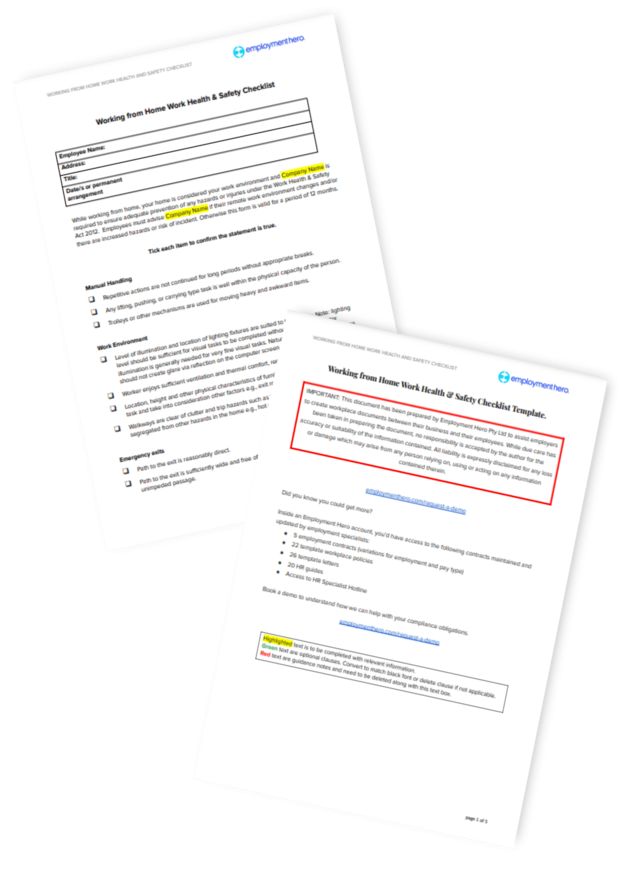 Download this free working-from-home WHS checklist.