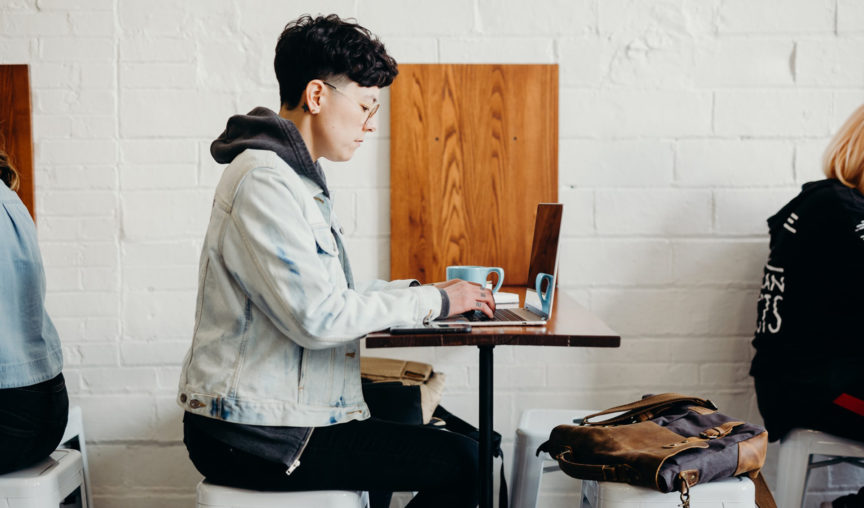 Working remotely or from home is a prominent workplace trend affecting 68% of Australians as a result of our shared global situation. To put it simply, there are a lot of virtual meetings scheduled in a lot of calendar apps around the world.
This shift in workplace norms has been a welcome change for many businesses that are enjoying the benefits that a remote work model has to offer.
With our research showing that 84% of Australians enjoy working from home and 92% would opt to do so regularly if, given the opportunity, we can safely predict that the remote work trend is here to stay.
In fact, the amount of Australians working remotely will likely continue to rise as businesses adapt to what was initially a quick-fix solution and implement longer-term policies for remote work.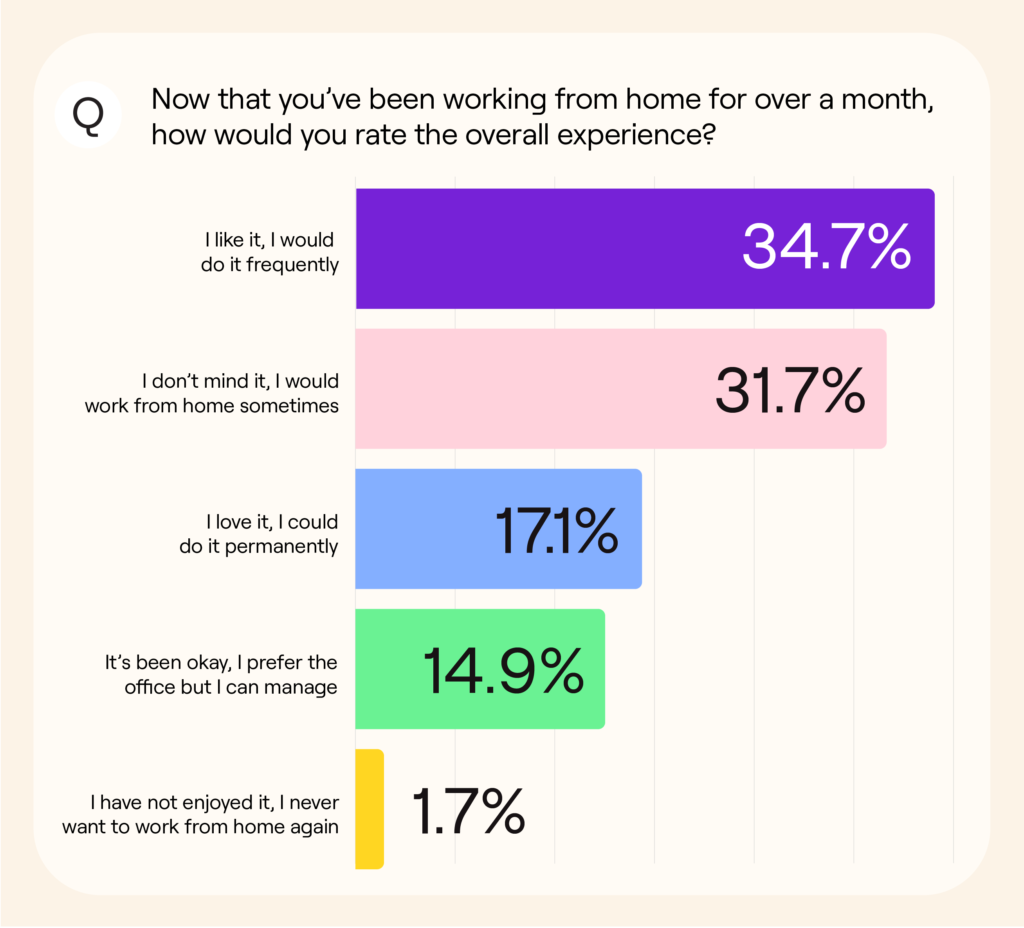 To support this change, organisations across many industries are paying more attention to remote work software and technology than ever before.
But with so many tools, technologies and solutions on the market to assist with the transition to remote work, which is the best for your business?
We've outlined some of the most effective, affordable and easy-to-use remote work tools to make managing remote teams, productivity and communication the very least of your worries, now and into the future.
Project management tools
Openness and transparency are fundamental ingredients of the remote working pie. Whilst there are many mutual benefits to a remote work model enjoyed by both employers and their workers, we know that managers still have difficulty trusting their teams to work productively from the comfort of home.
This uncertainty can lead to tight micromanagement regimes that leave both parties feeling dissatisfied.
The solution to uncertainty is simple and requires each party to be as open and transparent as possible. Thankfully, the digital age has equipped us with an abundance of software options that make remote team collaboration, project visibility and time management simple.
Here are a few platforms that can keep your remote employees on their A-game in remaining productive whilst working from home:
Have dozens of things on your to-do list? Asana is a task and project management tool that can help you manage endless goals and priorities. Manage projects with other remote team members, assign responsibilities and get notifications in real-time when a teammate completes a milestone.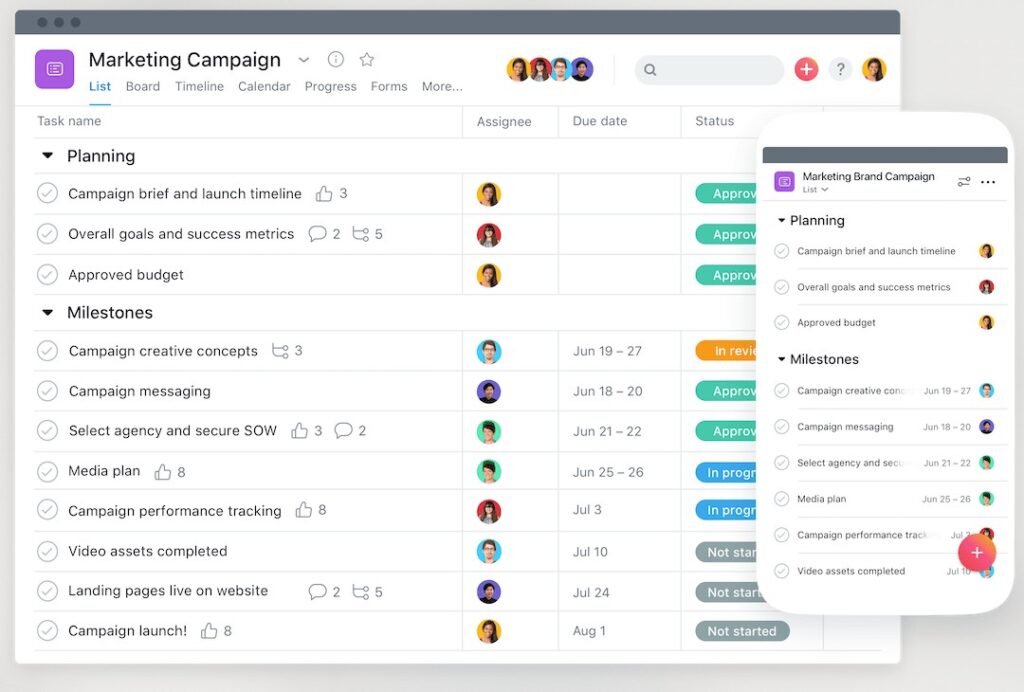 Set timeframes and deadlines for easy time tracking and have transparency across your projects so that you can see what everyone has planned for their workday and for the week ahead.
Asana is an all-in-one project management tool that really does make people work better.
With basic (but effective) packages for free and a 30-day free trial on premium packages, creating your new Asana account is one 'to-do' that should definitely be bumped to the top of your list.
If you're new to remote working, the chances are that you might be new to Google Workspace, or at least to some of the functions within its vast assortment of cloud computing, productivity and collaborative features.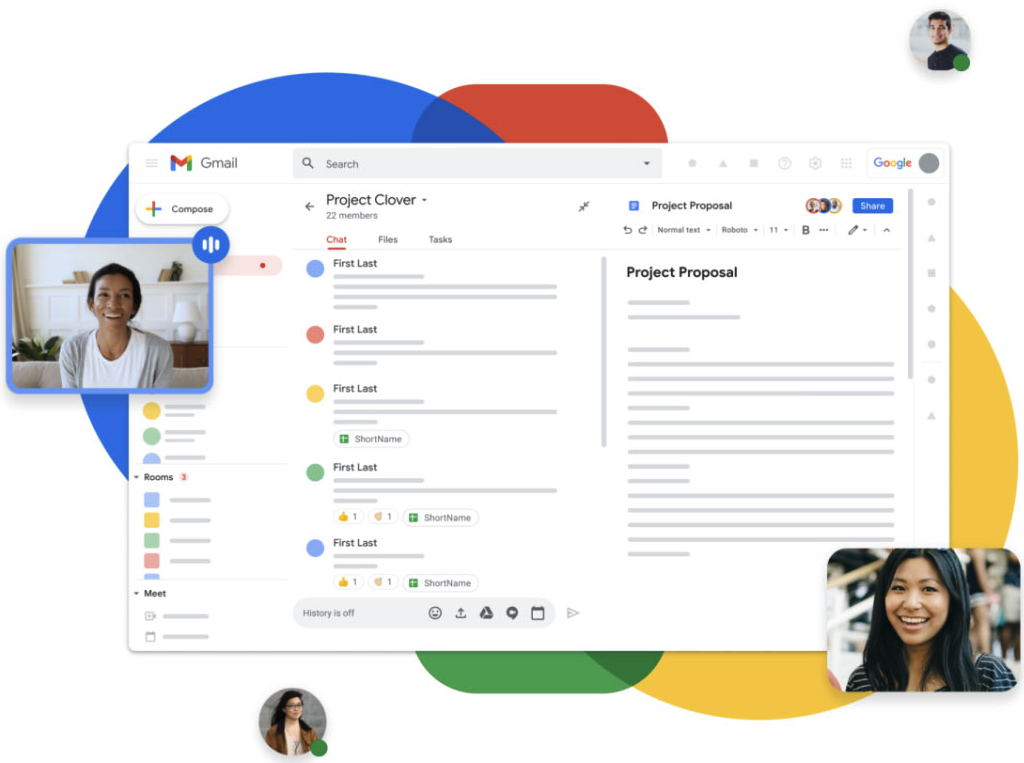 Google Workspace allows you to collaborate on files with other remote team members in real time and benefit from protected file sharing and cloud storage for your documents. Employee communication is also streamlined to make sure you stay connected.
With access to everybody's calendar, you can take team meetings from anywhere and keep virtual teams connected with premium video conferencing, all from one place.
With affordable monthly pricing plans and a 14-day free trial, you can easily assess if Google Workplace is the right suite for you.
Whether the tasks you have to complete are large and intimidating or small and satisfying, we all know that sometimes, a couple could slip through the cracks.

Tasks are Employment Hero's built-in digital workforce management tool that helps your remote team to manage projects and keep track of their responsibilities.
Give your employees the resources they need to manage their workflows, take accountability for their projects and deliver their work on time.
Trello is a collaborative task management software that manages the day-to-day activities and action items of your teams.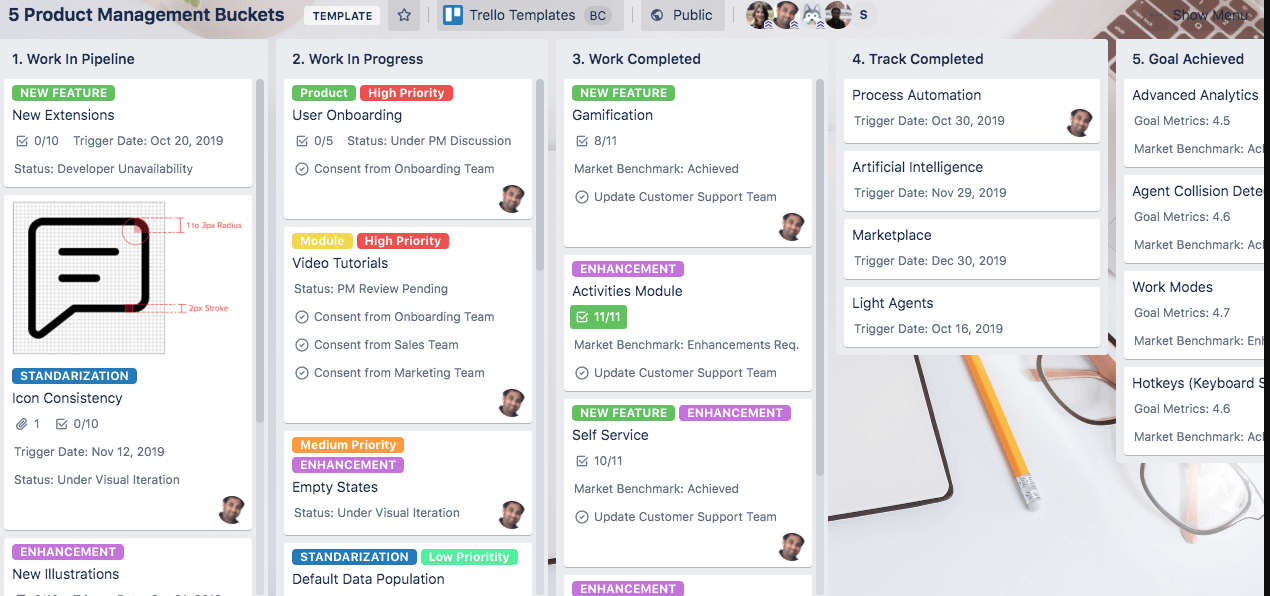 A Trello board can be individual or collaborative and is a great way to communicate with your team internally or even with external departments and suppliers who you engage for regular work.
It's a highly visual platform and a favourite team collaboration tool of ours that allows for easy prioritisation of tasks and effective time tracking.
For the ultimate Trello task management experience, try the 14-day free trial of their 'Business Class' package.
Monday is an all-in-one project management tool and workflow platform. It's a virtual work hub that allows for visibility and time tracking across your entire team
Whether you've got marketing, engineering, sales, designer or developer teams, Monday can help organise your employees every day with transparency.
Monday integrates its project management tools with all of your favourite apps such as Slack, ZenDesk, Gmail, Google Docs and Google Calendar, and their budget-friendly packages start from just $11 per month.
Just got a new lead from a Facebook ad? How about having that lead automatically added to your Google Sheet, while a message is sent to your team on slack, all without pressing a button?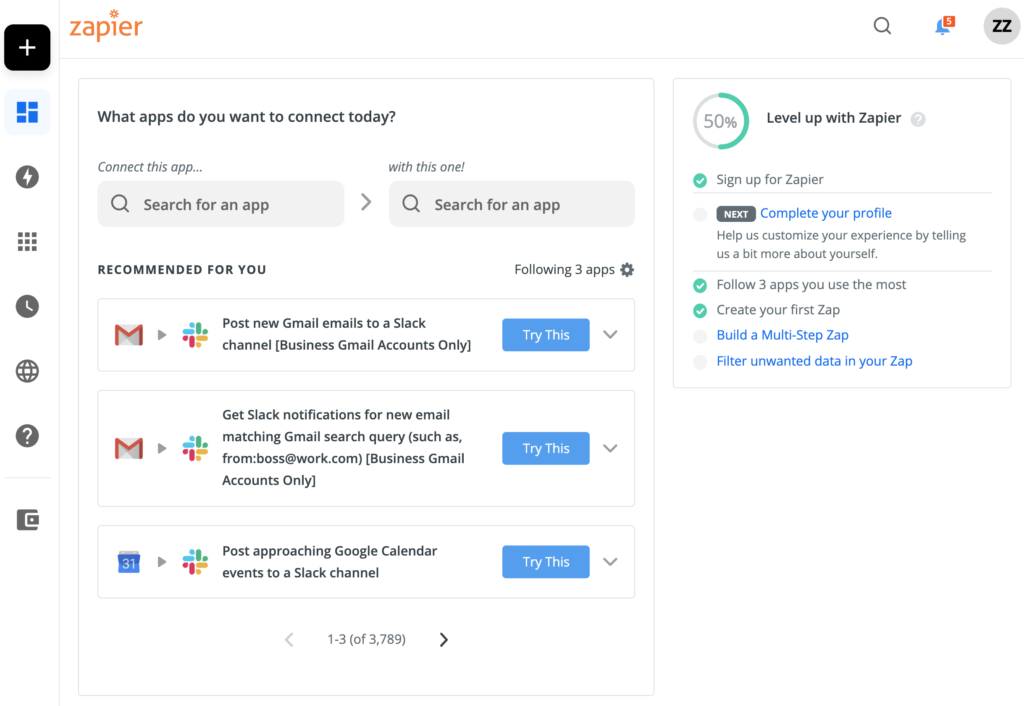 With Zapier, users can create custom automated workflows called Zaps between programs and websites. Zapier's motto is "makes you happier", which it does by cutting down menial work and giving you more time to spend on what matters.
This means that even when you work from home, Zapier is helping you stay productive during your lunch break or coffee run. Zapier integrates with over 2,000 apps but works best when automating workflows between G-Suite programs (Google Docs, Drive, Sheets.).
Zapier offers a free plan with the option of multiple plans with increasing functionality. This includes the option of team or company Zapier plans which allow unlimited users.
Remote team communication tools
Our research found that the thing remote workers miss the most about the workplace is the social aspect.
They miss easily bouncing ideas off coworkers (63%), the camaraderie and friendship of colleagues (50%), ease of communication with a team leader or manager (36%) and the general energy of the workplace (34%).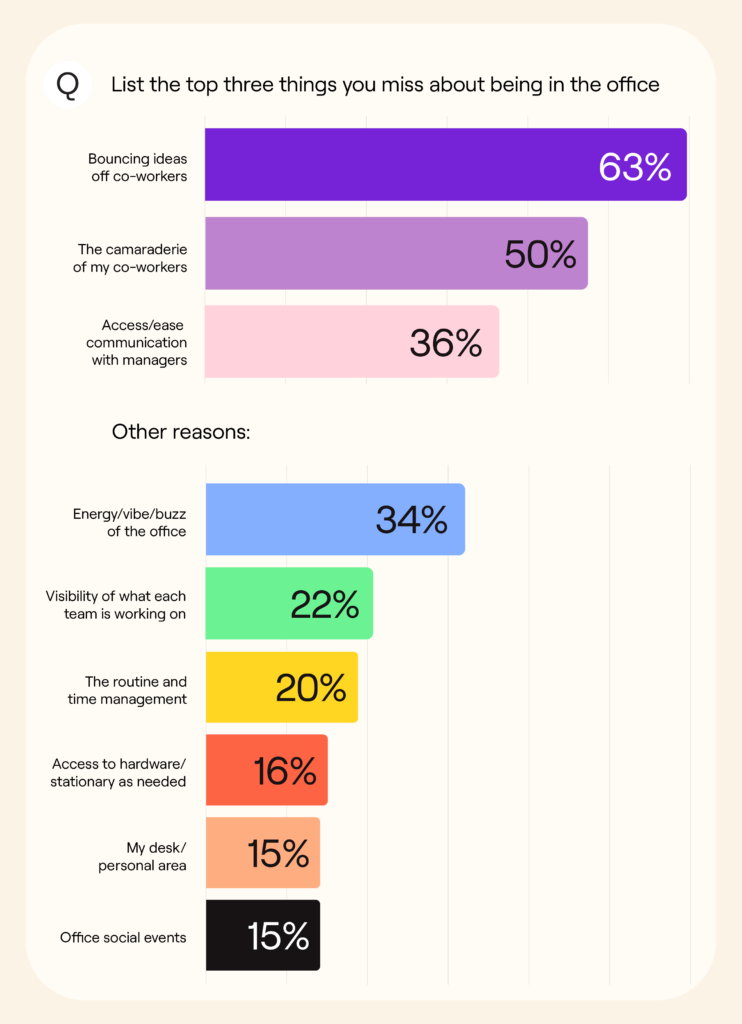 Thankfully, video calls, instant messaging and screen sharing made possible with a multitude of communication platforms are a great way to remedy these common remote work problems.
As an employer, it's up to you to make sure that your team members have access to the resources they need to stay connected. And after all, being open and transparent begins with strong communication from all parties.
Inevitably, the popularity of virtual team communication platforms has surged over the past few months, and with so many of them on hand, it's hard to know which one is right for your business.
Here are a few that we have found to be especially helpful in keeping up conversation and company culture within remote teams.
We know that there are plenty of chat tools available to facilitate working remotely. However, this one, in particular, is simple and effective. Keep your team accountable for their work arrangements and ensure no one misses an update in the business.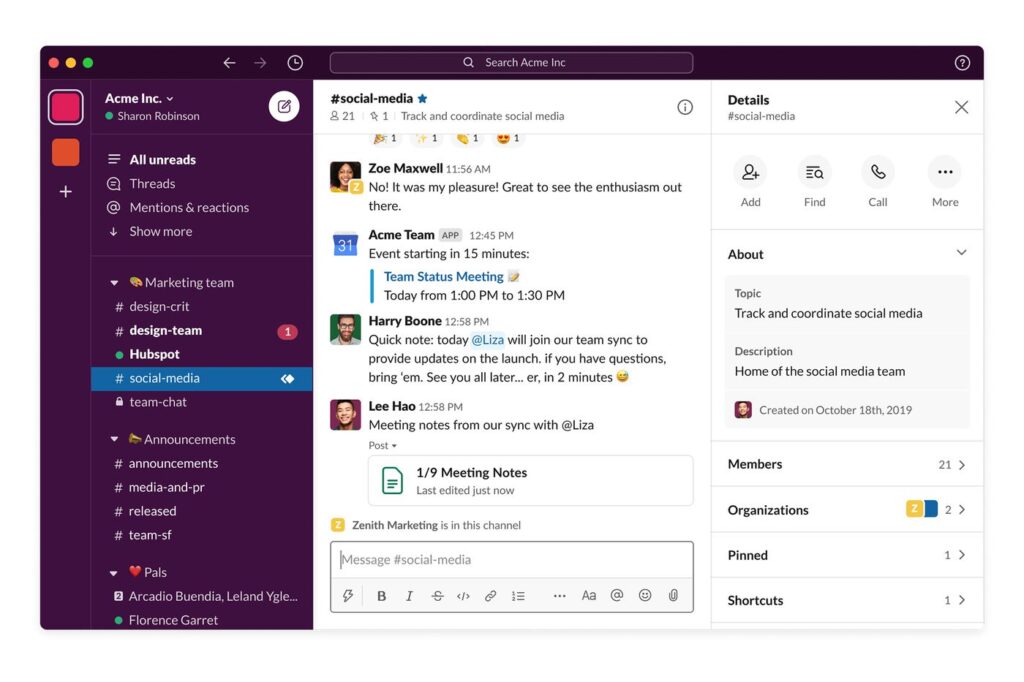 With Slack, you can create chat rooms organised by topic and private groups for direct messaging as a quick and immediate alternative to email.
With inbuilt video conferencing capability for hosting online meetings, updating and time tracking on group projects have never been easier.
Slack is a valuable communication platform where people get work done together.
If you're an Outlook user, Microsoft Teams is the corporate chat app for you. Connect Teams to your email account for consolidated communication and never miss an update from your remote colleagues.
With integrations to Microsoft 365 online apps including Word, Excel, PowerPoint, and OneNote, Microsoft Teams allows for real-time collaboration on your projects and easy file sharing with co-workers.
With chat functionality that can be organised by topic and reliable video conferencing for meetings, Microsoft Teams make communicating at work simple.
Part of Google Workspace, Google's business productivity bundle, Google Hangouts is a cloud-based cross-platform messaging app that allows for easy internal and external communication.
Apart from using Hangouts to communicate with members of your team, businesses can also use this platform to deliver free webinars and effective video marketing.
Give presentations, demonstrate new products and hold client consultations with easy screen sharing of imagery and videos. Google Hangouts is a great tool that is designed to set remote teams up for success.
Communication goes further than just spoken words and often requires tone and body language, signals that emails and phone calls just can't convey. This is why platforms like Zoom are so important.
Zoom is a remote video call service that aims to make communication easy from any location. Presentations, webinars, company forums, virtual tours and collaborative projects are made possible with functional tools like the waiting room and screen share.
With different plans available and the most basic options for free, Zoom is a great way to connect distributed teams and make remote work work for your business.
Skype is one of the more well-known video platforms and is great for personal and business use. It allows for high-definition group video calls and similar to Google, participants can dial into a landline call.
Additionally, you can share your screen with participants making it easy for presentations and can also record entire conversations.
It is available for download on desktop, mobile, tablet, Xbox and Alexa.
Cloud storage system
If you want your remote workforce to operate successfully, having a stable and secure location to share files is paramount. Luckily, cloud-based technology allows for data to be created, shared and stored across multiple devices, meaning physical distance is irrelevant when it comes to the productivity of your distributed team.
Google Drive is a cloud-based storage solution that can help you and your team collaborate on projects and manage content simultaneously. If a file is adjusted in Google Drive, it is immediately synchronised to reflect any changes whilst you track, accept and reject updates, adding feedback and comments for your colleagues along the way.
With control over who can view and edit documents and assurance that your hard work can never be lost, Google Drive is a great way for your teams to work together and complete their tasks with ease.
Security software platforms for remote workers
One of the requirements for remote work is making all your files accessible to remote employees from anywhere in the world, so remote collaboration between team members can happen.
But this also comes with its own security risks. The risk of data breaches and cyber-attacks is increased when employees are working remotely, as they may not have the same level of security that they would in an office environment.
Here are some software platforms that can help to keep your company's confidential information safe.
Are you faced with multiple logins for each and every service used by the company, and is somebody always in that (probably out of date) password spreadsheet?
When working remotely, it's essential that your employees have easy access to the tools they need to complete their jobs quickly and efficiently.
LastPass is a password management software that stores encrypted passwords online so that every member of your remote team can have remote access to the information they need, whenever they need it.
Okta is a cloud-based identity provider allowing organisations to securely connect the right people to the right technology in their business. It integrates with over 7,000 applications and providers, making it very convenient for distributed teams to access applications securely.
Okta is used by some of the largest companies in the world and is a great way to give employers peace of mind as it allows remote teams to safely and securely access their accounts and logins in a centralised location.
HR software for remote team management
With your people out of the office and working from just about anywhere, there has never been a more important time to ensure your human resource (or HR) function is performing at its best.
Utilising HR software that can help you with everything from onboarding, wellbeing and training to automated pay runs, leave management, employee engagement, payroll and reporting and rostering is beneficial to any business, particularly those with remote workers.
Employment Hero is an all-in-one solution for people, payroll and benefits platform designed to streamline manual HR processes and help distributed teams stay on the same page.
Designed to make employment more rewarding for everyone, our cloud-based platform manages everything employment-related from recruitment and onboarding, payroll, right through to employee benefits and recognition.
Employment Hero can help your team stay engaged, motivated and strategically aligned in their goals wherever they are in the world with:
Performance reviews
1:1s and feedback
Timesheets and leave management
Access to the Employment Hero portal and app
Happiness surveys and custom surveys
Reward and recognition
Access to discounts and savings on thousands of everyday items
OKRs (Objectives & Key Results)
Access to an Employee assistance program (EAP)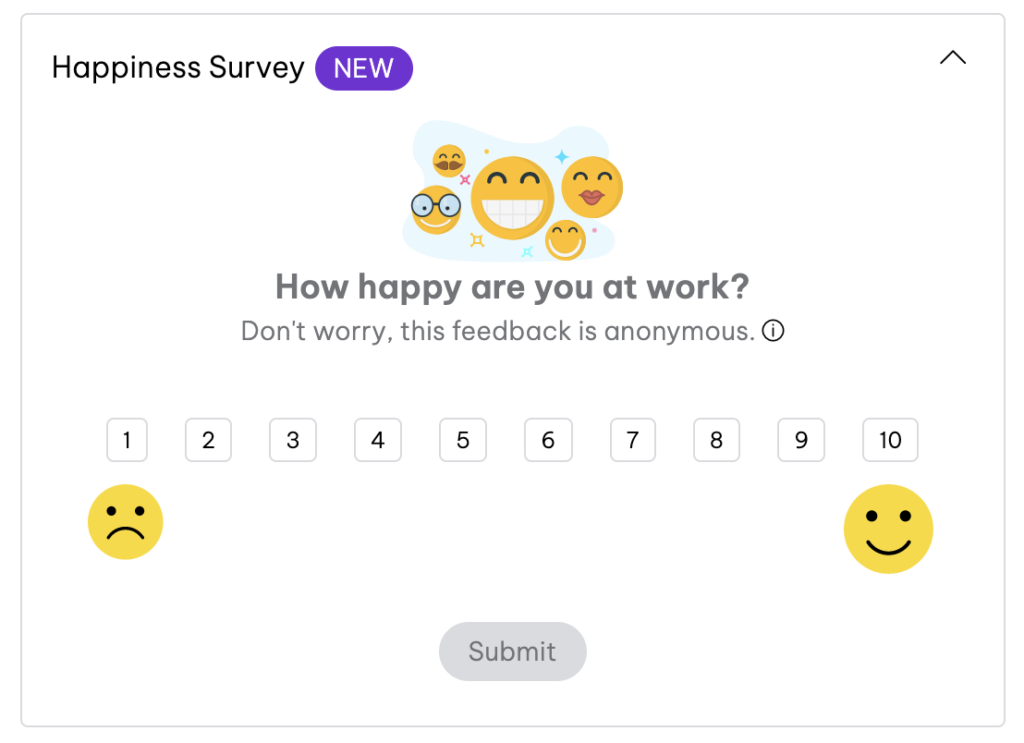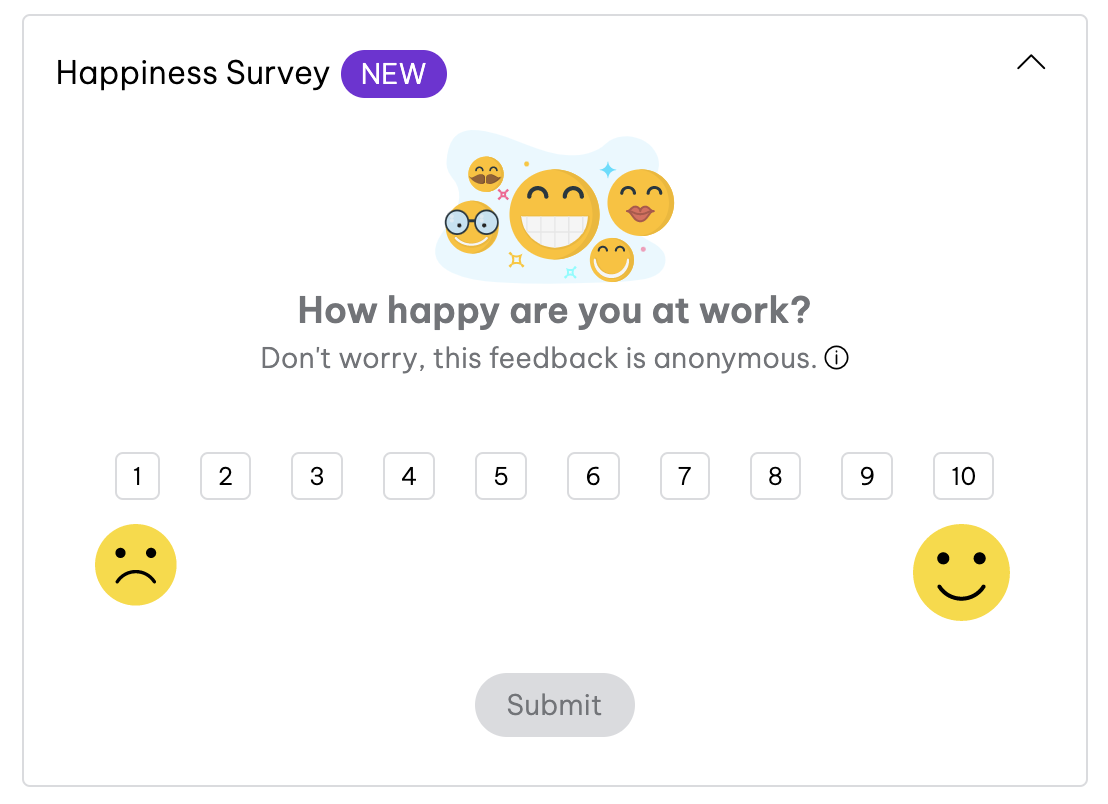 Whether you're a manager or team leader with directors to report to or a business owner with board members to consult, it's always valuable to have a business case in place for your new HR software.
Free remote work software for employee productivity
The demands of working in a digital age are that we spend an ever-increasing amount of time sitting at our desks. So how can we make that time more effective, efficient and healthy for our bodies and minds?
With technology of course. Here are some other remote tools you can recommend to your team members to get better productivity and work-life balance.
F.lux is an easy-to-use program that your eyes will thank you for downloading. The premise is simple; F.lux will adjust the light colour of your monitor depending on the time of day to reduce eye strain.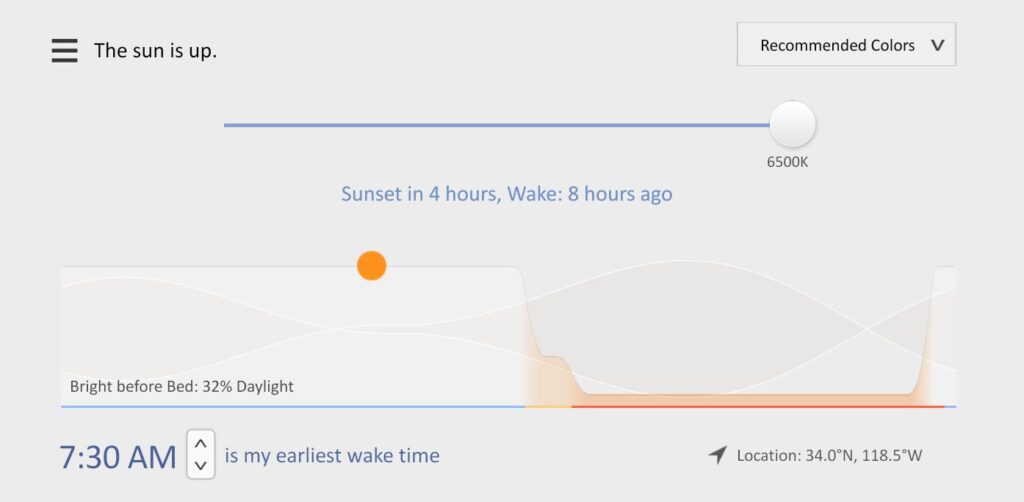 While this can be set up automatically depending on your location, F.lux can also be customised to the users' preference of warmer or colder light at any time of the day. F.lux also comes with a handy reverse alarm.
This can remind you to go to sleep during those late-night working sessions so you can be well rested for your set wake-up time.
Studies show that harsh blue light from monitors can place stress on your eyes and negatively impact your sleep schedule. F.lux is a great program for anyone working from home.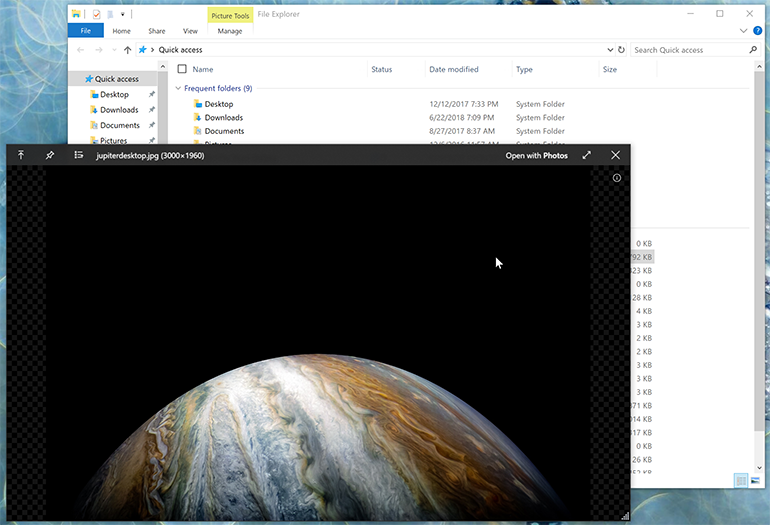 QuickLook is a very simple and easy-to-use program that will save Windows users an immense amount of time in the long run. If you use Mac, chances are you are familiar with using the spacebar to preview all sorts of files, photos and GIFs.
However, Windows users have to wait for the file to open. QuickLook is available to Windows users for free in the Microsoft Store and replicates the Mac feature.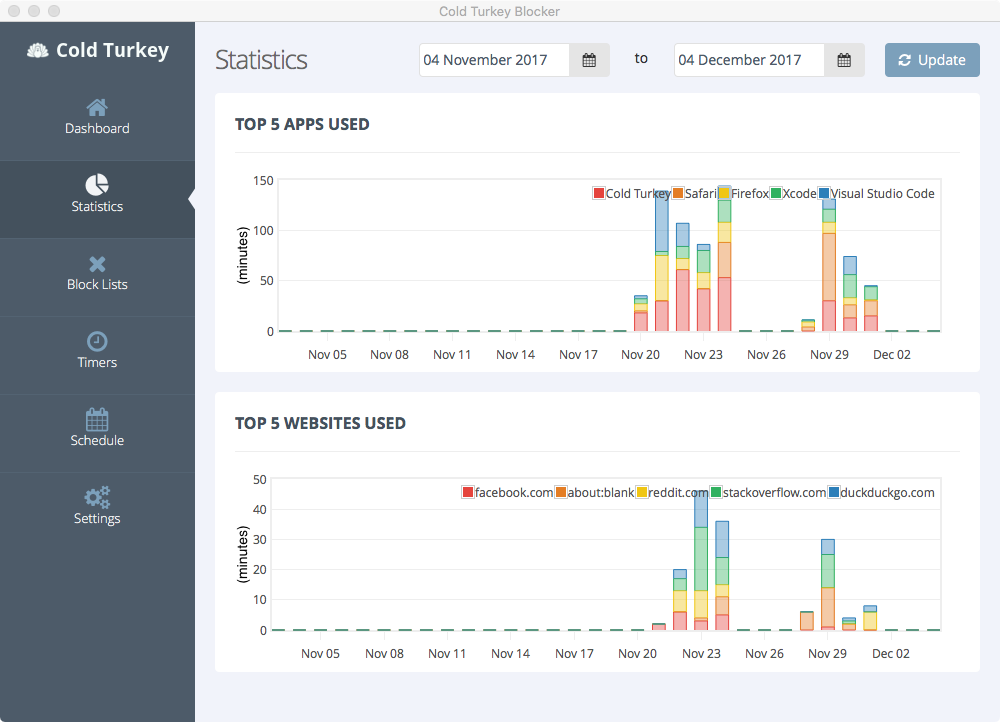 When you open Cold Turkey's website you are greeted in bold with the line "Meet your match, Zuckerburg". This encapsulates perfectly what Cold Turkey is all about — eliminating the parasitic and distracting nature of sites such as Facebook.
Cold Turkey is a website blocker that offers advanced features such as application blocking and cross-browser support. The program can be extensively customised as well, with options to lock blocks until a predesignated time.
Where other website blockers are simple to switch off and cheat, Cold Turkey requires a PC restart or the completion of a typing exercise to beat the block. Furthermore, Pomodoro-style break systems can be implemented if you can't quite stomach going full cold turkey.
In the comfort of your own home, it's easy to form bad habits such as excessively checking social media or watching a quick episode of Brooklyn Nine-Nine, especially when you work and relax using the same laptop.
That's why blockers such as Cold Turkey might be necessary to counteract your limited focus in the home office.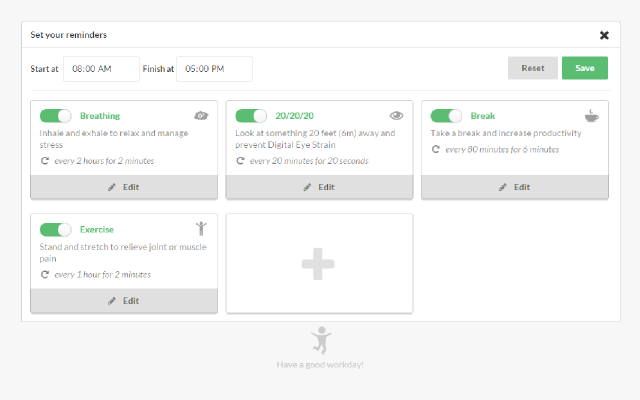 Although there are hundreds of great apps out there that can help you take regular breaks, MicroBreaks offers some of the more customisable features. There are also hundreds of studies that prove the effectiveness of regular breaks in improving employee productivity and mental well-being.
Users can freely edit break timings, descriptions, notifications and icons. Plus, there are a few helpful templates to choose from.
While RescueTime won't magically add more hours to your schedule, it can track your time usage habits and show you where your productivity is slipping.
After installing the app, RescueTime will log each minute of your day and what you are spending that minute on, be it emails, Facebook or Photoshop.
You can then see which days or hours you are most productive, as well as which apps or sites are stealing your precious minutes. Apps and websites can also be sorted into custom categories depending on their use as part of your work.
Working from home can often lead to many distractions that went previously unencountered at the office. RescueTime helps to identify and prioritise these productivity leeches and will revolutionise the way you spend your time working.
RescueTime can also be used by employers to monitor employee productivity, but it's important to consider if it's really necessary.
Should you implement employee monitoring software?
While the thought of not being in the same room as your employees (or even in the same country) can be daunting, it's important to remember that when managing remote employees, you need to build trust and empower them to be their best selves.
That being said, we understand that some managers may feel the need to implement employee monitoring software in order to keep track of their team's progress and productivity.
However, we would urge you to consider the negative impact employee monitoring could have on your team's morale and motivation, as well as the possible legal implications of the local laws before making a decision.
Give your remote teams all the necessary tools for success
Whilst there are undoubtedly many great remote work software available to assist your remote employees in performing in their roles, it's important to remember that as an employer, it doesn't just stop there.
A holistic approach should be adopted to ensure that your remote workforce has all the right tools for success.
From developing a clear internal communication strategy to guaranteeing structure and consistency for your team to work out the best ways to remain productive whilst working from home, it's up to you as an employer to ensure your team members are cared for from the ground up.
Remote working software is a solution for your business that goes hand in hand with another – supporting your remote employees to be engaged, connected and productive whilst working together to achieve your unique organisational goals.
Looking to expand your business globally? Use Employment Hero's Global Teams to hire employees worldwide in the comfort of your own home. Find out how today.
The remote first workplace playbook
A complete guide to remote management.