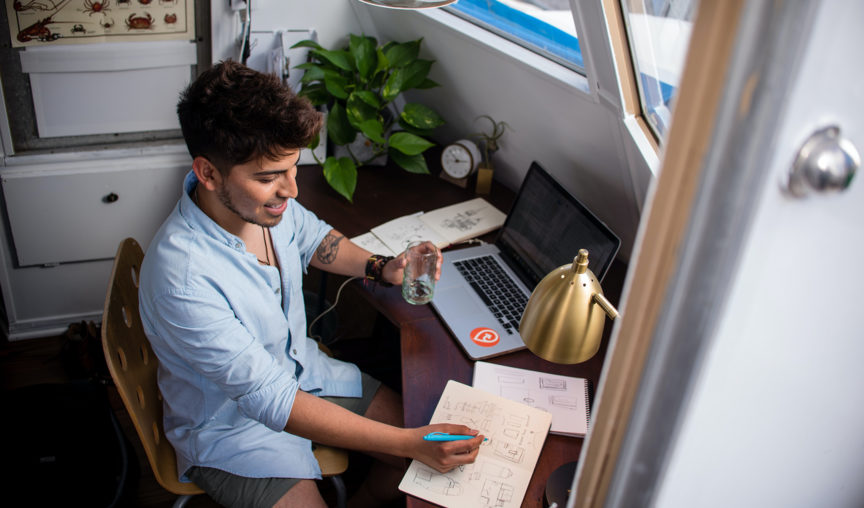 It's not a surprise that we have seen a huge shift in the world of remote working.
The global pandemic pretty much forced us to adapt the remote work model that, while popular in certain sectors previously, has never been required on such a global scale across all industries before.
Luckily for us, the technology and remote collaborative tools currently available have made the shift to remote working easy, not only changing the way we think about remote work but showing us how simple and beneficial it can be.
Prior to our forced shift to remote working, many industries were embracing the change by offering "work from home" days to help their staff achieve a better work-life balance. The "perk" of remote working, however, is quickly becoming a necessity.
Running almost concurrent with the shift of traditional work set-ups to remote working is the rise of the gig-economy style of work which is essentially made for remote work conditions. Co-working spaces are everywhere making remote working more accessible.
The idea of being a digital nomad, working from wherever you like in the world is both appealing and very possible. Some of the largest companies in the world have said that work from home will be a permanent fixture.
While companies do not have to offer remote work options, the statistics tell us they should. The trends of remote working actually tell us quite a lot.
The following global workplace analytics show how remote working can affect productivity, earnings and more, so let's take a deep dive to understand everything we can about the future of the workplace.
1. Remote work statistics for employers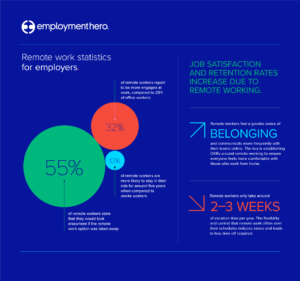 The growing demand for remote work offers some significant benefits for employees, but it is also good news for employers.
While some managers struggle with the idea of trusting employees while working from home, there are a few key reasons why management should be more than happy to adopt this new remote working system.
The first of which is the fact that remote workers are often more engaged. The Gallup State of the American Workplace report shows us that engagement levels are higher for remote workers at 32% compared to office workers at 28%.
The study also suggests that remote workers feel a greater sense of belonging and communicate more frequently with their teams online.
The key is establishing OKRs around remote working to ensure everyone feels more comfortable with those who work from home.
Job satisfaction and retention rates also increase due to remote working according to Owl Labs' 2019 State of Remote Work report which states that workers who operate remotely are more than 13% likely to stay in their role for around five years when compared to onsite workers.
The same study also explains that 55% of remote workers state that they would look elsewhere if the remote work option was taken away.
This 2019 State of Remote Work survey also mentioned that remote workers only take two or three weeks of vacation time per year. The flexibility and control that remote work offers over their schedules reduces stress and leads to less time off required.
Thinking of transitioning into remote work? Download our remote work policy for your employees.
2. Remote work statistics for employees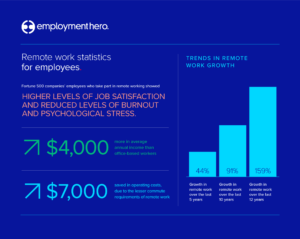 There are many obvious perks to the ability to work from home such as schedule flexibility, low or no transport costs and more time with family, but there has also been an increase in the number of remote work positions in the job market.
A 2016 study from the University of Minnesota and MIT which focussed on Fortune 500 companies' employees who take part in remote working showed "higher levels of job satisfaction and reduced levels of burnout and psychological stress."
The final significant point, as shown by a report about Global Workplace Analytics, is the higher salary of remote workers whose average annual income is $4,000 higher than office-based workers. Remote workers save around $7,000 a year in operating costs as well due to the lesser commute requirements of remote work.
3. Remote work and productivity statistics
One very clear and common stat associated with remote working is increased productivity, which both the employee and the company should be extremely happy about.
It is the management team's responsibility to ensure those who are remote working are safe, be it those who work remotely full time or those working remotely at least once a week.
A 2012 Stanford study analysed the performance of people working remotely for a billion-dollar NASDAQ-listed company which showed that remote working increased employee performance by 13% as they took shorter breaks and had a less distracting work environment.
Further research found that the remote work environment has a very clear effect on employees' concentration with the number of workers who claim a lack of attention at their office-based desk increasing by 16% over the last five-year period.
The aforementioned State of Remote Work report also showed that remote workers work more than 40 hours a week, by choice, as they actually like what they do.
There are a range of tools for those remote working to boost productivity. This is a learned behaviour that those who intend on working from home more in the future need to adapt to.
4. The sectors that see the most remote work
An article by Pragli found that remote work is most common in areas with high-income levels which is likely linked to the fact that remote work pays higher salaries. There also needs to be a link between the job role and the actual ability to work remotely, which is why software engineering and accounting roles see the highest rates.
Obviously, most blue-collar jobs simply cannot transition to a remote work-from-home work style. Remote work is simply not possible for all sectors, but advancements in technology are bridging the gap.
Even if there is the option to work at least part of the day remotely, a better work-life balance can be achieved, and employees agree this flexible schedule option is favoured across all sectors.
Statistics from around the world suggest that we will see a boost in all of these reported figures as more employees work remotely.
5. Healthier workers and environment statistics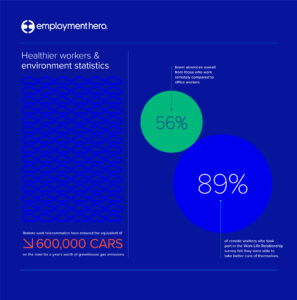 Remote workers take fewer sick days, and those working remotely report 56 % fewer absences overall. The Work-Life-Relationship surveys show that 89 % of those who took part felt they were able to take better care of themselves.
The health of the planet also improves with more people working from home as we see a reduction in traffic congestion and air pollution, as well as less road wear and tear as the number of people who commute into an office drops.
The 2017 State of Telecommuting in the U.S. Employee Workforce report showed that remote work telecommuters had reduced the equivalent of 600,000 cars on the road for a year's worth of greenhouse gas emissions.
6. Remote work and the impact on real estate statistics
A report from Zillow found that homebuyers who work remotely considered this as a major part of their decision to move to a different house or completely different location altogether. 30% of buyers surveyed capped their commute to between 15 and 29 minutes to work with only 12% willing to commute for an hour.
Gen Z and millennial homebuyers were a little different as 62 % of them work remotely at least one day per week, seeing a huge drop in the feeling of needing to live near a large metropolitan city centre to improve their career potential.
Remote work arguably offers more job opportunities in the fields that these younger generations are interested in.
7. Global workplace analytics and statistics 2020

Let's get a better overview of some remote work statistics to gain a better understanding of its impact and current state of play:
Job Types
18 % of executives work remotely according to Owl Labs who also state that 35 % of remote workers are individual contributors
30 % of companies according to Buffer are completely remote
55 % of VPs work remotely part-time or more based on the same Owl Labs survey
The same survey states that 75 % of on-site workers have worked in their positions for under a year, hinting that remote positions are going to employees with more time at the company
Size
4.7 million employees work from home throughout the week, according to Global Workplace Analytics in the US. That equates to 3.4 % of the country's workforce
Owl Labs report that almost 62 % of employees between 22 and 65 work remotely occasionally
44 % of teams according to Buffer feature full-time remote workers
Growth
42 % of employees who already work remotely plan to work plan to increase the amount in the next five years according to owl labs
Telecommuting increased by 22 % between 2017 to 2018
99% of people claim they would work remotely for the rest of their careers if allowed
95% of people would encourage family and friends to work remotely
Job retention
A LinkedIn poll found that 72 % of talent professionals think work flexibility is vital for the future of recruiting
83% of workers claim they would be happier if they had the remote work option
A flexible schedule is listed as 40 % of people's top work perk with 81 % saying that working remotely would make them recommend the workplace to job candidates
Remote behaviour statistics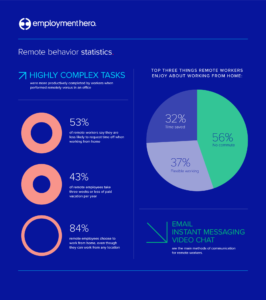 Some more general remote work stats give us a further idea of the current state of remote work which are of interesting consideration for those who want to work from home. Many more workers would work from home at least some of the time if it was offered to them.
When people work from home, they have fewer distractions and end up working more days a week.
53% of remote workers say they are less likely to request time off when working from home Press Release
43 % of remote employees take three weeks or less of paid vacation per year. (Buffer)
Highly complex tasks are completed by more productive workers when performed remotely versus in an office.
Email, instant messaging, and video chat are the main methods of communication for remote workers
Remote work means the ability to work from anywhere, but 84 % of remote employees choose to work from home
8. Benefits and challenges of remote working
Some people could quite fairly argue that a work-from-home situation offers both pros and cons. For example, while paid higher on average, the majority pool of remote workers (74%) earn less than $100,000.
While less than 34% say that they would take a pay cut of 5% as a trade-off for the ability to work remotely full-time, a massive 69% of millennials are also willing to trade other benefits for a flexible remote work option.
Around 75 % of people who work from home are not compensated by their company for internet costs, but they do save upwards of $5,000 annually on work expenses and travel costs.
The expense of a co-working space is rarely compensated by an employer despite the fact that businesses would save an average of $11,000 a year if every employee worked remotely at least part-time.
Remote work employees can feel disconnected from their teams and around 22 % report that unplugging after work is a serious challenge. Around 19 % of remote work employees report feeling lonely, and less than half of the remote workforce has received the correct level of internet security training.
9. How to balance remote workers and in-office workers
Companies are now faced with the challenge of supporting office and remote workers. Two sets of employees with very different needs.
As the statistics clearly state, remote working is on the rise. A fully remote team requires tools like time tracking and productivity software, whereas in-office employees need facilities.
This should not stop a business from embracing some form of remote work, however, as the benefits of greater productivity and lower overheads far outweigh the added managerial pressure.
While the statistics back up the fact that remote working offers a range of benefits, there will still be many employees who do not wish to work from home.
Some companies such as Employment Hero offer a remote-first hybrid approach to remote working where employees who need flexibility and focus can work from home, but the option to come to the office is available, and this is seen as a social hub where employees can come for meetings and engage in person.
Read more: How to conduct effective remote meetings
The remote workplace of the future
Around 41 % of global businesses already offer some level of remote working, with 60 % allowing employees to choose their start and end times.
The future will likely see all remote working numbers increase, even after the pandemic settles down. For this reason, it is important to prepare your employees for the possibility of working from home.
The benefits of remote work employees across the board cannot be denied. From the positive environmental impact to performance increases, adapting your business to allow for remote work now is a positive for everyone.
Looking to hire a remote team internationally? Using a service like Employment Hero's Employer Of Record instantly expands your talent pool without the need to handle complex local employment laws.
Reach out to our business specialists today to find out more!
Learn more about hiring internationally:
The remote first workplace playbook
A complete guide to remote management.