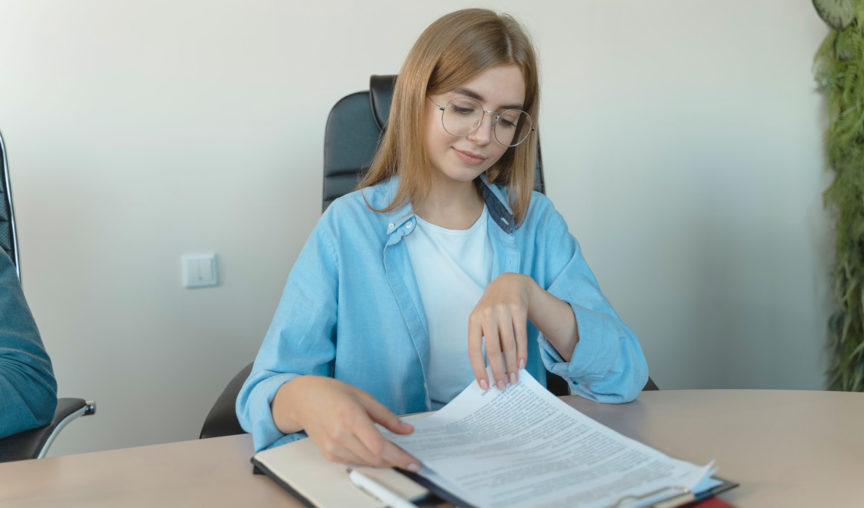 When it comes to expanding your talent pool, there are a lot of different options to choose from. You could try to hire new employees yourself, or you could outsource the process to a Professional Employer Organisation (PEO).
PEOs provide businesses with an easy and efficient way to find qualified candidates and expand their operations. In this blog post, we will discuss what PEOs are and why your business should use one!
What is a professional employer organisation (PEO)?
A professional employer organisation (PEO) is a human resource service that allows employers to access talent worldwide. A PEO can act as a co-employer that can manage payroll, benefits, and other human resources (HR) responsibilities on behalf of your company.
If you're looking at global expansion or need to hire someone legally in a specific country, read on to discover PEOs. They can alleviate the stresses involved in taking your business to the next level.
Why should businesses use a professional employer organisation?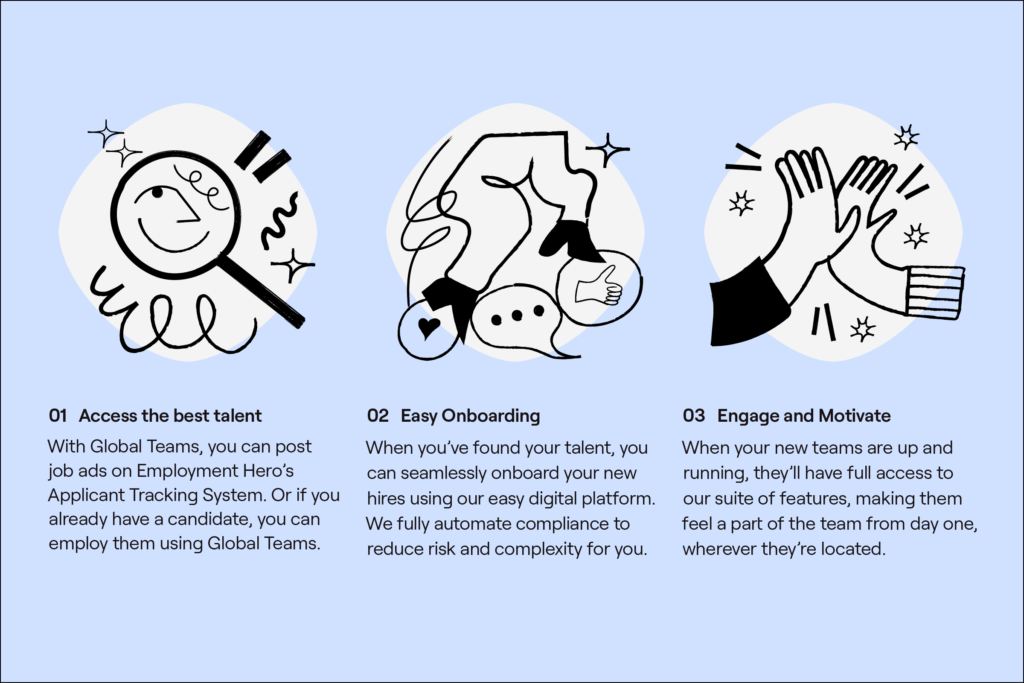 A professional employer organisation is a cost-effective way for businesses to mitigate the challenges of a number of tasks associated with employment.
For many small and medium-sized businesses, hiring employees from outside their home country is a complex and expensive process and often involves setting up separate entities.
Having a PEO takes the guesswork out of hiring international employees by navigating local laws and regulations, compliantly hiring and onboarding employees and offering a range of benefits.
Employment legislations are complex and unique to each country. Check out our guide to employing staff in:
Comprehensive HR outsourcing solutions can be time-consuming and a PEO, which outsources certain functions, saves time, handles workers' compensation and creates a broader range of benefits for your large or small business and staff.
From recruiting and employee retention to better time management, it is suggested that a PEO will help a company to grow. PEOs also assist with tax administration, compliance and other benefit costs for small and medium-sized businesses.
While there are already many tools in place to assist with things like payroll, a PEO allows you to achieve much more without having to burden your in-house HR resources, or management team if they currently perform these functions.
How does a PEO work?
A PEO can help manage important human resource functions like payroll, benefits, training, and guidance. This allows other vital resources to be freed up to focus on strategy, rather than HR admin.nIt can be difficult to ensure industry compliance with labour and employment laws.
A PEO handles this and a range of other tasks, so owners and managers can focus on more essential services with peace of mind.
The process of using a PEO starts with the client company entering into a contract with a PEO of their choosing. This covers the following:
An agreement that the PEO will act as the administrative employer for specified tasks concerned with the employment relationship, with the client acting as the employer
The client company will remain responsible for hiring, managing staff and the non-employee related aspects of the businesses operations
The PEO is responsible for processing employee wages, benefits, and withholdings while also reporting taxes in accordance with the employees' local legislation
Some relevant tasks may be shared between the client and the PEO as discussed
Some PEOs may also include additional features such as wellness perks like discounted gym memberships or other benefits to help boost workplace health, morale and employee engagement.
Once in place, a PEO becomes the Employer of Record (EOR) for staff and is responsible for administering all payroll and related benefits.
Read more: What is an Employer of Record?
What are the benefits for a business using a PEO?
A typical PEO will provide a selection of staff with extensive experience in HR, legal, tax purposes, client services, and accounting that can reduce admin costs, streamline payroll and help with expansion into international markets.
While there are many benefits to outsourcing roles like payroll, let's dive into the advantages and further benefits of using a PEO.
Having a PEO can bring benefits to your business, such as:
Expansion into new markets
Gaining access to the best talent globally
Keep high-performing employees who can no longer work in your country
Avoid cost and complexity of hiring offshore
As well as providing employees with opportunities to:
Go for the most exciting role and not be limited by location
Have secure employment
Experience greater diversity at work
Benefits of a PEO for employers
For an employer, a PEO can provide relief not only in the time commitment associated with these tasks but also in a range of recruitment cost savings.
A PEO offers greater buying power for workers' compensation and health insurance, along with the peace of mind that all of these tasks are appropriately handled.
Expansion into new markets
If your business is ready to launch into new markets, a PEO saves you the cost and time of setting up a local entity in a new country.
On average, it's around 60% cheaper to use a solution like Employment Hero to set up an entity in a new market.
Hire professionals in a specific country
Hiring the perfect candidate can be difficult, especially when you're limited to a single time zone. Over 45% of employers say they struggle to fill open job roles with appropriate talent, threatening business growth and efficiency.
The Future of Jobs report acknowledged that business models need to be disrupted to fill vacancies and overcome this 'war for talent' that employers face.
A PEO disrupts traditional HR models by addressing skill shortages for businesses while also improving overall performance by hiring a diverse workforce.
This disruption enables your business to grow by introducing new perspectives and finding experts in their field.
Here's a handy guide on how to hire tech talent overseas and hiring an international sales team.
Build a world-class culture
A PEO will help you build a world-class culture as a globally dispersed workforce means having one culture that resonates with all company employees.
Business owners have the opportunity to be a leader in mitigating social distance through creating a world-class culture that ensures each member understands who the company is and its values and no matter the distance, the company supports them.
Having a global workforce strengthens culture with new bonds and conversations being shared with employees of different backgrounds, encouraging personal growth and self-awareness. Managing remote workers globally can be a challenge due to asynchronous working.
However, utilising a PEO can help maintain a positive workplace culture through management tools, online notifications and communication. A PEO ensures employees feel a part of the team no matter where they are in the world.
Employment Hero features such as OKRs, 1:1s and the Company Dashboard ensure company alignment and productivity even on a global scale.
Benefits of a PEO for employees
For employees, a PEO offers better benefits offerings by creating a competitive benefits package for a set term and more in-depth human resource service. This means happier employees and greater retention as they understand the message that the business cares for them.
Work that truly inspires
Around 81% of employees would consider leaving their jobs for a more fulfilling role, but it is hard to find that dream role when you're limited to one location.
The global shift to remote work has created greater opportunities for employees to expand their horizons and go for roles they would have never dreamed of before. With global companies, there is no limitation on jobs employees can apply for.
This allows employees to apply for job positions they are passionate about, and in return, employers get hard-working employees that are excited about work!
Read more: Are you ready for the new era of remote work? 
Have secure employment
There is no need to worry when employees get hired through a PEO because they won't miss out on the typical permanent employee entitlements such as leave and benefits.
An accredited PEO ensures all standards are met by automated compliance and policies, with a true understanding of local legalities, you can be at ease knowing you are taken care of.
A PEO also creates a competitive benefits package for a set term and more in-depth human resource services throughout employment.
With many collaborative software tools available, they will feel a part of the team regardless of their location with employee wellbeing, training and communication feature all accessible to them.
Experience greater diversity
By joining a high-performing remote team, employees will upskill significantly through exposure to international learning and new cultures, resulting in not just a profound professional experience but also a personal one.
Working in a global team increases your cultural intelligence as you can work in a cross-cultural context and interpret varying communication styles.
Cultural intelligence is a key skill employers look for in new hires as it demonstrates empathy, adaptability and resilience to new situations.
Creating a better work-life balance is what 30% of candidates consider the most important factor when applying for jobs. Being able to work for a global company that promotes this sustainable balance is additional value employees look for when job searching.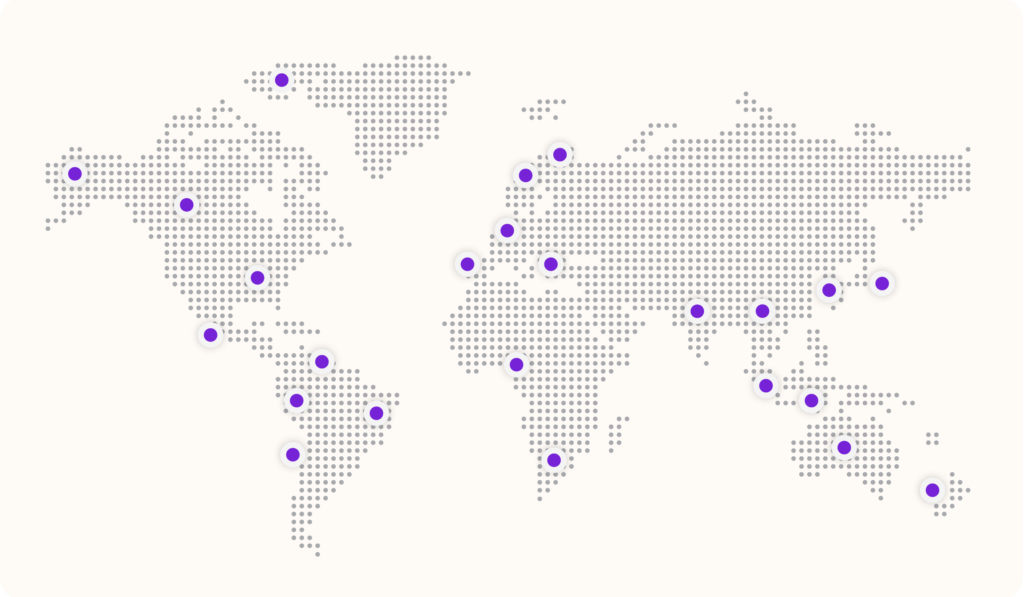 Are PEOs worth it?
The biggest hurdle for most large or small business owners in any industry in adopting a PEO is being comfortable with relinquishing the control over this aspect of their company to a third party.
If they do, however, a range of business benefits will be created by the PEO, making the action very worthwhile.
The most significant benefit is the time saved as a PEO frees up company resources and covers risk management. It also removes time-consuming tasks such as payroll or new employee onboarding.
By gaining this support for administrative services, some of the following can be removed from management's to-do list:
Recruiting and hiring
Handbook development for worksite employees
Creating and managing a benefits package
Ongoing management training
Employee coaching
Creation of a privacy policy and terms of use
Compensation insurance
Dismissal processes
Unemployment insurance
Assistance with payroll taxes
And more
What won't PEOs do?
While PEOs are a great way to ease your administrative burden and handle workers compensation insurance or payroll processing, they cannot, and will not, do everything.
If you are considering a PEO for HR guidance, it is crucial to account for the things that will not be covered and understand what will still remain for the employer responsibilities.
The co-employment relationship setup of a PEO allows for a range of responsibilities to be handed over, the running of the business is still very much your responsibility, most notably the management of your team and their operations.
PEOs are not legal or tax advisors, and while they help with many related tasks, such as filing or the completion of relevant forms, you still have a responsibility as a business owner to be aware of all the applicable state and federal laws and compliance pertinent to your business and employees.
How much does a PEO cost?
There is a range of factors that will determine the cost of a PEO. This can include the size of your business, the services you choose, and the number of employees you have on the payroll.
Most PEOs will charge a flat fee per employee or a percentage of your company's total payroll regardless of whether you are a large or small business owner.
A good way to account for your company's expected PEO costs, calculate the yearly expense for both pricing models and keep in mind that when starting a new contract, you may be able to negotiate.
Knowing which option is financially better for your business first will help you negotiate with a certified professional employer organisation.
How do you choose the right PEO?
PEOs provide a range of cost, time, and administrative savings, but they may not suit your business model. Consider how comfortable you are with outsourcing these tasks and if it will truly provide a return on your investment.
You can do this by considering how much time you currently spend on these HR duties and if there are any gaps in your process that a PEO can improve.
If you decide that a PEO can benefit your company and reduce employee turnover, you'll need to make sure you choose the right one.
Your navigation of the options should consider the human resources outsourcing services and the range of benefits they offer, along with the flexibility they provide in their service agreements.
A PEO will impact your employees and HR functions, so ask the question and take into account the following to find the right one:
Accreditations and auditing
PEOs are highly regulated as they handle sensitive employee data, documentation and cash flow. You will also want to confirm their compliance expertise as this is one of the most crucial tasks they will be taking over from you.
Employee benefits offerings
Consider what benefits and programs the PEO offers and their associated costs. Are they something your employees will find value in or will a different PEO with varied employee benefits be better? Will these help your business?
Industry References
It would be good if your potential PEO provider has an established track record with both professional and client references. Find a company that has experience in your industry or with a company similar in size to yours. You can request case studies or speak to other customers who can comment on their performance.
Service-level agreements
A service-level agreement (SLA) explains the relationship you will have with your PEO. It will discuss not only the services provided but also the responsibilities of your PEO and what you should expect from them.
As an employer, a PEO that will help your business will offer clear and straightforward answers to your questions is favourable, as this will give you some idea about the working relationship to come.
What is the difference between a PEO and an employee leasing company?
The primary difference between a PEO and an employee leasing company is that a PEO does not supply labour, only services and benefits management
A PEO works with their clients existing employees, focusing on the human resources tasks inclusive of hiring, remuneration, superannuation and various employee benefits.
An employee leasing service, in comparison to what a PEO provides, supplies a workforce on a temporary or project-specific basis. The leased employees will not remain with the client companies past the completion of a particular project.
Instead, they are reassigned by the staffing service to a different company for the next batch of work. This temporary employment arrangement can see staff assigned to a customer on a regular basis; however, the worker has no employment relationship with the client like in a PEO setting.
Have more questions about hiring a professional employer organisation? Check out our Q&A session hosted by Employment Hero's CEO Ben Thompson below!
The wrap up
Relieving yourself of your human resources, payroll, and capital management tasks can take a lot of the pressure off your management. It can also create an environment for happier employees due to the better benefits you'll be able to offer.
While the time and cost savings for your business are significant benefits, the primary goal is allowing you to focus on growth, making a good PEO an investment in your future.
How global teams can transform your business