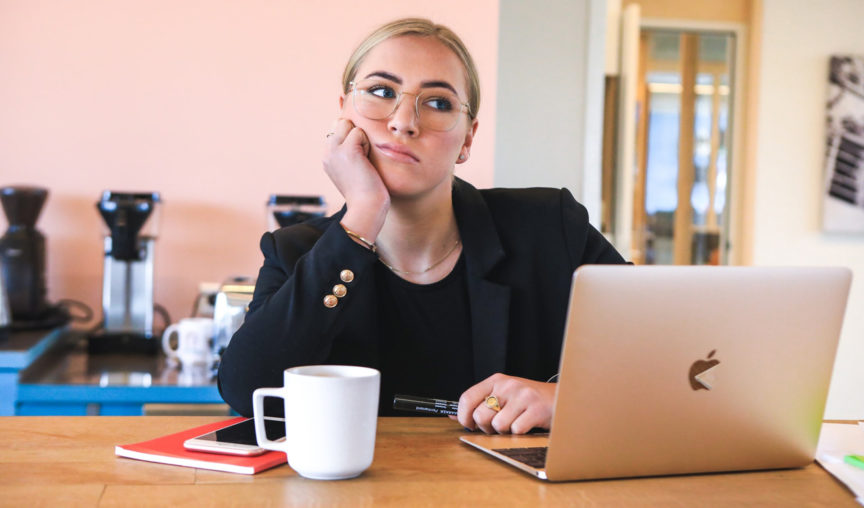 Although many of us are physically apart right now as a result of COVID-19, it's no excuse for remote company culture to take a dip. When you think about it, keeping culture and spirits high right now in your team has never been more important during these trying times.
As thousands of workplaces continue to work from home, maintaining company culture is front of mind for many people and culture managers. Maybe you feel like you're fighting an uphill culture battle. Whether that's as a result of experiencing low engagement, productivity or even employee happiness, there are many things you can do to conquer that company culture hill.
So, if you find yourself asking:
Can our culture survive remotely?
How do I replicate the in-office buzz virtually?
Or why is my team not getting involved like they once did?
We're here to help with a few handy suggestions. One thing to remember before we dive in is that this is new territory for many of us. It's a whole new ball game and one that most of us are not familiar with creating or managing.
With this front of mind, remember that it's ok to make mistakes the first time around – these things take time. Ask your team for suggestions and what they want to see or do. At the end of the day, feedback is key and can help you build a great remote culture.
If you're looking for ideas to improve company culture when working from home, we've rounded up 9 fun activities here.
So, how do you create a remote company culture that actually works for your team? Read on as we cover how to create a remote culture where everyone is excited to log on everyday.
How can you maintain company culture when working remotely?
Find your virtual office
When working from home, there's no denying that most people miss the daily chit-chat with co-workers. Whether that's a simple hello in the elevator or chat on your morning coffee run, we lost those face-to-face interactions that we once had in the office.
To find your virtual office, you need to establish a central place for all communication. Whether this is Employment Hero, Slack, WhatsApp or your company intranet, having one easily accessible spot dedicated to communication is crucial.
While the main priority of this tool is for work, don't be scared to make it fun! Try and recreate the same culture and topics of interest that you know where talked about regularly in the office.
Have animal lovers in your team?

Create an #animalsbeingcute Slack channel where they can share cute pictures of their furry friends.

Have gym enthusiasts?

Create a channel for your team to share workouts.

Have book worms?

Create a book virtual club.
The world is your virtual oyster, so get creative!
Source: Giphy
Ask for regular feedback from your team
We all know that asking for feedback from your team can help foster a culture of trust and growth. Not to mention all of the benefits that come with creating a culture where your team are excited to log on for work each day.
A good way to get feedback from your team is to ask for it regularly in a way that's easily accessible by your team. Whether this is via employee surveys or asking for your team to rate their happiness (like Employment Hero's Happiness Score), you can learn a lot from what your team is thinking.
Did you know: that Employment Hero can help you request and gather employee feedback in our Happiness Score and Custom Survey features? Receiving feedback from your team while working remotely can provide you with invaluable insight that can help guide your culture plans. Interested in learning more about Employment Hero's Happiness Score and Custom Surveys? Get in touch with one of our small business specialists who can show you how Employment Hero can help boost your remote workplace culture.
Encourage people to get involved
According to a recent study, 63% of employees have spent less time socialising with their co-workers during the pandemic. What's more, the same study revealed that 35% of remote teams are not holding any virtual events to boost company culture. Eek!
If you're like many businesses who saw employee engagement skyrocket at the start of COVID-19, you may be starting to experience a drop off from your team. With the Omicron and no clear end of the pandemic in sight, it's natural for your team to become slightly disengaged or burnt-out – however, this can be changed. How? Take a listen to what we've done at Employment Hero.
At Employment Hero, we transitioned our people and culture team to be our remote culture champions and warriors. What are remote culture champions and warriors?, I hear you ask… They are the cheerleaders for our remote culture and actively work to engage our team to get involved in activities.
If you're looking for some ideas for your own remote culture champions, you could try holding weekly virtual events such as trivia, skribbl sessions, cooking demo's or a virtual amazing race. Having remote culture champions will encourage your team to get involved with activities and look forward to the social interaction (even if it is socially distanced and over video!).
Organise virtual events and team building activities
If you're looking for ways to boost your remote company culture, organising dedicated time in your teams' calendars is a great way to get the ball rolling. Remember that even when you're apart, there are ways that you can be together – even if it is virtually!
Stuck for ideas? Some of our favourite virtual events at Employment Hero have included:
Themed all-hands meetings

Trivia

The amazing race

Virtual yoga

Cooking demonstrations

And virtual chit-chat time!
A fun Scribbl.io masterpiece drawn by one of our very own Heroes
Create a culture of recognition
Did you know that 52% of Australian employees feel more productive when they receive praise and recognition? With this knowledge at the forefront, it only makes sense to start weaving recognition into your culture – and pronto!
By incorporating peer to peer recognition in your remote culture, your team will feel appreciated for their efforts, whilst enjoy being recognised publicly for a job well done. Remember that peer to peer recognition can be as simple as acknowledging a colleague to thank them for jumping on a call with only a minutes notice.
How can you create a culture of recognition virtually?
Employment Hero's

Peer to Peer Recognition

feature

Sending thank you notes in the mail or sending a photo of a handwritten thank you note

A dedicated portion of your virtual team meeting to acknowledge co-workers

Mentions on company communication channels. E.g.

Slack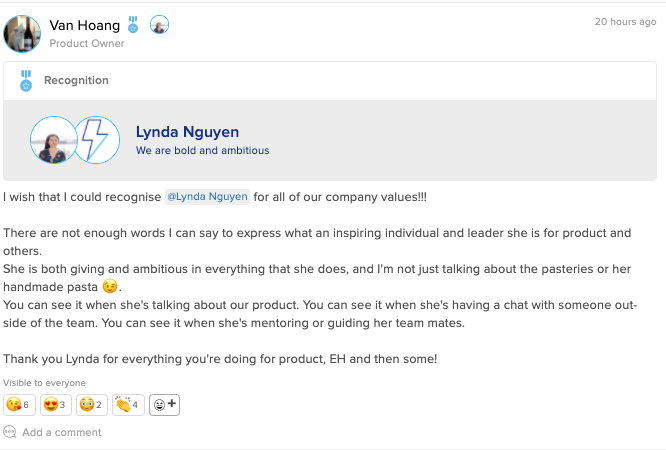 Employment Hero's Peer to Peer Recognition Feature
The wrap up
As we continue to see teams work remotely, you need to dedicate time to boost company culture. Whether this is by getting your people and culture team to wear the hats of remote culture champions or embedding recognition into your day to day, there are many different ways your company culture can survive working from home.
Remember that while we're working in a physically distant manner, there's no reason that we can't be more connected than ever! So go on, get planning!
Want more? Here's some suggested reading
The remote first workplace playbook
A complete guide to remote management.