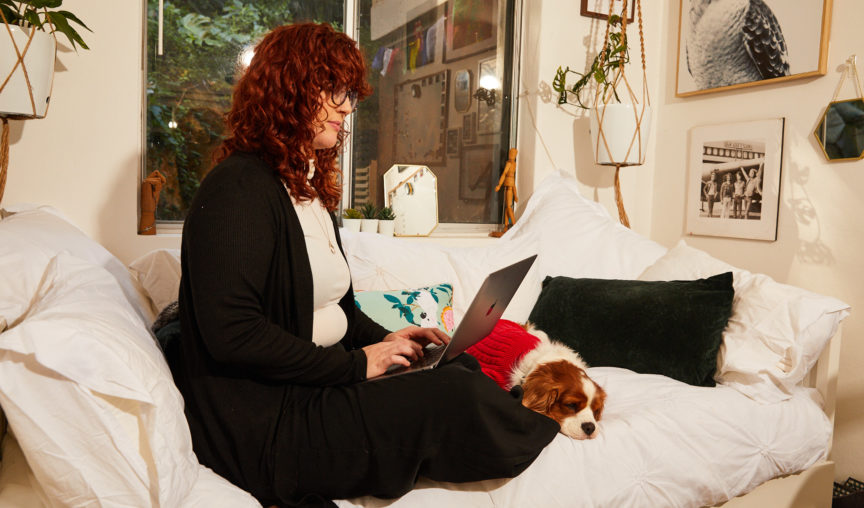 Everyone loves the concept of working from home, and for many of us, it makes sense to do so. These days, we're busier than ever – juggling work, social events and parenting responsibilities.
With so many things on our plates, the benefits of remote working are obvious. It means that employees spend less time commuting and more time with family, friends or working on personal interests.
It empowers women returning from maternity leave and gives men the flexibility to support their partners during this time. It can help carers, and people with a disability stay employed and redistribute wealth away from metropolitan areas and into regional and rural centres.
Whilst the benefits of remote work are clear, without the in-office face-to-face interactions with your co-workers or mid-morning water cooler chats, it can be easy to fall into a remote work rut, especially if you're feeling disconnected from the world.
Getting caught in a remote work rut can lead you to feel uninspired and unproductive. It can make the concept of working from home feel dull and more like a chore than a benefit.
If you're finding yourself in a remote work rut, we've rounded up some creative ways to pull yourself out and get you excited for your remote working days.
1. Reshuffle and rework your desk set-up
We might sound like a record on repeat, but we can't stress how important it is to have a proper work setup at home. Shockingly, a recent study showed that 72% of remote workers aren't working from a dedicated office space, and 40% aren't even working from a dedicated desk.
If possible, create a dedicated workspace away from your bedroom and preferably somewhere with a door. This way, you can log off and create a division between home and work life.
For those who don't have the option of creating a workspace outside of their bedroom, create a nook where you can create a mental divide.
You should also make a conscious effort to close down your laptop each night and putting it away – even if it's just in a laptop case.
This way you'll reduce the temptation to jump online and quickly do that one last task for the day or check those late-night emails.
But it's not just where you set up your workplace – it's about creating an environment you'll feel inspired to be in.
You should invest in creating a working setup that you'll enjoy being at – after all, we spend one-third of our lives at work.
Investing in a good monitor, laptop stand, plants (new studies have shown that houseplants can improve your productivity and concentration by up to 15%), a planner, and a chair are just some of the things that can make all the difference.
Better yet, if you're located away from your head office, speak with your HR team about organising a pass for a coworking space a few times a month.
Not sure where to start? Send this remote work setup checklist to your HR team and get your workspace sorted.
2. Find a new way to plan out your day
Refreshing the way you plan your workday can help you boost productivity and prioritise your tasks. For many, falling into a rut can make it harder to prioritise tasks or simply stay on top of what needs to be done.
Buying a new planner can inspire you to plan your workday. There are thousands to choose from and can be as broad or as specific as you like – from daily planners that break down each hour of the day into chunks, right through to annual diaries.
If you're not sold on the idea of buying a physical planner, why not take things digital? 
Time blocking, used by some of the world's most successful entrepreneurs (hello Elon Musk and Bill Gates), is the concept of breaking down tasks by working hours.
Using your calendar to time-block your day into sections can help you prioritise and dedicate time to each task in your day. Time blocking is a great way to stay focused and in 'deep work' mode when you're facing multiple distractions at home.
It also encourages your co-workers to book meetings that fall outside of the tasks you've already time blocked in your calendar.
Hint: If you're using Slack or an instant messaging tool, set your status to 'deep work', add your phone number and hit snooze on your notifications. This is a surefire way to keep you focused and on track with your work without interruptions.
Looking for more remote working tools? We've rounded up 20 tools that will change the way you work from home here.
3. Add dedicated time to your calendar for exercise
Following on from the concept of time blocking, it's important to dedicate time to moving and exercising. Daily reminders in your calendar to get up and stretch or to drink a glass of water can help you from feeling chained to your desk.
If you plan on walking for 30 minutes in the morning, put it in your calendar and update your Slack status. You'll let your team know that you're away from your desk and spending some time to re-energise and refocus
It will do wonders for your productivity throughout the day, and you'll sit back down at your desk feeling ready to get to work.
Sometimes all we need is a long walk and a good podcast to reset and get out of that remote working rut.
Read more: Apps to stay healthy while working from home
4. Take a course and invest in yourself
We all know the feeling of not wanting to get out of bed in the morning. However, if you find yourself feeling this way most days, it might be time to invest in yourself and upskill.
Taking a short course or program can help you reignite your inspiration and allow you to become more motivated in your role.
But taking a course isn't the only positive that could come out of trying to get out of your remote working rut. Doing so could lead to greater things in the future, like a promotion or even a career switch.
If the pandemic taught us one thing, it's that people are re-focusing their priorities – both at home and in the workplace. That's why there's so much chatter around The Great Resignation.
According to the Microsoft 2021 Work Trend Index, 41% of employees are considering leaving their employer this year, with many finding themselves looking for significant change.
Upskilling or completing a short course just might be the thing you need to make the best career move of your life.
Looking for course inspiration? We've rounded up 15 killer online courses you can do right now.
5. Sign up for daily resources delivered to your work inbox
When working from home, it can sometimes feel like we're spending all day in our inbox – and let's face it, doing admin and replying to emails can leave us feeling uninspired.
Why not start your workday off on the right foot and subscribe to daily emails that provide you with inspiration? It can help set your day up for success, as well as give you insights that will help you learn more about your industry.
Whether it's general information, motivational or industry-specific, a daily dose of inspiration can go a long way.
Ready to sign up and look for ideas? Check out The Hustle or Morning Brew.
Put the remote working rut behind you
Falling into that pesky remote working rut happens to the best of us. It can leave us feeling drained and uninspired, but there is a way out.
With a few simple tips and tricks, you'll be on your way to feeling re-energised and refreshed to hit the ground running in no time at all.
Learn more about working from home effectively in our guide on maintaining work-life balance while WFH. 
The remote first workplace playbook
A complete guide to remote management.