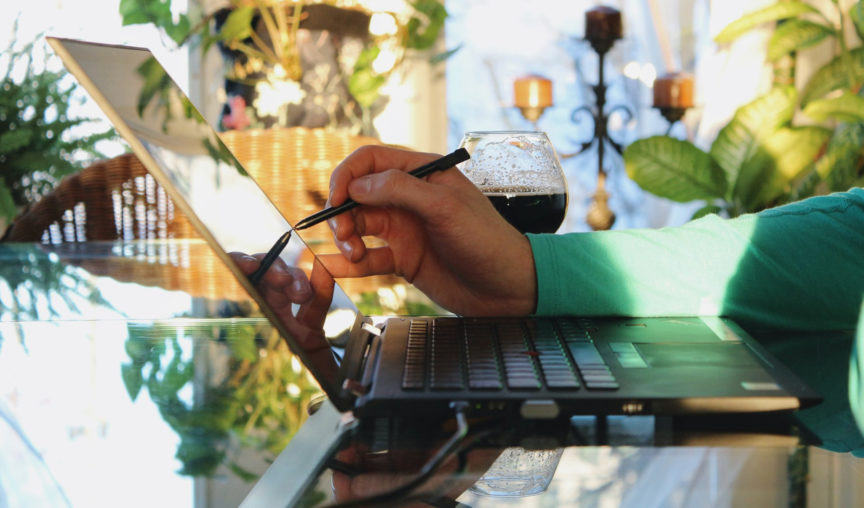 Today, we no longer need to sit in a lecture theatre or carry around a load of clunky textbooks just to learn a new skill. Online courses have changed the ways in which education is delivered and have helped learning become more accessible, convenient, affordable and flexible than ever before.
The changing landscape of online learning
Whether you're interested in changing careers or picking up a new skill, online courses are the learning of the future
Sure, blog posts and podcasts are a great place to start when you're wanting to explore a certain topic or field. However, online courses take learning that one step further and provide you with the resources needed to truly grasp a new skill.
There is a diverse range of online courses, from role-specifics like graphic design and coding to more generalised topics like marketing and management. There are even plenty of opportunities to improve your soft skills such as communication, creative thinking and teamwork.
What are the benefits of online learning?
Studying online means you're in charge of how, when and where the learning takes place. The majority of courses allow you to go at your own pace with no fixed deadlines or due dates. Many are available free of charge or for a small fee.
Courses that provide industry-recognised accreditations — although more structured and higher in price — are an excellent choice for those wishing to learn the foundations of a particular field.
By 2025, the e-learning industry is projected to hit $325 billion USD, with over 68% of online students being experienced professionals. While more college and university-age students are opting to study online, most students are at the mid-point of their careers.
These people commonly look to change fields or advance their current position. So it's never too late to sign up for an online course to help strengthen your skills, broaden your horizons or simply learn something of interest.
With thousands of resources to choose from, finding the right course for you and your team can be challenging. When choosing a course for you or your team, consider time, budget and learning potential.
If you're a bit unsure of where to start, we've provided a list of fifteen killer courses trending today, as well as a background and pricing guide for each online learning platform.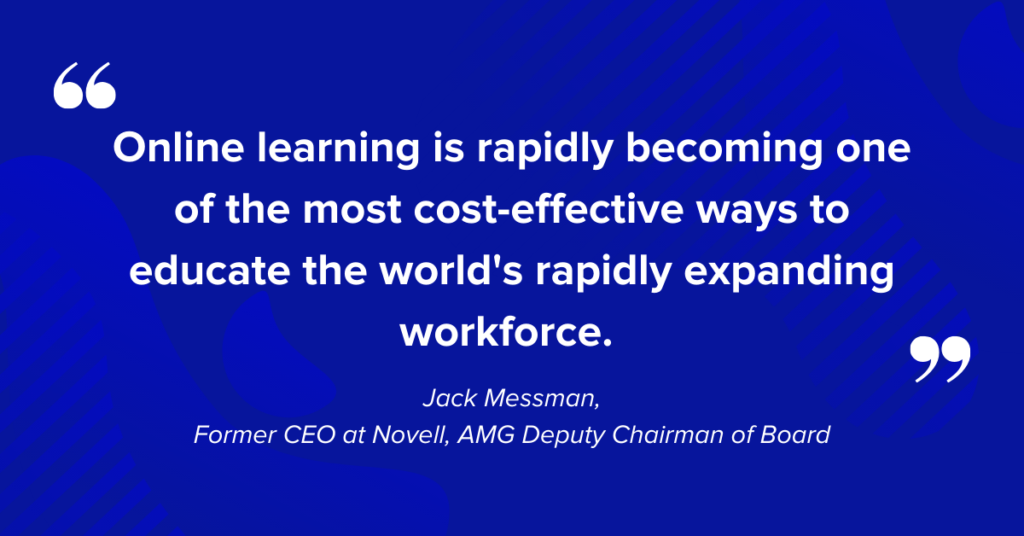 Udemy – Practical Leadership Skills
Learn to master leadership skills and techniques through highly practical advice and training.
Whether you're in charge of a small team or own your own business, this course will help to build the essential skills needed to empower your teams, cultivate growth, manage projects and develop greater time management.
LinkedIn Learning – Developing Your Emotional Intelligence
Emotional intelligence (EQ) is a crucial part of developing strong relationships at work. In this course, you will learn about the importance of EQ and how you can cultivate it. The course aims to enhance your self-awareness and awareness of how others may be feeling.
Upon completion, you can expect to build effective relationships with your teammates and colleagues.
Open Universities – Leadership Development: Short Courses
Choose from three available subjects: Emotional Intelligence at Work, Increasing Performance by Leading and Managing People, and The Neuroleader.
Learn essential leadership skills and how best to manage a team. Understand basic human needs and how they can impact your leadership style.
Marketing skills online courses
HubSpot – What Content Marketing is and How to Do It
Learn the ins and outs of content marketing, what it is and how you can excel in a content creation role. Gain insights into the content creation framework and how to write material search engines will go crazy for.
Through this course, you will become a stronger and more strategic content marketer.
HubSpot – Inbound Marketing
Develop your knowledge of inbound marketing, the techniques and how it works. Learn about content creation, social promotion and how to convert and nurture leads.
Upon completion, you will be equipped with the skills to start building your own inbound marketing strategy.
Skillshare – Copywriting For Beginners
In this copywriting class for beginners, discover how to write copy that stands out from your competitors and helps to generate leads and sales.
Gain valuable insights as to how to effectively communicate your brand's message and target your audience.
HR management online courses
Go1 – Strategic Framework in HR Management
In recent years, human resource management has been radically transformed by increased globalisation, competition and technology. In this Go1 course, experts in HR and employee development will share their knowledge and expertise on how HR has evolved and will continue to change in the future.
Learn how to tackle new challenges relating to organisational culture and performance management.
Udemy – World-Class HR: 21st Century Talent Management
Interested in learning how to hire, train and retain top talent?
In this HR course, you will focus on developing your skills in talent management, employee engagement and development, global leadership and big data analytics.
Design skills online courses
Skillshare – Procreate Animation: Make Fun GIFs & Videos
Ever dreamt of learning how to create your own videos and GIFs? Then this is the perfect course for you. This class will cover both practical and theoretical components of animating in Procreate.
You will receive an introduction to the world of animation and learn the basics of animation preparation, looping animations, animated artwork and how to export GIFs and videos.
Skillshare – Intro to UX: Fundamentals of Usability
Understanding your customer and their experiences with your company is key to succeeding in today's competitive market.
In this course, you will learn what usability is, design digital products for effective usability, how to evaluate usability through hands-on demonstrations, reporting best practices and recommendations.
Programming and IT development online courses
Skillshare – Coding for Beginners: You Can Code!
This beginner-friendly course introduces you to the world of coding. Learn the specifics of a coding language and common coding concepts.
You will start with foundational theory surrounding programming and then move into practical exercises.
Udemy – Machine Learning A-Z™: Hands-On Python & R In Data Science
For the more experienced, this course will dive into Machine Learning, where you will develop a range of hands-on skills.
Through a series of lectures and exercises, you will be able to make robust Machine Learning models, make predictions and analyses, explore topics like Reinforcement Learning, NLP and Deep Learning, and advanced techniques such as Dimensionality Reduction.
Python is the most popular and easy-to-understand object-oriented language in the programming world. Whether you've only recently learnt the art of programming or have experience as a developer, this course will provide you with an introduction to Python.
You will receive an overview of the installation process, Python syntax and how to develop a Python program.
Communication skills online courses
Open Universities – Communication Skills: Short Courses
In this pitching and presentation skills masterclass, you will gain confidence in delivering engaging presentations and learning how to close a sale. With a strong focus on communication, this course will help to build structure and purpose when pitching.
Improve your pitching success through a combination of planning, preparation and persuasion skills.
Go1 – How to Communicate Effectively
To lead a productive and successful team, you must be a strong communicator. If you're someone who wants to enhance your communication skills, this course will help build your understanding of what drives organisational culture and leadership.
Learn the tips and tricks behind a successful working environment and how to motivate your team to communicate effectively and collaborate with one another.
What are the prices for these online learning platforms?
Learning Plus provides premium e-learning content to you and your employees online and 24/7, meaning they can learn in the environment that suits them best.
Available on Premium and Platinum subscriptions for an additional $14 per employee per month, Learning Plus is perfect for businesses that operate in highly regulated industries, don't have the resources to create their own learning content or simply know that it's cheaper to reskill than rehire.
To learn more about Learning Plus, reach out to our business specialist here.
Pricing: An additional $14 per employee per month with an existing Premium and Platinum HR subscription.
Udemy is one the most well-known online learning platform with over 35,000 instructors and 80,000 courses on offer. The platform operates as a for-profit website aimed at professional adults who want to further their skills and careers. Unlike a University degree, Udemy courses are not accredited.
However, the skills acquired can lead to further certification. You can expect classes to involve a range of PowerPoint presentations, video demonstrations, live lectures and .zip files as compulsory components.
The best part is, Udemy is accessible on both your laptop and mobile phone, meaning learning can take place in the palm of your hand.
Pricing: Fees vary between $0-$200 depending on course length and content; see individual courses for more details.
If you've heard of the online learning platform Lynda before, then you'll be pleased to know they have now integrated their courses into LinkedIn's Learning portal. Each course offers certifications that can be showcased on your LinkedIn profile to improve your resume and help you land that dream job.
Offering courses in the business, creative and technology fields, the most popular topics often relate to HR, leadership and web design. Although these are just some of the topics trending today, LinkedIn Learning offers thousands of opportunities to expand your skills in many different fields.
Pricing: Fees are tied to a premium LinkedIn membership at:
$29.99/month or
$24.00/month billed annually
HubSpot Academy offers free educational courses and certifications for anyone wishing to up their game in the content and digital marketing industry. There is a range of topics covered by HubSpot, such as inbound sales, content strategy, brand engagement, social media and email marketing.
The courses are led by HubSpot's industry professionals who provide fun, engaging and in-depth insights into a specialised area in marketing. The lessons are in the form of short, on-demand videos and slide decks that are easy to understand.
To make their lessons more accessible, HubSpot provides transcriptions for each of the lectures. If you choose to take a HubSpot certification course, you can expect to receive a short exam after the final module.
Upon completion, you will receive an online certification that can be synced to your LinkedIn profile. Certifications usually only last for around two years, so be sure to keep this in mind.
Pricing: Courses are available for free once an account has been created
Skillshare is an online learning platform for the creatives. With over 24,000 popular and niche lessons, topics range from graphic design, photography, visual arts, creative writing, innovation and entrepreneurship to even data science and analytics.
Skillshare classes are broken down into a series of video lessons, projects and exercises. The modules take approximately 20 minutes to an hour to complete. There is also a community discussion group for those wanting to connect with other students.
The community group is largely beneficial, as it allows people to share their progress, as well as provide and receive valuable feedback.
Pricing:
Skillshare Basic: Free
Premium: 2 month free trial, $20 AUD/month or $11.75 AUD/month billed annually
Skillshare (for teams) Starter Pack: $99 USD/user/year
Skillshare (for teams) Enterprise: Pricing is dependent upon each organisation's size and structure
If you're interested in taking your learning and education to the next level, Open Universities Australia (OUA) is the place for you. OUA helps students explore hundreds of online degrees and accreditations from Australia's leading universities. The courses are designed to provide greater accessibility and flexibility.
Each OUA course is uniquely designed to educate people on a particular topic or field. While every lesson is different, they all include a mixture of virtual lectures, quizzes or assignments, and helpful notes to refer back to at any time.
There are no age restrictions, meaning courses can be taken by those who have recently left school or are at the midpoint of their career and wish to further their learning.
Note: OUA is the only Australian non-university organisation that offers government funding for individual units of study.
Pricing: Prices are dependent on the course structure, length and level of accreditation. See individual course details for more information on pricing.
The wrap up
Regardless of what you do for a living – marketing, finance, coding, design, or anything in between — you can be sure to find hundreds of educational resources available online.
The beauty of e-learning is that you can guarantee quality instruction and guidance from industry professionals, all from the comfort of your own home and at your own pace.
Whether your goal is to kickstart your dream job, change careers or learn for fun, time spent learning online is a surefire way to enhance your skill set both now and in the future.
Future Working Trends
Future Working Trends