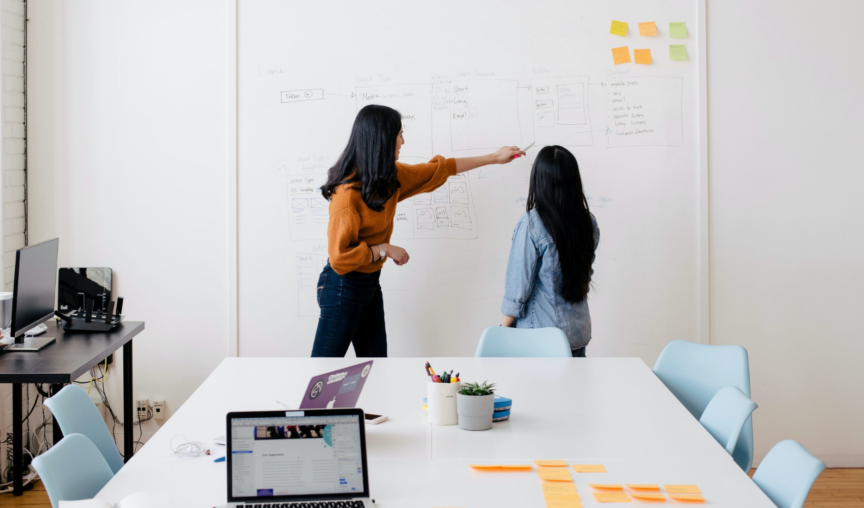 No one likes to feel stuck in a rut. In an ideal world, life at work should feel like continuous development — no matter where you sit in your career, you should feel like you're always learning.
Sadly, it isn't always commonplace in business. Too often people get stuck in one role, and don't have the time or resources to continue their learning journey. Knowledge sharing just becomes a 'nice to have' if there's time to spare.
There's a huge opportunity here for businesses to take the initiative and facilitate a learning culture for their team – let us tell you why.
What is a learning culture in the workplace?
A learning workplace culture is one that values knowledge, where individual and group learning is actively encouraged and facilitated. This doesn't just include role-relevant training, but broader learning, allowing employees to become renaissance individuals.
Apart from the practical aspect of it such as webinars and courses, a learning culture builds an environment where sharing expertise is just part of everyday routine. After all, businesses are made up of a variety of people, and each person brings their own unique skills and knowledge to the table. A learning culture ensures that teams benefit from each other internally, as well as from external information.
Why is creating a learning culture in the workplace important?
In today's fast-paced business landscape, it's easy to get left behind. Businesses that stay in their lane and don't keep up with competitors will struggle – innovation and development are key to get ahead.
In order to facilitate fantastic innovation, whether that's the next hit product or a game-changing customer experience, your workplace needs a learning culture. A learning culture will encourage employees to think outside of the box and bring something new to the table. It's the opposite of an employee clocking in for a day and going through a routine list of tasks that keep the lights on (for now).
What are the benefits of building a learning culture?
Building a learning culture doesn't just happen overnight, it takes time. However, it's an achievable goal for every business or HR leader who is willing to invest their energy. If you're looking to make a business case for prioritising a learning culture, here's our top benefits from making the investment.
An innovative future
As already mentioned, a workplace that values learning and shared knowledge is also innovative. If your employees can learn about the latest trends, build skills outside their comfort zone, as well as collaborate and learn from team members, they'll be able to come up with more creative ideas for your business. It's all about giving them access to more knowledge in order to be inspired.
Take it from one particularly smart individual, Albert Einstein: 'Creativity is seeing what others see and thinking what no one else ever thought.'
A growth mindset
If the last few years have taught us anything, businesses have to be ready to adapt to change. Whether it's an economic downturn, a shrinking market, a tight talent pool or a global pandemic, circumstances outside our control can rapidly affect how a company operates. This also goes for the growing digital revolution, as businesses bring in new ways of working and technology.
A team that is open to learning about new trends is going to be open to new challenges and adapt quickly. After all, with change comes a learning curve, so having a growth mindset that is agile and open to variety is invaluable.
Attractive to top talent
A recent survey conducted by YouGov in Australia for Employment Hero asked employees what benefits they would like most from their workplaces. 30% of those respondents named continued education options, showing that this is a key benefit for businesses to offer. This doesn't just apply to existing employees – having opportunities for learning and development is a great selling point for potential new talent.
After all, gone are the days where people would start at a company from a young age and stay there until retirement. Now we have roles that didn't even exist before the age of the internet, and some roles which may well become obsolete over time. Employees have to consider their entire career, not simply just the role, and make sure they're ready to adapt as the world continues to change. Businesses can and should help with that.
Improved employee engagement
Giving your employees the chance to learn about things that interest them is a great way of creating variety in their roles, as well as recognising their personal career pathways. Employees want to feel valued and challenged by their work, so adding learning and development programs is a fantastic way to improve employee engagement.
It's worth noting that improved employee engagement can build productivity, help you retain staff and reduce turnover – an important benefit in a time of skill shortages.
A happier culture
Everyone likes to feel valued. If a company is prepared to invest time (and money) so that employees can build their skills and learn from each other, they could have a happier team – as well as a more knowledgeable one.
We're past the point of businesses simply giving their team members the information they need to do a job and leave them to it. Today's thriving businesses enable personal and professional development to not only improve their output, but build happier, well-rounded teams.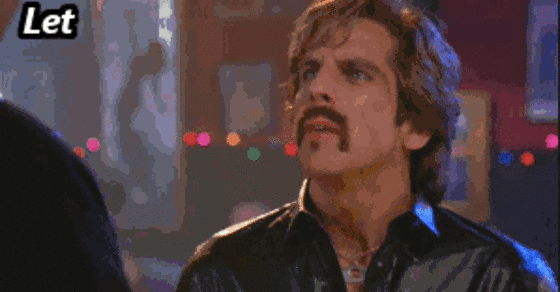 How does an organisation create a learning culture?
It all sounds great so far, but let's look at how to put a learning culture into practice. Here's six steps to start building a learning culture at your organisation…
1. Make formal learning accessible
One of the clearest ways that employers and HR teams can implement a learning culture is to give employees autonomy and resources for their own development. Luckily, learning management systems (LMS) are a fantastic way to bring this into a company, offering a library of resources that employees can work on in their spare time.
It's something we're proud to offer at Employment Hero with our dedicated LMS, featuring courses in a wide variety of topics.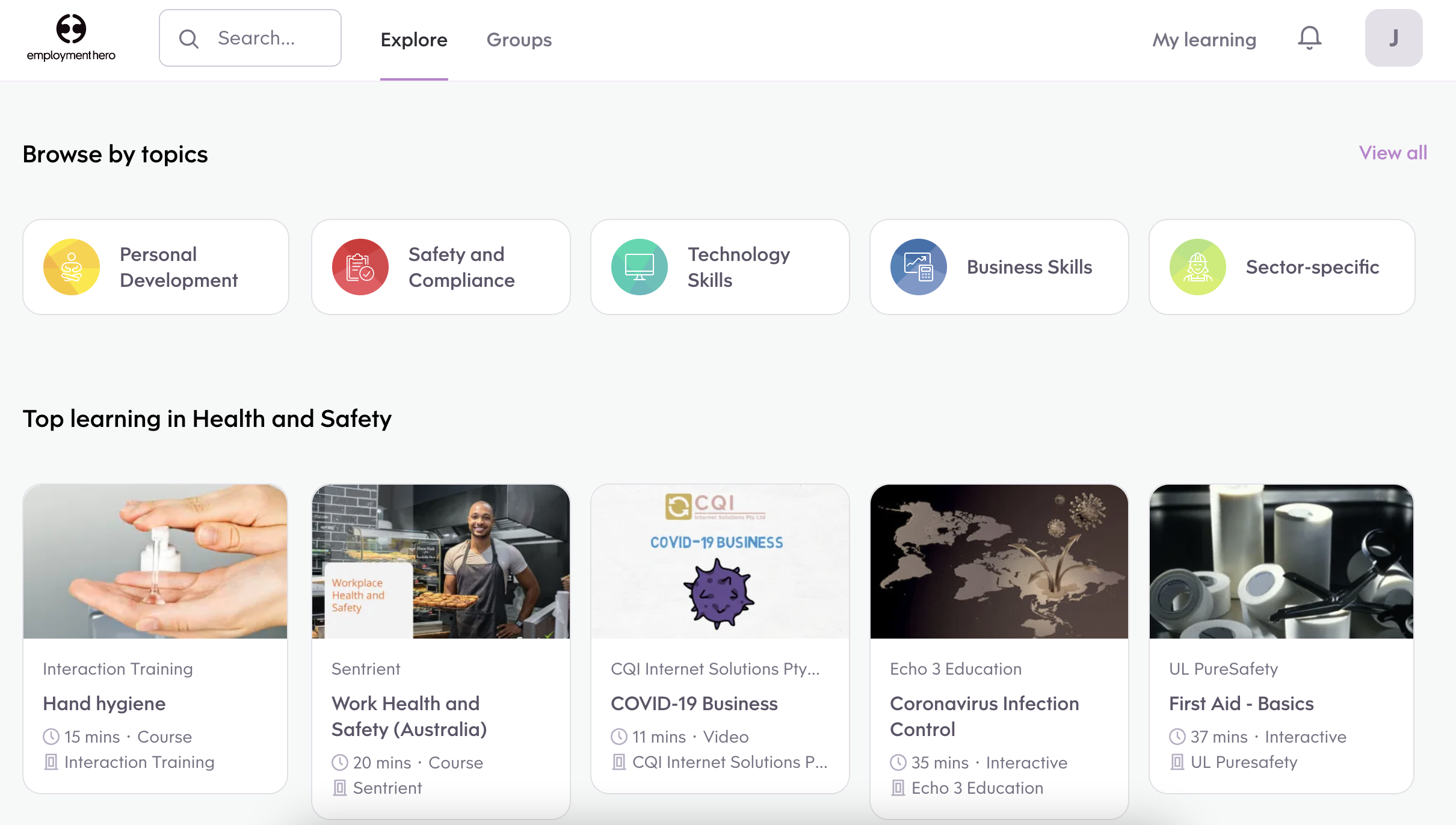 Examples of courses available in our learning management system (LMS)
2. Develop structured training programs
Partner autonomous learning through a LMS with structured training programs. This could involve bringing in an external organisation to take teams through certain training, such as leadership development programs or a team-specific skill. This could also include building learning pathways for your employees, identifying the skills they want to learn and setting up a clear program that they can work through.
Every employee will have a different learning pathway. Some might have aspirational goals to achieve an academic qualification, while others might want to diversify their practical skills in another element of the organisation. Develop personalised learning plans which factor in how you will support those goals, whether that's tuition assistance, in-company 'work experience' with another team, or online training.
3. Reward continuous learning
Some of you might be wondering, 'where will our team find the time for all this?' That makes sense – people are busier than ever, so finding that spare time can be a challenge. The onus lies with the business leaders, who need to reward learning and ensure that learning time through a LMS or training program is encouraged. After all, you don't want to invest in a system only to have it barely used.
That could be practically translated into encouraging employees to designate a couple of hours a week in their calendar for training, ensuring they have some 'guilt-free' time to leave their day-to-day work and focus on their development. It could be setting up a company-wide competition, with entry on completion of a course every quarter. Make sure the workplace culture supports and rewards employees for taking that time out to learn.
4. Consider both technical and 'soft' skills
When we think of learning and training, we tend to think of 'hard' skills – those practical skills where ability and knowledge can be easily quantified, such as coding, spoken languages or financial planning. We sometimes forget about 'soft' skills — personality-driven skills that affect how we interact with others and with our work. Examples include the ability to communicate, collaborate or problem-solve, and they're often just as important as the technical skills.
'Soft' skills can't always be taught, but training can support anyone in finding ways to improve. We're seeing skills such as leadership, interpersonal skills and resilience becoming increasingly important in the future of work, so make sure they're factored into your training.
5. Adapt to different learning styles
Everybody learns differently, so it's important that your learning and development program factors that in. Luckily, there are just four main learning styles to be aware of:
Kinaesthetic: a hands-on approach, learning is best done by performing a task that applies the skill.
Visual: learning through seeing, and watching a skill in action before trying it themselves.
Auditory: listening to others speaking and/or talking things through with others.
Read and write: learning through reading content or instructions, then noting it down themselves.
Being inclusive of all learning styles could be as simple as enabling multiple ways for the information in a training session to be conveyed or recorded, such as through video and audio as well as written presentations and practical assignments.
6. Facilitate collaboration and knowledge sharing
Besides the use of training programs or software, consider how willing people are to learn across an organisation. Encourage employees to learn from each other and share information that may interest others. Informal learning could be as simple as a designated Slack channel where employees can share the latest news, podcast recommendations or insights.
Make sure there's also some cross-company collaboration. This isn't just good for creating a strong learning culture, but for overall company productivity and teamwork. As teams understand and learn about what the others do, they'll be able to collaborate more often on problem-solving.
One practical way of doing this could be having 'guest speakers' visit team meetings, where an employee comes in from another team to give an insight into their current projects.
What does a good culture of learning look like?
The best learning cultures have high engagement and openness, where employees feel excited to develop both personally and professionally. They'll have a learning mindset that is open to new ideas and concepts. They are often keen to share what they know with others too, building a team or a company of lifelong learners.
If this is what your company culture looks like, you're onto a good thing.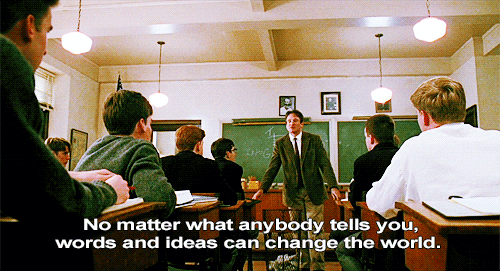 How do you measure the success of learning programs?
There are some quantifiable ways to measure the success of a culture of learning. For example, with a learning management system, you can check how many people are using the LMS, and what their course completion rate is. Likewise, if you've set employees up with a structured training program or learning pathway, you can take stock of how many employees are progressing.
Properly assessing whether your company has achieved a learning culture is less easy to quantify. A workplace that prioritises continuous learning will benefit in a number of aspects, from the talent they recruit, to their productivity and employee happiness. It's always going to be an ongoing process.
Most importantly, you don't want this focus on learning and development to be a fad. A good learning culture is a sustainable one that continues to be built upon, so factor that into your planning. A learning culture is not a one-time investment and should be a long-term priority for the business.
One good way to keep learning and development sustainable and effective is to facilitate two-way feedback from your employees. Use surveys and encourage an open-door policy so that you can hear what's working and what could be improved upon. What better way to encourage learning and development than being open to developing the training itself?
Nurture top talent with a culture of learning
You heard it here – learning cultures are for businesses of the future. Discover the benefits that come from investing in your employees' development and see how you can create a collaborative workplace culture that values innovation.
For more advice on building a learning culture, check out our guide.
How to coach and develop employee potential