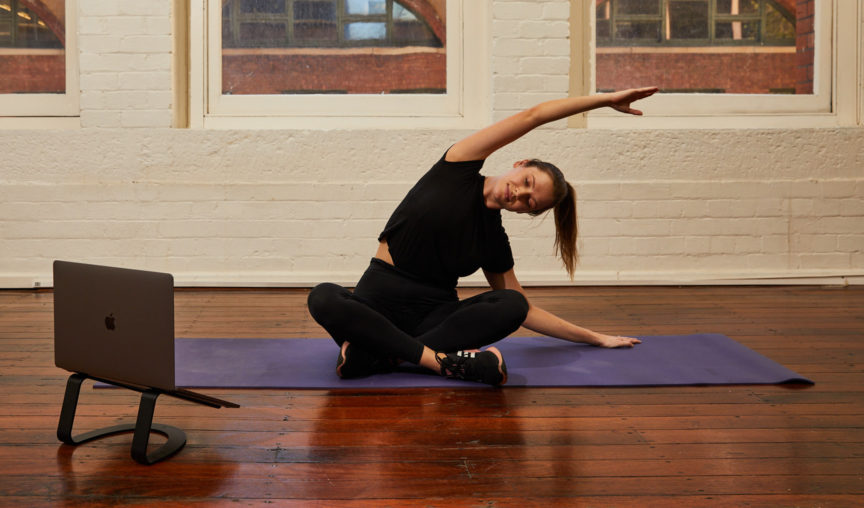 Working from home has its benefits. No commute time, for one. However, you may soon start to suffer from couch-potato syndrome.
When working from home, it's easy to throw work-life balance out the window and let healthy habits slip. Your normal exercise routine is made redundant. You're eating more, and you're eating worse.
You can blame that one on the short distance from desk to fridge. Perhaps you're going to bed later and watching a little too much Netflix.
The cycle of poor health choices is a nasty one. You're left feeling lacklustre, with no energy to exercise or eat better, so you end up doing it all again. Until now! You're going to break the cycle and fill your WFH days with healthy habits.
How? With a little help from some handy mobile apps to keep you occupied when working from home.
This app is like having a chiropractor in your pocket. The three-minute spinal health program will help you protect your back health, strengthen your core and prevent pain.
There are guided stretching sessions to try and even an Augmented Reality feature to teach you practical steps to improving your posture. The AR will show you how to fix your posture via 3D illustrations. The app is designed by the Australian Chiropractors Association, so the quality of information you receive is of great value.
Best feature: Reminders! You can set reminders to sit up straight, make posture corrections, take a stretch break and even drink water.
Work-from-home snacking is a unique phenomenon. Unlike the office, working from home means you have access to all your favourite snacks whenever you want. The pantry can quickly become a procrastination station.
Luckily, there are plenty of apps to help you keep accountable and track what you're eating.
Calorie-counting apps are a dime a dozen. My Fitness Pal is one of the originals—and it has remained popular for a reason.
Here are two reasons why My Fitness Pal is the best choice:
It's metric-friendly. Lots of calorie-counting apps are designed for the US, but My Fitness Pal has all the right measurements and food products for countries using the metric system.
It's tailored for you. My Fitness Pal takes into account things like height, weight, gender, activity level and personal fitness goals.
We all know that health isn't just external. Mental health plays a major role in your overall well being too. Working from home can put additional strains on your mental health. So, to keep your brain happy, check out this free mindfulness app.
Smiling Mind has programs designed for everyone from kids to grownups. The programs take just 10 minutes per day and are proven to make a real difference.
Research has shown that mindfulness and meditation make a huge difference to mental health and overall brain function.
This is one app you shouldn't work from home without. Send the link to your friends and family and make sure everyone is keeping their minds healthy at home.
The human brain is 80% water. If you don't drink enough water, your body will feel it. Dehydration leads to tiredness, mood swings, headaches and poor concentration.
Your body needs water to survive and thrive. And this app will help that happen.
Water Logged is a fun way to build healthy hydration habits. Using the app couldn't be easier. You simply snap a photo of your water bottle or glass – and the app does the rest.
It keeps track of how many litres you've drunk through the day and reminds you when you need a top-up.
Struggle to motivate yourself to lace up and hit the road? Try adding in a bit of childlike fun. This workout app is an exercise tool crossed with a video game. Pop in your headphones and an audiobook begins to play.
The plot: zombies are chasing you. The app tells you when to run faster and when you can relax a little. Get your adrenaline pumping and your heart racing – for more than one reason.
This app isn't for everyone but is sure to mix up your workout routine.
Yoga is the ideal lunch-break workout. Take a step away from your desk and hit the mat. There are plenty of yoga apps out there to use when working from home – but most charge a subscription fee. Not Yoga for Beginners.
The app features a huge range of yoga sequences with guided vocals. There are also helpful teaching videos.
Whether you want to stretch sore hamstrings or raise your heart rate, the app has something for you. It's easy and intuitive to use.
The app is designed for beginners, but we're confident even pro Yogis could find something here. After all, going back to basics is a great way to find a little zen.
Stress impacts every aspect of your health. That's why we've designed an app to help you keep on top of working remotely.
You can access everything from payslips to leave requests, all in one place. Plus, the app includes our discount platform, so you can afford to treat yourself. Employment Hero is your new work-from-home bestie.
Working from home the healthy way
The truth is, working from home actually presents unique opportunities to invest in your health.
You can choose how and where you work. Whether you smash out a run before work or roll out your yoga mat between phone meetings, there are plenty of creative ways to choose health.
By simply paying a little attention – both in terms of what you eat and how you move – you can ensure WFH is good for your body and mind.
Workplace wellness bundle