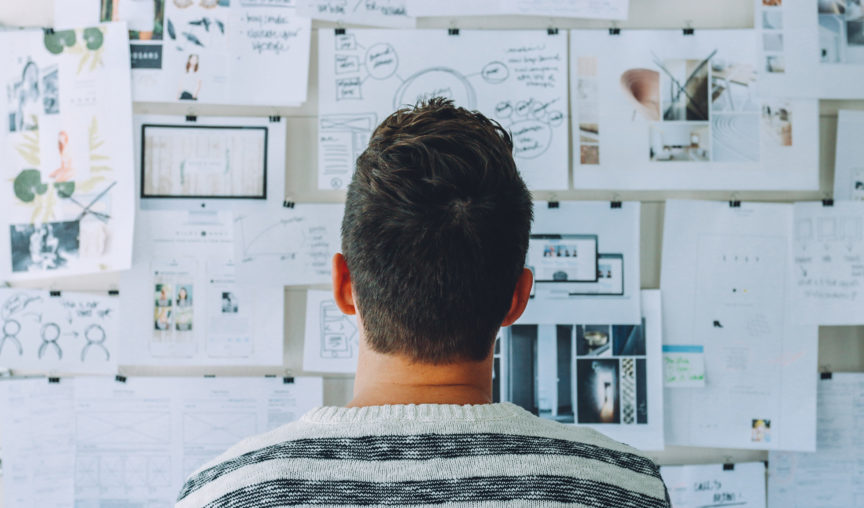 Brainstorming sessions… For many, they're an essential starting point for every project. They get the creative juices flowing, innovative solutions pumping and most of all, your team working together in the hopes of creating a robust plan that can see you crush your end goal.
Traditionally, when you think of a brainstorming session, you most likely picture your team in a meeting room, crowded around a whiteboard with pens, coloured sticky notes and big pieces of butcher paper.
But with 2020 forcing hundreds of thousands of businesses across the world to embrace the remote working model, the buzzing brainstorming activities in the office seems but all a distant memory.
Let's face it, you've most likely had a virtual brainstorming session and chances are, it probably wasn't great… It lacked energy, people were simultaneously working on other projects, and some probably had their cameras off.
We get it – it's just not the same. But that doesn't have to be the case. We're here to tell you that you can get the same energy, buzz and participation in your online brainstorming sessions that you once did in the office.
Ready to go back to basics and learn how to conduct an engaging brainstorming session with your remote team?
Source: Giphy
What is virtual brainstorming?
Virtual brainstorming is the process of conducting a brainstorming session online. It involves a group of people sharing ideas and working towards a common goal via video call.
This goal could be to develop a new and innovative plan for specific areas in the business or working together to create a solution for an existing problem.
To successfully hold a virtual brainstorming session for your team, using virtual brainstorming tools can help with both preparation and getting the entire team to participate.
Although shifting your brainstorm session to a virtual environment might seem overwhelming at first (especially if you've already had some and they weren't that great), we're here to help turn things around and guide the way. Let's get started.
Read more: Common challenges to managing remote employees
Best virtual brainstorming tools for remote teams
We know that brainstorming activities aren't naturally the same online as they once were in the office. However, as many offices shifted to remote working over the past year, many great tools have since been developed.
It might take a little getting used to, but we suggest thinking of these tools as online whiteboards.
At the end of the day, using a remote brainstorming tool can intuitively guide collaboration and get the entire team involved with the session. Simples!
So what exactly are the best tools to run a brainstorming session remotely?
1. Miro
Miro is a powerful tool that acts as an online whiteboard. Their goal is to allow organisations to seamlessly collaborate, create and centralise communication for cross-functional teams.
Whether you're looking to create user stories, customer journey maps, wireframes, sprint planning or roadmaps, Miro can help you visualise everything.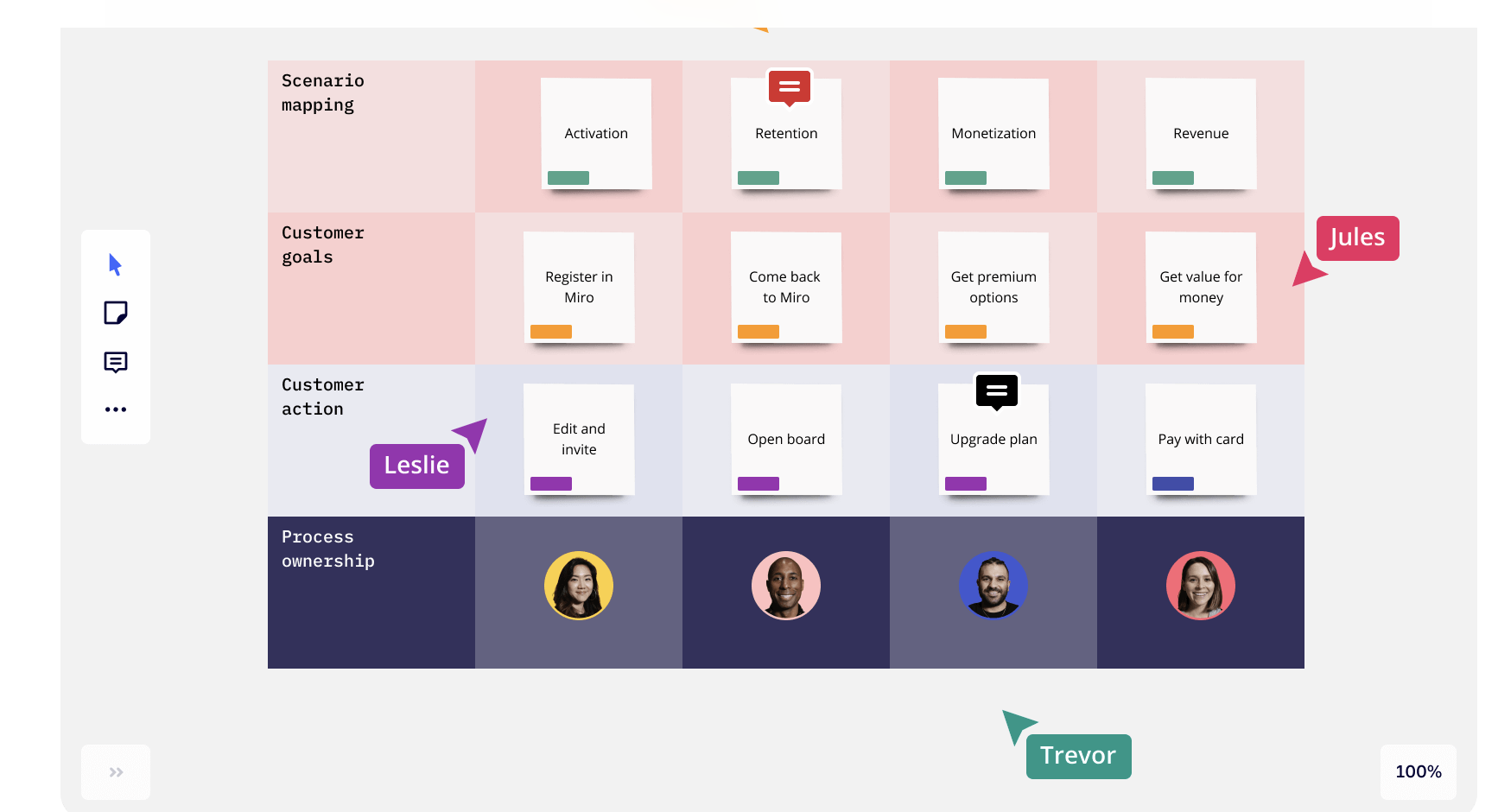 Price: Free for up to 3 boards. For full access, prices start from $8 per user per month. View Miro pricing details here.
2. Bubbl.us
Bubbl.us is a virtual mind mapping tool that can help bring together new ideas in an online brainstorming session. It's an easy way to gather a lot of information and thoughts from your team in a short amount of time.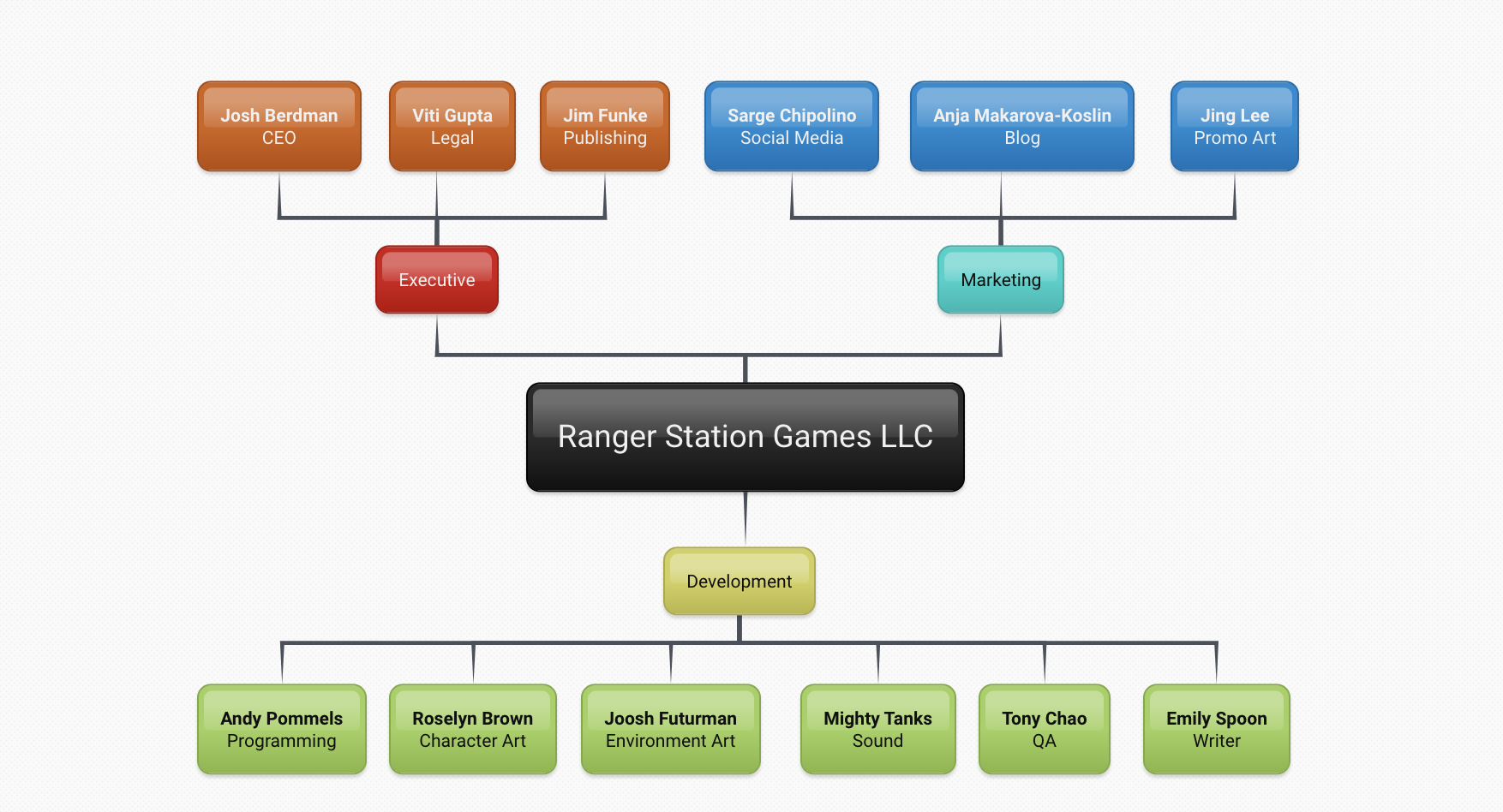 Price: Free for up to 3 mind maps, unlimited mind maps for $59 per year. View Bubbl.us pricing details here.
3. Stormboard
Used by the likes of Microsoft, Salesforce and Lonely Planet, Stormboard is a shared workspace designed to generate new ideas from your team and then prioritise, organise and refine them. Stormboard's goal is to make brainstorming sessions and projects more productive and effective so that you can focus on getting the most out of your team.
Pricing: For teams of 5 people or less, Stormboard is free. For larger teams, their plans start at $10 per user per month. View Stormboards pricing details here.
4. Asana
A crowd favourite here at Employment Hero, Asana is a project management tool that can help organise your teams' day-to-day. However, its features allow it to do more than just that. You can use the 'Board' function as an online whiteboard and get your participants to collaborate.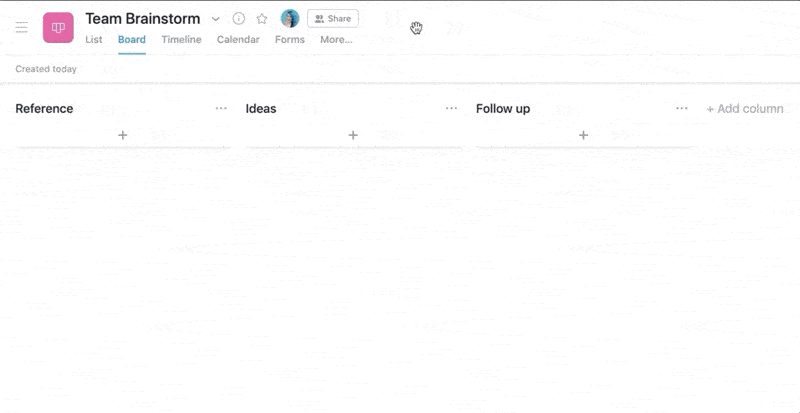 Source: Asana
Pricing: For the basic version of Asana, individuals and small teams can access it for free. For more advanced features and for larger teams, pricing starts from $10.99 USD per user per month. View Asanas pricing details here.
How to lead a remote brainstorming session
You've got your remote brainstorming software of choice at the ready, but now what? How do you lead the brainstorming session so you and your team can get the most out of it?
There are three main areas to consider.
1. Have a game plan
Let's not beat around the bush – there's nothing worse than heading into a virtual meeting that hasn't been planned properly. Chances are, you'll feel disengaged and exhausted from the word go.
According to Forbes, 38% of employees feel exhausted after a week of meetings, and what's worse, 30% feel even more stressed after sitting through meetings.
The last thing you want is for your brainstorming session to contribute to your employees' exhaustion! This is why it's never been more important to plan your sessions ahead of time and set the tone at the beginning of your virtual meeting.
You want to encourage your team to get involved, share their ideas and most of all, have fun!
Prior to your session, send around a message or email to the participants with an agenda so they can come prepared and excited to get stuck in.
And if you're using new software, make sure all of the logins and passwords are set up prior to the start of the session, which leads us to our next point…
Read more: How to set clear goals for remote team members
2. Have your tech stack and logins ready
When we say that preparation is key to a successful brainstorming session, we mean it – especially when it comes to technology and logins.
According to Harvard Business Review, dysfunctional meeting behaviours (like poor tech set-up) are associated with lower levels of market share, innovation, and employment stability. Eek!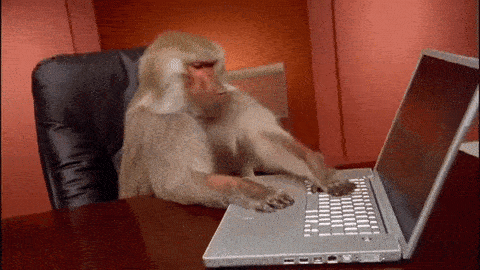 Me when my logins don't work during a meeting
Prior to your remote brainstorming session, pay for the subscription on your tech stack of choice and invite your team to create an account.
An hour before the session, make sure to send around a reminder for their account and a quick video on how to use the new software.
Another tip? Remember to use a video conferencing software like Zoom that allows you to record the session.
Chances are you will have people unable to attend, and this way they can watch it back and contribute after the meeting.
💡 Looking for more remote working tools? We've rounded up our favourites here.
3. Assign roles
When it comes to meetings, some surefire way to keep your team engaged is to assign roles.
If you're not sure what roles you can assign, we've rounded up some common ones you can consider using:
Leader – to lead and run the session (this will most likely be you!)
Scribe – to keep notes of important things to remember throughout the meeting
Timekeeper – to ensure that everyone is sticking to and aware of limits during timed rounds
Collator – to organise everyone's notes during the brainstorming process and organise it into a document for easy reference
Actioner – to update the team on action points after the meeting has been completed
Enforcer – for when the meeting begins to steer off track
The wrap up
Running an effective virtual brainstorming session can be one of the most powerful ways to collaborate as a team.
With some preparation and a slick tech stack, your team will be able to generate ideas in ways you never thought possible. Book a demo today!
Want more?
Want to create a global team that can log on for a virtual brainstorming session from anywhere in the world? Check out our Global Teams solution.
Alternatively, get in touch with one of our small business specialists who can walk you through how Employment Hero can help you support your remote team.
How global teams can transform your business