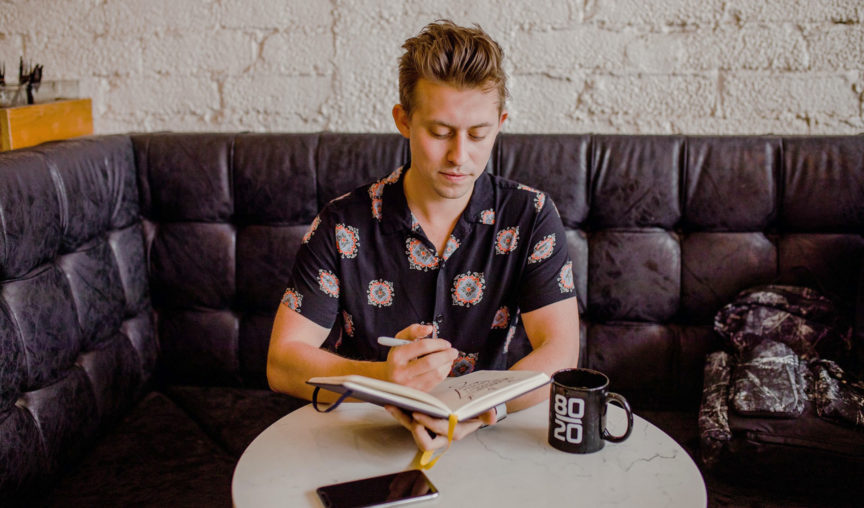 What is an EVP? What does it stand for, and why should you care? Well… this HR buzzword is critical for your business, so we've written this to give you the low-down on employee value proposition and what it means for your business. And hey, even if you know what EVP is, you may learn something new. Ready? Let's go!
What is an employee value proposition?
Employee Value Proposition (EVP) is the balance of rewards and benefits that a company can offer its employees, in return for their amazing performance within the workplace. An EVP includes everything an employer is doing to attract and retain employees, which is hugely beneficial for the success of a business.
The EVP concept as we know it today was formed from the marketing idea known as 'Unique Value Proposition'; the value the company provides to customers that makes it stand out from competitors.
In the same way, an EVP is the unique value that a company can offer its employees. An EVP should also shift focus from compensation to other things, such as employee development paths, internal reward and recognition programs and community initiatives.
We previously looked at how important employer branding is for a business and EVP goes hand in hand with this concept. As employer branding is your external reputation, EVP is your internal offering. It's the tangible things that attract job candidates and top talent to your business and ensures that your people stay! It makes you stand out against competitors and shows that you care about your employees.
Why is an employee value proposition important?
So now we've got you wondering why EVP is important? Well, your EVP is what sets you apart from the competition in terms of hiring top talent. It's crucial you have a strong EVP that will help you attract and retain the best employees possible to help grow your business.
Having an effective EVP can help to attract new employees that have goals and values that are in alignment with organisational goals and values. When done well, an EVP offers a comprehensive look into each job role, making sure the role is attractive to candidates and shows them more about the company culture to ensure they will be a good fit from the offset. It will also elevate your entire employment brand, making your business a more desirable place to work.
Things to consider when building an EVP
When developing your EVP, there are a few things to consider… To start, ask current employees why they think working at your company is so great.
Send out anonymous surveys to gain valuable feedback and figure out what you already do well. Why start from scratch when you might already be doing some amazing things that employees and candidates love?
Maybe you sponsor further learning or promote flexible working arrangements. It might also be worth including questions on this survey that reveal what your business doesn't do so well and areas where current employees feel you could work on. Now, here are some of the main things to consider when building your employee value proposition:
1. Salary expectatio
ns
Salary is one of the key factors for any new role – people have bills to pay, mouths to feed and the latest trainers to buy. A big no-no when building out your EVP is inflating salaries because of huge competition. You can't compete with a competitor for talent purely on salary, it's also an easy way to burn through any budget you may have set aside for new hires.
By considering other parts of the EVP, salary is no longer the sole focus. On the other side, you don't want to undervalue potential employees. A big mistake from HR is not monitoring employees' core skills, development and learning. By losing track, you run the risk of undervaluing your team. This will essentially lead them to feel and encourage them to look elsewhere.
As a general rule, review employee salaries against industry benchmarks on an annual basis to make sure they are earning what they deserve.
2. Rewards and recognition
Recent studies by our friends at Seek show that candidates don't just look first at salary, but also reward and recognition, benefits and all the perks associated with a job. In other words, top candidates are looking at the entire compensation package rather than just the monetary amount. Rewards and recognition, or employee benefits, come in three forms:
Supplementary compensation

– free coffee, health insurance, gym memberships, flexible working (the list is endless, just budget dependent).

Values, mission and purpose

– making them feel like their job really matters, keeping them engaged with the company.

People and culture

– Great people want to work with great people, create a culture that makes people feel excited about coming to work every day.
We created an in-depth insights report to delve into what employees really want from their employers. We collected this data from a nation-wide survey. Take some of these points into consideration when building your EVP and deciding how you want to compensate workers.
The Australian Government Department of Skills and Employment offers some further insights and tips into the value of an EVP Stating that a strong employer brand is crucial in helping you to attract, engage and retain high-quality employees. It lets potential applicants know why they should choose your business and makes a promise about the employee experience.
It continues to explain that there are two traps in the EVP landscape:
Under-selling the things that differentiate them as an employer, such as certain qualities, behaviours and experiences  

Selling an experience that isn't accurate or aligned with reality
The best way to avoid these pitfalls is by asking your employees via this three-step approach:
Step 1: Ask your employees
Perform a focus group or run a survey to gather input on your business's qualities, motivations, and behaviours.
Step 2: Consolidate and test
Consolidate and test the findings with new employees to see if your proposition aligns with their experience so far.
Step 3: Validate and iterate
Attain further information from the broader community and seek input on whether the advertisement confirms the organisation is a great place to work. Always use feedback to adjust and adapt!
At Employment Hero, for example:
We have regular wellness activities that employees can take advantage of.

We also have HeroThanks – a feed inside the Employment Hero app where anyone in the business can thank someone else for helping them out.

And WorkLife; a suite built into Employment Hero allowing all our employees to shop in an online marketplace, offering exclusive discounts, a wellness hub with information and tools to help them reach their goals.

We also have Savings Hero, which is designed to help our employees save for any financial goals and help their payday checks go that little bit further.
By implementing these factors into our business, our employees feel recognised and rewarded for all of their hard work.
3. Company culture
We've previously put the spotlight on the importance of company culture within a business, and included a few insider tips on how to showcase your amazing efforts to the world.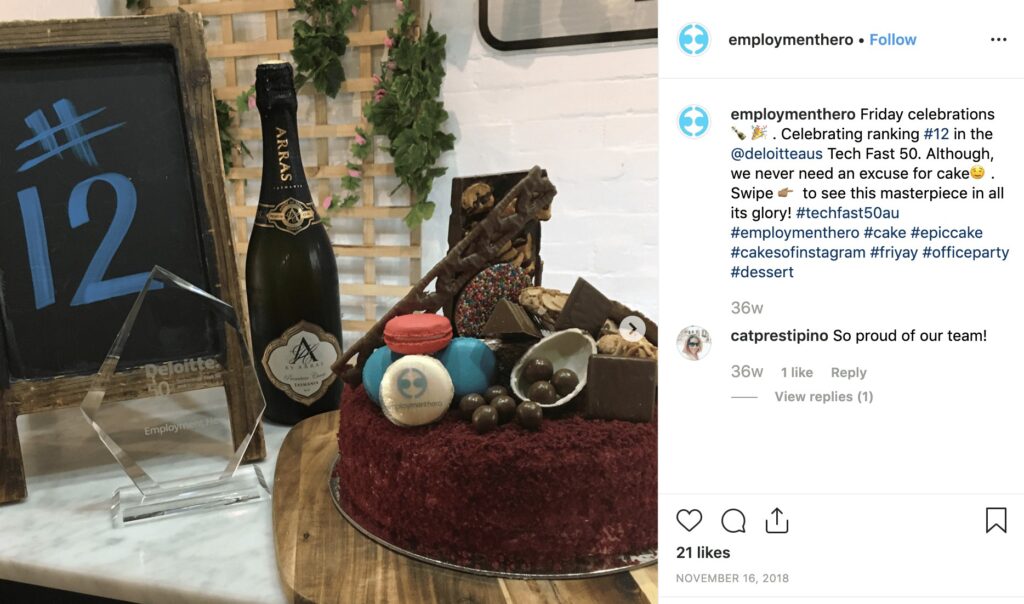 Source: Our very lovely Instagram
In terms of your EVP, candidates want to know what a day in their job will look like, not just in terms of what their job role will involve on a day to day basis, but also what the workplace culture is like.
If you host regular staff events and activities they can get involved in, or employee incentive schemes, rewards or competitions that might interest them, showcase these from the get-go. Express this clearly in your EVP and you'll instantly notice the volume increase of top quality candidates applying for your job opportunities.
Rolling out your employee value proposition
Your EVP should be clearly defined. By doing this, you can easily communicate this to every potential candidate. This means you can easily attract and retain talent like never before.
Start to get your EVP down on paper, even if it has already been defined by your company in the past. Work closely with your marketing team as well, to ensure your EVP ties nicely in with your business mission and overall brand.
This is also when your employer brand is important, how do you want to communicate your EVP through external channels? Once it's reworked and defined, make sure you communicate your new employee value proposition with the entire company.
Even existing employees should be reminded about why it's so awesome to work at your company! Also, make sure you are reviewing your EVP regularly. If there are certain initiatives that you have that the team isn't engaging with – cut them. Then, identify what your employees would appreciate more.
The wrap up
There you have it, some actionable advice for building an employee value proposition and the benefits it will have for your business (thank us later!). For more information on EVP and Employer Branding, make sure you check out our webinar 'Employer Branding: The Secret to Attracting and Retaining Exceptional Talent'.
In this in-depth webinar, our very own Alex Hattingh who is the Chief People Officer here at Employment Hero teams up with Katie Noakes who heads up Uber ANZ's entire recruiting function. You definitely don't want to miss out on this one…  Watch the webinar!
Engaging Employees: A Competitive Differentiator