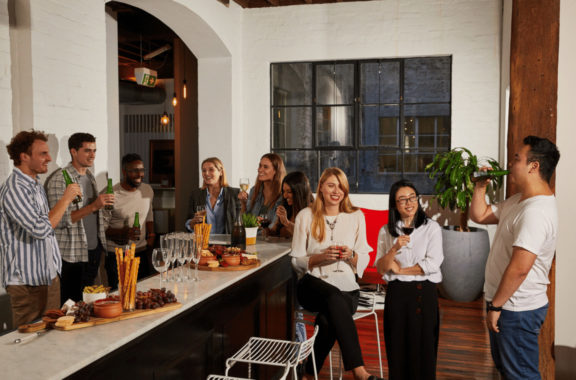 Culture. It's considered a bit of a business buzzword these days, and with good reason.
But, what exactly is it and why should you consider it in your workplace?
What's in the workplace culture bundle?
If you're looking to improve your workplace culture, but not sure where to start – this one is for you. We've put together a bundle to help you achieve a better company culture in as little as 30 days. In here you'll find:
The ultimate guide to improving your workplace culture in 30 days: This guide includes 30 great ideas to improve your culture in 30 days. In this guide, you'll find practical strategies that you can implement straight away set out in an easy to understand, visual format.
30-day culture calendar: This calendar maps out the strategies shared in the guide to have you achieving better workplace culture in 30 days.
Employee wellness survey template: Supporting physical and mental wellbeing in the workplace is crucial to creating a positive culture. This template will help you identify areas for improvement.
 Employee happiness survey template: Do you know how happy your employees really are? A simple survey can help you identify and improve your employee happiness score.
What is workplace culture?
Workplace culture can be described as the personality of your workplace. It combines your company values, beliefs, behaviours and attitudes of your employees.
Developing a good workplace culture requires work. To provide a baseline, expectations can be set out in company policies that everyone has to comply with.
Additionally, workplace culture stems from the attitude of your team, workplace processes, management style and day-to-day activities.
What are the benefits of having a positive workplace culture?
When it comes to work, everyone is searching for a role and workplace they love going to every day. They look forward to the work they are doing, the contribution the organisation is making to society and the people they're surrounded by.
When your team enjoys all of these things, they're more likely to be more engaged and innovative in their roles, which can do wonders for your workplace culture.
But the benefits go beyond that. Having a positive workplace culture can improve the profitability of your business.
Did you know that having a good company culture increases revenue 4x?
With returns like these, it's time to get started with strategies to improve your workplace culture.
Our handpicked favourites on improving workplace culture
We have the full list of the 30 ways to improve workplace culture in our free guide, but here is a taste of our favourites to get you started.
Our top tips on improving workplace culture in your organisation include:
1. Send out a happiness survey
Do you know how happy your employees really are? A simple survey can help you understand employee satisfaction and identify areas for improvement in your organisation so you can start introducing company culture activities from day dot.
Hint: We've included a happiness survey in the bundle to help get you started.
2. Introduce 1:1's in your organisation
1:1's are a weekly or fortnightly meeting an employee has with their direct manager. This is time dedicated to the employee to talk through how their past week or fortnight has gone, as well as commit to tasks for the future.
1:1's are a great way to improve communication amongst managers and their direct reports. Not only will everyone benefit from better communication, it will increase trust, transparency and overall employee engagement in your company.
3. Bring your pet to work day
Everyone loves a furry friend and it can do wonders for your company culture. If you're a pet friendly office, it also improves your employee value proposition greatly on those job ads!
4. Organise bi-weekly all hands meetings
An all hands meeting is a company wide meeting that provides a general overview of how the company is going. It's a time for teams to share their wins and updates moving forward. It provides transparency and will help improve workplace culture as the entire team can celebrate wins together.
Communication is key to a strong company culture, so introducing a company all hands is a great way to learn more about general company updates.
5. Consider days off for birthdays
While celebrating your birthday at work can be fun, why not investigate providing an extra day of annual leave for your employees special day?
Giving 21 days of annual leave is also a great way to improve your employee value proposition and attract top talent!
We know that it may not be convenient for all employees to take off the exact day of their birthday, why not allow them to take a day off in their birthday week?
6. Recognise top team players
Employee recognition is an integral part of creating a positive workplace culture, not to mention all of the benefits that come attached to it. Hello increased employee engagement and better business results!
Did you know companies that effectively recognise their employees are 20% more profitable than those who don't?
Learn how to create a recognition rich culture with our guide to reward and recognition here.
7. Encourage work/life balance
We know that everyone values work/life balance, so why not encourage your team to act on it? Whether it's juggling children, family, hobbies or a social life, we know that it can be difficult to stay on top of it all.
By allowing your team to take time out for themselves, whether that's watching your child's assembly performance or taking time out for an afternoon yoga class — this should be encouraged across every level of the business.
But will I know they make up their hours, I hear you say?
This is where trust comes into play — and it's about trusting your team to do the right thing.
8. Set up a culture calendar
It's no secret that these days, we're busier than ever. Jam packed calendars and lives also mean that special events or days can often be forgotten or go unnoticed. By setting up a culture calendar, you can stay on top of upcoming events that will help improve the culture of your team.
Need some inspiration?
Look into treating your team on Donut Day, organising Australia's Biggest Morning Tea or an EOFY celebration!
9. Company wide update from the CEO
Sometimes it's the small gestures that can make the biggest impact. Asking your CEO to record a quick 2 minute video to thank the team for their hard work and address any
company updates can make your team feel appreciated — and we all know that when your team feels appreciated, culture improves tenfold!
10. Organise a team lunch
Team lunches are a great way to get your immediate team together and socialise outside of a work setting. It's often in social situations where your workplace culture improves, so try not to talk about work at these lunches.
Team lunches are also a great way to welcome new starters into your organisation or a way to celebrate achievements for the month or quarter.
Improve your workplace culture.
Get the complete list of 30 ways to improve workplace culture with our guide.
Improve your corporate culture and build a team of engaged employees in 30 days.
Download our workplace culture bundle now.
Looking for more resources?
Here are some helpful resources to help your company improve workplace culture: