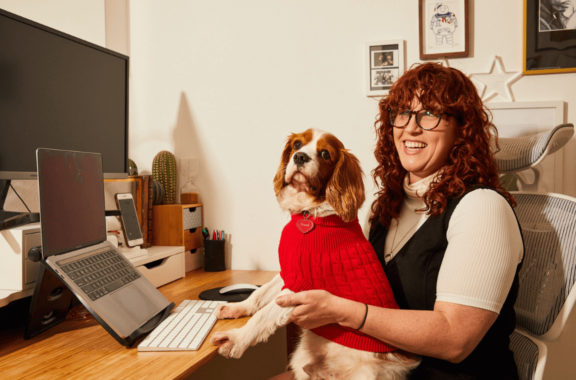 Are you a pet-friendly office, or looking to become one? Having a policy for office pets in place can help keep your team and their furry friends safe when they're on site.
This Pets In The Workplace policy template outlines what is expected of pet owners, as well as safety, vaccinations and pet's behaviour requirements for the animal.
You can easily customise this pet-friendly policy for your use.
Download now.
What are the benefits of having office pets?
In the presence of being unable to physically be with our loved ones, many started looking for companionship in our animal friends. Not only do pets provide support and care, but they're also known to boost our mental wellbeing.
We know the benefits of having pets at home, and this is no different when it comes to having pets at work. They're proven to reduce stress and anxiety, increase productivity and help create a happier workplace.
So with this in mind, it's no surprise that they're proven to boost workplace culture!
Throughout the pandemic, we've become accustomed to having our furry friends by our side all the time.
But what happens when we return to the office?
How do we explain to our new best friends that your employer won't consider pets in the office and that they'll have to face the reality of spending their weekdays alone?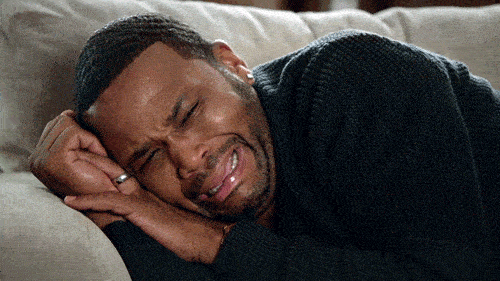 Pet owners when they think about leaving their furry friends at home and going back to the office every day.
Source: Giphy
How to create a pet-friendly workplace policy
As we begin to plan our return to the office, it's expected that HR and people managers will begin to receive an influx of requests for people wanting to bring pets to work.
While many offices are already welcoming dogs in the office, it can be difficult to know where to start – especially if you're new to the concept.
We're here to help lay down the ground rules for when someone in your team asks to bring their furry friend to the workplace.
Ready to transition your workplace into a pet oasis? Let's dive in!
1. Create a pets-in-the-workplace policy agreement
If you're new to the idea of allowing your team to bring their pets to work, it's essential you lay clear guidelines from day one. This way you reduce the potential of issues or misunderstandings occurring.
This policy should include the do's and don'ts of bringing a pet into the office, as well as outline other necessities such as:
Being fully vaccinated (i.e. fleas and worming).
Any appropriate accommodations that a pet requires.
Full responsibility on pet owners if any property damage occurs
Prohibited areas for pets within the office (such as meeting rooms)
The last thing you want is for something to go wrong, and you get caught up in a situation that could have been easily avoided!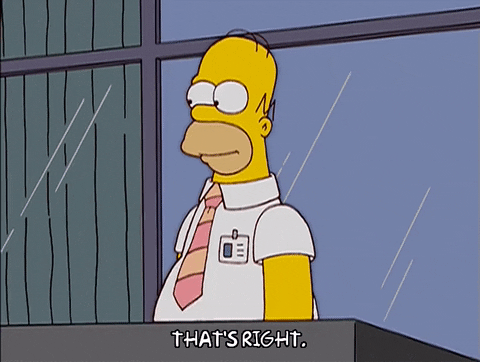 Our Office Manager when someone asks to bring their dog into the workplace.
Source: Giphy
2. Initiate discussion with the landlord and stick to the building rules
When it comes to considering the idea of allowing pets in the workplace, the first thing you should do is to check with your office landlord or building manager.
Will they agree with having pets in the building and if so, do they have any non-negotiables surrounding the decision?
Do they only allow dogs into the office, or are other office pets okay too?
Keep in mind that they may have strict rules around pets in the building, such as one pet per floor, one pet per building, or one pet per week.
When it comes to dealing with the landlord, you need to stick to their rules, or you could run the risk of eviction.
The last thing you want to do is get on the bad side of your landlord!
3. Set out the minimum behaviour standards with pet owners
Having pets at work sounds like a great idea. However, you need to make sure that there are minimum standards on the pet's behaviour that must be met.
The last thing you want is to have a pet in the office who will rip up furniture, be overly aggressive to your co-workers or clients or leave number twos in inconvenient places! Eek!
To assess the animal's behaviour standards, you should ask the pet owner to answer these questions:
Is the animal well-behaved?
Is the animal adequately trained?
Are you confident that the animal will not be aggressive towards others?
Is the animal calm?
Is the animal fearful?
These questions are particularly important when bringing pet dogs into the office, as dogs can be quite a disturbance if they are barking constantly.
Excessive barking affects everyone in the building, and if the problem arises regularly, you might have to say goodbye to allowing dogs into the office!
4. Have pet trial days or probationary periods
Just like humans, pets react differently when they are placed in different environments. This is why having a pet trial day or a probationary period is so important.
Whilst a furry friend may be a golden star at home, the workplace is a completely different situation. There are lots of people around, loud noises and many people coming and going all of the time – something that a pet may not be familiar with.
It's important for pet owners to recognise that this may be a sensory overload, so giving test days can help you decipher if it's going to work in the long run.
During the pet probationary period you should lay the general rule based on the following:
Have a "three strikes, and you're out" policy for accidental damage or incidents in the office
Make sure the animals are comfortable and not anxious
Are they needy or constantly up to mischief?
Do they enjoy coming in?
Be sure that each pet parent is aware if you are currently running a trial. Let them know if their pet misbehaves or are a disturbance to other employees, the policy may be revoked.
5. Create a pet roster
When word gets out that you're considering becoming a pet-friendly office, chances are you'll have many people wanting to bring their furry friends straight away.
You don't want your office to become a zoo, so we suggest creating a roster and limiting the number of animals in the office. This is also a great way to avoid any clashes in the office with types of animals.
For example, cats and dogs may not enjoy each other's company and could create more distractions for your team than benefits!
💡 On the roster, why not try having specific animal days? E.g. Dogs on Mondays, Wednesdays and Fridays and cats on Tuesdays.
6. Create a designated toilet spot
Before you allow pets in the office, you must set out the rules when it comes to toilet breaks.
This is to ensure that your employees don't come across any surprises in the office or have to deal with cleaning up after others.
When considering your toilet policy, you should ask the following questions:
Will you have a dedicated spot?
Will the owner need to take them outside?
What is the protocol for accidents?
Be sure to have some cleaning supplies handy. Some common office supplies for cleaning up after your furry friends include clean-up bags, floor cleaner and indoor grass toilets. Remember, preparation is key!
The last bark
As we begin planning our return to the office, you may have requests for bringing pets into the workplace. Before you give the green light, you should have rules and policies in place for owners.
This is to ensure that everyone stays safe and also feel safe when furry friends are around.
Download our pet-in-the-workplace policy template now!