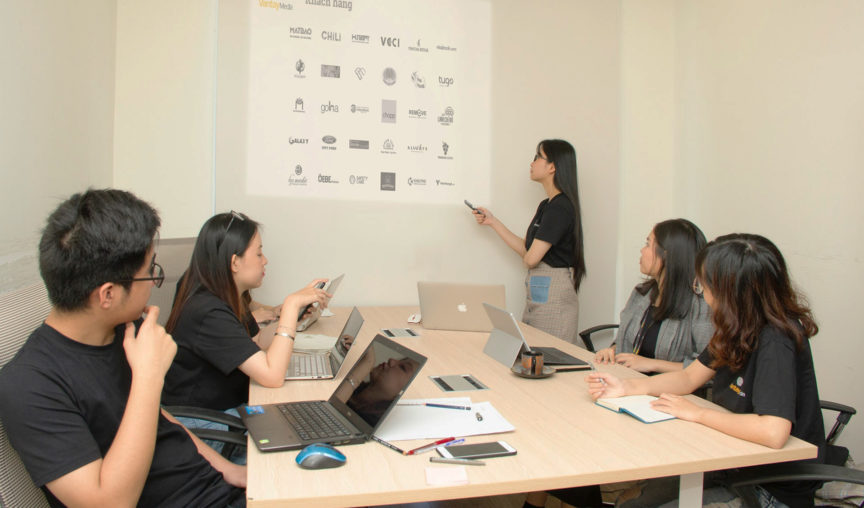 From an outsider's perspective, HR and marketing don't seem like they would be intrinsically linked at an organisation. But HR utilises more marketing principles and strategies than you might think, especially when it comes to recruitment and attracting top talent.
Your marketing department are experts in gaining awareness, which is exactly what people in talent acquisition need to do, especially in tough hiring markets. As we continue to feel the burn of the Great Resignation, boosting your business reputation for employee experience is more important than ever. You need to show why prospective employees should be excited to work for you.
Organise a brainstorming session and start collaborating on these hiring strategies.
What is recruitment marketing?
Recruitment marketing is the process of enticing potential candidates to discover your job listings and apply for a role with your business. It's all about getting your company in the eyes of job seekers, and 'selling' the organisation as a great place to work.
Recruitment marketing can take many forms, from placing digital ads to creating original content and sharing your business' story with the world. Just as there are many forms of general marketing, the span of possibilities of recruitment marketing is endless.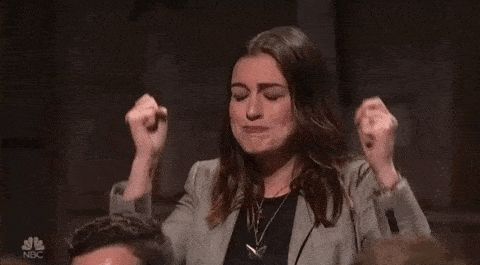 Why are recruitment marketing strategies important?
Recruitment marketing needs to be a core element of your recruitment process. You want a high volume of qualified applicants applying for your job opportunities, but you have to capture their attention first.
Without recruitment marketing, it's likely that great candidates will pass by your open positions. In such a competitive hiring market, with many countries seeing job vacancies at their highest in decades, it pays to stand out.
Need more proof? LinkedIn's Employer Brand Statistics report highlighted significant impingement on organisations that fail to market themselves well.
The research revealed that:
The #1 obstacle for candidates looking at job ads was not knowing what it is like to work for the company
Candidates trust the company's employees 3x more than the company to provide credible information on what it's like to work there
A whopping 75% of job seekers consider an employer's brand before even applying for a job
52% of candidates first seek out 1) the company's sites and 2) social media to learn more about an employer
Your recruitment marketing activities can complement other steps you're taking to find talent, including attracting passive candidates and advertising on popular job boards.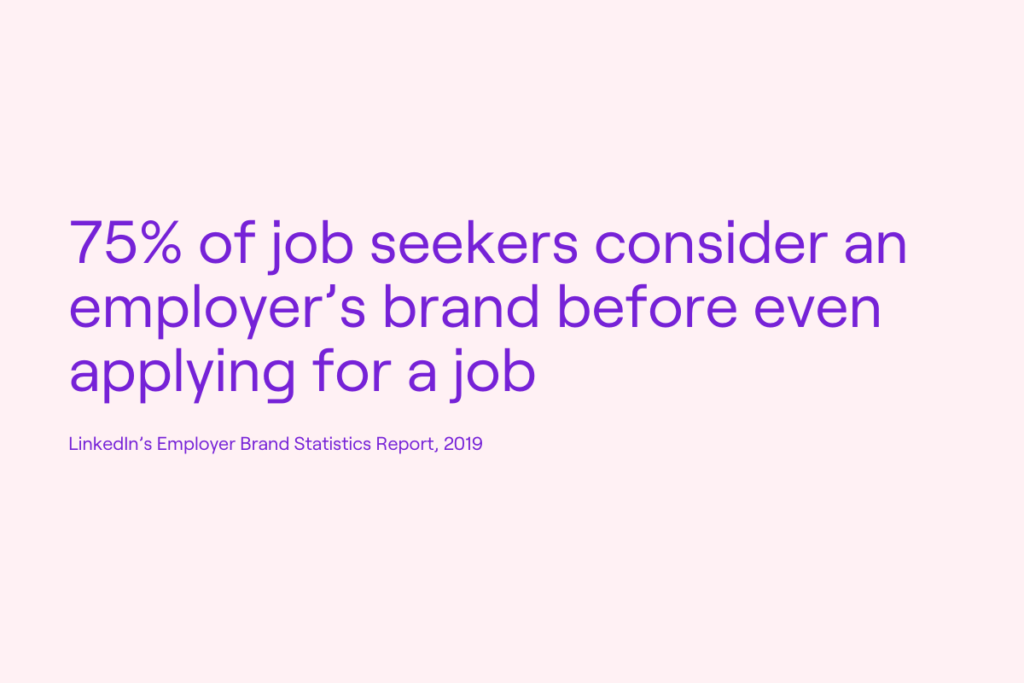 How can you create a recruitment marketing strategy?
Let's explore the core elements of an effective recruitment marketing strategy, inspired by popular marketing activities and concepts.
1. Showcase your Employee Value Proposition (EVP)
A lot of hiring strategies have been inspired by marketing principles. The employee value proposition (EVP), one of the most important tools used by HR teams, was borrowed from the marketing idea known as 'Unique Value Proposition' (UVP).
A UVP helps marketers by always providing a core and unique message about what the product or service that they're marketing gives the consumer. Whatever campaigns they build around the product or service, it will always be guided by the UVP. Put simply, it's how the user will benefit from engaging with the product or service, with the aim to enhance their life or make it easier.
Some of our favourite examples of a UVP include;
Slack makes it downright pleasant to work together.
Great writing, simplified. (Grammarly)
Anyone, anywhere, can start a business. (Shopify)
In the same way as a UVP, an EVP is the unique value that a company can offer its employees. Instead of a snappy sentence like the above, it's a unique and distinctive set of benefits, perks, values and vibes that guides the employee experience in your business.
Get inspired by this marketing principle, and get some guidance from your marketing team when finding a direction for your EVP.
Want to learn more about putting together an EVP? Download our guide to building an EVP from the ground up.
Employer branding is how you communicate your EVP to potential candidates and the wider business community. It's another HR idea that's deeply tied to marketing principles and practice.
In marketing, branding is everything to a business. It captures the 'look and feel' and 'tone of voice' of your product or service and communications. When you think about your favourite businesses, they will each have a brand that makes them recognisable and stands them apart.
Employer branding is the voice and image of your business as a workplace. This might be influenced by your product, but it won't be the same. Instead of revolving around your product, it captures the vibe of your employee experience – which is influenced by your EVP.
Your employer brand tells the world who you are as an employer and your reputation. It's the message you send to future and current employees. It's made up of a brand 'look and feel' and 'tone of voice'.
Look and Feel
The look and feel of a brand refers to its visual representation. When this applies to employer branding, it needs to capture the visual look of your workplace. There are many things that can make up the look and feel of an employer brand. This might apply to the colour palette that you use in your communications, or dictate if you're using photos taken on a camera phone or by a professional photographer. It might see you use lots of emojis, or none at all.
Tone of Voice
A tone of voice is a brand's spirit, conveyed through written and spoken words. It gives guidance on what is said, and how it is said. Different employers create a different voice to convey their employee experience. For example;
Apple's tone of voice as an employer could be described as; inspiring and innovative. Instead of having a person speaking to you (like a CEO or manager), it's a neutral voice. It might be strange if their tone of voice was that of a local store manager with a casual or joking tone.
Let's look at how Apple expresses their tone of voice and look and feel in their employer brand video;
2. Maximise your use of social media marketing
If you want to reach job seekers, especially those in a Gen Z or millennial age group, you need to meet them where they are. And where they are is on social media.
LinkedIn is the most obvious place for recruitment marketing, especially your LinkedIn company page, but you can also effectively reach people on any kind of social media platform; from Facebook to Instagram to Twitter to Youtube – and even on TikTok.
It's all about creating digital marketing content that's authentic to your business, that fits well on the platform that you're using and highlights your company culture in an authentic way.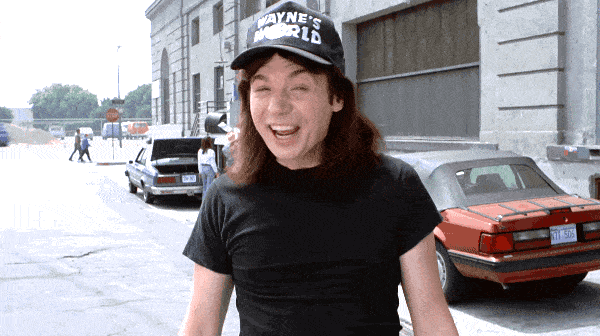 Create content that speaks to the talent you want to attract
The first step in creating effective content is to identify your ideal employee persona.
This is the representation of your target audience and ideal candidate, the one you are trying to attract, hire and retain. This persona is formed by defining the characteristics, skills, and traits that make up your perfect hire.
A great example from us at Employment Hero is that we look for people who are driven and inspired by our purpose. Hence our videos and content are directed at attracting candidates who want to make employment easier and more rewarding for everyone (just as much as us!).
From there, it's time to create! Your employer content is everything that tells the story of your workplace to your business community. As your marketing department will tell you, there are so many forms of content that you can utilise. Here are just a few examples of what you could do…
Photos or images
A visual representation of what working for your business is like is an absolute must. Whether it's a photo of a work event or a more creative execution of workplace life and values, there are lots of ways that imagery can help tell your story.
We've included two examples below of how we've done this on social media; the first image is of our internal touch football team (Team Bin Chickens for the win!), the second was made up by our designer to creatively show some of the day-to-day fun we have.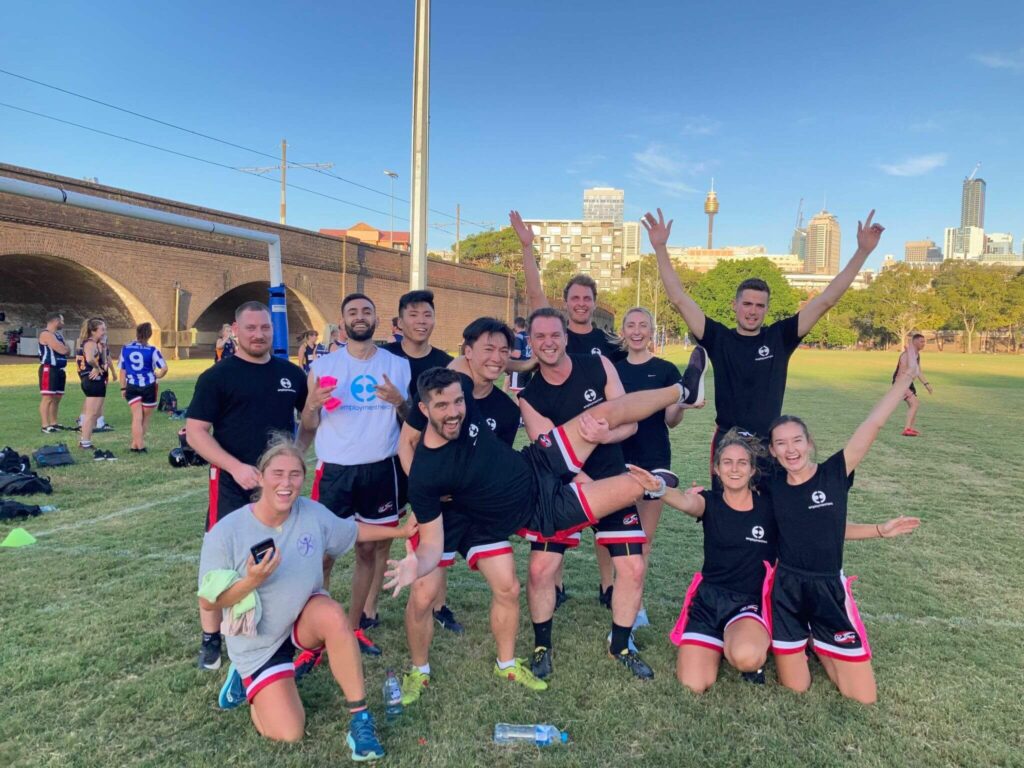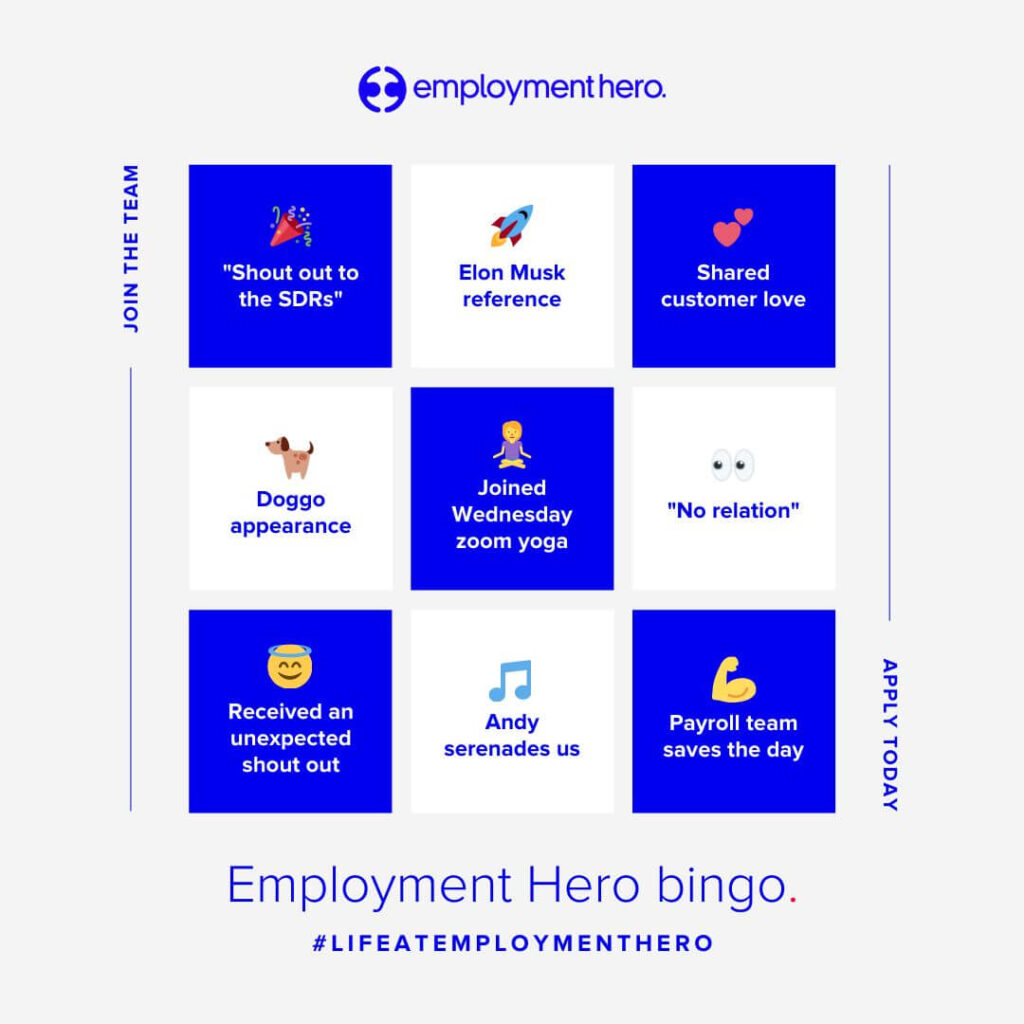 Videos
There are so many ways that you can use video to effectively showcase your company culture. These can be fun and silly, express employer values or showcase workplace culture.
An example that we're loving of a workplace showing off their workplace culture through content is Duolingo's TikTok. Their account masterfully merges their product and employer branding using their owl mascot Duo, who wants to get users to do their language lessons and cause chaos in equal measure. The Duolingo owl is now a TikTok celebrity, and makes their US-based office look like the place to be.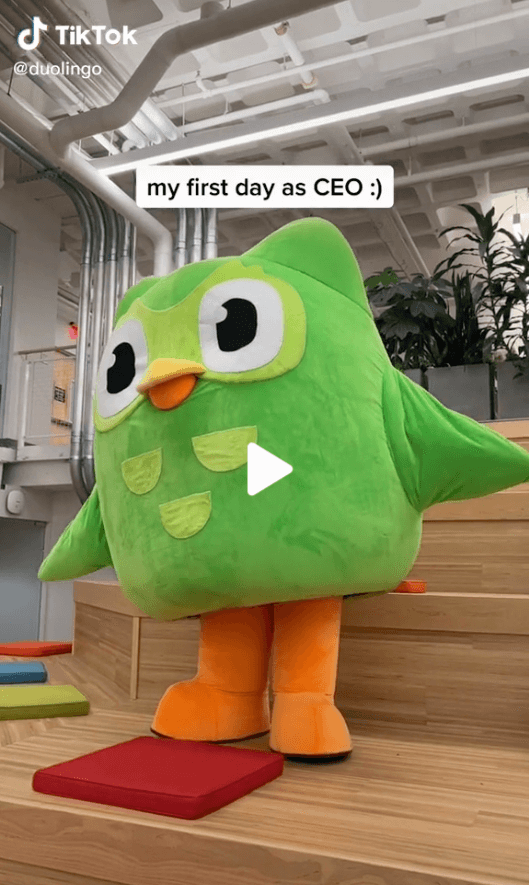 Articles and Thought Leadership
Your business is made up of incredible professionals who have lots of incredible ideas to share. Could they share a comment on a particular issue with a local news outlet, or write an article for your LinkedIn page?
Look out for trending topics that play into your team's strengths, and have your hiring teams support them through the drafting and editing process. Make the most of any articles by also posting them on your company's blog and featuring them in newsletters.
3. Turn employees into advocates
It's harsh but it's true, people trust content and recommendations from people they know, much more than they trust marketing messages from companies they may not know much about. This doesn't mean that general recruitment marketing tactics aren't extremely worthwhile, but it does mean that employee advocacy should be a big part of your strategy.
Employee advocacy is the promotion of a business by its existing employees. Impressively, 31% of high growth firms are using employee advocacy to increase their recruitment marketing. Do you need any more proof that it's an amazing talent sourcing strategy?
Supercharge your employee advocacy efforts by sweetening the deal for your team with an employee referral program. Offering an incentive for your team will make them much more likely to take action.
Social Media Advocacy
Social media has completely changed the way brands can utilise employee advocacy.
Getting your employees to share articles from your blog, pictures around the office or other types of content as social media posts can significantly improve your reach and can put your brand in front of people you would never normally be able to reach (unless you have a hefty social ad budget).
Where should your team members start? They could write a blog or article about what it's like to work at your business or their employee experience around a certain theme. This can be hosted and shared directly to their LinkedIn audience, like I did with my blog about my first 90 days at Employment Hero.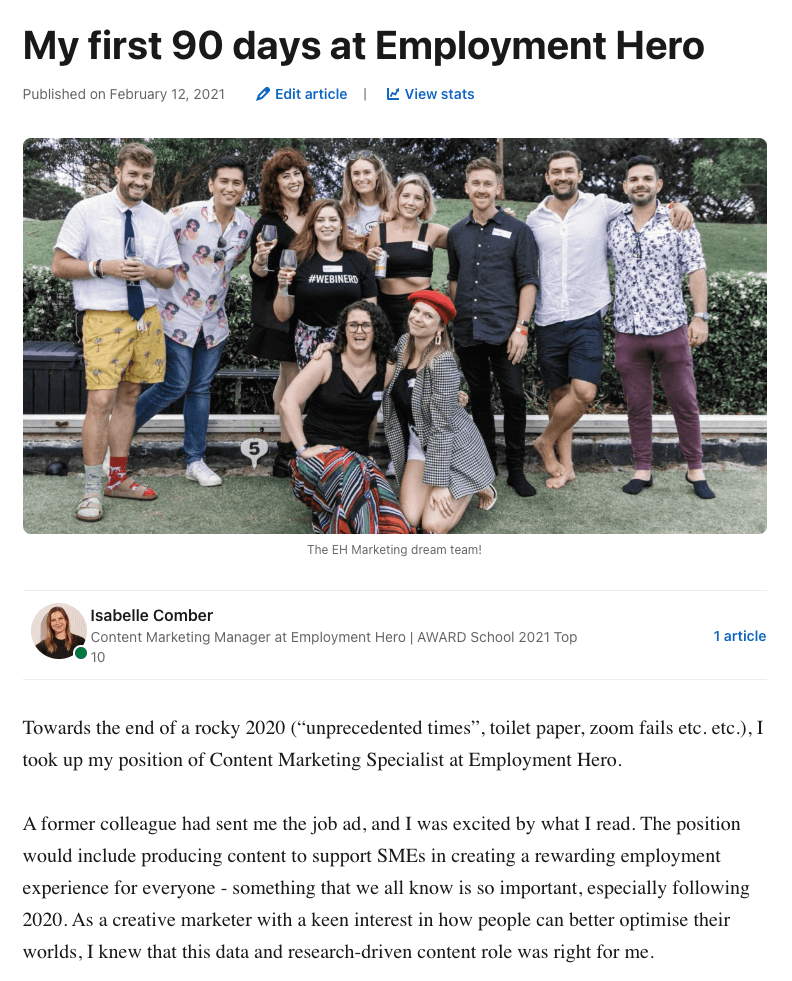 Company Branded Merch
Who doesn't love a bit of free company merch? It's a great way to both show your team some love, and get your employer brand seen out in the community.
It's an old school employee advocacy tactic, but it still works today. Giving your employees free shirts, keychains or other usable items provides people with a way to show off your brand without even trying. Any time employees wear a t-shirt or use a water bottle, they are advocating on behalf of your brand.
We recently invested in some Employment Hero Macpacs for our team here at the Sydney HQ. It's great to see people from all over the business wearing their jackets proudly on their commutes, to important meetings and or just when they're out and about.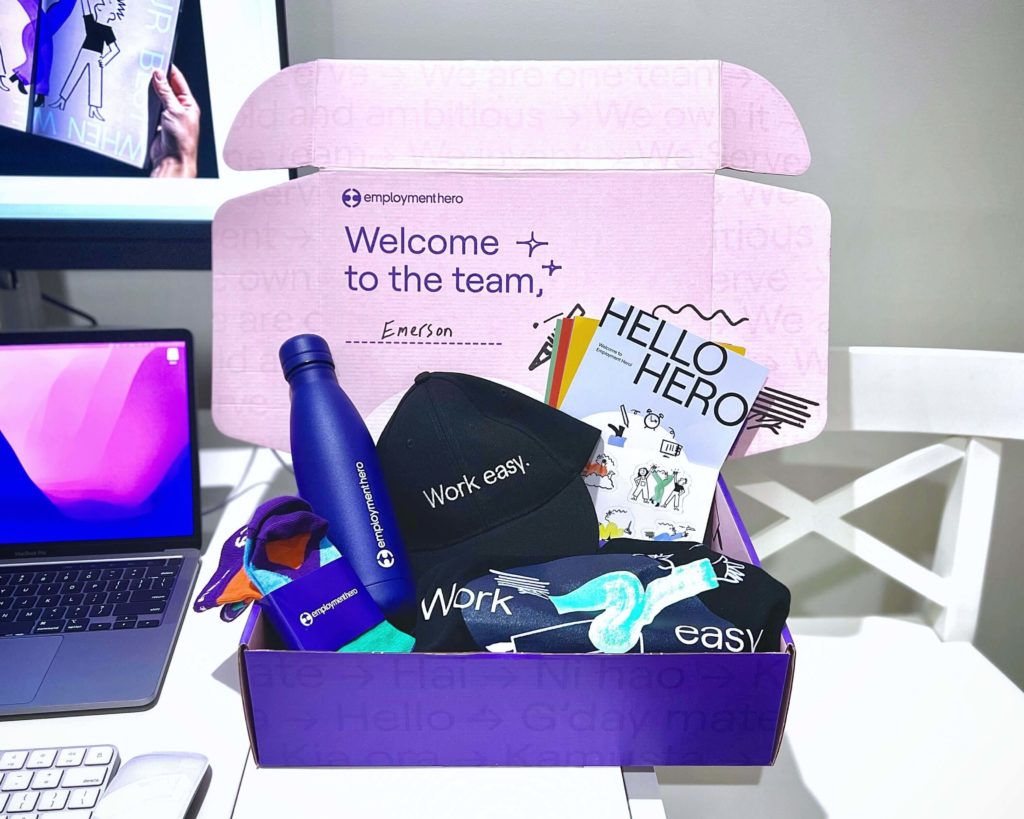 Glassdoor Reviews
Glassdoor is a powerful tool for your employer brand. Getting employers past and present to review their experience working for your business is a great way to showcase what you offer.
They will also supply people with an unbiased perspective of what your business is about. As with every open review site, there are risks of negative posts. But as long as you are open and honest in your responses to all reviews – whether they're positive or negative – it shows you are a business that cares.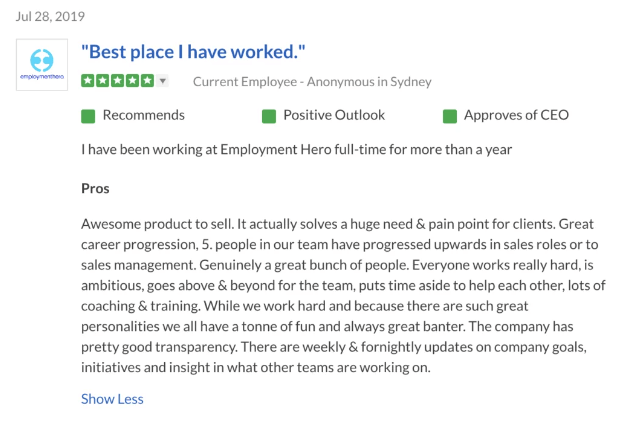 4. Optimise digital marketing channels
Beyond using social media platforms, how can digital marketing channels support your recruitment marketing strategy?
Design an engaging 'About Us' page
Never underestimate the power of your own website as part of your recruitment marketing efforts. It might not be the main place that searchers are looking, but if they are considering a role within your business – we guarantee that they will end up there.
An engaging 'About Us' page likely includes details about your core values and mission, any positive company news, and clear links to your job openings page.
Consider search engine optimization (SEO)
When you're looking at your 'About Us' and 'Careers' pages, it never hurts to consider SEO. SEO makes it easier for search engines to 'rank' your web page, showing it high in search listings.
SEO can be a complicated process, and there is lots of competition around career pages, but there are a few key principles that you can use to bolster your page and capture the attention of your talent pool.
Keyword research is a powerful one – are you using relevant keywords that your audience is using to search for career opportunities? An online SEO tool like Google Keyword Planner can help you identify these keywords and phrases.
You can also improve your page speed. Reducing your load time by optimising site content (for example, compressing images), can help improve your user experience and increase the time spent on your site.
Another tip is to make sure that your page title and meta description are SEO-friendly. These should be easy to read and include your keywords and phrases. This will not only make them more searchable, it will also help the reader understand what they're about to read.
Build Out Your LinkedIn Careers Page
When was the last time you took a good look at your Linkedin Careers page? Do you even have a Linkedin Careers page?
In all fairness, a Linkedin Careers page may not be as vital for some companies as others. However, if you can leverage social media for your employer branding presence more, why not start?
There are two main parts to your company careers page: Life and Jobs (the latter synchs with LinkedIn's internal job boards). These two tabs help to show suitable candidates who you are and the jobs you have available. If you'd like to find out how you can get started and how to edit these pages, Linkedin has a bunch of handy resources which you can check out here.
Our Careers page has an intro video, showcases our founders Ben and Dave, some lovely company photos, employee perspectives and testimonials.
5. Join professional networks
Sometimes showing up and being present is the best way to get your employer brand out there. Reach out to your star employees and ask them to attend events and meetups for networking opportunities.
This is a perfect fit for your recruitment marketing plan because peers relate better to each other. It's more natural for someone to be at an event that is relevant to them and spruik the company they're from to others. Compare this scenario to you as a recruiter or people and culture professional looking for talent, and you can see which one works better.
Remember, your employer brand is your reputation. Ask yourself how you can create employee advocates that promote your company in a positive light.
Make your workplace famous
It's incredibly important to market your product or service well, but your workplace also needs to be on the promotional agenda.
When you think of the most coveted workplaces around the world, there is so much information out there about them; their workspaces, their values, their benefits and the work lives that they facilitate.
But why should they have all the fame? Any business can get started today with marketing themselves as the place to work, all you need is a bit of marketing razzle-dazzle to gain a competitive advantage.
Once you've attracted your target candidates, don't forget to give them a fantastic hiring process. Learn how our streamlined recruitment software can help.
Looking for more tips on recruitment? Download our free recruitment guide today and source the best talent the world has to offer.
The ultimate recruitment and onboarding guide