We all know how difficult it can be to find that perfect hire for your business. More often than not, the hiring process can be a long and windy road and sometimes takes longer than initially intended.
That's where passive candidates and this cold email outreach template can come in handy.
What's included in this passive candidate email template?
You can edit this cold recruiting email template to replace the key information about your company and the position. The sections are highlighted in yellow, so you can easily edit these sections for each candidate.
While you can use this template for emailing passive candidates, it can be reused when reaching out to a prospective candidate through other digital channels such as LinkedIn and other social media channels.
The passive candidate recruitment email template includes;
An introduction email to passive candidates
A context for the email
An introduction to the role
An introduction to the company
Notes on next steps
Here's a preview of the template;
Hi [passive candidate's name], 
I hope you're well and having a great week.
 I'm [your first name] and I'm the [your job title here] at [company name]. I wanted to reach out because I couldn't help but notice your background in the [related industry] industry. I'm impressed with your experience at [passive candidate's current company] and it aligns nicely with a role I'm recruiting for.
Eager to see the full template and start your effective passive outreach strategy?
Download the email template now.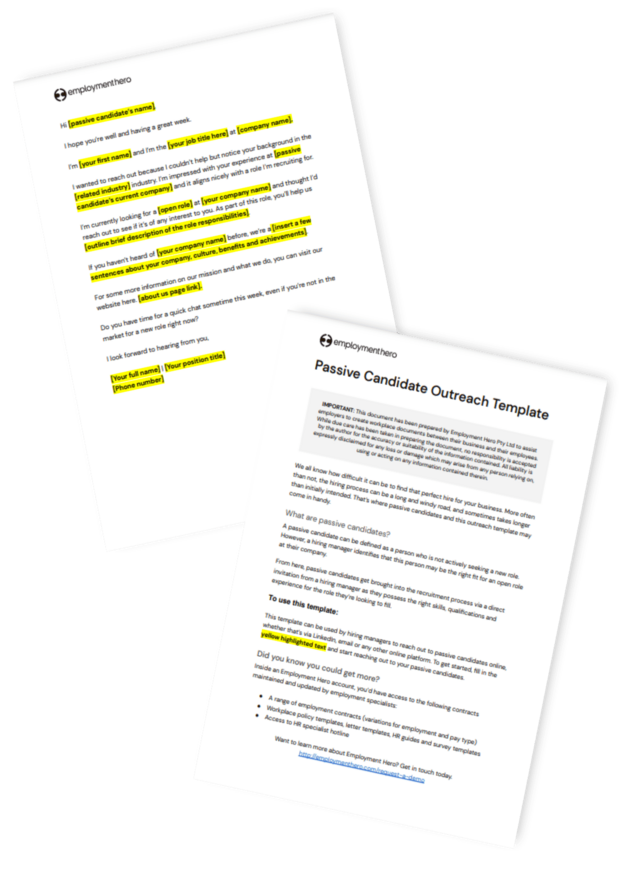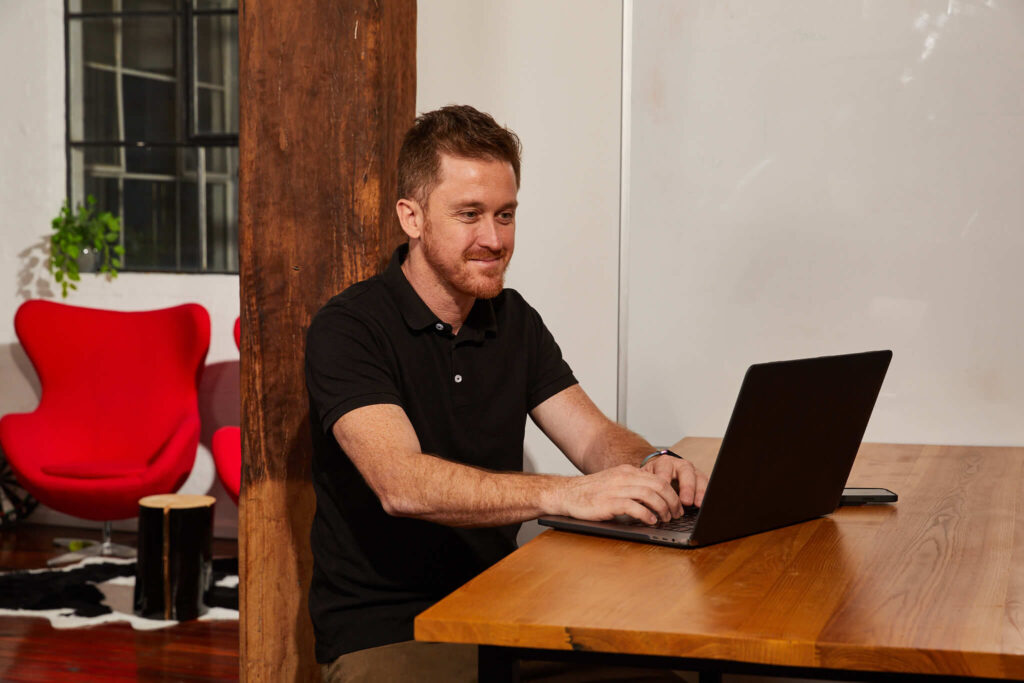 What are passive candidates?
Passive candidates are individuals who are not actively seeking a new job but who might be open to the right opportunity. Generally, a hiring manager or talent acquisition team has identified this person as a good fit for a role and is willing to make the person a competitive offer to win them over.
The process of pursuing passive candidates is also known as 'cold recruitment'. Passive outreach emails are also known as 'cold emails'.
The cold recruitment of passive candidates can be a hiring manager's best friend, especially in a competitive talent market. It's an especially useful tool to use to recruit an employee with specialist skills in a tough recruitment market. Passive outreach emails are not generally used to seek candidates for junior roles.
Looking to attract junior candidates to a role, or have a role that doesn't require specialist skills? Download our ideal job ad template to give your advertisement broad appeal.
Passive candidates can be a great addition to your team, as they often bring skills and experience to the table. They can also be efficient hires, as their experience has already been recognised as valuable prior to the recruitment process. It's a win-win for your team and recruitment costs.
Hiring managers can reach out to potential candidates through networking, an employee referral program, or by using a recruitment agency.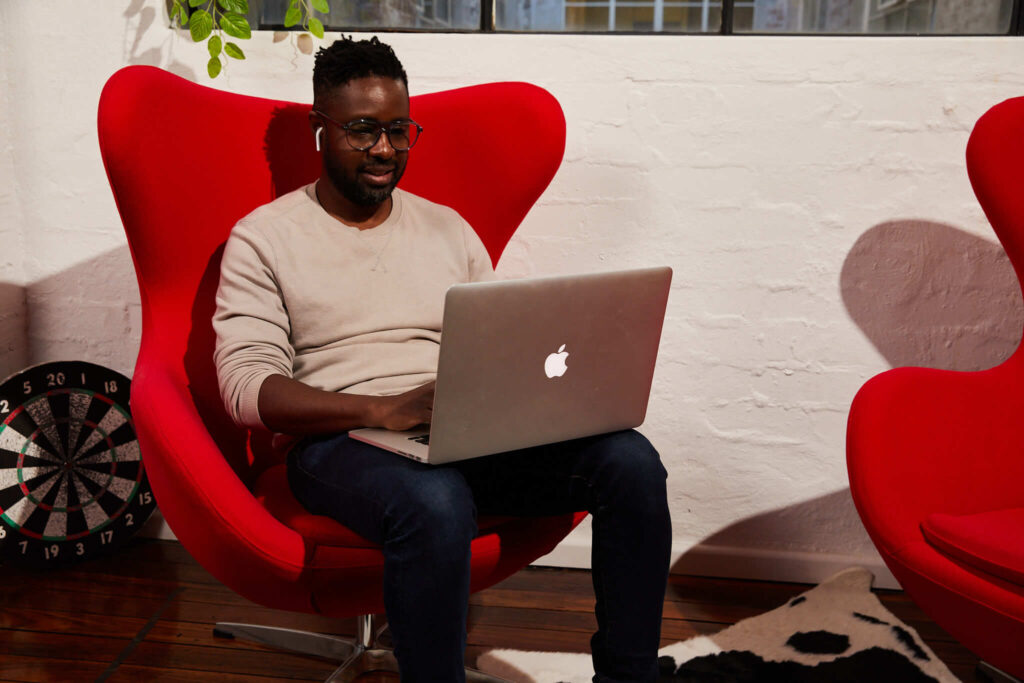 How should you reach out to a passive candidate?
When reaching out to a passive candidate, it is important to sell them on the opportunity and explain why your company would be a good fit for them. Remember, they already have a job that they may be perfectly satisfied with. Their livelihood doesn't rely on any new opportunities and they are likely in demand candidates for many roles.
This is why including some details of your company, company culture and employee perks is important while sending a cold recruiting email.
We've included this in our email template, along with other pieces of information to entice potential candidates to take it to the next step in the recruiting process.
Looking to impress your new candidate beyond the initial email stages? Learn more about what makes a great candidate experience with our candidate experience checklist.
Key information to include in your outreach email
What's the key information that makes up a great passive candidate email? Aside from the helpful information inside our cold recruiting email template, here are some other things savvy recruiters will consider.
An attention-grabbing subject line
There's an art to writing a great email subject line.
Your subject line is the most important part of your email. Without an effective one, there's a good chance that your email won't be read, let alone responded to.
Your subject line needs to be clear and concise, but also compelling enough to make the person click. While there's no one-size-fits-all subject line that will always see success, there are definitely a few things that you can try to make your subject line more attention-grabbing.
Personalise
The more a person feels like a message is tailored to them, the more likely they are to engage with it. If you can convey to the reader that you've done your research on them and you know they would be a good fit for the role, that's going to make them more interested in what you have to say.
The most obvious way to personalise a message to them would be to use their name in your subject lines, but you could also call out their experience.
For example;
Subject Line: "Isabelle, you're a great fit for this new opportunity."
Subject Line: "Isabelle, when are you free for a confidential conversation about a new role?"
Consider using the company name
Would the candidate have heard of your business? If you've been getting some attention lately in employee networks through employer branding or recruitment marketing, you may be in a good position to use the company name in your subject line.
For example:
Subject Line: "Are you interested in speaking about an opportunity with Employment Hero?"
Subject Line: "Employment Hero has a job opportunity I think would be perfect for you."
If the candidate is not likely to have heard of your business, consider going with something more generic, personalised or focused on the role for your subject lines.
Put the role front and centre
Another great subject line strategy is to use the role itself as a sell. This also gives the candidate a better understanding of what you're looking for from the outset, which may make them more interested in learning more.
For example:
Subject Line: "Would you like to discuss a new Content Marketing Manager opportunity?"
Subject Line: "We have a great new Content Marketing Manager opportunity for you."
Combine tactics!
Of course, you can use one or more of these ideas for your subject lines.
For example:
Subject Line: "Isabelle, we have a great new Content Marketing Manager opportunity at Employment Hero."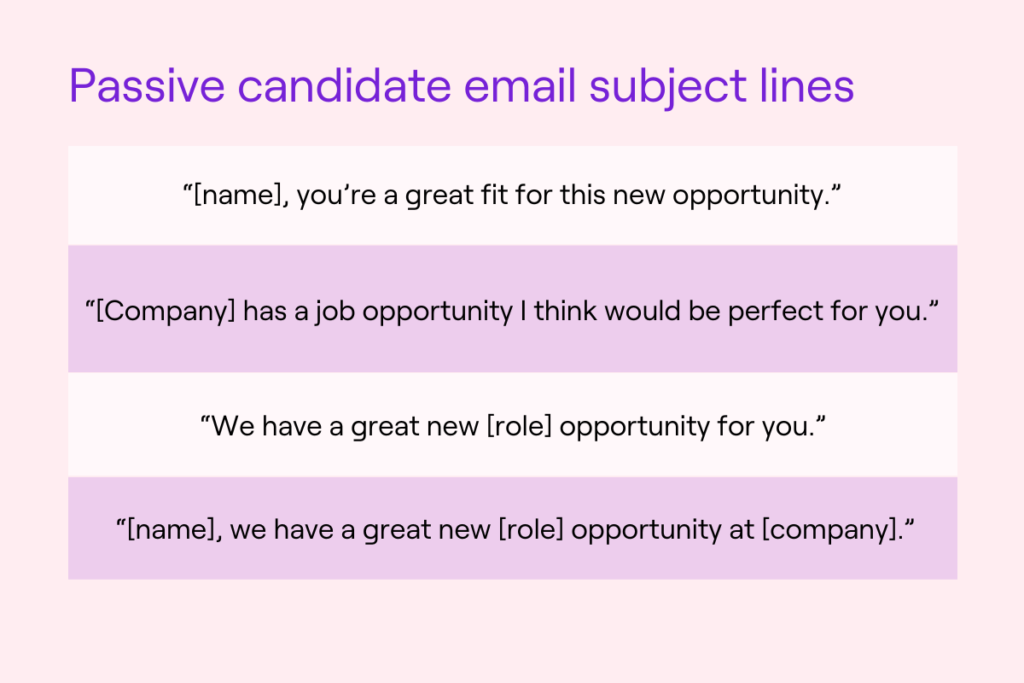 Relevant job title
Before you send your passive candidate outreach email, consider your job title.
The job title is the first thing that passive candidates will look at, and arguably the most important part of the email. Just those few words have all the power to make them want to learn more or continue to scroll past.
For this reason, your job title should be clear and if possible, use industry standard terms to describe the level of the role within the business (e.g. Coordinator, Manager, Director…).
You should also steer clear from adding jargon. Words like 'ninja', 'guru', and 'superstar' are gimmicky and might send your email straight to someone's trash folder.
Looking for more details on how you can optimise your job titles and your whole recruitment process? Download our free Employee Recruitment Guide.
Up-to-date job description
While you'll only be including a snippet of your job description in your passive outreach email, you want to make sure that you link to a current version of your job description – or be ready to send one when you hear back from your candidate.
A job description or position description (JD or PD) should be a comprehensive document that gives your incoming job seekers a deeper understanding of the role they are applying for.
The last thing you want is for a candidate to show interest in the role, but you don't yet have a current job description to share with them. Making them wait for you to create one could see them lose interest in the opportunity.
Want to write the perfect job description for your role? Use our standout job description template.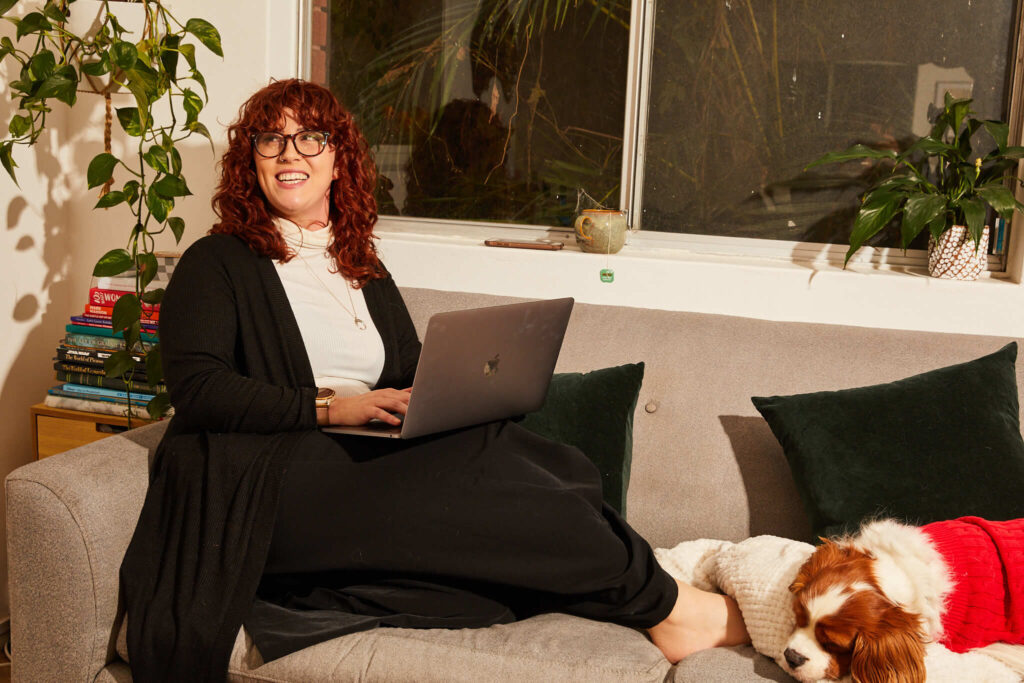 Next steps to take with a passive candidate
So the candidate has responded to your email or message, congratulations! You've likely gotten one of two responses, let's talk through how to respond to them both.
A polite decline
The first would be a polite decline. They may have gotten back to you with something along the lines of;
"Thanks for reaching out, but I'm not looking to pursue any opportunities at this time."
This may feel discouraging, but even this response is a positive one. The candidate has recognised your email, becoming a contact and opening up the door to discussing future opportunities with your business.
How to reply to a polite decline
With your follow up emails, we wouldn't recommend pushing the person any further to consider the opportunity. But, you can still respond in a way that will build further positive associations with you and your business.
We would recommend saying something similar to;
"Hi [candidate name],

Thank you for taking the time to review this opportunity. 
If you're looking for a new role at any point in the future, please don't hesitate to reach out to me for a confidential discussion about your career goals."
Thank you,
[Your name]"
By sending a polite reply that signals your interest in their ongoing career, the person is more likely to keep you front of mind whenever they are considering their next role. The last thing you want to do is not reply at all, or send a sharp and abrasive reply – effectively ending your relationship with the person and closing the door for them for any future conversations.
An interested response
The second response you're likely to receive is an interested one, hooray! The candidate is happy to learn more about the role from you, and is on the way to becoming your next new hire.
However, the next steps from here will still be a little different to your regular recruitment process.
An introductory call
For those who are coming to your role through a job ad, they will already have some understanding of what you're looking for. With cold recruiting, it's your responsibility to get the person up-to-speed.
A quick call with the candidate will give them the information they need to know about the role to make sure that they want to proceed. It will also give you as a hiring manager the chance to get to know the person better.
This quick call is not part of the interview process, so make sure it's more of a casual conversation rather than a drawn out question and answer session. This is also a key opportunity to sell the candidate on the role, so make sure you cover company culture, perks and salary expectations so everyone can be informed as you proceed.
Assuming all goes well with the call, you can then enter the candidate into your recruitment software and begin setting up formal interviews. You may at this point ask the candidate to supply their CV for you to keep on file.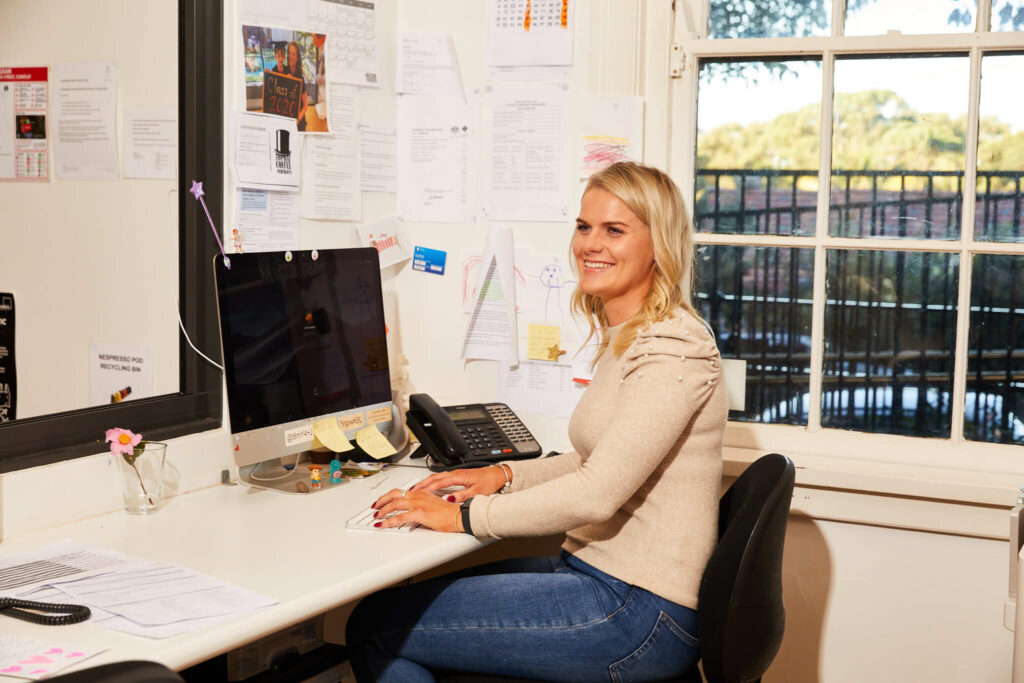 How do you measure the success of your passive candidate emails?
Of course, the most important marker of success is when a passive candidate email template leads to a candidate securing the role.
But not every passive candidate email template will end up this way (in fact, the majority of them won't), but that doesn't mean that the time you spent writing cold emails was wasted.
For every candidate that responds to your email, even if it's with a polite decline, that's a new contact made. Now you have a connection with that person, and that person has an awareness of your business and the fact that you're growing.
This could lead them to contact you about further opportunities down the track, or put you in touch with someone from their network who may be interested in opportunities.
So, if you're generating steady response rates, having some good conversations and growing your network, you should consider your passive candidate email strategy a success. When combined with other strong recruitment marketing and talent sourcing strategies, you're on your way to sourcing a wealth of incredible talent.
Download the template now.