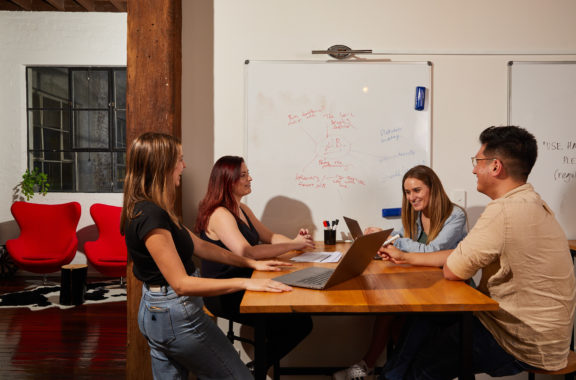 We all know that great people are at the core of every successful business. Give your people the best opportunities for growth, and you'll see them and your business thrives.
Today, attracting and retaining talent is on every employer's mind. It's a tough market right now, and to get – and keep – the best the market has to offer, you need to invest in a great candidate experience.
What's in the candidate experience checklist?
We all know that everyone is talking about giving your current employees a great experience. But, what about your candidates?
We've created this checklist so you can nail the candidate experience every single time.
This candidate experience checklist provides key tips in each stage of the recruitment process:
Attracting candidates
At the start of the interview process
During the interview process
After the interview process
Download now to find out more.
Disclaimer: The information in this article is relevant as at 21 Dec 2021, and has been prepared by Employment Hero Pty Ltd ABN (11 160 047 709) (Employment Hero). The views expressed herein are general information only and are provided in good faith to assist employers and their employees. The Information is based on data supplied by third parties. While such data is believed to be accurate, it has not been independently verified and no warranties are given that it is complete, accurate, up to date or fit for the purpose for which it is required. Employment Hero does not accept responsibility for any inaccuracy in such data and is not liable for any loss or damages arising either directly or indirectly as a result of reliance on, use of or inability to use any information provided in this article.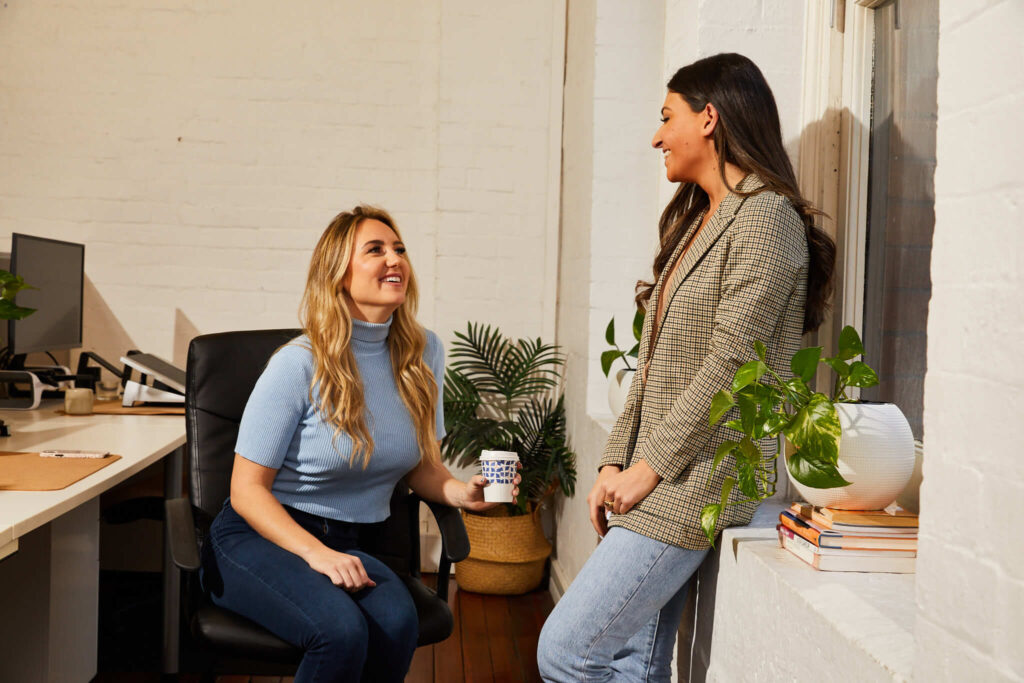 What is candidate experience?
Candidate experience is how potential employees perceive their interactions with your company during the hiring process.
The candidate experience runs throughout the entire hiring process, and begins prior to the application stage. It touches on every part of their interaction with your business, from them discovering your job ad, through the application and interview process, all the way through to signing on the dotted line.
Candidate experience is a precursor to an employee experience. When we recognise the importance of the candidate experience and create a strong strategy, companies are setting up good associations for their employees of the future.
Why does positive candidate experience matter in the hiring process?
The recruitment market is incredibly competitive right now. With staff and skills shortages wreaking havoc across the world, hiring teams are seeking all sorts of creative talent sourcing strategies to attract qualified candidates to their open roles.
However, many businesses fail to optimise something that's right under their nose – their candidate experience. Let's explore the benefits of acing your candidate experience.
Securing top talent efficiently
It's commonly known that the best candidates are only on the recruitment market for an average of 10 days before they accept a job offer.
If businesses want to capture the best talent possible, they need to act fast and create a candidate experience that is going to ensure candidate engagement.
Standing out in a competitive market
We're currently working within a candidate-driven market. This means that if someone is job seeking, it's likely that they will have more than one active job opportunity they're working through at any given time.
If an applicant is having a positive candidate experience, where they feel they are being respected and appreciated by the company, they're more likely to see the opportunity through.
They may even keep other opportunities at arms length, so they can find out the outcome of their recruitment process with your business.
Creating relationships with fantastic candidates
All candidates should have a great experience with your business, whether they're successful in getting the position or not.
Every applicant is an opportunity. A candidate could be not quite right for a currently advertised position, but they could be perfect for a future opportunity with your company.
Giving them a great candidate experience can keep your business on side and have them looking out for future roles.
For unsuccessful applicants, make sure you provide feedback in a kind and constructive way when you let them know they have been unsuccessful, show your appreciation that they applied to work with you, and encourage them to look out for future jobs with your business.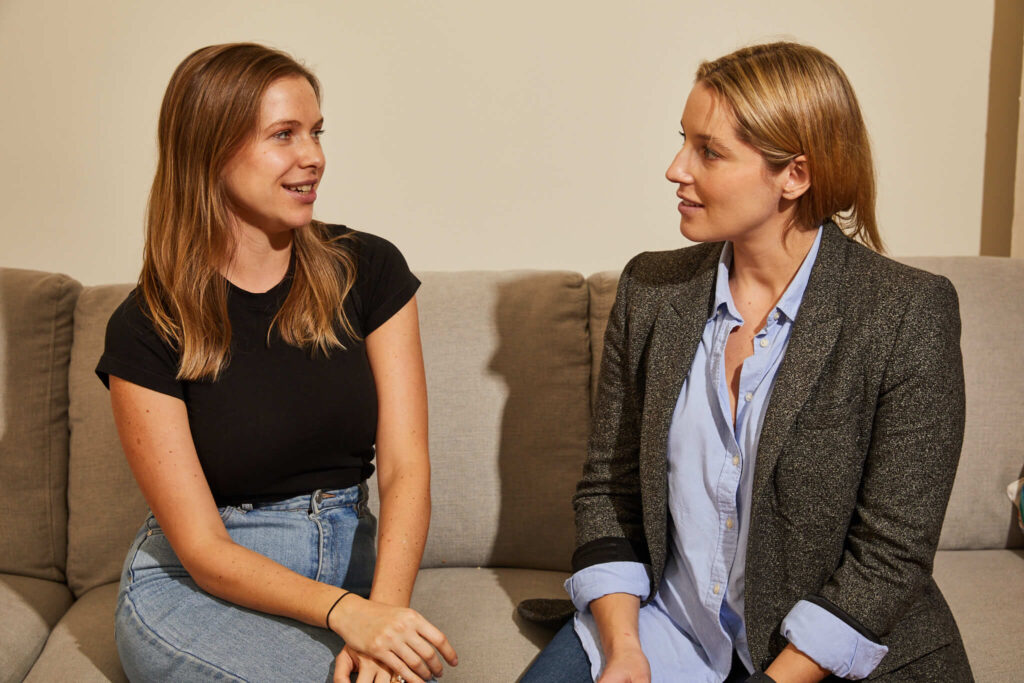 How is candidate experience related to employer brand?
The candidate experience starts the moment an applicant hears about your business or sees any of your recruitment marketing, which are demonstrations of your employer's branding.
Employer brands aren't just ensuring that all of your recruitment materials have the same visual aesthetic. Your employer brand is built through every touchpoint a potential candidate has with your company – so even though your employer brand isn't limited to the candidate experience, the two strategies should work together closely.
Want to learn more about building a dynamic employer brand? Read our guide to employer brand here.
What could happen if job seekers have a bad experience?
If an applicant is having a poor candidate experience – they may be more willing to sign with someone else faster or withdraw from discussions with you. You might lose a great candidate because they didn't feel like the role at your business was worth their time or effort.
To make matters worse, did you know that 72% of candidates who have a poor recruitment experience with a company are likely to be vocal about it?
If a candidate has a bad experience, they may post a negative review of the company online. Job seekers today are vetting employers as much as employers are vetting them.
Negative reviews on a career website, job boards, or social media can damage your brand identity and potentially deter future candidates from applying to your company.
Let's quickly uncover the tell-tale signs of a poor candidate experience, so we can avoid them at all costs.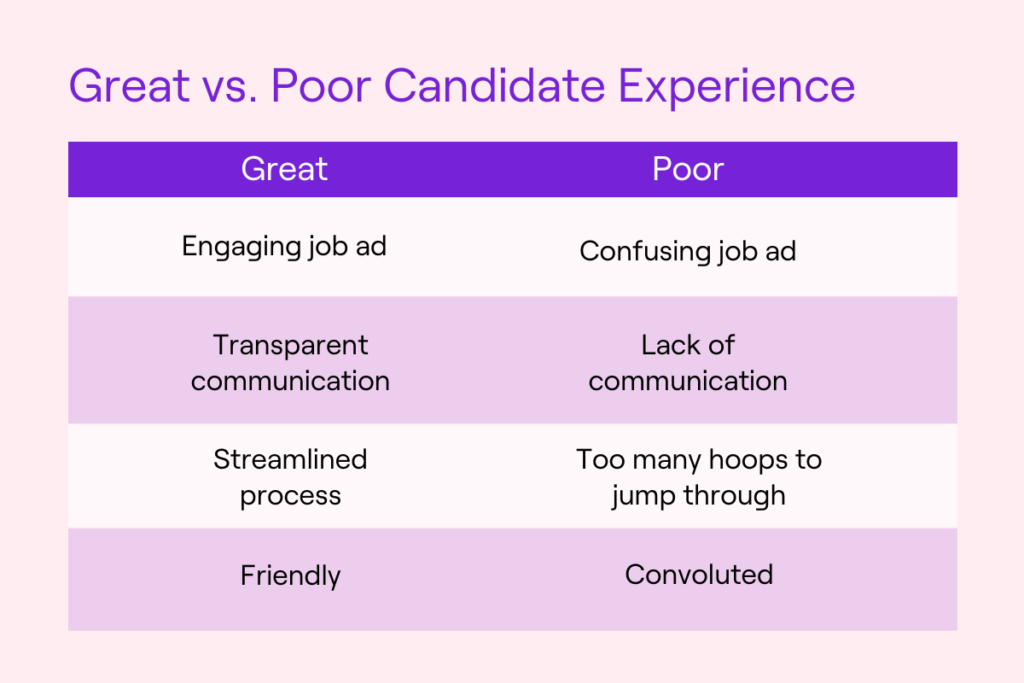 Writing a confusing job ad and job description
A great job ad and job description is clear, easy to read and not too long. Your job ad shouldn't be too long, it should capture the role well and not have a long list of demanding requirements around the role.
Great job ads will also avoid jargon or internal company jokes – this is more likely to see the reader disengage rather than apply.
Your job description should also be clear and well-written. Provide a strong link from the role back to the mission of the company, and talk about the positive impact the role will have on the wider business and team.
A disorganised process
Is your recruitment pipeline a bit all over the place? Maybe your timelines are unclear, or your candidates are confused about what they need to submit as part of their application.
Disorganisation can affect the candidate experience while you're trying to attract applicants, through the interview pipeline and right though to the onboarding stage. It can cause stress for applicants, or lead them to disengage with the role.
Of course, this issue is easily fixed by downloading our candidate experience checklist. Our checklist addresses each part of the process so you can provide your best experience yet.
Poor communication
Job seeking is a stressful endeavour! Candidates go to a lot of effort to apply for roles, and spend a lot of time waiting by the phone for updates.
Most hiring managers understand this, yet still keep applicants waiting for days or weeks before calling them about next steps. Even worse, some hiring managers will leave candidate emails unanswered, or not respond to their questions about the hiring process.
Recruitment should be a clear and transparent process. Every person on your hiring team should be a great communicator, and willing to pick up the phone for a quick check in or to give feedback.
Too many hoops to jump through
To apply for one role, sometimes businesses will put candidates through a lengthy application process that requires a customised cover letter, screening calls, 5-6 rounds of interviews, skills-based tasks and more.
Remember that stat we shared before, great talent is off the market in 10 days? Well if you're looking to conduct this kind of lengthy process, a lot of that amazing talent will be lost. Great candidates don't last long, so your process can't either.
Not thinking about the experience for unsuccessful candidates
It's very exciting when you secure a new hire! Your brain is likely already ticking over, thinking about when you can get them started and how their skills will benefit the team.
But what about your unsuccessful candidates? Don't leave them waiting for an outcome, or without kind and constructive feedback about why they didn't secure the role this time.
Being considerate to unsuccessful candidates is so important. Not only because it's the human thing to do, but also because you want to keep them motivated to apply for future roles with the business, and say positive things about your hiring team to their networks.
Candidates put a lot of time and effort into applying for roles, so make sure you always give them a little love.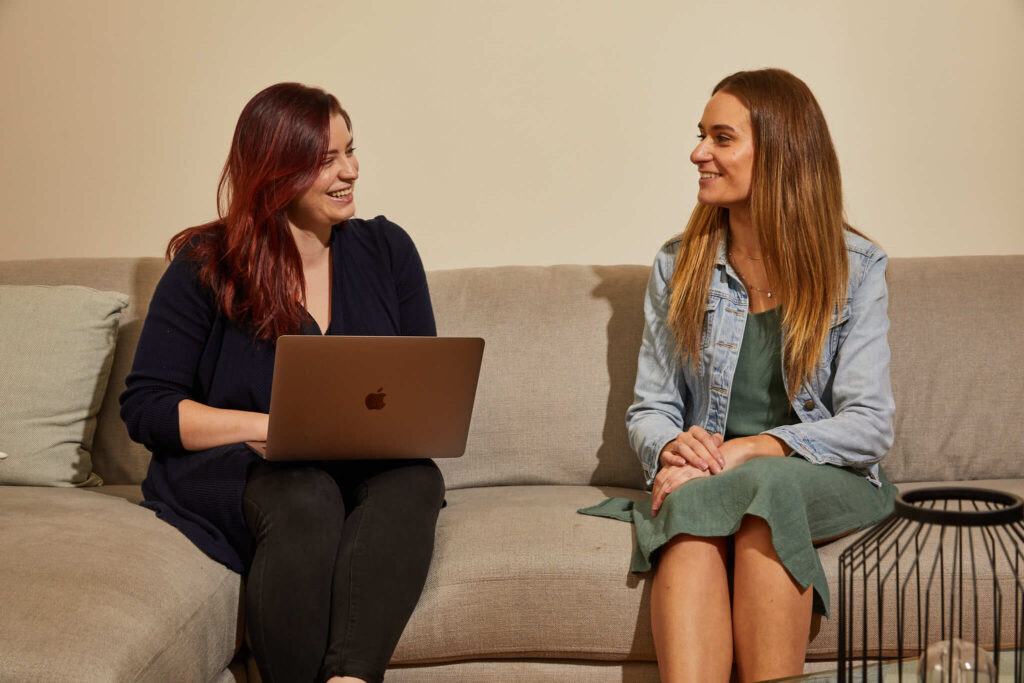 Creating a streamlined recruitment process
Recruitment is a lot more complicated than a lot of people think, and candidate experience is just one piece of the puzzle! Apart from downloading our candidate experience checklist, here are a few things that you can do to streamline your recruitment process.
Design your interview process
Consistency is key! As such an important part of the candidate experience, designing an effective recruitment process for your roles is essential.
Regardless of the position you're hiring for you, you should consider:
Determining the number of interview rounds, and clearly assigning a purpose to each one
Clearly defining who the potential candidates will be meeting with
Writing a list of technical and non-technical questions to ask during the process
Determining whether a task will be required to be completed by potential candidates
You should also organise a short meeting with everyone who will be interviewing candidates to make sure you are all on the same page. What would make a good response? What would be a bad response? What are the essential things you need to hear from the candidate versus the non-essential?
Having this clarity with your recruitment team will make the process much easier to navigate, and will make sure that everyone feels confident in the final decision.
Get prepared with our recruitment guide
From attracting talent, to the interview process, to welcoming your new team member – recruitment is a big undertaking! Understand this process and optimise your strategy by downloading our Ultimate Recruitment Guide.
This guide is jam-packed with helpful advice, such as helping you identify when you need a new staff member, how to identify teams that require additional resources when you're on a limited budget and the best job interview questions.
It also covers how to use employer branding and an employer value proposition to maximise your employer appeal, what to avoid in induction and how to handle probation periods like a pro.
Download our Ultimate Guide to Recruitment now.
Invest in recruitment software
Why wade through all the administrative aspects of recruitment when you can invest in a smart system to do it for you?
From posting on job boards, to moving candidates through interview stages, to swapping interview feedback – hiring can get mighty confusing, mighty fast. An applicant tracking system (ATS) can help.
An ATS can help you bring your candidate experience checklist to life. It's a centralised location where you can view the status of all your candidates, and track their movements through the recruitment pipeline.
Your hiring teams can leave notes on candidate profiles and you can easily store CVs, portfolios and cover letters so your team can view them at any time.
When your candidate is ready to move into the onboarding phase (yay!), you can issue them a digital employment contract and move their profile into employed mode on our HR platform.
Interested to learn more about what our recruitment software could do for you? Book a demo with one of our business specialists now.