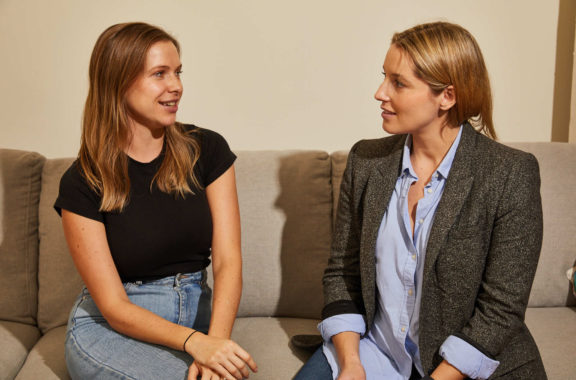 The world of work is changing rapidly, and as a hiring manager, it can be hard to keep up. With the pandemic forcing many businesses to go remote, then the Great Resignation and Great Reset shaking things up, the role of interviews has never been more important.
All employers know that without a great team, it's hard to achieve business success. But within a limited, often high-pressure time frame, how can you tell the difference between a bad hire and your next best hire? After all, the interview depends less on the interviewee, and much more on the interviewer.
That's why we've created this Guide for Hiring Managers – to unpack the art of interviewing.
The Guide also covers;
Essential skills that hiring managers need
Common interview mistakes to avoid
A pre-interview checklist
Tips for getting the most of the interview
Examples of good interview questions
Tips for inclusive hiring
Download the guide now ☞
Why is conducting a job interview important?
In a nutshell, getting interviews right and hiring the right person reduces cost of recruitment. Recruitment is an expensive business – when you add everything up, a new hire's average cost can be between $3,500 to $5,000 AUD.
But the cost of a bad hire is much more significant: a study from The Australian found that a bad hire can cost a business up to 2.5 times the salary of the employee, while in the US the average ranges from $17,000 to $240,000.
So at any level in an organisation, doing interviews well to find the right hire is a top business priority. Job interviews are a serious business.
For the candidate too, they're crucial in furthering their careers, finding a happy workplace and a team that they align with. That's why as an employer, you need to be able to present your brand honestly and accurately, both when writing the job description and advert, and in the interview.
But it's easier said than done.
Sweaty palms, high heart rates, swirling thoughts, an inability to focus… Interviews can be stressful and challenging for both interviewees and interviewers. Indeed, it's a high stakes environment, so you need to be able to keep your cool.
Interesting interview stats
According to some recent research,
Only 2% of candidates who apply for a job are selected to attend a job interview.
Employers will interview an average of 6 candidates for every job vacancy they advertise.
The average job interview process consists of 2 interview stages.
The average interview process in the UK takes 27.5 days to complete.
Finding the right person is definitely a journey.
But what drives growth at the top places to work? Culture.
That's why interviews (and those all important interview questions) are all about finding someone who truly fits in the team. The days of trying to find the most experienced or 'perfect person' for the job are over. These days, it's all about adding value – it's as much about finding the missing piece and identifying who can bring what you want (but perhaps don't know yet) to the table.
Get your copy of the Guide to Interviewing for Hiring Managers ☞
What is a hiring manager?
A hiring manager is the person who will be managing the employee once they are appointed. Quite often, the hiring manager will also initiate the talent search and will be a key point of contact throughout the recruitment and onboarding process, including conducting interviews.
Depending on the structure of the business, there may also be a HR department who will be the first point of contact for applicants and new recruits, but the hiring manager will either work closely with the HR department or external recruiter, or manage the hiring process on the applicant tracking system (ATS).
Ultimately, it's the hiring manager who has the final say in the candidate selection process, simply because the successful candidate will then become their direct report.
What does an interview process look like?
Interviewing is a significant part of the recruitment process, and depending on the nature and size of the business, can be made up of several steps. The size and nature of the business and the team will also dictate the interview format, but this is a general look at what the interview process looks like.
Step 1. Defining the role
The first step is to define the role that you are recruiting for. This means setting out the roles and responsibilities, as well who the role will be reporting to, where they will sit in the organisational structure, what tasks they'll complete in their day-to-day, plus any other skills required to complete the role.
Step 2. Write a stellar job description
To create a job description that stands out on the market, you should use a clear job title which states what the job is, and mention the level and type of role. Bear in mind that you also need to sell reasons why applicants would want to work for you – this is all part of your employer branding. Including your benefits and employee value proposition (EVP) on your job adverts will provide more insight into your role and company.
Not sure where to start? Think about:
Outlining company highlights
Sharing possible opportunities for mentorship and professional development
Outlining all of the benefits and perks your company offers
Showcasing your culture and cadence of social events
Download our Ideal Job Ad Template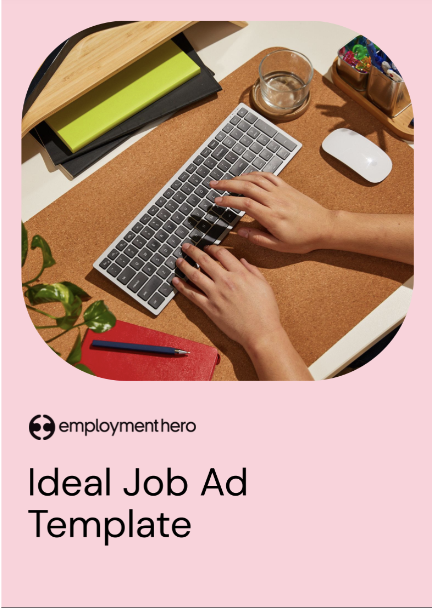 Step 3. Advertise your open role
In order to attract the right applicants, you need to determine where your target candidates actually are. Is it LinkedIn? Social media? Job boards? Are they already working at your company? Will you be using external recruiters? You should assess each avenue and find out what option will work best for your team and potential candidates.
Employment Hero has a built-in Applicant Tracking System (ATS) that allows you to seamlessly manage your candidates and job ads on different job boards all from within our cloud-based platform. Managing your candidates has never been easier.
Read more: 13 Creative Talent Sourcing Strategies to Expand your Talent Pool
Step 4. Design your interview process
Designing a killer interview process takes time, consideration and flexibility. The interview process will be different depending on whether you're recruiting for an intern, a junior role or a senior leadership position. Regardless of the position you're hiring for, consider these areas:
Location of interviews
Number of interview rounds
Purpose of interviews
Who the potential candidates will be meeting with
Which non-technical questions to ask during the interview process
Whether potential candidates will be required to complete a task
Technical questions that are specific to the role
[CTA] Download our guide for more insights into interviewing
Step 5. Make the final decision
After the interviews are complete, it's important to discuss decision making with your team. Once a decision has been taken, you can notify the successful candidate and issue an offer letter. You'll also need to let the unsuccessful candidate(s) know – it's good practice to give feedback and let them know the reasoning behind your decision.
And after that, you can focus on onboarding your new hire!!
Find more tips about the recruitment process here.
As a hiring manager, you'll want to make sure that the prospective candidate you chose to fill the position will be the right employee for the job — from both a skill set match to alignment with your business values and company culture.
→ Pro tip: Go digital with recruitment management software and spend less time on paperwork.
What are some tools a hiring manager should use?
Tools can make light work of recruitment. When used well, they can automate and simplify tedious tasks like post jobs adverts, sifting through CVs, and tracking the applicant process.
Our preference is to have as many tools under one roof as possible – this makes recruitment and onboarding smooth, streamlined and enjoyable for both the employer, hiring manager and candidates.
1. Applicant Tracking Systems (ATS)
An ATS is a top tool that can help save heaps of time and energy by managing every step of the recruitment process — from job creation to finding the ideal candidate to hiring and onboarding.
86% of recruiting professionals say that using an ATS has helped them hire better and faster.
2. Social networks
Social media is another great tool for the hiring manager's toolbox. Whether you're sourcing candidates, putting the word out about a vacancy, or researching candidates – social media has a lot of power when it comes to recruitment.
3. Onboarding software
Onboarding software can help you retain top talent with a great employee onboarding experience. A well run onboarding process can set the tone for employee engagement and support strong employee performance from day one, while a poorly run onboarding process can slow down an employee's entry to the business, make them doubt their place in the company, and can contribute to a higher turnover rate.
Employees love paperless onboarding. Give paper the flick for good. Onboarding has never been faster or more earth-friendly with Employment Hero.
This is an overview of the importance of interviews and what hiring managers need to be aware of.
But remember, a hiring manager's job doesn't end once the new employee starts in their role. In some ways, this is just the beginning. And with the rise of remote work, this presents new challenges for managers in terms of delivering on that team culture and employee experience that they no doubt spoke highly of during the interview and selection process. As more and more people work remotely or in a hybrid way, hiring managers will need to give consideration as to how their direct reports are doing.
But with the right tools, this can be a walk in the park.
Eager to learn more tips and hints for mastering the interview process?
Grab a copy of our guide today ☞