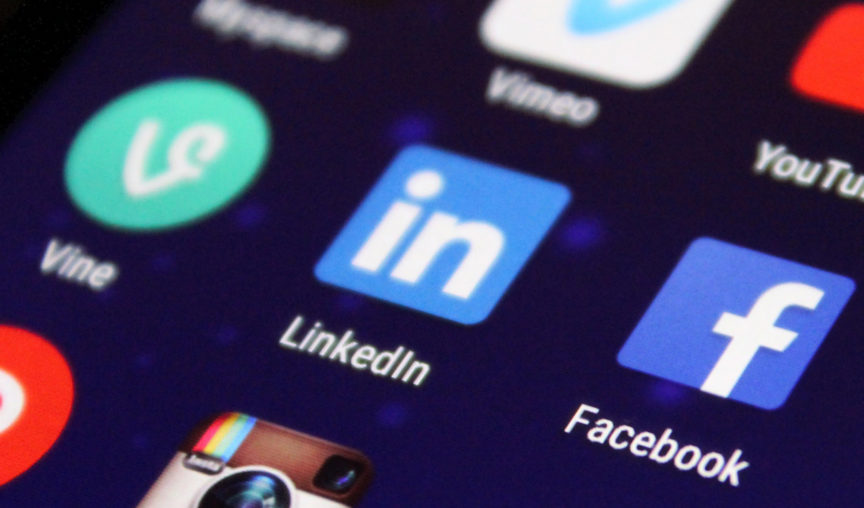 In today's digital world, having a professional social media presence is now an expectation and a part of the evolving face of human resources. Whether you hold an executive position or are just starting your career journey, it's a great way to grow your network and establish your personal branding.
In Australia, there were 12,150,000 Linkedin users in January 2021, which accounts for 46.6% of the entire population. The most popular age bracket for users is people aged 25 to 34 at 7,100,000. As an HR professional, your personal brand is incredibly important.
It has the potential to help you establish professional relationships, build your company's employer branding through employee advocacy and even land you a brand-spanking-new HR role!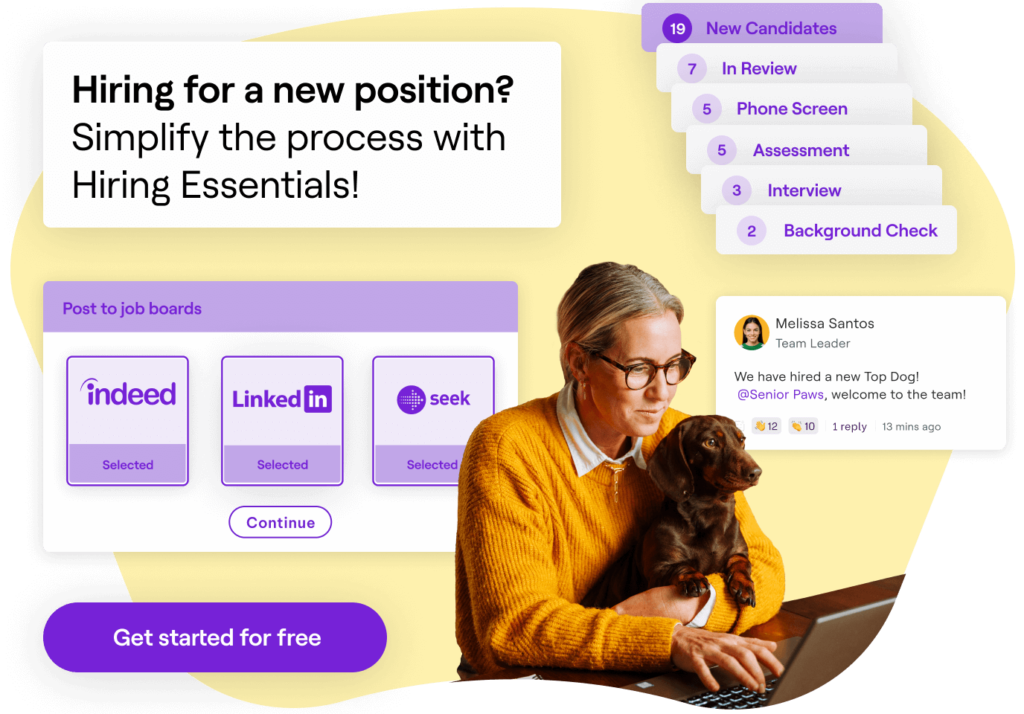 Some key LinkedIn statistics
LinkedIn saw

$8 billion in revenue in 2020

, which was an increase of 19 per cent year-on-year

LinkedIn has over 756 million members worldwide

The USA has the most LinkedIn members, followed by India, then China

Over 57 million businesses have LinkedIn accounts
LinkedIn Australian Stats
As of March 2021, LinkedIn reported the following:
Approximately 6,500,000 Monthly Active Australian Users (making LinkedIn the 5th most popular social media platform in Australia)

Of 12 million+ registered active users in Australia, just over half log in every month
Having a strong LinkedIn presence can also encourage your team to jazz up their profiles by using yours as an example. (Remember people, lead by example!) Additionally, it creates employee advocacy that will blend nicely with your long-term HR strategy.
Not only this, your role most likely entails finding and acquiring new talent. According to Glassdoor, 79% of applicants use social media throughout their job search.
LinkedIn is the most popular social media to find potential candidates, therefore it's important your profile is up to scratch so you can let them know you mean business from day dot.
If you're ready to take your LinkedIn profile to the next level, keep reading as we share 13 tips for creating a LinkedIn profile that will help you (and your company) stand out from the crowd.
101 Remote Interview Questions
1. A professional photo
This may seem obvious to some, but it's important to remember that building your professional network needs to be personal. If you don't currently have a photo on your LinkedIn or you're using one from 10+ years ago, it's time for an update.
Your LinkedIn headshot should be professional and a reflection of your role; remember that creating a professional network is different from growing your followers on Instagram! If your company has taken headshots for the website, you should use them.
If not, ask your company if they can take headshots for everyone so the entire team can refresh their LinkedIn profiles.
HINT: You don't want a blurry image on your profile, so it's best to stick to the optimal LinkedIn size of 300px x 300px.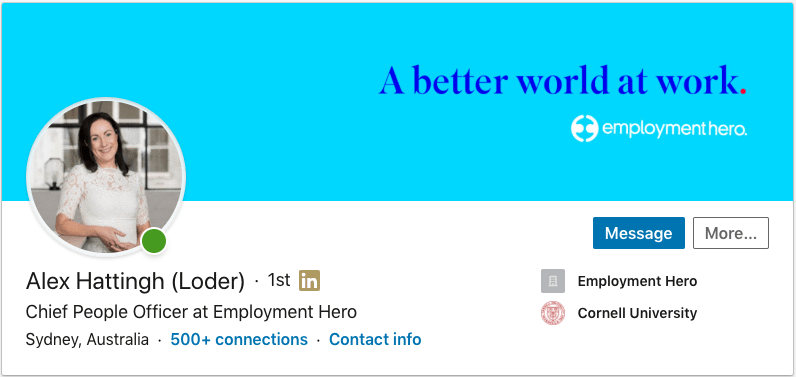 Alex Hattingh – Chief People Officer at Employment Hero
2. Create an engaging headline
This is one of the most important spots on your LinkedIn profile. It's where you describe yourself and your role.
The hard part? It's capped at 120 characters, a very little amount of words to give a snapshot into your role.
People often just place their job title and company in the headline, but why not make it more engaging and go one step further?
Tips for an engaging LinkedIn headline:
Use language that is targeted towards your audience.

A short and snappy sentence that your audience can see what you're looking for.

Include your value proposition – an example might be [HR Coordinator]: helping X do Y.

Take a look at this example below for inspiration.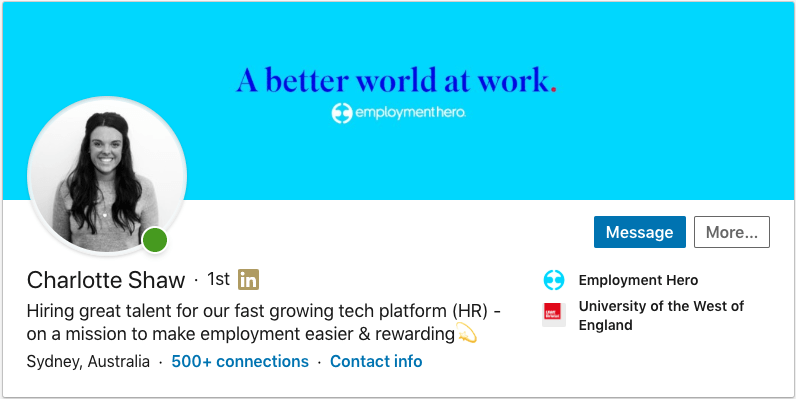 Charlotte Shaw – Talent Acquisition Specialist at Employment Hero
3. Use the summary space
At the start of your profile, LinkedIn gives you the option to describe yourself. This space is the perfect opportunity to write about your previous experience, goals and accomplishments.
If you're stuck on how to craft the perfect LinkedIn summary, use these helpful tips as inspiration:
Start your summary with something catchy and people-related.

Research keywords for human resources and add them throughout. This can help potential candidates find you so they can easily associate your profile with people management.

Write your description similar to how you would talk at work and let your personality shine through.

The character limit is set at 2000 words, and don't be afraid to use it! We suggest breaking it up into smaller paragraphs and dot points for easy reading.
Below is a good example of a LinkedIn summary for an HR professional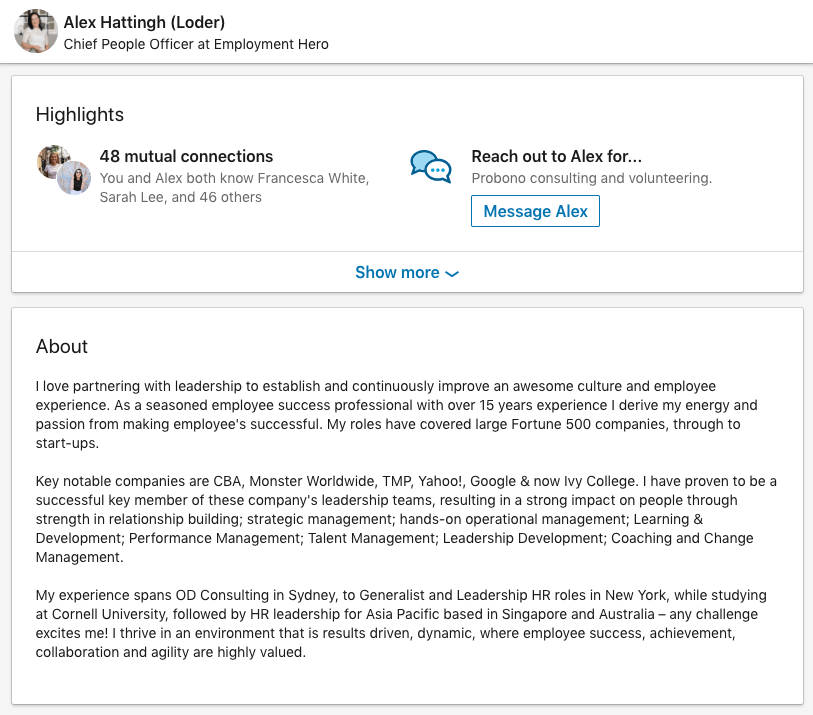 In this guide, we go back to basics and talk through everything HR beginners need to know.
4. Add a banner image to your profile
Adding a banner image to your profile can help you make the best first impression. It draws more attention to what you do and shows that you're an ambassador for the company you work for (hello, employee advocacy!).
If you're unsure where to start creating a LinkedIn banner image, we suggest talking to your marketing team and getting them to make something for you. You can then distribute this banner to your entire company so they can follow suit and upload it to their LinkedIn profiles.
If you don't have a marketing team that can do this for you, we suggest using Canva. Remember to stick to your brand guidelines so that your personal brand aligns with the company's.
HINT: The LinkedIn cover banner dimensions are 1536px (w) x 768px (h).
Here's a banner example made using Canva: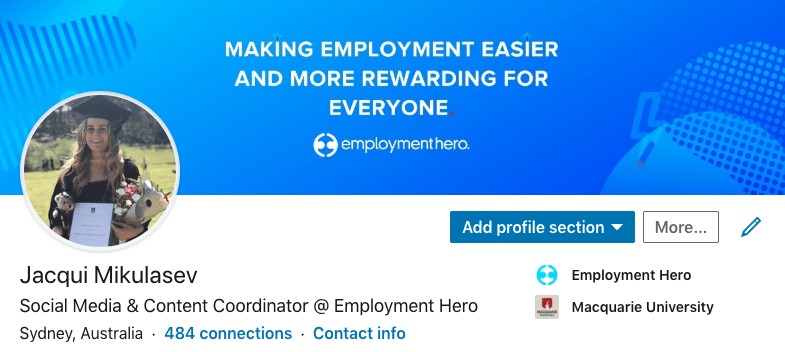 5. Submit content to LinkedIn as an author
If you want to be a person of influence in the human resources space, you need to start creating content to show you're a thought leader. By writing content specifically for your field, you'll be able to boost your profile and show off your years of expertise.
HINT: Submitting an article on LinkedIn is different from writing a post.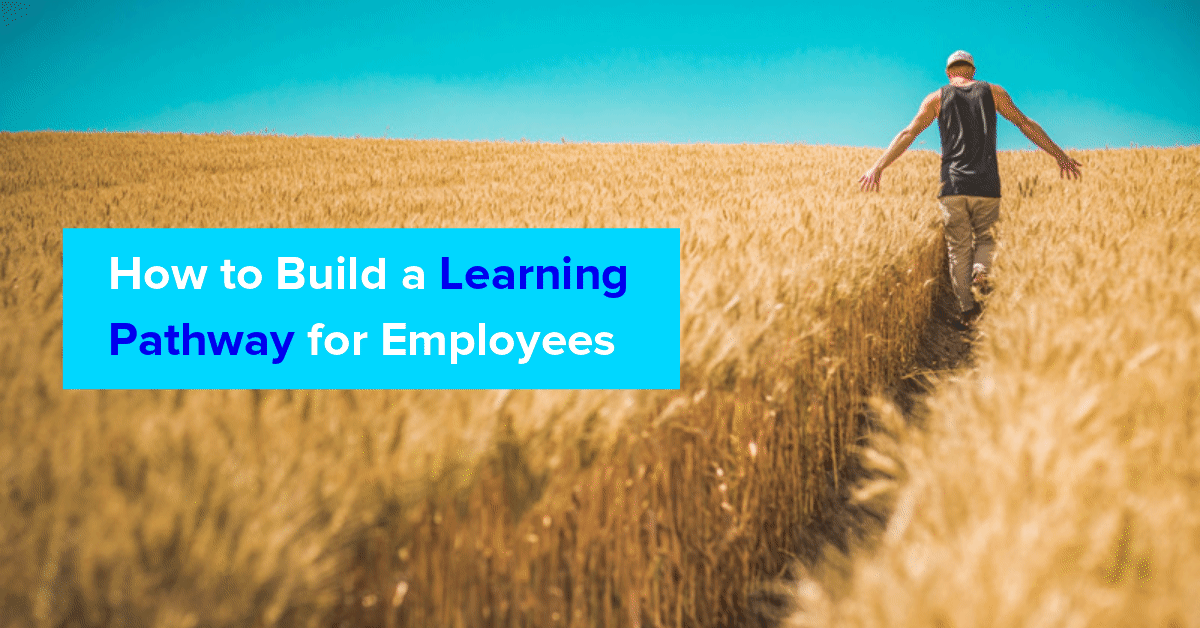 You'll need to click on the 'write an article' function. From there you'll be brought to this page: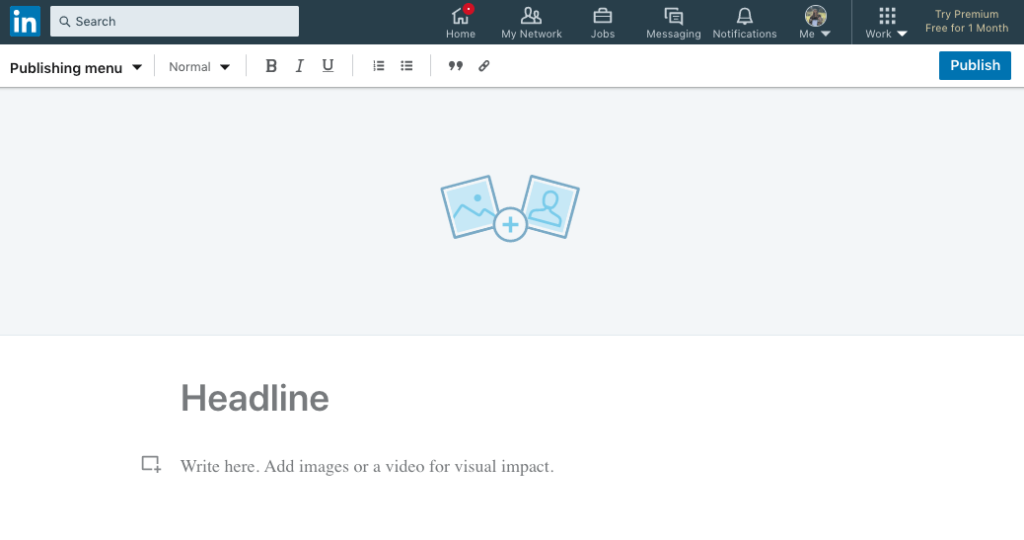 6. Include results when writing about your human resources experience
As a people manager, it can be easy to focus on the accomplishments of others and lose sight of your own. LinkedIn is the perfect tool to share your achievements so don't be shy to highlight your amazing results.
If you've worked on a large project, include 1-2 sentences with a brief overview of the project and the impact you made
Remember that LinkedIn is essentially your CV, so don't fall into the trap of only listing the tasks you did in your day-to-day.
Did you manage to effectively onboard 50 people throughout the year and have minimal turnover? Or reduce your time to fill roles by 40%?
Write it down and let your network know about your achievements!
HINT: When sharing your results, ensure you don't reveal confidential information!
7. Create a custom URL
This might seem like an insignificant change, but it can improve the search engine optimisation of your LinkedIn profile, making it easier for people to find you. Also, at the end of the day, it just makes sense!
If you're not sure how to change your LinkedIn URL, follow the steps below.
How to create a LinkedIn custom URL
Go to your profile page. You will see the 'Edit public profile and URL' in the top right-hand corner.

On the edit page, click the small pencil and change your URL to match your first and last name. Remove any numbers or letters after your name.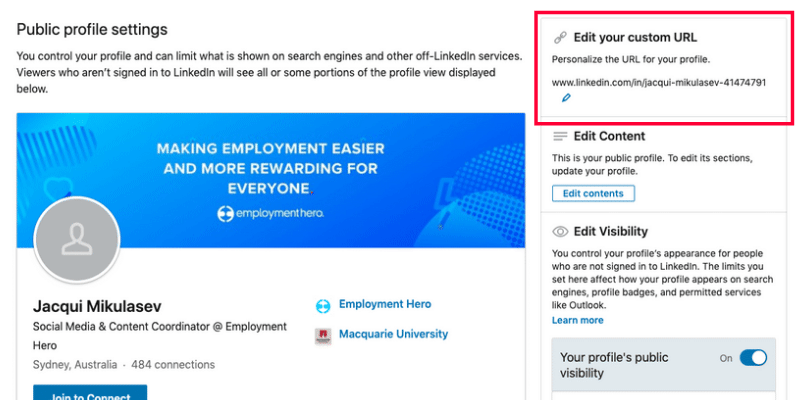 And you're done! Go forth and own your URL space.
8. Be active with your community
This is where lots of human resources and people managers let their LinkedIn profile slide. While you may have a great-looking profile, it's no use if you're not actively engaging with your community – and this goes beyond the once-every-blue-moon like!
To keep up with your network, you must post regularly, comment on other posts, and actively try to expand your network. Don't get stuck on the idea that LinkedIn is set and forget.
According to Australia Careers Service, LinkedIn offers the most comprehensive professional network available to help you reach as many different people as possible.
Building a range of connections with colleagues, clients and acquaintances in various industries might not seem particularly valuable, but it could result in a recommendation for your company or of you for a prospective role.
9. Accept everyone's LinkedIn request
As a human resources manager, you need to continually expand your network. This is especially important when you're involved in the recruitment side of people management.
It's okay to accept someone's request, if they prove too annoying, you can simply remove them from your network later down the track.
HINT: Sending invitations and InMail later in the week are less likely to get a response than those sent earlier in the week.
10. Add a description of the company in your experience section
When people look for an HR manager's LinkedIn profile, they want to learn more about what you're currently doing and the company you work for.
Whilst it's easy to go straight to the point about your experience, don't forget to add 1-2 sentences at the start to explain what the company actually does.
It makes it a whole lot easier for your profile visitors to understand what you do. It also builds the employee advocacy piece, a trend we expect to see really take off in 2022!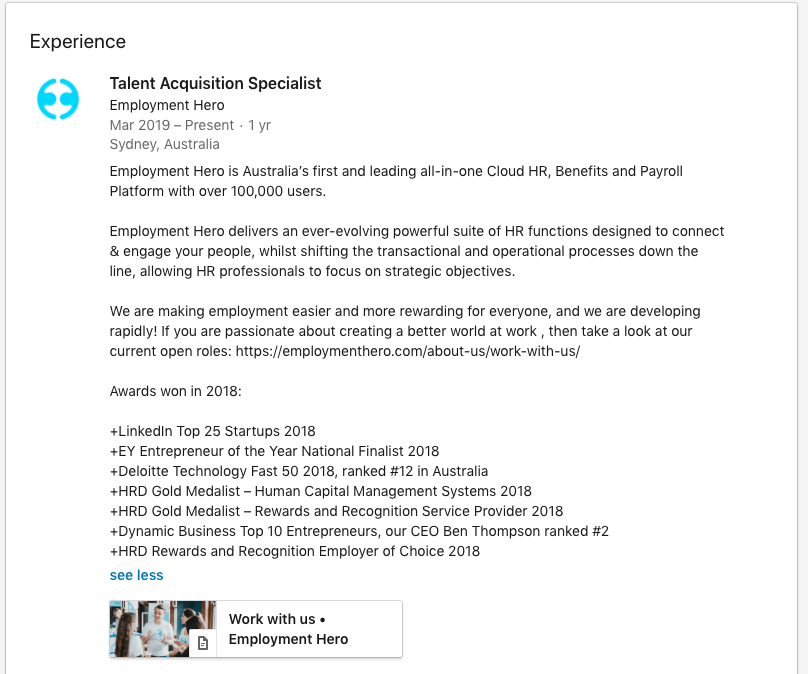 11. Add media to your profile and experience
You're writing about your experience, so why not show everyone what you can do visually?
LinkedIn allows for PDFs, images and documents to be uploaded alongside your experience, making it a great opportunity to show others what you can do or what you've achieved.
It also increases your engagement as people will stay on your profile longer than those with no media documents. It's also a great way to showcase your creativity!
If you're just starting your HR career and are yet to build up personal achievements or awards, an option is to add the accomplishments of your current company.
This can include general company information such as an intro video or PDF explaining the product or service you sell.
12. Join human resources and people management LinkedIn groups
This is a great way to connect with other like-minded HR professionals and really expand your network. Not only this, these groups have been created with the intention to help others be better in their people management roles.
If you're looking for inspiration or ideas to up your people management game, jump on this bandwagon and start joining some LinkedIn groups!
The following groups have hundreds of thousands of members are will provide you with a boost of inspiration:
13. Be personable when inviting others to connect with you
We've all seen the generic LinkedIn invitation hundreds of times – "I'd like to add you to my professional network on LinkedIn", but why not take a minute to write something more personal for the potential connection?
It will also greatly improve your chances of the invitation getting accepted! For example, if you've met someone at a networking event and proceed to add them on LinkedIn, you should include a personal note.
It doesn't have to be long – it could be as simple as saying: "Hi Jess, It was great to meet you last night at the HR networking event. I really enjoyed hearing about your thoughts on how to boost employee engagement with your remote team. I hope to see you at more industry events!"
The Wrap-up
As a professional in the human resources space, it's important to be at the top of your game when it comes to crafting an engaging LinkedIn profile. You're at the forefront of your brand, so it's never been more important to be an advocate.
From uploading a branded cover banner, through to creating your very own custom URL, LinkedIn has many features that you can utilise to be a person of influence in your field and attract top talent.
Starting out as an HR professional? Have our recruitment and onboarding guide handy and be sure to check out other useful resources:
How to make an impact in your first 90 days as a new HR manager