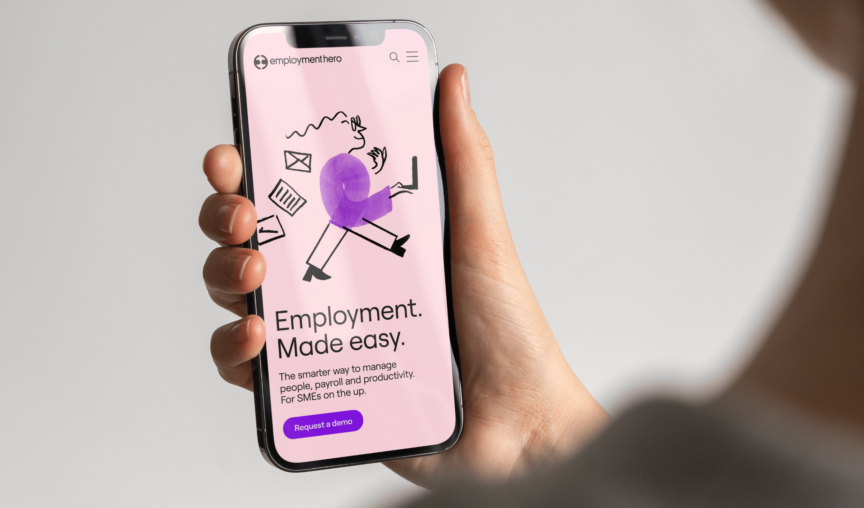 Managing your team from here, there and anywhere, just got a whole lot easier.  
Thousands of Aussie businesses are using Employment Hero to better manage their HR, payroll and employee benefits. When you make the switch, you will: 
Reduce paperwork and save time on administration 

Streamline your hiring process from advertising to onboarding

Stay compliant with contracts, HR documents and templates

Make employee management easy with electronic timesheets and leave management

Centralise your data and enjoy secure access from your desktop or mobile app

Seamless integration and local Australian support

Give your team access to a huge range of benefits including discounts on health insurance, gym memberships, gift cards and thousands of everyday items. 
By Aussies, for Aussies. 
Born in 2014 in Sydney, Employment Hero has been helping thousands of local businesses automate their HR and payroll. 
What started out as an idea almost eight years ago, has since become one of the fastest-growing scale-up companies in Australia. With over 400 employees and counting, we've got the local tools and resources to help you and your business thrive. 
Our mission is to make employment easier and more valuable for everyone, and this includes empowering Aussie SMBs with the confidence they need to manage their team. After all, no one starts a business to be an employer.  
We have a team of local HR and payroll professionals in Australia to help you. Our team are ready to help and provide you with everything you need to employ staff and grow your team with confidence. 

A few recent awards and ratings
Trusted by some of Australia's most-loved small and medium-sized businesses
Employment Hero connects and empowers 5,300 businesses across the world with a suite of powerful employment features. We're launching employers toward their goals, powering more productive teams and taking employment to rewarding new heights.
When you sign up to Employment Hero, you'll be alongside the likes of F45 Retail Food Group, Flora & Fauna, Amazonia, Riverland Group and so many more…
We're one of the first 100 founding companies to join the Tech Council of Australia.
The Tech Council of Australia is a group of companies that advocate for the conditions technology companies need to grow, attract investment and create jobs through policy, research and engagement. 
Together, Employment Hero and the Tech Council aims to:
See 1 million people employed in tech jobs by 2025

Increase tech's economic contribution to $250 billion by 2030

Make Australia the best country in the world to create and invest in tech companies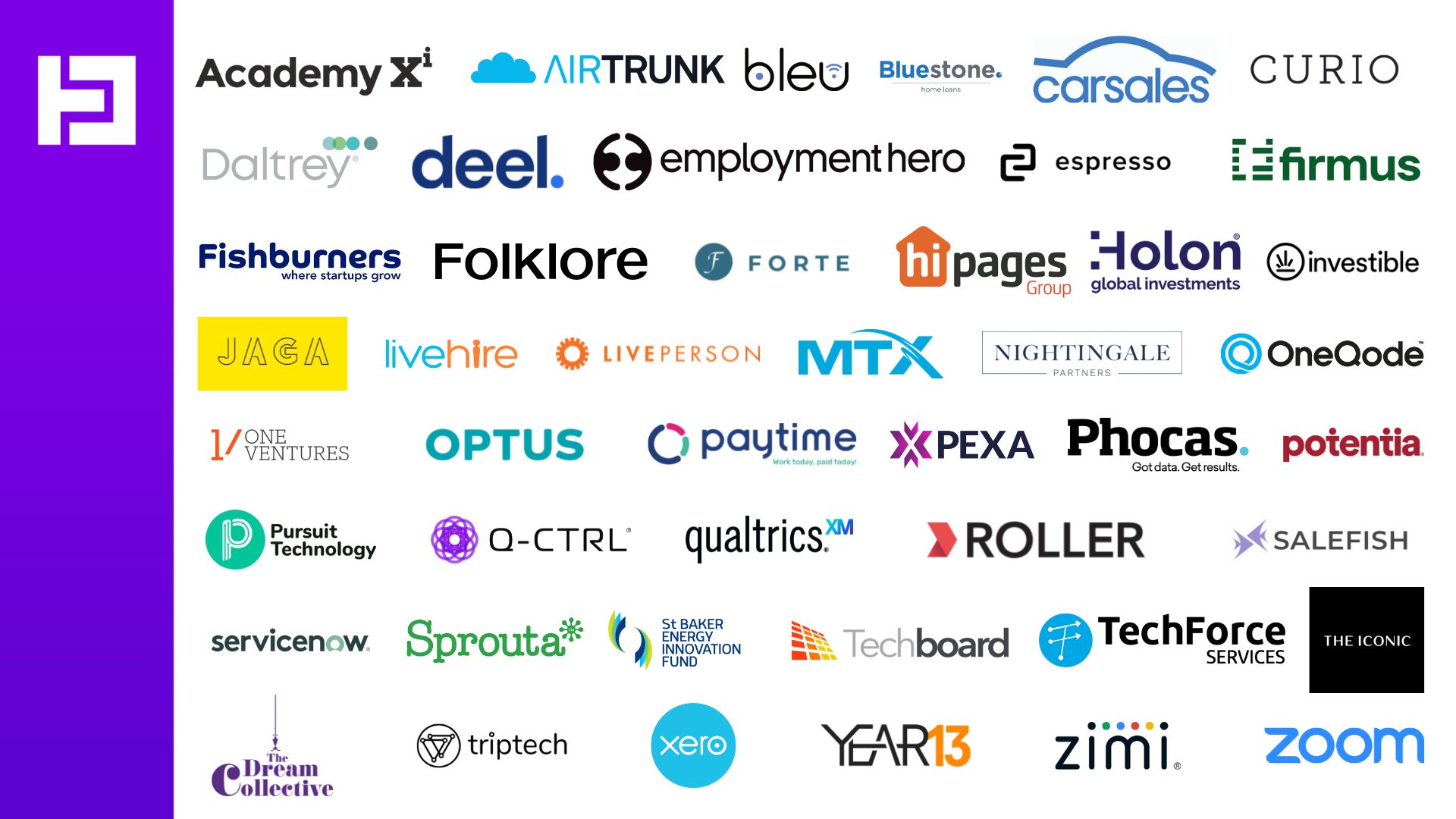 Members of the Tech Council of Australia
Not all HR and payroll software is created equal
Choosing any type of new software for your business can be overwhelming. With so many requirements needed for your team, it can be challenging to know where to start. 
Our advice? Start local.
We're an Australian business and we've been helping Australian businesses for over seven years. 
We know the ins and outs of our complex payroll legislation. 
We know all of the upcoming HR trends and best practices in Australia.
And we know what Australian employees and employers want.
But, the main thing? We know Australian businesses. 
Local payroll built for Australian businesses
Australia has one of the most complex employment law and payroll systems in the world. Time and time again we see businesses getting it wrong. Between payroll tax, STP, Modern Awards and other HR and payroll jargon, it can be confusing to know if you're doing everything right. We know all of the local laws so you can have confidence that you're doing the right thing, every time. 
Automate as much of your payroll processes as you like by harnessing the power of a fully integrated HR and payroll platform. Reduce double data handling and the errors that come with it, and never lose a timesheet or leave request again.
Automatic award interpretation
Modern Awards are continually changing. Just when you think you're up-to-date, along come new award provisions, minimum shift rulings, or other entitlements – and you need to go through the entire process with a fine-tooth comb. 
In Australia, Award interpretation is complex, but critical to get right. You need to apply the correct pay rules in order to trigger the correct pay for your employees. Get it wrong and you could be facing the hefty penalties that go with underpaying employees, along with reputational damage. 
When it comes to Modern Awards, there's a lot to get right. Under modern awards, your employees' remuneration changes based on their age, employee type (part-time, full-time, or casual), or whether they are a trainee or apprentice. 
Then there are changes based on time of day, penalty rates for weekends and public holidays, as well as overtime. You need to factor in tax deductions and superannuation too, and comply to ATO reporting rules. Plus, there are other rules for minimum and maximum shifts, leave entitlements, accident pay and various allowances for travel, uniforms or protective gear. 
With so much to cover, making a mistake is all too easy. In platform, you'll find 45 of the most common modern awards already defined and ready to use, or you'll have the ability to create your own dynamic rule sets to streamline your pay runs. We'll help you take the heavy lifting of managing payroll with our automatic award interpretation. It's ready to go when you are. 
Seamless integrations that work with you, not against you. 
Already have a payroll system that you love? We integrate with some of Australia's most popular payroll systems.  
KeyPay
Xero
Quickbooks
MYOB
Safe and secure
Serious about security? So are we. We've achieved ISO 27001:2013 certification giving you peace of mind that your employee data is in the safest hands
Trust is a core value of Employment Hero, so we take protecting your data really seriously. We use the same level of encryption standards and industry-leading technology that banks use to manage the security and integrity of your HR data. We have also achieved ISO 27001 compliance.
Learn more about how Employment Hero handles data here. 
Disclaimer: The information in this article is relevant as at 1 December 2021, and has been prepared by Employment Hero Pty Ltd ABN (11 160 047 709) (Employment Hero). The views expressed herein are general information only and are provided in good faith to assist employers and their employees. The Information is based on data supplied by third parties. While such data is believed to be accurate, it has not been independently verified and no warranties are given that it is complete, accurate, up to date or fit for the purpose for which it is required. Employment Hero does not accept responsibility for any inaccuracy in such data and is not liable for any loss or damages arising either directly or indirectly as a result of reliance on, use of or inability to use any information provided in this article.