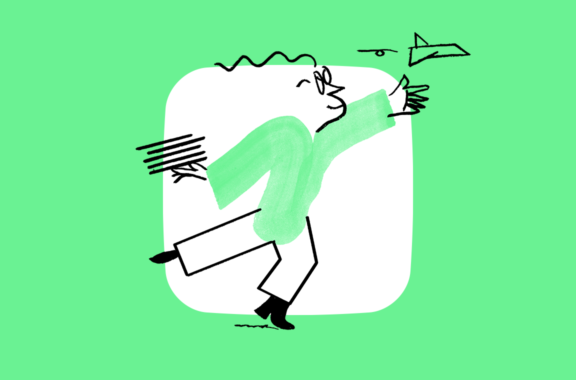 In the new world of digital and remote working, traditional HR is falling short.
Digital HR. Explained.
In the new world of digital and remote working, traditional HR is falling short.
Go digital and ditch those paper documents for good. Digital HR can give you much-needed time back in your day, streamline operations, help you manage your staff from anywhere and save your business a heap of money.
In this guide, you'll learn about:
How digital HR can yield company-transforming insights
The new and improved way to run recruitment and onboarding
Managing your team's performance digitally
What are the benefits of using HR tech?
No matter the stage you're at with getting your team on board with new people tech, it's important you convey the benefits and the why.
Whilst we know the benefits are endless, these four take the cake: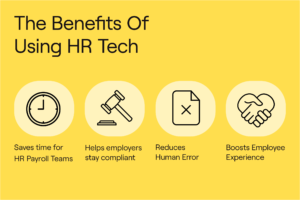 1. Saves time for your HR and payroll teams
In the midst of a digital revolution, it's never been more important to get strategic in your day-to-day. HR software can help free up time so you can focus on things that will allow your team to grow. You don't have to put up with being weighed down by hours of people and culture admin tasks.
This is just one of the ways we're seeing how the role of HR managers is changing.
Learn how to choose the best HR software for your organisation here.
2. Helps you remain compliant
With so many wage theft and payroll scandals continuing to splash across the news each week, it's never been more important to stay compliant.
If you're looking for a system that can help streamline your processes, whilst helping to ensure you're compliant in the process, Employment Hero can help you.
Our platform has built-in libraries with lawyer-approved contracts and policies. Better yet, our payroll software automatically interprets modern awards so you don't have to.
3. Eliminates human errors
We all make mistakes – we're all human! But what if we told you there was a way to eliminate human errors with HR tech? Imagine no longer needing to look for misplaced employee paperwork because you've got it all in one spot.
According to eFileCabinet, the average business spends $20 per piece of paper to file it, $120 searching for each lost file and $220 in the recreation of the lost document. This alone means you can say goodbye to dusty old filing cabinets and have your employees documents securely stored in the cloud with Employment Hero.
Convenient audit trails also turn searching for vital information into a few mouse clicks.
4. Gives your team easy access to their payroll and HR information
When it comes to making work easier and more rewarding for everyone, employees are front of mind. Whether it's through a mobile app or on a desktop, employees will be able to access all of their HR and pay information at the click of a button.
They can apply for leave, see their OKRs and with Employment Hero, have access to benefits and our online marketplace with discounts on thousands of everyday items.
7 Tips to make moving to a digital HR system easy
They say change is as good as a holiday. But change can also be really hard – especially when you're transitioning from paper to fully formed digital HR system. There will be massive benefits once you make the switch (knowing you're more compliant, onboarding in minutes, less risk of human error, being more efficient in your day) but it can be difficult when you're trying to change the company behaviour. Here are my top tips on how to help ease your transition to a HRIS (aka a digital HR system):
1. Get your team onboard
If you've got a team of people managers around you and are thinking about introducing HR tech, you've come to the right place. Getting your fellow people managers on board with a new system may seem overwhelming initially, especially if they've never used an HRIS before.
However, we're here to tell you that it doesn't have to be! It will save you significant time on manual admin-related tasks associated with onboarding and other processes throughout the employee lifecycle. This means that you will have more time in your day to spend time on tasks that enhance your HR function.
If you're proposing new people tech to your business leaders, it's important you convey how it will make your job easier and how it will positively influence everyone in the business. People tech can greatly impact your employee engagement and overall business performance.
Goodbye piles of paperwork, hello strategy.
2. Bring your team along the journey
It always helps if the team feels invested in the project from the get-go. While it can be difficult to get everyone inside a business involved, I recommend forming an internal committee that represents each team that will be using the new HRIS. This way, each team will feel included, and you should have a cheerleader inside each team at the end of the journey.
3. Set your goals
Implementing technology for technology's sake is never a good idea. You should have clear objectives and results that you want to achieve by implementing a new HRIS. It can be as simple as "we want to help you get leave approved within the hour" and "we want to save two hours for each person we onboard into the business". Communicate these objectives not just to your leadership team but also to the broader team so they know why you're doing this.
4. Gather your data sources
What information do you want to include in an HRIS solution? Once you've identified what information you want to bring into an HRIS (and whether that information is stored digitally or offline), it's also good to note who has access to it and is it duplicated anywhere. If there are duplicates of information (this happens a lot when paper files are involved), start your audit early to create a single set of information. This will help when you come to implement your new digital HR system.
5. Develop your scope
We always recommend starting with a scope where you capture the needs and challenges of each team and can develop a single document that covers exactly what everyone wants and needs. For HR technology, some questions to consider;
How do you want to improve your HR processes (ie. ensure compliance with Fair Work)?

What are your current HR challenges (ie. onboarding twenty people per week)?

How fast are you growing? What do you see your challenges are in the next three, six or twelve months?
Once you've captured all your requirements from your new HRIS, prioritise them. Work out what an HR solution absolutely must have to it won't work for your business and what are nice to have features that would future proof you or be cream on top.
6. Set yourself up for a smooth implementation process
Once you've identified the HRIS for your business, it's important to set yourself up for success in the implementation process. We've already recommended getting your data sources ready to help you identify the right HR technology for you but making sure you also have the right people ready to help out. If the implementation process drags out, it delays the businesses seeing value in the HRIS you've selected. This can make the transition really difficult.
7. Become a super user!
With a digital change coming to the business, it's important to make sure there's always someone who fully understands the system and can train other people. If you're looking at a SaaS solution (ie. software that lives in the cloud), chances are there will constantly be new features and developments that will deliver more value to your business.
Becoming a super user means that you'll always be getting the most out of your system and showing others how to do it too. You might also get to help build a feature or two along the way.
The Wrap Up
When it comes to getting the entire business on board with new HR software, the most important part is to educate and inform your team. When they understand how much easier it will make their lives, they can become advocates of the software.
If you're looking for an all-in-one HR and payroll platform, let Employment Hero help you. Our platform streamlines all of the manual processes relating to HR and payroll, such as paperless onboarding, visa checks, OKRs, benefits, reward & recognition, timesheets, and so much more.
If you're still unsure about the next steps, get in touch with our friendly business specialist team. They can walk you through your individual business needs and give you the tools to build a personalised HR tech proposal.