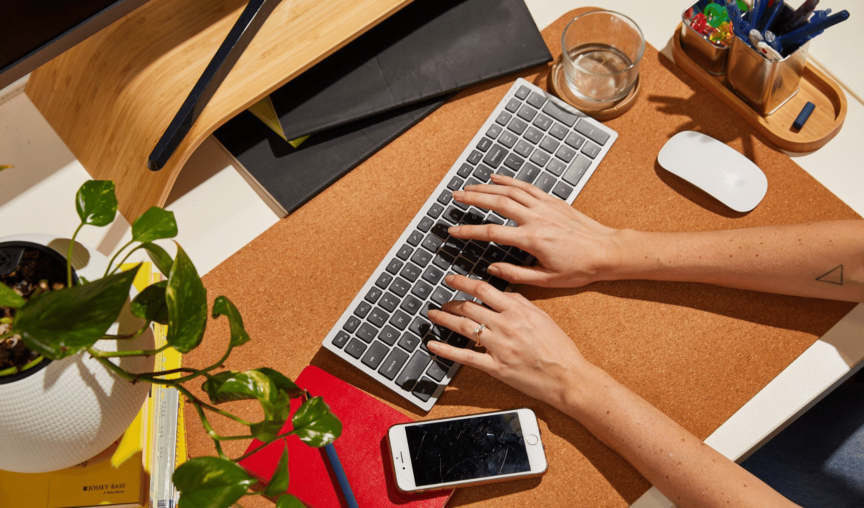 We're all familiar with that sense of excitement when it comes to employment offers. Whether you're offering the job or on the receiving end, it's one of the most joyous feelings that we have in our working lives. It's often typified by one symbolic gesture; signing on the dotted line.
Unfortunately, using a handwritten signature on a paper document is a bit of a clunky process in our modern world. Who wants to go into an office just to sign an employment contract?
Especially not when there's a digital solution.
Employment Hero's digital contracts bring that amazing feeling of securing a new role direct to your mobile. And that's just one of the awesome benefits.
What are electronic employment contracts?
Let's take a quick crash course in electronic employment contracts, also known as digital contracts. An electronic employment contract is an online contract that outlines the terms of your new staff member's employment.
They outline all of the same important details as paper contracts; the terms of a person's employment, their start date, their job title and the duties of their role and their pay or salary details.
Instead of delivering this to the new employee as a stack of paper, the details are sent digitally. Stored on the cloud, the employee can instantly access the contract and use digital signatures to secure their role.
Why should I use electronic employment contracts?
Electronic contracts make onboarding a new starter so much easier. Here are eight reasons why they're human resources' best friend and set to make paper documents obsolete.
1. They save everyone time
So you've offered somebody a new role – awesome! Everyone involved is excited and ready to take the next steps.
With traditional contracts, the next steps include creating the document, printing out all of its pages, inviting a new person into the office to sign it, sending it out via snail mail, or sharing it via email for printing.
Even writing that list of HR admin made us tired. Wouldn't it be better to just write up the document and flick it over to your employee via the cloud? They can receive it, make a digital signature and have it back to you within minutes. It's as simple as that.
2. They streamline the offer process
Every human resources and hiring manager will know that recruitment can be a race! When it comes to securing amazing talent, you want to use the quickest method possible.
The faster that you hire the person, the more you reduce the risk of having them be snapped up by another company.
When you're working digitally, you streamline the whole offer process. It's not only faster, but it's also simpler. It can help you get your new recruit confirmed and excited to get started.
3. They come with electronic signatures
One of the best parts of electronic employment contracts is they come with electronic signature capabilities.
Not only do you have all the benefits of digital documents, but your new team members can now also say farewell to printing and scanning their signed contracts and use digital signatures instead.
4. They are easily accessible
Are you heading into a performance review and need to quickly review details of someone's employment? Maybe your employee wants to double-check their work details at tax time?
These are tasks that, before electronic contracts, could have held you up for an hour (or more!). Instead, you can access your files securely on the Employment Hero mobile app in seconds. You have all the information you need right in your pocket.
By the same token, using electronic employment contracts can help you ditch tedious filing tasks. Employers and HR managers can search in Employment Hero and find any employment contract instantly.
With filing out of the picture, HR managers have more time to think strategically about growing their business and looking after their employees.
5. They are reliable and secure
We all used to think that locked filing cabinets were the best place to secure important documents, but contracts stored on the Employment Hero app are protected with the latest security measures.
6. They reflect well on your human resources team
When you sign on for a new role, there can be some trepidation about the company. Will they be the right place for me? Will they be respectful of my time? Are they organised as a company?
Digital contracts are just one of the recruitment tools that your HR teams can use to provide a great recruitment experience. Instantly receiving a digital contract after they accept the offer can help build an incoming staff member's confidence in your business, and get them started on the right foot with your human resources team.
If you're using our Applicant Tracking System, there are more easy steps that HR teams can use to bolster your business' recruitment process. Learn more about streamlining your hiring now.
7. They help your business go paperless
According to Reuters, 83% of workers reported their workplaces were not doing enough to address climate change. Workers are becoming more sustainably minded, so employers need to show that they are committed to responsible practices.
Did you know that paper accounts for around 26% of total waste at landfills? Demands for paper contribute to deforestation and use large amounts of energy and water. When you think about how many paper businesses generally churn through, committing to go without can make a big impact.
As contracts are generally extensive documents with pages of terms and information, switching to digital can be a huge help on your journey to paperless.
8. You can track their progress
Say you're a hospitality business gearing up for the busy summer season, and you have ten new starters coming on board at once. It's a lot for one HR or admin person to deal with. Not only do you have to keep track of whether ten people have received their employment contracts, you also have to monitor whether they've been signed and filed in the correct place.
All of a sudden, you're having to dial up the correspondence with your new starters to track their contracts before their start date. That's a lot of moving parts. When you go digital, you can forget that stressful admin.
Simply log in to Employment Hero for a single view of all your employment contracts and their signed status. For those that you're waiting on, an automated notification will be sent by the platform to gently remind them to sign the electronic contract.
Sign on the dotted line
Making the switch to electronic employment contracts not only helps you create an impressive candidate experience but also saves your HR team valuable admin time.
Best of all, your new starter can keep the rush of excitement that comes with signing on to your team, just without the heavy paperwork.
Want to learn more about creating a streamlined recruitment process?
Download our ultimate recruitment guide now.
The ultimate recruitment and onboarding guide