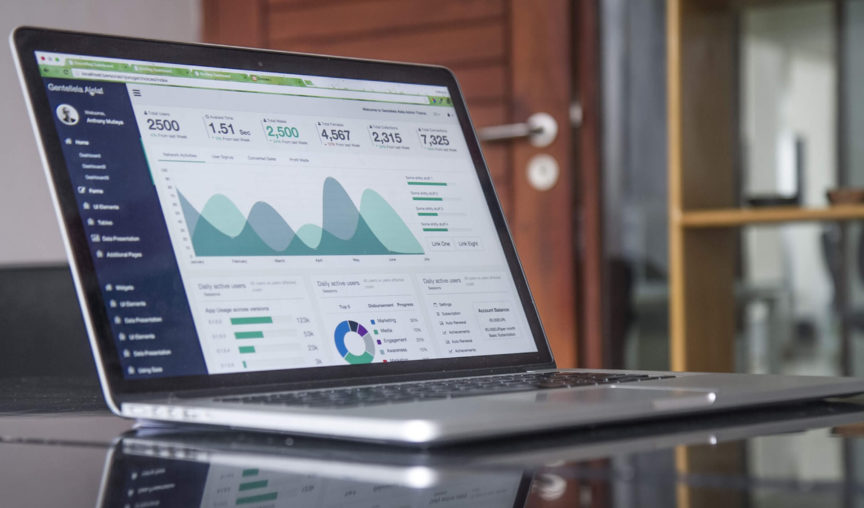 They say it takes a village to raise a child, and that couldn't be more true when it comes to your business. You need the best people to help you grow and scale your company, so it's no surprise that ensuring you hire the best candidates can be a stressful task.
Recruitment is one of the most difficult tasks that sit on the to-do lists of managers and HR professionals. A multilayered – and often frustrating – process, it's hard enough to find the best person for a role without managing the masses of admin that come along with it.
On paper, the recruiting and hiring process sounds easy. Create a job description, upload job postings online, and qualified candidates will come flooding in.
From here, hiring managers interview a few job seekers that sound capable and ta-da! You've found your new star employee ready to take your company to new heights.
Simple right? Not quite. It's easier said than done.
Why is the hiring process so time-consuming?
When it comes to hiring, there can be a lot of manual administrative work involved. You're possibly still accepting physical resumes, reading cover letters, and engaging with potential candidates either via email, phone or text message.
With lots of job applications landing in your hand or inbox, it can be challenging to know how to prioritise and narrow down applicants to find the right fit.
Not to mention the added pressure that comes with actually choosing the right job applicants who are a good cultural fit… And that's just for one open role.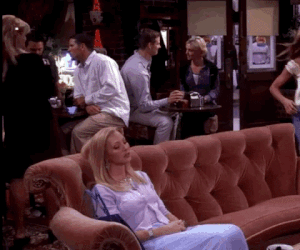 Me after going through all of the job applications
Now, there's a better way to recruit, a faster way to move through the process, bring the right people into the business and keep everyone involved in alignment. Introducing – the applicant tracking system (ATS).
What are Applicant Tracking Systems (ATS)?
Applicant tracking systems are a piece of recruitment software for hiring managers to manage recruitment and open roles within an organisation.
This recruiting software can assist with the entire recruiting process, from screening potential candidates, scheduling interviews, checking references, and managing the end-to-end hiring process – from attracting star talent right through to paperless onboarding.
A good ATS system will be cloud-based and built into HR software platforms, seamlessly integrating with things like onboarding and employment management. Through your applicant tracking system, you will have full visibility and easy control over each part of the recruitment process.
Think of it as an all-purpose software tool to solve recruitment challenges. By accelerating the hiring process, an ATS will boost your recruitment capacity to new heights.
An applicant tracking system has the ability to filter through applicants, ranking candidates on how appropriate they would be for the role.
When you're faced with hundreds or thousands of applications, an ATS can save you time with its artificial intelligence and parse resumes to filter out unqualified candidates.
What are the main challenges of the recruitment process?
Recruitment these days is not an easy task. Some of the ongoing challenges that will see HR and hiring managers pulling their hair out are:
Getting job ads in front of qualified candidates
When you're hiring for a position, you want to have as big a pool of candidates as possible. It's often a numbers game – the more applicants you have, the better chance you have of striking gold.
But getting your job ad in front of a big group of the right people is a time-consuming task. After you've uploaded your ad to your 10th job board, the urge to throw your computer out the window really sets in.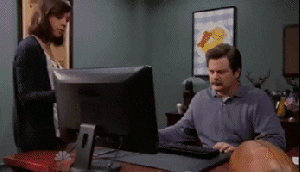 Endless spreadsheets
Have you ever looked at a hiring spreadsheet and just thought, why me? You're not alone. This is where a high volume of candidates can start to make your eye twitch.
Trying to keep track of CVs, shortlists, and interview feedback can lead to crowded spreadsheets, leaving you wide open to confusion and human error.
Candidate experience
In such a tough talent market, it's crucial to get every point of the candidate experience right.
More than ever – it's important to sell the business to job seekers, rather than the job seeker having to sell themselves to the business. If someone has a bad experience during the recruiting process, they may think that reflects the inner workings of the business. This could sway their decision-making if they're offered roles in multiple companies.
Read more: How an ATS can help you win the talent war
Too many moving parts
Did you know that the top talent is off the market in just 10 days? Call us dramatic, but recruitment often can feel like a race against time. When you're dealing with screening a candidate's resume, competition, offers and a thousand other moving parts – time is not on your side.
If you don't have the most streamlined approach possible, you're at risk of losing talent, human error and, consequently – major stress!
How can an applicant tracking system improve your hiring process?
Let's drill down into the details of how an applicant tracking system is your best friend in recruitment.
#1 It's integrated with major job boards
Log in to job sites, upload your ad, log back in everyday to receive applications, repeat.
An applicant tracking system cuts through this tedious routine by integrating with the world's most popular job boards. Instead of taking 10 minutes to create one listing, you can create several job postings with just one click.
From there, every application that rolls in via those job boards will be imported directly into your ATS system, ready for screening or review. Can you hear that? It's your to-do list sighing a breath of relief.
#2 Put your job ad in front of relevant candidates
When you think of posting a job ad online, you probably jump right to the most popular job sites in your country. But how do you know if the most qualified candidates for your open role are actively searching for open roles on that platform?
With an applicant tracking system, you'll have the ability to post to many different job boards with ease. Hiring managers, have one goal in mind – to find and fill the open role with the best possible candidate out there.
An ATS allows you to do just that; cast the widest net possible by seamlessly posting your job ad to multiple job boards across the country or world, putting your job ad in front of the eyes of many more than one single listing.
#3 It can intelligently screen candidates
So the candidates are rolling in from your job postings, it's time for the daunting task of sifting through CVs and cover letters to find those that best fit the role, right? Think again.
An applicant tracking system has a feature known as 'resume parsing', a tool that can extract data from CVs and cover letters. Based on an analysis of keywords, the ATS can identify standout candidates from large pools of applicants.
This can be a major timesaver, especially when recruiting for non-specialist roles.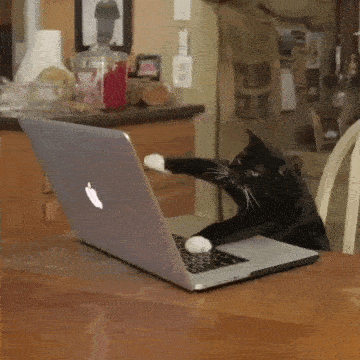 #4 It provides a single source of information for recruiting teams
Remember that interview last week? We challenge you to find all the feedback about that candidate in under five seconds.
HR managers will often be left flicking through spreadsheets, emails and instant messages to find and distribute various pieces of information and feedback. Wouldn't it be better if this information was instead stored in an easily accessible place?
An ATS database provides this single source of truth that everyone on a hiring team can access and contribute to. No more asking for information or updates, the platform boosts transparency and empowers each person involved to source the information they need, when they need it.
#5 Manage applications with ease
To sort through applications manually, you might opt for a spreadsheet as your hiring tool of choice or bookmark emails from promising candidates.
It's time to get back those hours from this tedious and clunky process. Imagine the ease that would come with viewing your candidate pipeline and seamlessly moving them from stage to stage, which leads us to our next point.
#6 Easily move candidates through the recruitment pipeline
When you're using an applicant tracking system, you can easily design a recruitment journey for your candidates.
HR managers will know that this looks different for every type of role – you wouldn't have the same process for a Chief Financial Officer that you would for a Junior Accountant.
When you've put together your preferred pipeline, an ATS can ensure a candidate for a role moves through the same process.
An ATS can also display where any given candidate is in their recruitment journey, and allow you to easily move them from step to step. When they get to the end of the recruitment pipeline, the ATS moves the candidate straight onto onboarding. There's no waiting, no extra admin and no confusion.
#7 Instant contracts
So your dream candidate has landed in your onboarding pipeline, you've sailed through the recruitment process. Without an ATS, you'd now be looking at a mountain of paperwork to send through to your new staff member.
You have to get their contract to them and have them send it back to you for you to import and file.
With an ATS, they can receive their contract the second they accept the job offer. You can get them signed on in a matter of minutes, then digitally deliver policy contracts and training details. They can also start submitting their own onboarding HR information immediately.
#8 Collaborate with those involved in the hiring process like never before
Hiring is a collaborative process. It involves different managers, departments and teams. The reality is that trying to be collaborative when it comes to hiring without an applicant tracking system can be a nightmare.
Information is coming from every direction, and this could feed back into the candidate experience. And if the candidate is constantly getting asked the same questions at every stage of the hiring process, it can make them question how organised the business is as a whole.
But it's not just the candidate that could find a manual process frustrating. Hiring could end up being extremely frustrating for those working at the business.
Imagine sharing notes and feedback over emails, forwarding PDF CV's around the office or sharing multiple calendars – it's one heck of a headache, and it's tasks like these where an ATS can really help.
The ease of having everyone's notes and feedback on the same candidate profile, together with their resume, application form answers and relevant history – it couldn't be easier. No more running after hiring panel members to gather interview feedback!
#9 Clearly define the stages in the interview process
Designing your interview strategy is a critical part in creating a standout hiring experience. It requires time, consideration and flexibility. It's also important that different roles are going to look different from each other – i.e. a Junior Designer compared to a Director of Design.
It's important you map out each stage and what will be required of the candidate. Will you start with a phone call, then have multiple rounds of interviews and a task? Or will you opt for one interview and a presentation?
Whatever you decide, this is a great opportunity to find out more about your candidates and if they can walk the talk on their CV.
To get you thinking about your interview process, consider the following:
Determine the number of interview rounds
Clearly define who the potential candidates will be meeting with
Have a list of non-technical questions to ask during the interview process
Determine whether a task will be required to be completed by potential candidates
Determine whether a presentation will be required and who will be involved
Create a list of technical questions that are specific to the role
From here, an applicant tracking system can allow you to seamlessly move the successful candidates through each stage.
The best part? You can move the successful candidate right through to the onboarding stage. Using applicant tracking systems is hiring, just simplified.
Using Employment Hero's Applicant Tracking System
Our applicant tracking system helps businesses manage every step of the recruitment process — from job creation to hiring and onboarding — without ever leaving their Employment Hero account.
With so many of the administrative recruiting tasks automated through Employment Hero, you'll need less human hours to fill a position.
This will make your hiring strategy more productive and cost-efficient. Save money simply by saving your precious time!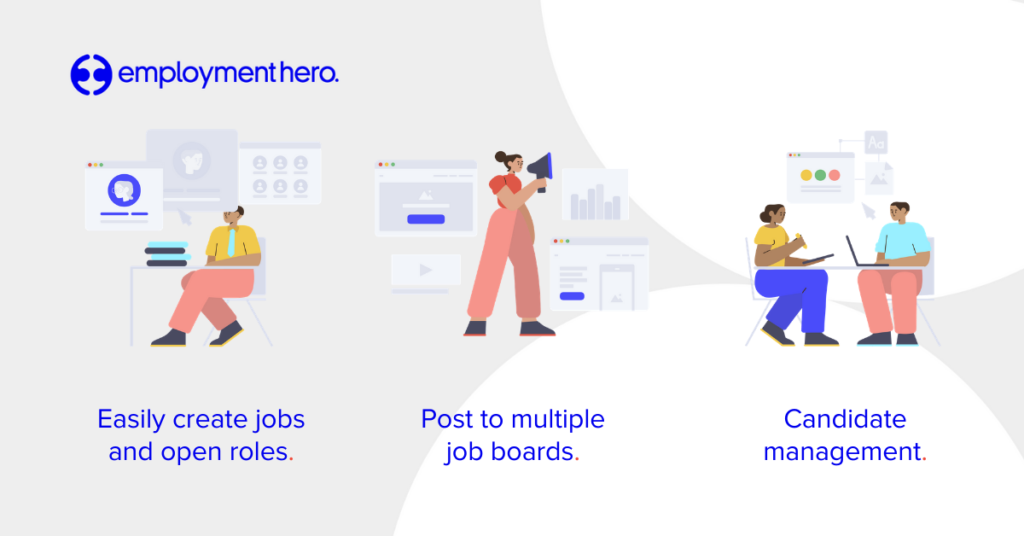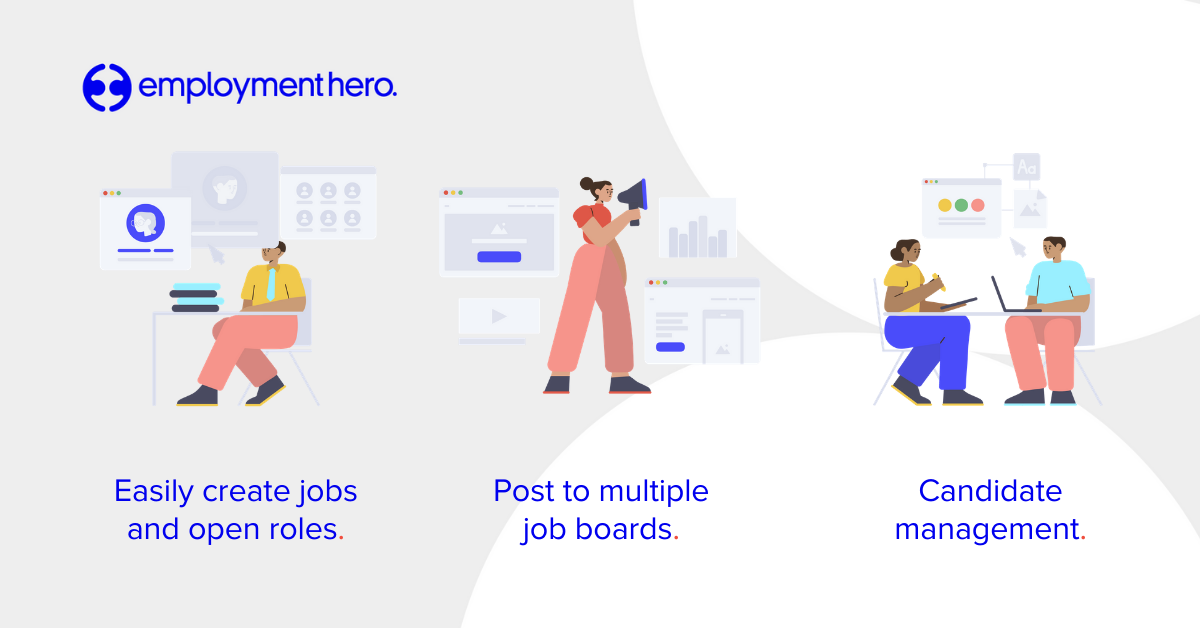 1. Build a hyper-personalised job board for your business
When hiring to fill a new position you want to make sure relevant people see your ad on the best recruitment sites for your business and industry
Our applicant tracking system allows you to pick and choose the job boards most applicable to you. You can then interact with candidates simultaneously through a single interface — Employment Hero.
2. One-to-many job ads
Once you've built your own personalised job board, you can create, post and manage your individual job ads across an endless number of job boards with a single submission!
3. Easily manage your candidates
Managing candidate profiles manually is hard. Our applicant tracking system helps you track candidates, build shortlists, notify unsuccessful candidates, schedule interviews and hire successful candidates. Clearly view your candidate pipeline and easily move people from stage to stage.
4. Give your candidates the red carpet treatment
With so much competition for top talent, employee experience starts in the hiring process. Candidate experience is a crucial part of setting yourself apart from the herd and maintaining a strong employer value proposition.
The visibility and communication tools an applicant tracking system can provide will simplify the application process and help improve engagement with candidates.
5. Onboard in minutes
Because our ATS is a fully integrated part of the Employment Hero platform, you can start onboarding your new hires as soon as possible. Getting the contract out in a timely manner is crucial to securing the right talent, and our platform empowers you to go from offer to hire in a matter of minutes!
Ready to bring your hiring in-house?
Recruitment and hiring can be a time-consuming process. It can eat into your valuable time so it's no surprise that having the opportunity to outsource makes sense for many.
Applicant tracking systems aren't just for recruiting agencies, they can transform your in-house hiring processes and increase the productivity of your recruiting team as well.
With all the active job applicants information available in one centralised candidate database, hiring managers and can ensure informed decisions are made collectively as a team.
Excited at the thought of an ATS? Get in touch today.
See us in action below
⬇️
The ultimate recruitment and onboarding guide