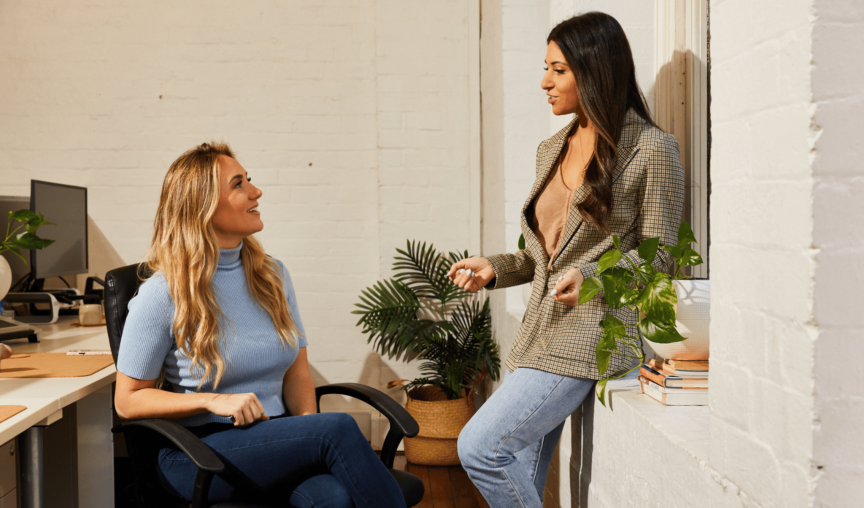 2021 was one for the history books. It's a year that saw entire workforces shift and adapt to remote working models, transform their product offering and make decisions based on simply staying afloat. But, while it was an incredibly stressful and turbulent year, it was also a year that shifted long-needed changes to the way we work by forcing businesses around the world to get digital – something that everyone will be grateful for well into the future.
As the workforce continues to undergo digital transformation, and we continue to live alongside Covid-19 (and the lockdowns that come with it), we can only expect our world at work to look a little different.
With a huge focus on remote and flexible working, it's no surprise that 94% of employees want to continue working remotely for at least one day a week. To address the overwhelming request for remote work, businesses are looking for HR software that can help them manage their workforce from wherever they are in the world.
Although 2021 was a bumpy ride, it was a year that transformed the HR and people management space. As we bid farewell to another year, we can tell you one thing – 2022 is forecasted to be even bigger. More technology, new ways of doing things and one of the biggest shake-ups in employment history. Get ready to dive in headfirst as we share our top HR trends you can expect to see in 2022 and beyond.
Remote working is here to stay
After the last two years, it's no surprise that this is the first trend we can expect to see into 2022 and beyond. At the beginning of the pandemic, we started working in ways that were completely new to most of us – but now, we're seasoned pros at it. However, while everyone was enjoying remote work and the flexibility that comes with it, lots of questions were raised.
Many business owners were curious about the way their team works best. Questions around employee engagement, employee monitoring, trust and productivity were on everyone's mind, so we took it upon ourselves to do a temperature check.
To solidify the trend that remote work is here to stay, Employment Hero surveyed over 1,000 people that have had all kinds of working experiences over the last year.
Like we said earlier on, a whopping 94% of employees want to continue working remotely for at least one day a week, and with the great resignation looming over the next year, it's time to give your employees what they want. This brings us to the next trend we can see heading into 2022.
The Great Resignation
Have you heard of the 'Great Resignation'?
It's a recent buzz term that's got a lot of people feeling excited or concerned, depending on what perspective you're looking at it from. The phrase comes from the World Economic Forum and their shocking statistic; 41% of employees worldwide plan to leave their jobs this year. This isn't only totally unprecedented, for many employers and HR managers, it's beyond comprehension.
While Europe and the US are starting to see the shock waves of mass turnover already, Australia's somewhat delayed experience due to the Delta variant, means that our movement hasn't started yet. But be warned – it's coming.
What's fuelling this incoming exodus? On a macro level, we can assume there has been a shift in thinking due to the pandemic, or there will be movement once border restrictions are eased. But we're not half as interested in assumptions as we are in practical, helpful advice for small to medium-sized businesses.
Employers know that their people are everything to their business. Without a great, stable team, it's impossible to achieve success. If you're going to build the teams you want, now is the time to get organised. Whether you're looking to retain your current staff or recruit new team members, get ready for the Great Resignation.
Want an insight into the thoughts of Australian employees? We surveyed 1,000 workers from around Australia between the 30th of August and the 7th of September 2021. We asked them about their plans for job movement, their career objectives, what would attract them to a business, what would make them stay in their current role, and so much more. It's a complete snapshot of the current talent sentiment, split into key risk and opportunity groups.
Our insights revealed an unprecedented 48% of workers are planning on looking for a new role, within or outside their organisation in the next year. What's even more concerning is that 40% – the vast majority – of these are planning on looking in the next six months, and 15% are looking right now.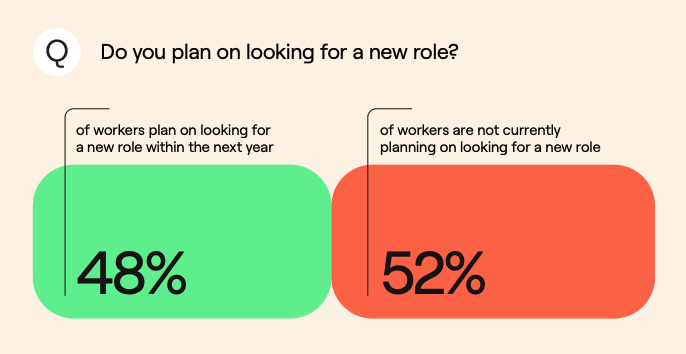 Want to take a look at the full report? Download the employee movement and retention report here.
The world is your new office
For many of us, remote working has meant that we've been able to work from the comfort of our own homes. With travel restrictions lifted and lots of people yearning for that sense of adventure, a new kind of office environment is on the cards for 2022.
Remote working has literally opened up a world of possibilities for the modern employee. The list of benefits is long and offers a lifestyle like never before. With remote work, your team can ditch the commute, gain more flexibility for family life and find better productivity time away from busy workplaces. But, it's not just this – remote work also opens the door to an exciting prospect, the opportunity to work from just about anywhere.
When travel borders reopen, the options to explore the world while at work will be supercharged. What better way to make up for lost travel time than by taking your work on the road or abroad?
According to our Employee Movement and Retention Report, a whopping 2 in 5 Australian workers would consider taking a job overseas, with the big motivator being to travel.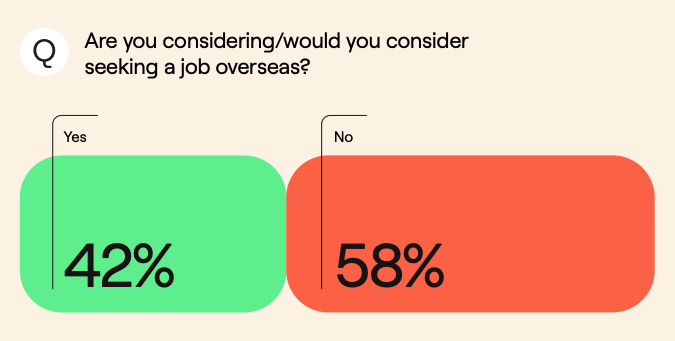 If the thought of global adventures has you reaching for your passport, you can take a look at our 12 best locations for remote workers here or check out the diary of two of our own heroes who took to the road for a remote work road trip.
For long-term international employment, consider using a service like Global Teams. We take the hard work out of local employment and compliance in over 54 countries.
Businesses will tap into a global talent pool
You can't deny that the pandemic transformed our world at work. It changed the way we work, the way we think about work, where we work from, and when we choose to work. It taught us that business operations are not confined by borders. It taught us that geographic location shouldn't be a factor when it comes to recruiting. And it made it very clear that small and medium businesses didn't have the resources when it came to keeping up with larger businesses – until now.
Without the geographical limitations in place, you're able to tap into the biggest talent pool we've ever seen, allowing you to easily hire anyone, anywhere in the world. This means SMEs can now access the best talent, wherever they choose to live. It means that small and medium-sized businesses can compete on a global scale, while also giving local talent access to opportunities in international markets. With all of these realisations coming to light, one thing is clear – we are living in an entirely different working world, and workplaces in 2022 are looking global.
Thinking about hiring outside of Australia? We can help you take the headache out of managing international remote employees, so you can focus on growing your business. When you take away the limits associated with borders, the opportunities are endless.
Our Global Teams service doesn't just help hire and pay remote team members. It provides them with full access to our suite of HR tools, keeping them engaged, motivated and productive. It allows businesses of all sizes to easily hire anyone, anywhere in the world. It removes the distance between borders, making all of your employees feel part of the team, no matter where or when they choose to work.
Want to learn more? Get in touch with one of our small business specialists to learn how we can help take your business global today.
New online tools will come into your HR tech stack
With many teams out of the office and working from just about anywhere, there has never been a more pressing time to ensure your HR function is performing at its best. Using HR software can help you with everything from interviewing, onboarding, employee wellbeing and training to automated pay runs, leave management, employee engagement, payroll, rostering and more.
As workforces begin to shift towards a distributed workforce, it's becoming increasingly important to get your HR tech stack in order. Our insights? This shift is already happening. 59% of employees have seen their day-to-day working change due to new technology and digital tools.
Workplaces embrace distributed working
Distributed working. It's a concept that not many of us would have heard of before the pandemic. But, with so many of us forced to switch to remote working – and fast – businesses had to hustle and adapt just to keep up.
Now, many businesses are finding themselves caught between a crossroads of enjoying the flexibility of remote working, yet missing the vibe of the workplace. If this sounds like your workplace, a distributed workforce might just be your answer – and moving into 2022, we can expect to see this trend continue to take off.
Let's go back to basics. What is a distributed workforce?
A distributed workforce is a workforce or team that's not confined to working in one central office location. It allows employees to be located away from each other, whether that's interstate, overseas, home, a local coffee shop, co-working space, or in the physical office. The main benefit of a distributed workforce (or hybrid team) is empowering employees to choose where they work best.
If the pandemic taught us one thing, it's that many businesses and employees have become accustomed to working from home, and for many – it worked, and the benefits have been obvious.
Now, the question everyone is asking is how can you create a workforce that blends the best of both worlds? How can you create a distributed workforce that works for your team long-term? This is one area that we will continue to see businesses and teams explore as we head into a new year.
For a distributed team to be effective, you need to have an adequate framework in place to set the standard for your teams' behaviour, culture and distributed workforce etiquette. It involves preparation, the right tools and software in place, and most importantly, your leadership onboard with the concept so they can lead by example.
Want to learn more about distributed working and how it might work for your team in 2022? Download our playbook here.
The remote first workplace playbook
A complete guide to remote management.
A focus on building a remote culture and offering virtual team building activities
As many workforces continue to work remotely at least some of the time, we can expect to see a continuation of remote workplace culture. While it was difficult to transition a workplace online at the start of the pandemic, now many HR departments are hitting the ground running. From virtual yoga to online clubs and cooking classes, 2022 will see more teams building their culture online.
Looking for some inspiration? Whether you're looking for an activity to get your creative juices flowing, a fun activity to unwind after a long week or even a spooky virtual halloween, we've rounded up 39 virtual team building games for remote teams here.
Annual performance reviews are old news. Regular one on ones (1:1s) are the way forward
Annual performance reviews are a formal, infrequent way to discuss your team's performance. More often than not, they can be a time consuming, unproductive way to provide employee feedback. They may even cause decreased employee engagement if someone receives negative feedback without any warning.
So, what are the benefits of adopting regular check-ins?
By choosing to adopt regular 1:1's, you open up the lines of communication in an informal setting. As such, you're enabling your team to be more transparent with how they're really feeling. From here, you can address any concerns and stay on track to reach their goals.
A study by LinkedIn found that 80% of Millenials prefer feedback in real-time, compared to annual performance reviews. Regular 1:1's between an employee and their manager are also an excellent opportunity to create actionable steps to reach different career goals. They're also proven to reduce employee turnover rates by 14.9%. If there's one thing we can expect to see in 2022, it's that many businesses will end up ditching the annual performance review for good and make the transition to regular one on ones.
Looking for a one on one template to help guide conversations? Download our one on one template here. 
HR tech will become an essential part of business compliance
Often, we hear about large Australian companies getting caught up in pay scandals. With these scandals being front-page news, it's no surprise that compliance is front of mind for business owners and HR professionals heading into 2022.
The Australian pay system is complex, and it's crucial you get it right – or you'll end up getting caught out as many others have. Remember when Woolworths underpaid their staff by $300 million? Or when George Calombaris lost his Masterchef role when it was revealed he underpaid his staff by $7.8 million? These high profile pay scandals are just 2 of the many that occurred in recent times.
People often overlook the role HR plays in keeping a business on the right side of employment law. HR compliance is a major pain point in Australian businesses today, and we see companies get it wrong time and time again. At Employment Hero, we want to help Australian businesses grow with confidence.
If you're looking for an all-in-one HR, payroll and employee benefits platform, get in touch with us today, and we'll run you through a demo or take a look at our HR compliance bundle.
HR automation will allow HR executives to pivot into more strategic roles within organisations
At Employment Hero, we know how HR automation can help you be more strategic in your day-to-day. Instead of spending hours doing mindless HR-related admin tasks, you can spend your time developing strategies that will lead to greater business success.
Whether you're working on your brand's EVP, improving the candidate experience or finding ways to improve employee engagement, 2022 is looking bright for HR strategy. It might even see your HR team collaborating more with your marketing team to convey your improved EVP on social media. Make 2022 the year you get digital. Your team will thank you for it!
Flexible working to become a vital piece of EVP
Now, more than ever, employees are looking for flexible working arrangements. After the pandemic, many have enjoyed the benefits that flexible working provides, allowing them to spend more time with their family.
Gone are the days of all employees doing their 9 to 5 in the office. When you support your team by allowing flexible working, you improve the overall employee experience. During the recruitment process, you should let your candidates know that you do (or don't) support flexible work arrangements. That way, expectations are clear on both sides.
Looking for more information on how to set up your remote workers for success? You can read our guide to flexible working here or download our flexible working policy template.
People analytics
Using people and data analytics in 2022 can help you address areas of concern in your people management strategy. Not sure what people analytics is? People analytics includes the collection of employee-related data from your team, such as turnover, employee training, recruitment or compensation. This information can then be used to make informed strategic decisions. It's a great way to analyse insights from your team and make improvements to the company culture and processes.
In 2022, you can use data driven HR to help your team feel more valued and engaged. Some strategies we can expect to see in 2022 from HR executives include ways to minimise absenteeism rates and reduce employee turnover.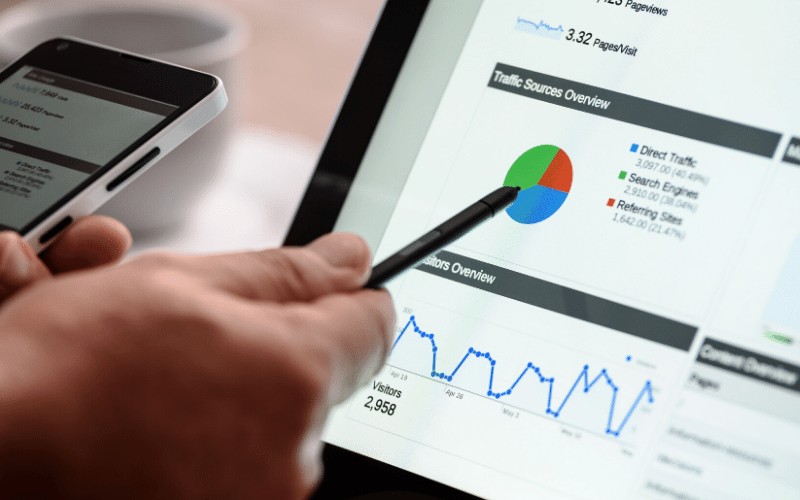 Artificial intelligence (AI)
When you think of artificial intelligence and HR, you may wonder how the two relate. While AI is automating some of the application processes, such as filtering through applications to find the most qualified applicants, HR will always require human elements. HR professionals will become more tech-savvy, data-driven and strategic in their roles, and who doesn't want that?
Employer branding
Every business wants to attract and hire top talent, and every job-seeker wants to work for a reputable company. But how do these companies become reputable? How do they create and build a positive reputation so they can easily attract and hire top talent? It comes down to building a strong employer brand, which is an HR trend we can expect to see in 2022.
While employer branding isn't a new concept, it's one that will continue to trend well into 2022. Employers want their future employees to have a good impression of their company, and more often than not, review websites are the first place potential candidates look. According to Glassdoor, 83% of job-seekers research company reviews and ratings when deciding where to apply for a job.
With more and more job-seekers looking for workplaces that fit within their values, it's no surprise that everyone is checking on external review websites to find out what it's like to work there. Workplace review websites, like Glassdoor or SEEK, allow potential candidates to gain real insights into what it might be like working for the workplace they've applied for.
What can you do?
If you've come across some poor reviews about your workplace (or even if you haven't), ensure that your EVP (Employer Value Proposition) is up to scratch.
As for existing employees, it's essential to communicate your EVP to the rest of the company. You want your current team to be your cheerleaders. They're the ones that will write the review at the end of the day. They're also the first ones to tell others if it's a great place to work when job referrals get thrown into the ring.
In 2022, we will continue to see more use of videos. Using your employees to tell their story is more compelling and authentic than a "we're hiring" post. You don't have to invest a lot in this. It could be as simple as using your smartphone to record one of your employees talking about their role and company culture. Take some inspiration from the Employment Hero video below.
Employee advocacy
Following on from the above, we'll start to see an increase in employee advocacy. If you're not sure what this is, an example of employee advocacy can be a post on Linkedin sharing the benefits of working for your company or even sharing a company blog with their network.
It's no surprise that a company's greatest strength is its people and by leveraging your people, you can reach new audiences. You'll be attracting amazing talent and new business in no time. Learn more about creating an employee advocacy program here.
Mental health support for employees
Humans spend about one-third of their lives at work – that's over 90,000 hours. Any changes in mental health will spill into our working lives. As well as affecting the individual, poor mental wellbeing can result in a knock-on effect, impacting company and employee productivity, morale and engagement.
​​During the pandemic, the threat to our physical health was all-so consuming. It was difficult to unpack what was happening to us mentally. Now that progress towards the end of the pandemic is moving quickly, we examined the status of mental health in the workplace around the world, as a result of Covid-19.
With so many industries hit hard from the pandemic, it's no surprise that 57% of employees experienced increased levels of stress. Similarly, employers had been feeling increased levels of stress, too – with 56% of employers who experienced similar feelings. Following the financial pressures, continued outbreaks, and the uncertainty of snap lockdowns throughout 2021, we expect the stress levels to remain heightened as we continue into 2022.
Not only this, 43% of employees were worried about their mental health as a result of the pandemic, stemming from impacts on different parts of their life – mood and wellbeing, activities and routine, work life, financial commitments, relationships, study and home life. Until we're completely out of the woods from the pandemic, these stressors will continue into 2022.
Not only is supporting a mentally healthy workplace the right thing to do, but it's also good for business. If you want to find out more about how you can support mental health in your workplace, we've created a guide to boosting employee mental wellbeing and mental health helplines posters.
If you're looking to support your employees' mental health, we can help. With Employment Hero, you can provide your team with access to an Employee Assistance Program (EAP). The EAP offers your employees and their families access to 24/7 professional counselling services. By providing this, it shows that you're supportive of their mental health when they're going through difficult times.
Work-life balance vs. work-life integration
In a world connected by the touch of a button, work-life balance and work-life integration are becoming increasingly blurred. Previously, work-life balance was all about switching off at the end of the day and enjoying life outside the office. Today, with the help of technology and remote work, work-life integration is becoming the new norm. For example, working mums can attend their kid's sporting activities and still work when they return home in the evening.
Although it may seem like a privilege to have a solid work-life balance, it's a necessity for maintaining your employees' mental health. As an employer, it's vital you understand the triggers of stress and anxiety for your employees. These triggers can stem from having inflexible working hours and poor work-life balance and integration.
Learn more about the signs of workplace stress and how you can implement an employee wellness strategy that works.
Corporate sustainability
Now, more than ever, we're seeing employees demanding sustainability efforts from their employers. Whether this is through social, environmental or ethical contributions, it is expected that businesses incorporate this into their strategy and contribute to driving change. In 2022, we'll see businesses continue to shift their approach to a 'values-driven' mentality, leading to improved EVP and social responsibility – just what Millennials and Gen Z'ers want!
But it doesn't stop at your employees wanting to be a part of a sustainably responsible company – your customers and clients want it too. According to Nielson, 81% of respondents feel strongly that businesses should be using their resources to improve the environment, with Millenials, Gen X and Gen Z leading the trend. The benefits? Increased employee engagement, reduced costs and improved brand image.
Looking for some ways you can get involved with corporate sustainability in 2022 include? You should consider:
Developing a recycling and waste reduction program
Partnering with a charity organisation
Allowing employees to volunteer with a charity
Committing to using renewable energy
HR, the wider team and social media
You may not think it, but social media is only going to get bigger for HR and business leaders in 2022. HR professionals will continue to work on growing their network on LinkedIn, and companies will continue to use it to recruit new talent. Social media is a valuable piece of the employer branding puzzle. With the average Australian spending roughly 1.5 hours a day on social media, your brand must be there – and not just for marketing efforts.
HR departments may not be digital natives, but that's okay. Don't think of your social media efforts as marketing, but rather as a platform for storytelling. Tell the story of your company, yourself and your team. If you're looking for inspiration, we've written a quick blog that will help you showcase your company culture on social media. Help people understand why they should want to work for the business. Above all else, tell it true – people will see through any lies.
A practical way to start would be to review your Linkedin profile and consider how you can build your presence on this platform. If you're still unsure, link up with marketing and get their input.
You can also follow our step by step guide to create a standout LinkedIn profile for HR professionals.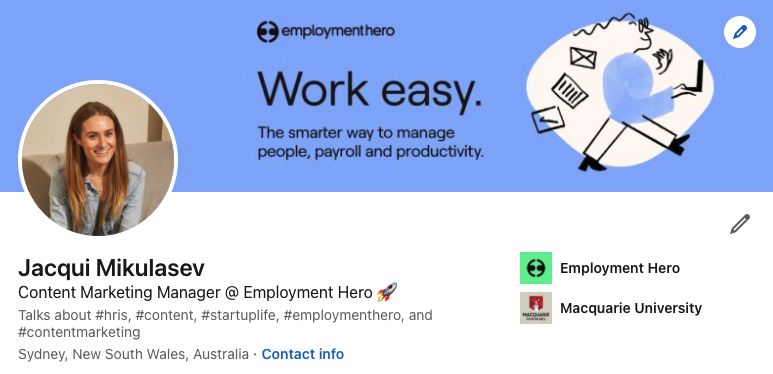 EH tip: Remember to include a banner, hashtags and update your bio.
A focus on diversity and inclusion
Following the events of the last two years, there's no better time than 2022 for employers to embrace Diversity and Inclusion (D&I) as a key business priority.
Last year, the global Black Lives Matter movement had a huge impact, rippling through society from a social level, right through to a corporate level. Discussions of sexual harassment around the #MeToo movement continued to see prominent figures be called out for discriminatory behaviour. The US Supreme Court banned employment discrimination for transgender and queer workers. And COVID-19 and the remote working boom triggered a global discussion about the distribution of home and workplace labour between male and female employees.
It was a big, difficult, and important year. The statistics are sending a clear message about what employees want. According to a recent Glassdoor survey, 76% of employees and job seekers report a diverse workforce is an important factor when evaluating companies and job offers. This number is growing year on year as we witness a generational handover of the workforce. This is a true indicator that times are changing.
But it's not just this. Fostering diverse and inclusive workplaces opens your business up to invaluable diverse thinking. Diverse and inclusive workplaces can also make a significant impact beyond the office door, creating better professional lives for people from minority groups and driving change in society-wide inequalities. With so many benefits that come with embracing diversity and inclusion, we're set to see an increased uptake in unconscious bias training as we enter 2022.
Want to learn more about embracing diversity and inclusions in the workplace? Read our diversity and inclusion handbook here. 
Designing the candidate experience
We all know that the employee experience starts before you hire. With this in mind, it's essential that the candidate experience is a positive one. Did you know that 78% of candidates believe the candidate process is an indicator of how the company values its employees?
In 2022, we will see more businesses spending time developing their candidate experience. With review websites like Glassdoor allowing reviews throughout the entire employee lifecycle (including the interview process), there's never been a more critical time to get yours up to scratch. If Australia follows in the footsteps of the rest of the world, you might find 2022 the year of your most interviews, ever. As you look to secure top talent during 'The Great Resignation', you want to give candidates the confidence they need to make the jump to your business.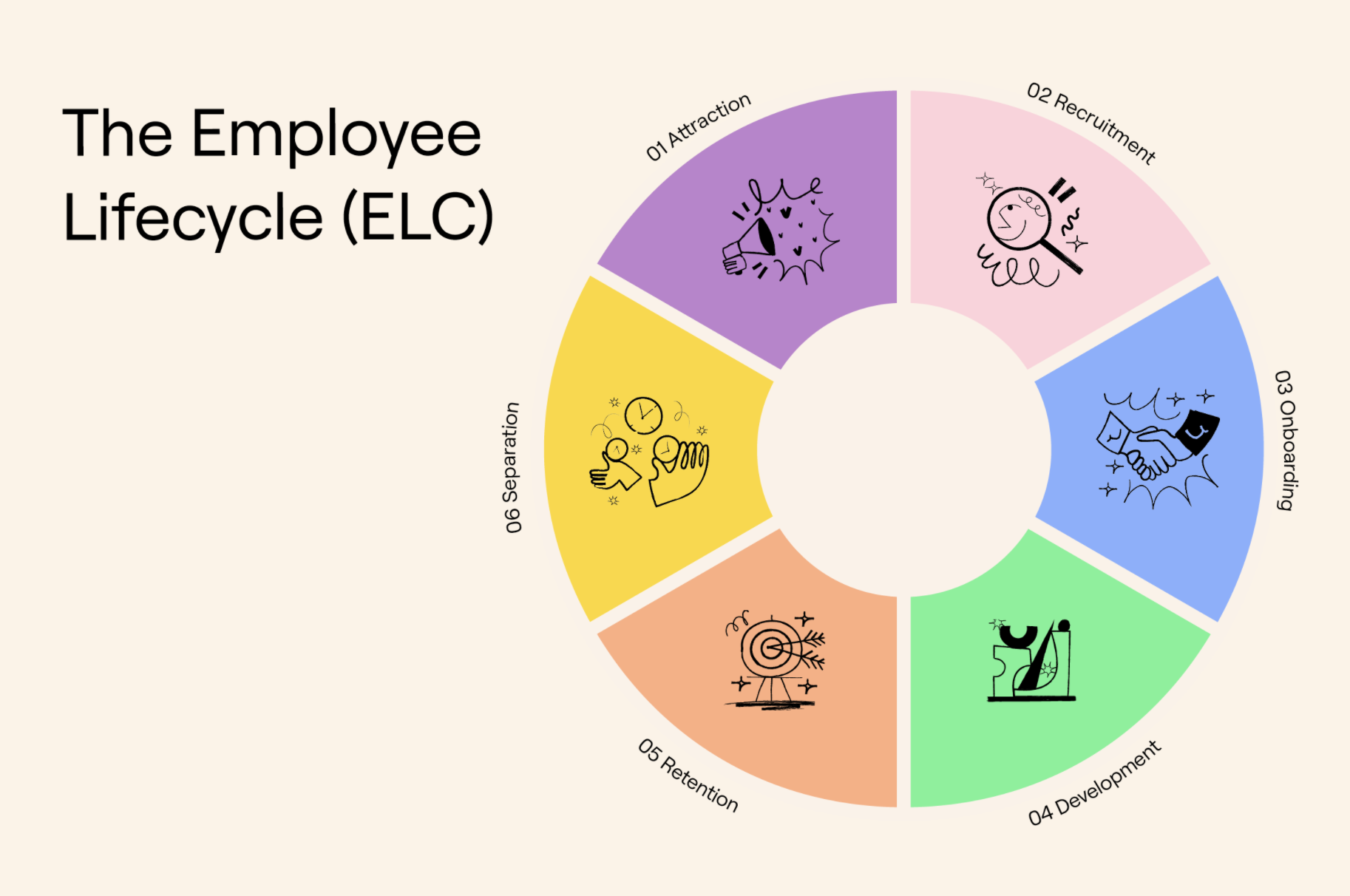 If you're looking for a reason to design a candidate experience, listen to this. 72% of people who have had a poor interview experience have shared their experience on a review website like Glassdoor or shared it with friends and family. These reviews can deter other potential candidates from applying for open roles, and no one wants that!
Spotlight back on soft skills
With technology advancing faster than ever, the last decade has seen a large number of resources being put into upskilling. While upskilling your team's technical expertise is crucial for business success, soft skills like adaptability, creativity and collaboration have taken a back seat. According to a study by LinkedIn, 57% of leaders say that soft skills are more important than technical skills.
In 2022, we will see emphasis placed on soft skills as the leaders of tomorrow begin to emerge. According to Forbes, the most in-demand soft skills for the future of work include conflict management, time management, stress management and communication.
A focus on upskilling
With 'The Great Resignation' on the cards, companies are going to be looking for talent in different places – one being internally.
When you compare the costs of additional training vs. lost productivity from turnover, it can be much more cost-effective to move someone who's expressed interest internally. If they have the interest in jumping across departments, upskilling them is a fantastic alternative to looking for someone new, or worst case, losing them to another company.
The alternative to this? It's a costly and lengthy process where you could be waiting months for someone who perfectly fulfils every criteria, and they might even get snapped up by a competitor offering a more competitive remuneration package.
Video job applications
As we switch to a world where remote working is the norm, it's only natural that video job applications are more commonly requested in the application process. Now, recruiters and hiring managers want to see your face and hear your voice before an interview is even scheduled.
A successful candidate video application would include a short 60 second recording giving your 'elevator pitch', letting the hiring manager know why they think they'd be a good fit for the role. Why? When it comes to customer-facing roles, hiring managers want to know what the candidate would be like talking to customers and clients before they actually meet with them.
New HR job roles emerging
As companies become more aware of the importance of valuing their employees, new HR roles have started to emerge, and this will continue well into 2022 and beyond. HR leaders and HR professionals are becoming increasingly prominent in businesses, and with good reason.
In 2022, you'll begin to hear more and more HR positions such as:
Chief Happiness Officer
Head of Employee Experience
HR Technology Officer
Head of Vibe
Head of Employee Wellbeing
HRIS Specialist
The next few years are shaping up to be an exciting time for the HR and people management space. We'll see an emphasis being placed on strategy and the automation of manual tasks. Remember when we said automation was your friend? This is why!
A forecast by Deloitte suggests that HR roles will grow on average 2.5% per year for the next five years, contributing to 8000 new job roles created in Australia alone.
The future of HR is digital
While we couldn't predict the pandemic, we can predict what 2022 will look like in the HR industry. There's a huge focus on digital HR (two thirds of HR professionals said the sector was undergoing a digital transformation), we'll see the Great Resignation sweep across the workplaces, as well as remote working being taken to new heights – and this is just the beginning.
If you're ready to get your HR house in order for 2022, consider using HR software. Employment Hero can help your team stay engaged, motivated and strategically aligned with our range of HR, payroll and benefit features.
If you're ready to make 2022 the year your human resources become automated, get in touch with us today. 
Guide to Choosing The Best HR Software