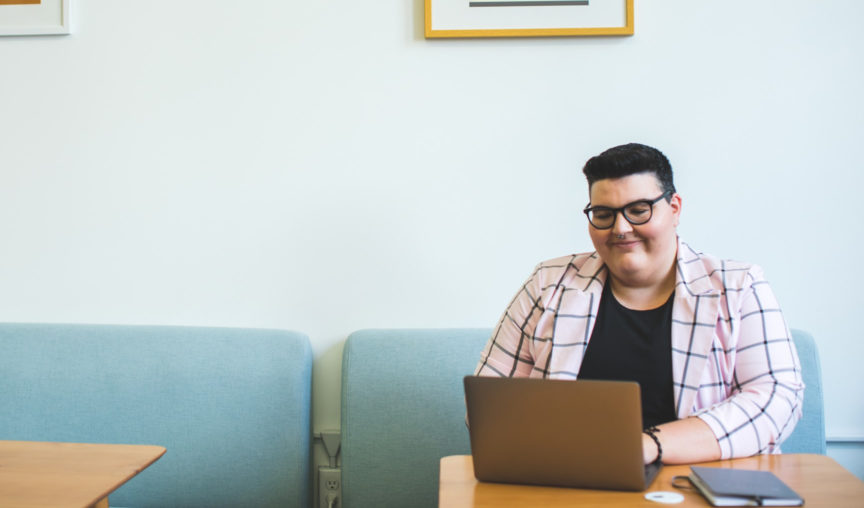 Did you know… employee engagement is considered to be one of the most important factors when it comes to achieving overall business success?
It's an important factor in any business and we're here to give you all the information you need to check you're doing it right using an employee engagement survey.
Let's start at the beginning.
What is an employee engagement survey?
An employee engagement survey is essentially a way to measure how motivated your employees are at work and how committed they are to staying in the business.
Employee engagement is the level of enthusiasm, passion and connection your employees show towards your business. It's more than just your employee's happiness (although that is a big part!).
It's all about influencing your employees to work hard and retain them in their roles.
What are the benefits of conducting employee engagement surveys?
For a start, they can help you to identify any issues that might be affecting your employees' motivation or commitment levels.
They can also help you to gauge how well your company is doing in terms of employee engagement and employee retention.
Employee engagement surveys can also help you to identify any training or development needs that your employees might have.
Getting a baseline of employee engagement data through employee feedback can help you measure the impact of any changes you make to your business, such as a new companywide initiative or new management.
In this guide, we go back to basics and talk through everything HR beginners need to know.
The benefits of employee engagement
There are plenty of benefits to working on your employee engagement.
Having a team of engaged employees in your business can help your business to gain:
Better employee experience and greater employee satisfaction
Improve company culture and increase employee referrals
Higher retention and motivated employees
Better employee performance and all-round quality of work
Greater productivity in the workplace leads to higher sales and overall profitability of your business
We could make this list longer, but we're sure you get the picture. The benefits of employee engagement for your business are endless and undeniable.
Different ways you can conduct an employee engagement survey
Now that you know what an employee engagement survey is, it's time to move on to how you can conduct one.
Here are some different ways you can get employee feedback through an employee engagement survey:
Use a free survey tool like Survey Monkey or Google Forms
Send out paper surveys
Host focus groups
Do one-on-one interviews
Use an employee engagement survey software
Each of these methods has its own pros and cons, so it's important to choose the one that will work best for your business.
For example, if you have a large team, conducting focus groups or one-on-one interviews might not be practical. In this case, using employee engagement solutions would be more effective.
How often should you conduct an employee engagement survey?
The frequency of your employee engagement surveys will depend on the size of your business and the turnover of your employees.
While annual surveys are a good starting point, you might want to consider conducting them more frequently if you have a high employee turnover.
Regardless, it's always a good idea to conduct regular employee feedback surveys, so you can monitor employee engagement levels and work on any employee feedback as you receive them.
Pro tip: Avoid employee survey fatigue by monitoring the survey response rate and survey participation.
What is the end goal of measuring employee engagement?
Recently, we looked at employee engagement trends your business should be aware of. But how do you actually measure these employee engagement trends?
The goal of an employee engagement survey is to make sure that any incentives or initiatives you've put in place to help improve employee engagement are working.
At the end of the day, you really want to make sure your employees are content at work. The easiest and most efficient way to measure employee engagement is through surveys. It's a quick way to collect data on your employees.
But what do you actually ask them?
Employee engagement survey questions
Below are some employee engagement survey questions that we love to include in our engagement surveys to get the best results.
Before we look at the questions, you want to refrain from asking yes/no questions to your employees in any engagement survey. Instead, stick to scales and open-ended questions.
When you send the survey out, it's very important that you ensure that these are completely anonymous. You also want to encourage your employees to be as open and honest as possible.
Career goals survey questions
Ask your employees questions about their aspirations within the company and their career.
I can see myself working here in five years
Note: Employees that aren't looking for a new job at another company still may not intend to stay at yours for another two years. It's good to get an understanding of their career goals and where they see themselves in the future. If the answer is somewhere else, you can then offer them solutions to keep them in the company for longer.
I always want to give my best whenever I'm at work
I'm proud to be a part of this company
I always recommend my company to others
Note: You want your employees to be the biggest brand ambassadors out there. If they are truly proud of working for your business, they will be more likely to talk about it to friends, family, former colleagues or potential clients. This is great for recruitment into your business as well as potential referrals that wouldn't be possible otherwise.
I rarely think about looking for a job at another company
Note: This is a great question to get a better understanding of the commitment of an employee. People who are truly engaged with their current work find that looking for a new job isn't even on their radar.
Career development survey questions
Make sure you cover questions about your employee's career advancement and how well they are doing within their current job role. It's good to get an understanding of where they want to go with their career.
I have access to the things I need to do my job well
Note: A simple question – do people have the tools they need to do their work properly? The answer should always be yes. If employees feel like they have all the right resources to do their job well, they will be more motivated to do so.
I have access to learning and development tools I need to do my job well
Note: This next question goes a little deeper look at whether learning and career development opportunities are openly available to employees so they can go above and beyond their job roles. Learning and development is a HUGE driver of employee engagement across most industries, so you want to make sure your employees feel like they have the means to expand their skills if they need or want to.
Most of the systems and processes here support us in getting our work done effectively
I know what I need to do to be successful in my role
Note: The first thing someone needs in order to be aligned with the company is to understand what they need to do to be personally successful. Otherwise, they can't move forward. This basic level of understanding needs to be in place for people to develop their alignment with the company further.
I receive appropriate recognition when I do good work
Note: Reward and recognition are of the utmost importance when it comes to engaging a workforce. It's human nature to want a little shoutout when you do something good. When an employee in your company does an amazing job at a particular task, they should be appropriately recognised for their achievements.
If people don't get any recognition for making progress, it's hard for them to stay motivated. We have previously looked into what employees really want from their employers and how you can reward employees without a huge budget.
My manager has shown a genuine interest in my career aspirations
Leadership survey questions
Ask your employees for feedback on the leadership team and management of the business
My manager recognises my full potential and capitalises on my strengths
The leadership team of my company really know what they're doing
Note: Are you investing in the right leaders? An employee will look up to the leaders in your business for guidance and advice. If they feel like the powers above don't know what they're doing, the levels of trust within your business will deplete.
My manager is a great role model for employees
Note: Asking open-ended questions about managers being role models to other employees is different from asking for direct feedback on that manager. This approach looks more at how people see their manager within the broader context of the company.
The leaders at [company] have communicated well
Company alignment survey questions
How well are your employees aligned with the business goals? You want to make sure they are a good fit for the business and are fully aware of the company's strategy.
I have a clear understanding of my company's strategic goals
I can easily see how my work affects the company's overall success
Note: Every employee plays an important role in the business. You need to let them know this. You want to ensure that all your employees know exactly what they contribute to the success of the business.
I always know what is expected of me when it comes to my goals and objectives
It really feels like everyone is on the same team at my company
The company's core values are…
The company's mission and objectives are…
Note: Allow your employees to answer these questions freely to see if what they answer matches your company's core values, mission and objective correctly.
I believe in the company's mission
If you want to tailor your survey questions more toward employee wellbeing, we also have some great questions for that too. Check out our employee wellbeing survey questions.
What are the key metrics of employee engagement?
When we talk about employee engagement, we think about some clear benefits; higher productivity, improved relationships between team members and clients, greater profitability, greater retention and dynamic teamwork.
But, what's the best way to measure these things?
Excluding profitability, which you already know how to measure, we would recommend implementing a few tools to help you track the ROI of engagement.
People Analytics
Over the last decade, there's been an explosion of interest in data-driven decision-making. Data analytics is used across a range of business functions, from finance right through to strategy. Now it's also a key part of employee engagement under your HR function; this is called people analytics.
What kind of numbers can you collect and track? We recommend getting started by examining turnover rates and tenure, the number of employees moving in and out of your organisation, and the length of employment.
Within Employment Hero you can easily generate headcount reports and measure them against termination reports. If you want further insights, you can filter by employee type (full-time, part-time etc.) and location. This is just the beginning of what you can do with employee data on the platform.
Read more: What do people think about your company?
Happiness Surveys and Scores
Using employee surveys is one of the easiest and most authentic ways to evaluate how engaged your employees are.
By using Employment Hero's employee engagement surveys templates or Custom Surveys, you can easily seek feedback from your employees on what engagement efforts are working, what they'd like to see more of and what could be improved.
It's also a great way for your employees to feel like they're active participants in building a better workplace.
For an even quicker way to get a temperature check on employee satisfaction, you could also use Employment Hero's Happiness Score. This is a quick anonymous score that your team can leave, along with any comments of honest feedback.
Productivity
How do you currently track productivity in your business? If you're not already using goal-setting and task management tools, you're missing out on helpful actionable insights.
Task management tools can help your employees organise and track their work, while creating a clear and transparent environment for productivity. Check out tools like Trello, Wrike and Asana to help you get a better understanding of your employees' productivity improvements.
Kicking goals is another clear sign of an engaged employee, so make sure you're across when and how employees achieve their targets. Using a framework like OKRs (Objectives and Key Results) allows you to easily track each team member's progress and achievements. It's a goal-setting method that's used by some of the world's biggest companies but can easily fit the needs of SMBs.
What should you do with survey responses?
Your employee engagement survey has been sent out, the results are in. Now what? After you collect employee feedback, the next step in this employee engagement puzzle is to analyse the survey results.
Take a look at what people have said, any suggestions they've made and identify trends that are recurring across the business. There might be something that multiple employees have mentioned in their survey.
This will indicate either something you've done well or which things might need a little work.
Prioritise any quick fixes within the business first that will help increase employee engagement and set up a plan of action for anything that's slightly more complicated or time-consuming.
The wrap up
There you have it folks, our guide to employee engagement surveys. Have fun creating your employee surveys, and we hope that the results are positive.
If you want some more information on employee engagement, rewards and benefits, download our whitepaper below!
Engaging Employees: A Competitive Differentiator