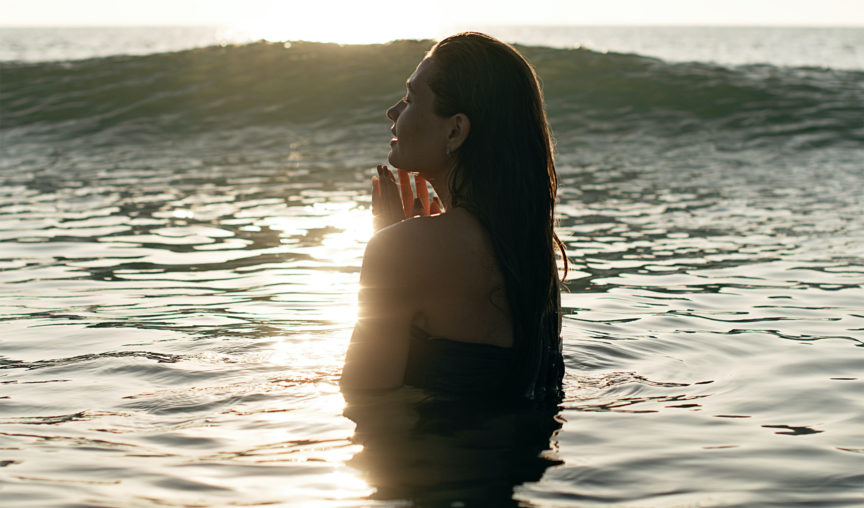 We often hear a lot about HR departments being under the pump, with a lot of spinning plates at all times. So why add yet another task to the list?
Employee leave management seems like another "to-do" that has no real benefit or necessity, but in fact, it is one of the keys to a successful business and happy employees.
Your employees need to recharge and give time to their lives outside of work. Work-life balance makes a happy team and a well-run business, so you need to encourage employees to request leave now and then.
Let's explore the importance of an effective employee leave management process and how it can be easier to achieve than you think.
What is leave management?
The employee leave management process helps effectively handle employee leave requests, inclusive of vacation, holidays, sick leave, and parental leave.
A successful employee leave management process will provide a fair and accurate way to manage these leave requests to ensure that both the employee and the company are taken care of.
Employees are entitled to these benefits, so an employee scheduling solution is a must-have to ensure your facilitation of them is as efficient as possible.
Pro tip: For an effective leave management process to happen, you should have an employee leave policy in place.
Who is responsible for managing leave requests?
The HR department managers are responsible for the facilitation of time-off requests for both staff and management leave, both for approving and denying leave requests.
A clear leave management process makes the job of Human Resources easier while ensuring both the business and staff needs are catered for.
What are the benefits of proper leave management?
Employee leave and proper workforce management are vital elements to ensuring your business is successful, and your teams work to their optimal capacity.
Proper leave management is important as it:
Increases employee satisfaction and retention levels
Allows for consistency across the business for annual leave, sick leave, etc.
Ensures compliance in leave policies
Reduces HR errors in attendance tracking
Increases productivity and efficiency
Paid leave is an important benefit for staff and has a direct correlation with attracting and retaining talent. A quality time-off management process allows for consistency and fairness across the business, resulting in HR efficiency due to fewer errors in communication or documentation.
Management also sees benefits as they can effectively plan workloads around employee absence.
What happens if you don't manage leave requests effectively?
The benefits of leave management are clear, but to help illustrate why it is so important to have good leave management policies, let's consider some scenarios in workforce management that you'll want to avoid but probably won't without a clear leave management process in place.
Leave management without a proper leave management system can result in:
Being understaffed
Why is half of your team missing on the day you need to hit that deadline?
A proper leave management process allows you to work leave in with project deadlines so you'll always have enough staff to cover the workload.
Incorrect understanding of time-off requests
You are asking for trouble if you approve an annual leave request without the proper visibility or other requests, both approved and pending.
It's easy to say yes to people when they ask, but this can come back to bite you later when you realise you forgot about your other approvals.
Evaluating same-day requests
How do you fairly compare identical time-off requests?
You can only let one employee off that day, and without access to information about their leave history, you might refuse a valid time-off request and risk creating a bigger issue.
Incorrect calculation of leave
There is nothing worse than a leave discrepancy in an employee's payroll, especially when you can't prove the correct answer.
From the incorrect calculation of paid leave hours to inaccurate recording of who took which day off and when this can become messy and unfair when you have no proper method for recording leave requests.
The last thing you want is to give an employee too much or too little time off.
Leave management process best practices
The best employee leave processes start by taking into account local, state, and federal labour laws. It is no surprise that your policies must comply with the law, but this can also help to provide a framework for where to begin.
Be consistent when enforcing leave management policies
Ensure leave management policies are applied consistently to avoid discrimination of employees and allow enough room to move to take into account personal circumstances, as these will always vary.
When managing employee leave requests, there needs to be a balance here as there is a thin line between being considerate and legally fair across the board for all managers and staff.
Clearly communicate leave management policies
Ensure your leave management policies are written clearly, so all employees understand what to expect, and include:
Clear outlines for leave policies
A detail of the different types of leave
The holidays that will be observed
How time is accrued/what to do with unused leave
The procedure for requesting time off
The types of employee leave offered
Take into account your company benefits package and communicate your policies clearly via an employee manual. You want to ensure that employees are aware of their rights and benefits and can refer back to a document that clarifies your processes and procedures if need be.
Using a leave management software
With a leave management software like Employment Hero, leave management, and workforce management is easy.
Staff can see their leave balances and submit leave requests electronically through employee self-service, automatically notifying management who can view an individual's leave balance as well as a team leave calendar.
Everyone has transparency into their team's movements.
Employment Hero offers the following elements to make leave management a lot simpler:
Custom fields which let you record the information that you need about your employees from a favourite coffee to which car spot they've been allocated
Organisational charts to form a staff directory so everyone can stay in touch
Hero Passport which allows past employees to access important documents such as payslips and payment summaries automatically
Company Announcements which allow you to post an update to every employee
The Company Feed a social network style feed that allows you to share important information including PDFs, documents, videos and more with employees and managers
Assets Register which keeps track of all laptops, iPads, mobiles cars and furniture
Tasks, a section that makes accountability and transparency easy to help promote collaboration and productivity
Managing employee leave with Employment Hero
From the clear display of leave balances and the easy submission and management of leave requests, you can electronically handle every process step in Employment Hero through both the desktop and mobile app.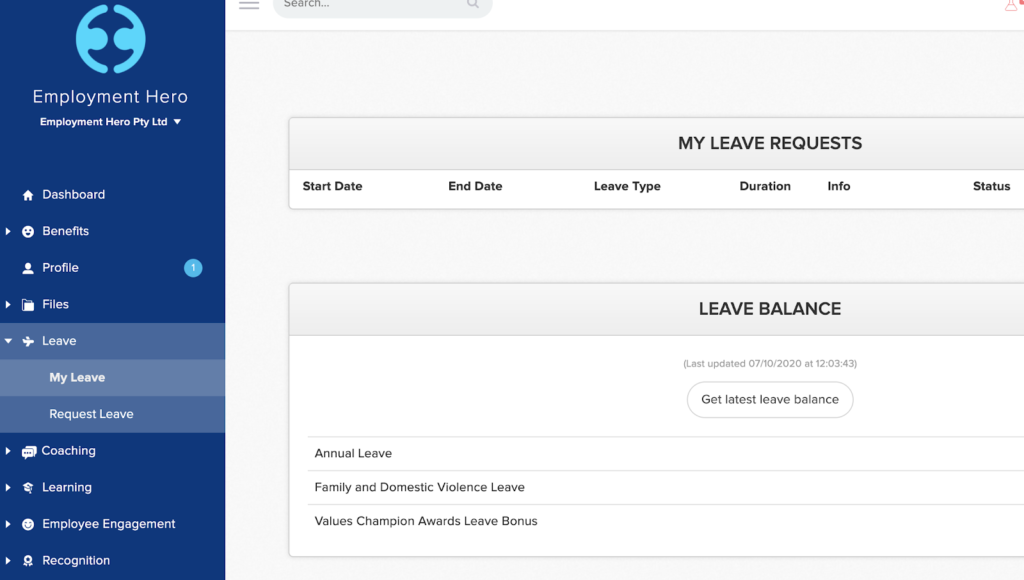 All managers and HR staff can automatically be notified of employee requests, and simpler decisions are made when you can view an employee's leave balance and team leave calendar before approval.
Employment Hero gives everyone more transparency about their entitlements and more insight into the team's movements so you can schedule leave to benefit all involved.
If you would like to learn more about Employment Hero and how it can help automate the leave management process at your business, book a demo with us today!
More resources on handling employee leave in Australia:
Guide to Choosing The Best HR Software