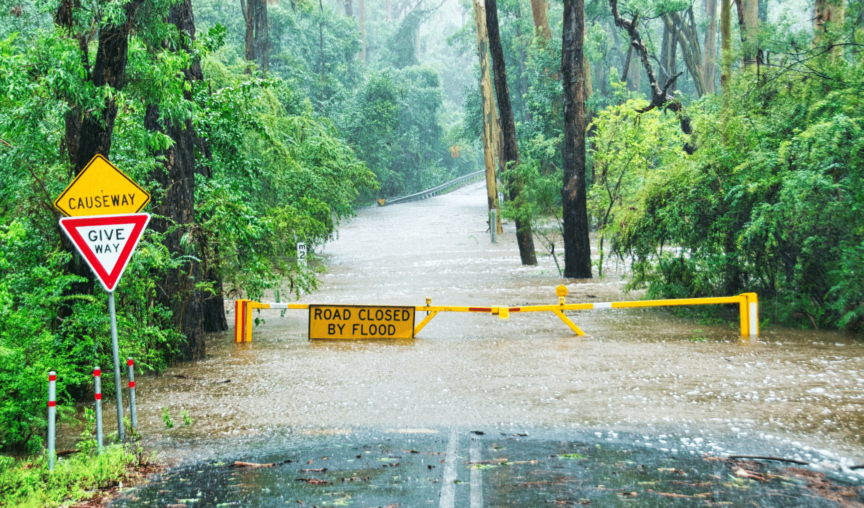 Over the past few days, floods have ravaged the East coast of Australia. This extreme event has brought the worst flooding in living memory, leaving residents and local business owners devastated.
We've compiled the latest details on relief resources, as well as guidance on how employers can support their employees located in disaster zones. As the situation evolves, visit the ABC News' Floods page for the most up to date news about the floods and evacuation orders.
For emergency assistance, call 000. For SES call 132 500.
Which areas have been affected by the flooding?
Extreme weather began in South East Queensland on the 22nd February. Unprecedented storms turned into flash flooding, with Brisbane and 17 other local government areas experiencing disaster conditions. More than 15,000 homes are estimated to have been flooded in Brisbane.
On the 28th February, Lismore, located in NSW's Northern Rivers region, experienced major flooding; causing huge amounts of damage and requiring mass evacuation and rescue of residents. The evolving disaster is estimated to have affected over 62,000 people in the area.
Which areas are on alert for flooding?
Residents of parts of Northern NSW town Ballina are currently being asked to move to higher ground, with an evacuation order issued by the SES this morning.
The extreme weather is also moving south. The Bureau of Meteorology is now on flood watch for Greater Sydney, Mid North Coast, Central Coast, Illawarra, South Coast and Queanbeyan areas. Residents in these areas should prepare for extreme weather conditions and stay alert.
What disaster relief can residents access?
The federal government has announced the activation of the Disaster Recovery Payment (DGDRP) of $1000 per eligible adult and $400 per eligible child.
The one-off payment is not means-tested (an individual's income or assets do not determine their eligibility for the payment) and is available to people in affected local government areas who have experienced "significant loss, including a severely damaged or destroyed home, or serious injury," as defined by a press release from the office of the Prime Minister.
Eligible recipients in 26 areas can now claim their payment;
QLD: Residents in Gympie, North Burnett, Brisbane, Fraser Coast, Gold Coast, Ipswich, Lockyer Valley, Logan, Moreton Bay, Noosa, Redland, Scenic Rim, Somerset, South Burnett, Southern Downs, Sunshine Coast and Toowoomba local government areas.
NSW: Northern New South Wales local government areas of Ballina, Bellingen, Byron, Clarence Valley, Coffs Harbour, Kyogle, Lismore, Richmond Valley and Tweed.
Recipients in all areas can claim this payment through their myGov account or by calling Services Australia on 180 22 66.
Find more information about this payment here.
There is also more support available for employees and small business owners in the form of the Disaster Recovery Allowance (more information in the next section).
In QLD, residents in affected areas may also be able to access the Emergency Hardship Assistance Grant. Eligible applicants may receive $180 per person, up to $900 for a family of 5 or more. Find more grants for QLD residents here.
In NSW, residents in affected areas may also be able to access the Disaster Relief Grant for Individuals. This grant is designed for low income owners whose primary place of residence has been impacted by a natural disaster.
What disaster relief can businesses access?
The Disaster Recovery Allowance (DRA) is also available to employees, small business persons and farmers who are located in the 26 local government areas specified above, and have lost income as a direct result of the extreme weather events.
The allowance provides a maximum of 13 weeks payment from the date one has, or will have lost income.
Small businesses in NSW may be eligible for a storm and flood disaster recovery small business grant. This grant of up to $50,000 can assist with the costs of clean-up and reinstatement of operations. Your business must have suffered direct damage, amongst other eligibility requirements that you can find here.
For more disaster relief tools and the latest business support announcements, visit NSW Government and QLD Government business websites.
How should I communicate with my staff if my business is in an affected zone?
Natural disasters can become incredibly frantic. It's easy to lose track of your loved ones, friends and colleagues. This makes regular crisis communications absolutely essential.
When communicating with your team who are affected by the disaster, try to keep messages as clear and easy-to-understand as possible.
Try using these techniques to send the most effective messages:
Give short and regular safety updates during rapidly changing situations
Provide an emergency contact of someone at your business
Give timely information about the status of the workplace, including whether employees should avoid the premises
Avoid any language or phrases that might create more fear around the situation
Be as empathetic as possible, it's a difficult situation for everyone involved
Share details of the government channels where your employees can find official updates and official emergency contact numbers
Send these message blasts directly to employees' mobile phones, don't just circulate information to their work emails. You may choose to use an SMS system or an HRIS app.
Keep communicating with your employees throughout the disaster, and be sure to check in on each one individually after the disaster.
How should I communicate with my customers if my business is in an affected zone?
After you have set up a regular communication loop with your team, turn your attention to your customer base.
Do customers visit your business location to redeem your product service? If not, will your product or service be unavailable for a period during or after the disaster? Although your messaging will change slightly depending on these factors, you should remember to be as clear and consistent as possible with your customers.
After you've created clear messaging regarding your situation, keep this statement constant across your public channels. Publish this message wherever you know your customers are interacting with your brand. Share it across all of your social media channels and send it to your customer email database.
If your business location is closed, it's a good idea to note that on your Google Business account. Learn how to adjust your business listing here.
Of course, remember to keep all of your channels up-to-date so that your customers know when business operations will be resuming.
How can I support my staff located in flood zones?
With so many people continuing to work remotely, it's very likely that even if your business is not located in a disaster zone – some of your team are.
There may be evacuations in your workers' communities, and weather events taking place nearby to your team members may also require employees to be ready to support loved ones in affected areas. It is also worth noting that many schools are closed; over 1,000 schools are currently closed in South East Queensland, so there may be additional childcare duties required in affected and nearby areas.
It's important to be consistent in caring for your employees following a natural disaster. For some, this period can be when they are fully coming to terms with the destruction of the event.
Some of your employees may have been personally injured or have had someone close to them be injured. Some may have experienced loss or damage to their property. Many will be feeling mentally and emotionally shaken from the event – in a worst case scenario, some may even be grieving. Take these steps to care for your employees in this difficult time.
1. Give them flexibility 
The best thing you can do is give your employees the time and flexibility to begin crisis recovery in a way that works for them. The worst thing that you can do is insist they return to the office immediately. This is especially true in the current circumstances, in which authorities are requesting that people remain safely at home unless asked to evacuate.
To take the pressure off, allow your employees to work remotely, not only during the crisis period, but for as long as they need following the disaster. This can help your team ease back into work, and they will greatly appreciate you for it in the long run.
2. Keep communicating 
You communicated during the crisis, don't stop just when the immediate danger is over. Keep your employees fully up-to-date with any adaptive moves in business operations, any details about entering office premises and any changes in staff responsibilities.
When giving instructions, remember to be as clear as possible – any confusing directions will cause agitation in your team. At this time it's also important to share recovery resources to support employee wellbeing.
3. Share mental health support details
Natural disasters can upend anyone's mental health. Even if you've suffered no personal injury or loss, the stress of the event can be extremely traumatic. Be proactive and share mental health support details with your entire team.
Official mental health resources in Australia are;
If you need to speak to a mental health professional, call Beyond Blue 1300 22 4636. Call 24/7. More information.
You can also call Lifeline 24/7 on 13 11 14 for crisis support. More information.
In an emergency, call 000
4. Share financial support details
Natural disasters have huge financial repercussions for affected individuals and businesses. With each disaster costing millions to recover from, chances are one – if not several – of your employees will be experiencing financial stress.
While businesses may not be able to offer any additional monetary support, there are plenty of resources that you can share with your team. We suggest circulating trusted government resources, such as those we've detailed above, that can help your staff gain control of their financial situation.
How can I show my support to affected individuals and businesses?
The news is currently overwhelming, and many people who are not directly affected wish to help.
During this crisis period, here are some of the organisations who are accepting donations and seeking volunteers;
From the Employment Hero team, we are thinking of you. Please stay safe. We wish you and your business all the best through these challenging times.
For more information on how to prepare for and support your team through a natural disaster, download our guide for SMBs here.
Disclaimer: The information in this article is relevant as at Tuesday 1 March, 2022, and has been prepared by Employment Hero Pty Ltd ABN (11 160 047 709) (Employment Hero). The views expressed herein are general information only and are provided in good faith to assist employers and their employees. The Information is based on data supplied by third parties. While such data is believed to be accurate, it has not been independently verified and no warranties are given that it is complete, accurate, up to date or fit for the purpose for which it is required. Employment Hero does not accept responsibility for any inaccuracy in such data and is not liable for any loss or damages arising either directly or indirectly as a result of reliance on, use of or inability to use any information provided in this article.