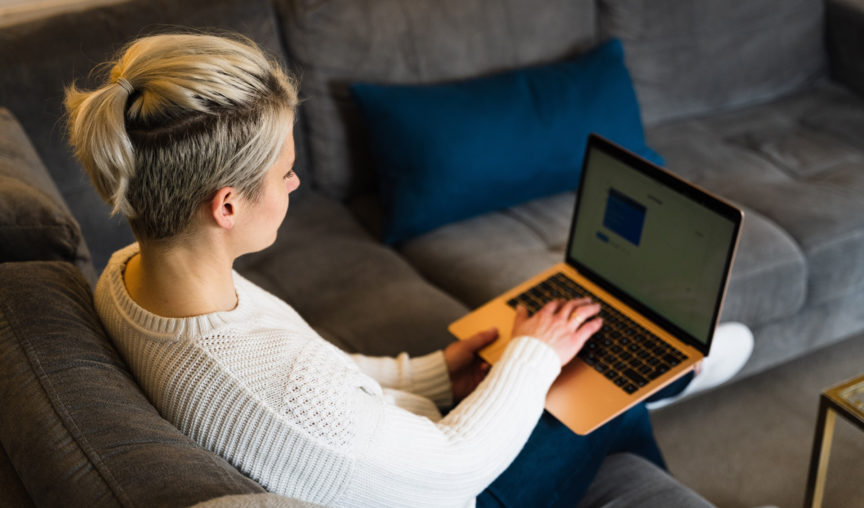 COVID-19 changed the way we work forever – and when we're forced to adapt to a completely new working environment, it's understandable that some areas get pushed to the wayside.
While many of us are now equipped with our remote working set-up, it's time we shine a spotlight back on employee wellbeing. At the end of the day, employers have a duty of care, and that's to provide a supportive and safe work environment — even if it's a virtual one.
We all know that when employees are happy and supported in their roles, they're more likely to produce their best work and be more engaged. This is no different when it comes to ensuring that your team is physically, mentally and financially well.
But how do you know you know how your team is really feeling? Remote working is a whole new ballgame compared to the office.
It involves using different strategies and looking out for specific social cues on video calls. When we're face to face, you can sense when a co-worker is upset or stressed, however online, it's a lot more difficult to recognise these signs.
Earlier this year, we conducted our own research to find the attitudes towards remote working. While we knew the feelings of our own team first-hand, our predictions deemed true for other remote workers around Australia.
The most significant finding? People are enjoying the flexibility associated with working from home, however, missing their co-workers and daily interactions, causing their mental wellbeing to take a dip.
With these findings front of mind and as many of us continue to work from home, managing employee wellbeing has never been more important.
At Employment Hero, our goal is to provide features that help support your team's wellbeing to keep them mentally, physically and financially well.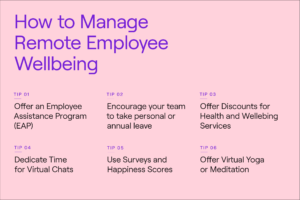 1. Use surveys and happiness scores
Although it seems obvious, more often than not, we forget to start with the basics.
When it comes to understanding the wellbeing of our remote workers and how they're feeling, it comes back to one simple (and free!) thing. Asking questions. Simple, right?
With remote working, it can be easy to forget to check in with your team. Not to mention that it's more difficult to pick up on social cues over video camera.
Helpful Hint: Ask your team to have their video cameras on during meetings. 
If you notice that someone is particularly quiet or acting out of character, send them a direct message or give them a call after to check in on them.
By sending around a survey or asking your team to rate their happiness score, you can gain great insights into how everyone is really feeling. Are they burnt out? Are they feeling uninspired? Do they feel unappreciated? This is where you can find out the attitudes of your team ad begin to turn things around, pronto.
Armed with this information, what do you do next?  You use this data to help guide your people and culture strategy to better support your team and give them what they need and want. Simples!
Tip: You want to be aiming for an employee happiness score of at least 8 out of 10.
Looking for a survey template to find out how your team is feeling as we continue to work our way through COVID-19? Download the FREE employee wellness template here.
2. Offer an Employee Assistance Program (EAP)
Offering an employee assistance program to your team can help provide support for their mental wellbeing.
An employee assistance program is a dedicated external service that allows your team to access confidential, one on one support with a qualified counselor.
With increased feelings of isolation experienced by remote employees, having this service can help reduce the feeling of loneliness.
Prior to COVID-19, research showed that one in five workers suffer from a mental health condition, so with a global pandemic and the after-effects of multiple natural disasters in 2020, it's expected that this number has risen substantially.
If you're looking at how to support your team during COVID-19 with an EAP, we've written a helpful blog.
Remember: While supporting your remote employee wellbeing with an EAP is a step in the right direction, an EAP alone isn't enough. To truly support the mental wellbeing of your team, you should do more and go beyond just an EAP.
3. Offer virtual yoga or meditation for your team
We all know that practicing yoga or meditation has many benefits for our physical and mental wellbeing.
Whether you practice regularly or whenever your calendar aligns, yoga and meditation are a great way to switch off, de-stress and clear your mind. Even one 30 minute session per week can make a huge difference on your mental state and can lead to increased productivity, too!  
Looking for a virtual yoga instructor? The team at Employment Hero use (and love!) Bad Yogi Retreats.
4. Encourage your team to take annual leave
When working from home, it's easy for workdays to overlap into your personal life. However, it's important that you encourage your team to use their annual leave, especially if they're showing early signs of burnout.
For many of us, we often associate annual leave with traveling. However, with international travel off the cards for quite some time to come, you need to remind your team that they still need to take some R&R for themselves. It's incredible what even just a few days off can do for your overall wellbeing!
5. Create dedicated time for virtual chit chat
Working remotely can be isolating, especially if you're an extrovert adapting to limited social interaction.
With this in mind, you should allow your team to have dedicated time to have general, non-work related chit-chat with your co-workers.
Not only will your team start to form greater relationships with the wider team, but they'll also feel a boost of energy.
The result? They'll be motivated to hit the ground running with their work and who doesn't want that? Looking for tools to help improve your remote communication?
We've rounded up five of our favourite tools for remote communication here.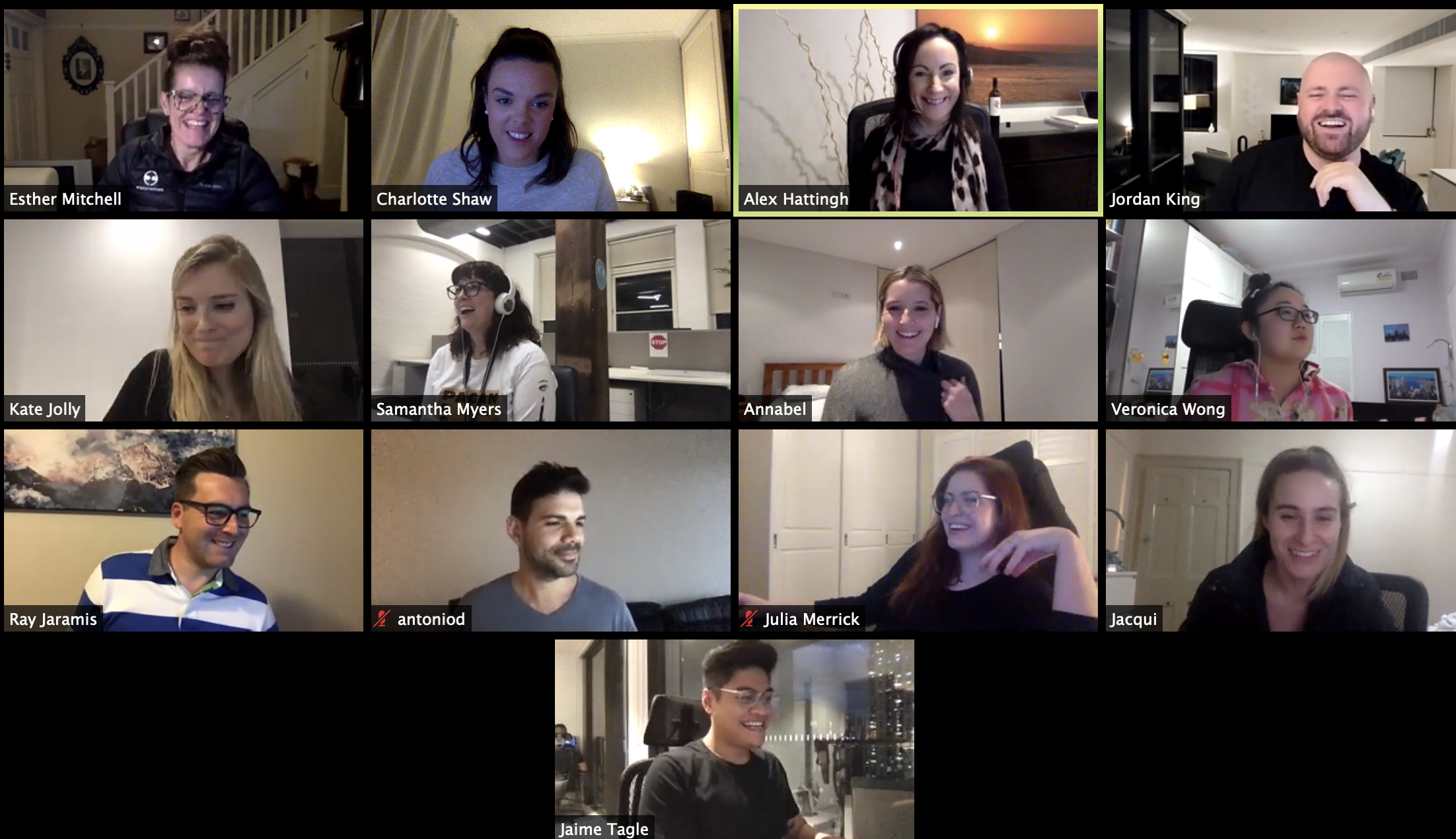 The Employment Hero team having virtual chit chat after work
6. Lead by example
When it comes to supporting employee wellbeing, it's crucial for your management team to lead by example. It's all well and good to say that you support your teams' wellbeing, but you need to have your leadership team to walk the talk.
So what exactly does this mean? It means that you encourage work/life balance. It means that you encourage flexibility, and it means that you don't expect replies to emails or messages outside of work hours. It's allowing your leadership team to be transparent and communicate when they're taking their kids to swim practice or to ducking out for a gym session.
When your team sees that this is the culture within your organisation, they'll feel comfortable to do the same. It all comes down to communication and creating an open and honest line of communication in your virtual office.
7. Offer discounts to health and wellbeing services
If you were to offer discounts on health and wellness services to your team, we bet our bottom dollar (see what we did there?!) that you'll have lots of people take you up on the offer.
Did you know? Employment Hero has it's very own Benefits feature. Here, you have access to savings goals, wellbeing content and most importantly, Discounts.
Discounts is Employment Hero's virtual marketplace with access to discounts on thousands of everyday items. From discounts on groceries, health insurance, gym memberships, movie tickets and technology, it's a great way to encourage your team to improve their physical and financial wellbeing. Sounds, good right?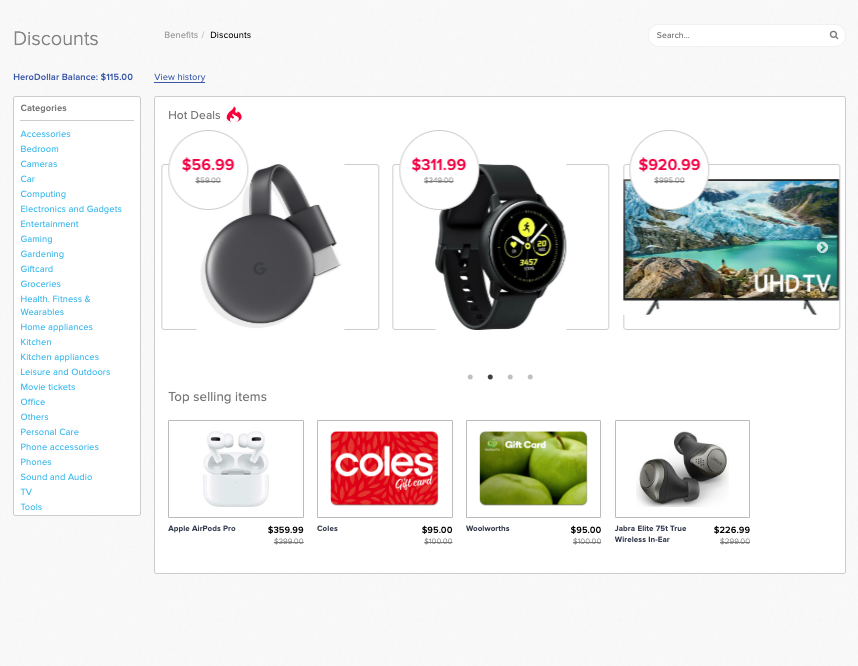 Employment Hero's, Discounts Marketplace
The wrap up
As we continue to see a shift to remote working, employee wellbeing has never been more important. When you support your team, you'll experience an uplift in productivity and overall business performance.
With a few different ideas and steps in place, you'll be able to support your employees wellbeing easily from afar.
Employment Hero is built to support remote teams. We care about employee wellbeing and have a range of features that can help you support your remote team. If you'd like to find out how we can help you manage your employee wellbeing, get in touch with one of our small business specialists today.
The remote first workplace playbook
A complete guide to remote management.
Want more? Here's some further reading