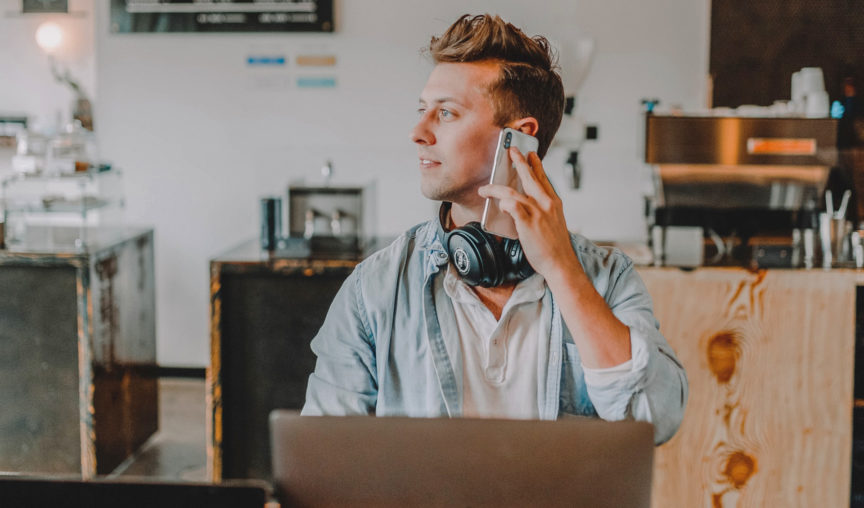 Distributed working. It's a concept many of us have become familiar with over the previous years and one that will continue to gain popularity as the world recovers from the pandemic.
At Employment Hero, we live and breathe the distributed workforce model. It works for us, our team and our wider business objectives, and we talk about it – a lot.
So, you might be wondering, which other businesses have found success with distributed working? Who's leading the way? And who is taking the concept to the next level?
If you're looking for a sign to make the switch to distributed working and transform your business, this dose of inspiration is definitely it.
1. Employment Hero
It would be wrong not to have Employment Hero at the top of our own list. We pride ourselves on our remote-first approach to work via a distributed workforce model.
It gives our team the flexibility to work how and where is best for them. It's about empowering and trusting everyone to do their best work, and the results have been eye-opening.
Last year we surveyed Australian employees and found some interesting truths. 84% of people enjoy working from home, and 92% would continue to work from home regularly if given the opportunity.
With this information front of mind, we made the decision to switch to a distributed workforce permanently. Our remote-first approach to working ensures that everyone feels included and valued no matter where they're located in the world.
Our golden rule? If one person is unable to be physically present in the meeting room, all employees must log on to the meeting remotely, whether they're in the office or at home.
We also have weekly virtual social sessions, virtual yoga classes and virtual Friday night drinks. But we also know the importance of getting together physically with colleagues.
That's why we have yearly conferences and fly our team members from around the country or world in for strategy days and larger company events.
And what about those who wish to come into the head office?
They can! And they still get to experience all of the previous employee perks we had before the transition to remote-first – free breakfast, coffee, ping pong, Friday drinks and more.
It's all about finding the right balance and offering a virtual alternative for your remote employees. Learn more about how Employment Hero can help transition your company to a distributed working model today.
2. Zapier
Zapier is a tool that helps businesses automate repetitive tasks. Their software allows you to connect different apps together via 'zaps', with no programming knowledge required.
Although they're based in Sunnyvale, California, Zapier adopted distributed workforces right from the start, back in 2012.
Today, their workforce of over 350 is located in 23 different countries around the world.
"We can hire people wherever we want to. We don't have to compete for Bay Area talent, and instead we get to hire the best people all over the world. Not only does it increase the size of the applicant pool, but it adds a layer of diversity into the company."
– Wade Foster, Co-Founder of Zapier
In his blog on distributed working, Foster points to all of the benefits of adopting a distributed approach – an increased talent pool, reduced real estate costs, and better productivity as his favourite things about the distributed model.
Is it a coincidence that they use a distributed workforce and are now one of the most successful tech companies? We think not.
3. GitLab
GitLab is an open-source DevOps platform that works to revolutionise the way development, security and operations teams collaborate and build software. They're a technology company through and through, so it's no surprise they've adopted other pieces of tech to make the transition to a distributed workforce.
What does GitLab CEO, Sid Sijbrandij believe are the best parts of a distributed workforce? He believes that:
Remote interviews are more convenient than in-person interviews
Writing things in Google Docs is far superior to a whiteboard
Great work should be recognised quickly
Internal and external issues are on a level playing field
4. Canva
When the pandemic hit, Canva managed to shift its workforce of 800 people to remote working in less than 24 hours. But the team at Canva were thinking distributed well before we were forced to make the switch.
At the start of 2019, they were looking for different ways to make their global team feel more included, pushing to let go of the HQ privilege and "embrace an inclusive culture which recognizes that location is another aspect of diversity".
However, it was what followed after the quick transition that had the most impact on the team, with a range of initiatives designed to support people through a difficult time.
Whether it's providing a daily stipend for lunch, company-wide virtual Netflix nights or Friday night music gigs via Zoom, they're dedicated to keeping engagement and support higher than ever.
Not only this, they've switched all activities to virtual – meditation, wine and pasta clubs – and in the process, they've created a stellar Slack channel culture. They also note the importance of understanding the difference between a distributed team vs. a remote team.
The goal of a distributed team is to ensure that everyone feels included and they aren't disadvantaged in any way if they aren't in the office.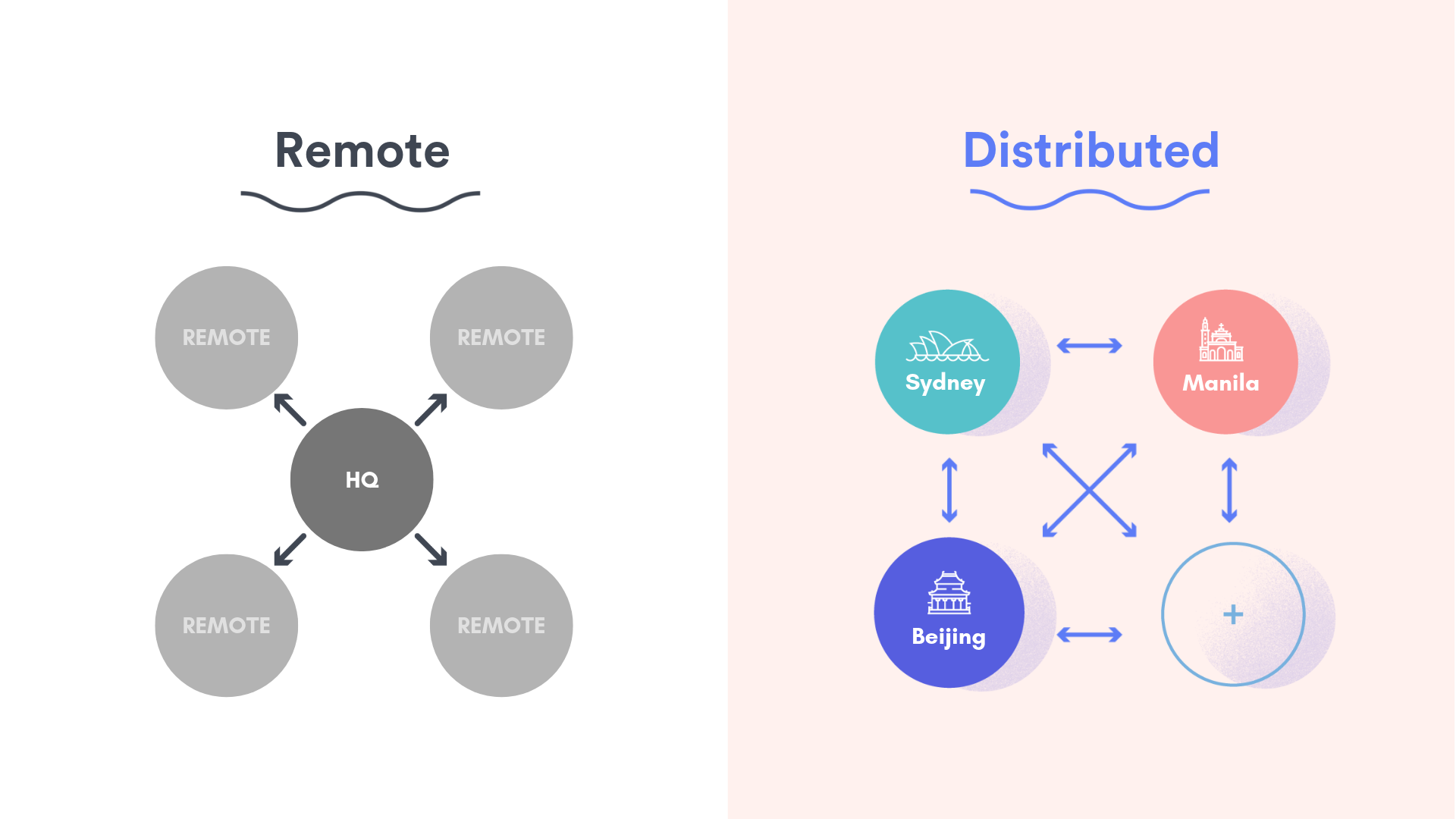 Remote working vs. distributed working. Source: Canva
5. Atlassian
While Atlassian has been working in a highly distributed context for years, the pandemic forced their entire company to adopt remote work.
Similar to the likes of others we've included in this post, they've shifted their focus to creating a virtual culture whereby all employees, regardless of where they're located, feel included.
Whether that's by creating new Slack channels for their team to share personal work, or their home experiences, it's all about creating an online community.
But it doesn't stop there… They've created virtual cooking classes, online workouts and virtual happy hours.
They also created a rule book to help new employees who may not have worked remotely or in a distributed team before to get up and running quickly.
6. Salesforce
Like Employment Hero, Salesforce underwent its remote transformation during the pandemic. Throughout this time, they learned that 80% of their employees only want to be in the office a couple of times a month. This triggered the creation of three working models:
Flex – which saw employees work 1-3 days in the office
Fully remote – where employees work 100% remotely
Full-time in office locations – which captures the smallest population of their workforce
Their new model has allowed Salesforce to drive greater equality within their team, reimagine their work environments for collaboration and prioritise health and safety. Salesforce understands the great benefits that come with distributed work, like giving their employees the power to choose where they work best.
"This work-from-anywhere model will unlock new growth opportunities that will help us drive greater equality," says Chief People Officer Brent Hyder. "Our talent strategy is no longer bound by barriers like location, so we can broaden our search beyond traditional city centres and welcome untapped talent from new communities and geographies."
7. Dell
Technology company Dell began their transition to a remote workforce model in 2009 and hasn't looked back. They now have employees in 36 countries around the world and are reaping all the benefits of distributed working. As well as all of the main benefits of this approach to working, it's also benefited the wider community
Dell's distributed workforce has led to a saving of approximately 42 million kWh of energy and 35,000 metric tons of CO2e per year from fewer commuters on the roads!
Dell isn't just improving the lives of its employees but also proves that working doesn't have to cost the earth. What's more is that their employees believe in this way of working, too.
94% of their workers believe flexible work arrangements contribute to positive company performance.
Start building your remote workforce
Distributed working is all about giving the power back to your team to choose where and when they work best, and these are just a few examples of some leading the way.
Our advice? Start small, implement the right tools and processes in place and ensure that you've got your communication cadence down pat.
Learn more about distributed working
Learn how you can start hiring overseas employees with a service like a global EOR. From implementing remote work policies to onboarding remote employees, we've got you covered. Download our remote-first playbook to learn more.
The remote first workplace playbook
A complete guide to remote management.