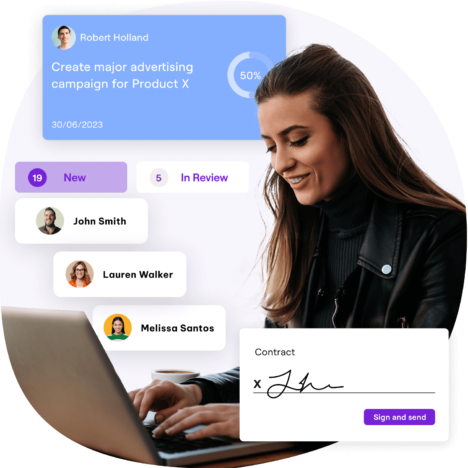 Unless you love the punishment of never-ending paperwork, missing employee information and nightmarish onboarding, we're sure you're using some kind of automation… right? Anyway, for those of you who need a little more information to act on, here it is. 
Talent management software is going to help you and your HR team streamline your full employee lifecycle, from onboarding to offboarding. You'll find everything in one place, safe in the cloud, ready to make your life easier. It will help you build (or follow) a framework to easily hire, train, and retain your staff. 
No existing framework yet? No problem, let us explain. 
What is a talent management framework?
A talent management framework is usually a visual that helps managers decipher how they're going to develop their staff; from onboarding to ongoing training and development. It might look to include key skills from a business perspective alongside the employee's personal goals and ambitions. Your framework might include sections on: 
Talent strategy and planning

Talent acquisition 

Employee performance management 

Training and development 

Succession planning and identifying 

Rewards 
The most important thing your business owns: people. Just like you'd follow a product framework for continuous improvement in a manufacturing business, every business should treat its employees as assets to be trained and retained and that is the main goal of any talent management framework. 
How can a talent management system help?
The right talent management system will help you put your framework into action. Seamlessly automating your most needed tasks and storing valuable information for every employee, you'll never be in the dark about where they are and where they're going. 
You can build your talent management process and make sure that every employee is on the same path to success.
There's more to it than just eliminating paperwork though, as we're about to get to. 
Six
benefits of using
talent management systems
1: Paperwork = in the bin
We'll stop making this point when businesses stop relying on printouts and storage cupboards for their employee management. The future's digital, and so is efficient employee management.  
2: Track your applicants with ease 
Remember the time when you got that glowing happy feeling when loads of applicants applied for your roles? And then that feeling turned to dread when you saw the applications spill over and flood your brain capacity? 
Well, you can go back to that first feeling now. 
Yes, we know that in the past one million CVs were impossible to manage, but not any more. You're in control of your applicants. An applicant tracking system (ATS) helps you see, manage and engage with anyone who applies for your roles. 
Employment Hero's software allows you to post job openings to over 20 different job boards, and then manage all applicants through each stage of the hiring process using our talent management feature. You can view and share applicant tracking data with HR departments and HR managers seamlessly.
That means full transparency for anyone involved in the recruitment process. 
3: Your information is super secure in the cloud 
Any management system that's worth your consideration is reliably secure. They might, for instance, have ISO certification (like Employment Hero's ISO 27001:2013 certification). That means you don't need to worry about things going missing or being stolen. 
4: Never miss a beat 
From audit trails to employee certifications, it's easy to keep track of it all. There are plenty of moving parts when it comes to your employee's lifecycle, and it's so much easier without a binder full of irrelevant information.
5: Every aspect of the employee lifecycle is covered 
We know we've mentioned this one plenty, but we'll mention it again. From onboarding to employee learning, to employee retention to overall employee engagement, a good talent management system has you covered. 
It should allow you to understand and empower your employees to grow within themselves, and in turn, help grow your business. 
6: Win the talent war 
With a lot of businesses competing for top talent, it's important to stay ahead. Our 2023 Talent Insights Report found that 63% of employees are "career cushioning". Granted, this increased cushioning partly comes from their fear of job stability, but a lot of it exists so they can hop into a new role should it suit them.
Talent management systems are with you for your employee lifecycle. And if you can show your prospect transparency in how you hire and their possible career trajectory, you're putting yourself in a strong position. If you know more about your talent, new and old, you've got a succinct advantage over those who are adlibbing the entire process.
What types of companies can benefit from using a talent management system?
If you work in a company that hires people, you'd benefit from a talent management system. No, seriously. Any Founder, HR Manager, Admin-all rounder or whoever is steering your recruitment and the retaining of your people is going to see their quality of life improve by using the software. 
Challenges of using a talent management system
The main challenge of using any new software or technology is the learning curve. You'll need to get familiar with how the new software interacts and pick up on the extra features as you get more comfortable. But there are some other concerns you'll want to be on top of. 
Leaving behind legacy systems & data transfer 
If you're using a legacy system with a lot of employee data and old functionality, you may have issues downloading your current data set. It's also likely that your legacy system, especially if it was uniquely built, will have completely different functionality and the learning curve of moving on could feel quite daunting. 
However, in reality, newer software (especially ours) is easy to access and intuitive to use, but that doesn't mean data transfer will be easy. Do make sure you contact your current provider to find out the easiest way to get this done.
Costs
Integrating a talent management system into your HRIS can mean additional costs depending on your desired features. Most providers will offer multiple package types with different features built-in – make sure you understand pricing and where you fit into the model. 
Find out more about Employment Hero's
talent management solution
We're biased… obviously. But we think that our talent management solution could be perfect for you. Not only does it include all the benefits we discussed above, but it also allows you to:
Generate job descriptions with AI, reducing the time you spend writing so you can focus on hiring.

Directly message candidates while you're hiring. Managers can direct message and chat with candidates via the HR Web and our

Swag

app.

Onboard straight from the

ATS

that pulls in important documentation, reducing your time to go from hired to onboarded into your platform.

Easily schedule meetings right from the HR web platform with built-in Gmail and Microsoft.

Add custom things like a hiring stage, who your hiring managers are, custom

experience

levels, custom tags and more to make the ATS suit your specific business needs.
If you're looking to change providers, or try talent management software for the first time, reach out to our friendly team and find out how you and Employment Hero could be the perfect match.