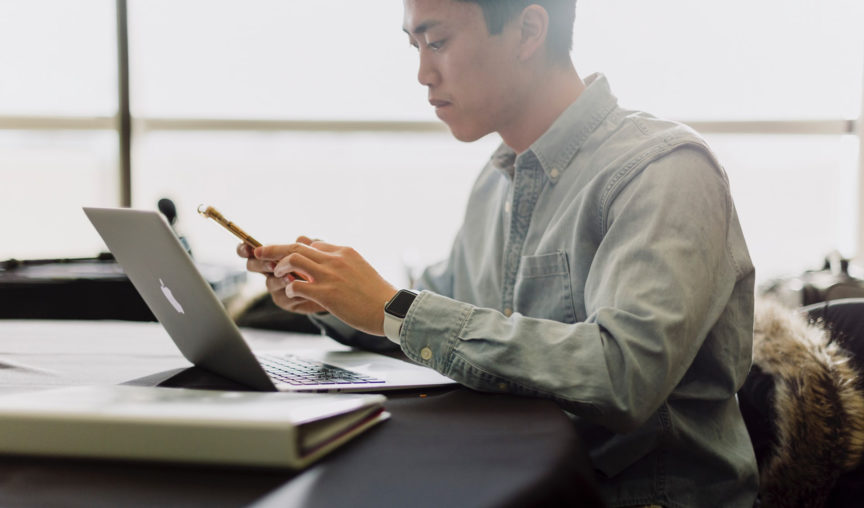 We know that small and medium-sized business owners are some of the busiest people you'll ever meet. They wear countless hats and are passionate about growing their business. From product development to marketing, finance and human resources (HR), they keep the cogs turning and are at the forefront of everything. But, as their business grows and they take on new employees, they're often faced with hours of mindless, time-consuming and mundane hiring and HR admin.
But, now – there's an easier way. And whether you're the business owner, human resources manager, or employee, it will help you and your business in every way, shape and form. Ready for it?
It's called an HRIS (Human Resources Information System). 
Digital HR is here, and its capabilities just keep getting stronger. With a long list of benefits; from giving you back some much-needed time by streamlining operations to helping you manage staff from anywhere and, most importantly, saving your business a whole heap of money – digitised human resources can make managing your workforce a little more joyful.
In this guide, we'll walk you through everything you need to know about getting started with an HRIS (also known as a human resource management system or HR platform) and explore all of the possibilities that can help take your business to the next level.
What is an HRIS (Human Resource Information System)?
HRIS stands for Human Resource Information System. An HRIS is a system that streamlines all of traditional HR's clunky and paper-based processes. Cloud-based and secure, an HRIS is a paperless way to manage every aspect of HR and people management, from recruitment and onboarding right through to offboarding. It's a purpose-built solution designed to manage workforces online, no matter where they're located in the world.
Key points:
HRIS streamlines recruitment, saves time and money, and enhances employee performance, engagement, and benefits.
An ideal HRIS should securely store data, integrate with payroll systems, offer paperless onboarding, provide performance management tools, and facilitate employee recognition.
Before buying an HRIS, check for user-friendliness, cost, ease of implementation, options for automation, data security, and scalability.
Prioritise suitability, user testing, employee feedback, and external references when selecting an HRIS.
Why would you need an HRIS?
An HRIS can help you automate and streamline your HR function, giving you time back in your day to focus on what matters most – like growing your business. It can reduce the risk of human error involved when manually completing HR admin, as well as reduce the double-handling of data.
You can also give your employees the option to manage employee data specific to them by providing them with the ability to update their own personal information.
With an HRIS you can improve every aspect of your HR and people management. You can understand your workforce better by gathering HR data and producing useful reports to help your long-term HR strategy. Whether it's recruitment, time and attendance, performance reviews, learning and development, employee benefits or reward and recognition, an HRIS can provide you with HR tools to help keep your team engaged.
What is the difference between an HRIS system and HR software?
An HRIS is a type of HR software. Today, there are many different types of HR software available to assist with different people management functions.
Other examples include recruiting software, employment benefits software, job boards, reward and recognition software, employee engagement tools, learning and development, employee time and attendance systems and more!
While different HR software supports different functions, complete solutions like Employment Hero HR software can support every aspect of your employee journey and experience.
Guide to Choosing The Best HR Software
What are the benefits of choosing an HRIS?
Using an HRIS entails a long list of benefits for both you as employers and your employees. From streamlining your entire employee journey, right through to improving productivity – it's one thing you can use to help your team perform at the top of their game.
1. Streamline your recruitment and hiring process
For HR managers and business owners, recruitment is one of the most difficult tasks that sit on the to-do list. A long and often frustrating process, it's hard enough to find the best person for a role without the piles of admin that come along with it.
With an HRIS, there's a better way to recruit. It's a way to move faster through the talent management process and keep everyone involved in alignment, including your HR team and hiring managers.
Introducing applicant tracking systems (ATS).
From attracting new candidates to putting your open roles in front of the right people, an applicant tracking system can help you streamline your recruitment process. It can help you save time and improve processes, and it makes managing candidates a whole lot easier.
You have the ability to post job listings to different job boards, then manage all applicants through each stage. And then when you've found your star talent, it's time to onboard them and issue their contracts – all with a few quick clicks.
2. Save time and money
With an HRIS, you can do more in less time. Paperless onboarding, collaboration and transparency will help any business thrive. But, it's not just this. Gain actionable business information and implement strategic initiatives with your human resources insights.
Save time on the administrative burden that comes with workforce management, enjoy the benefits of employee self-service and empower your team to take control of their own information and benefits – all while saving money.
3. Get the best out of your employees
When it comes to managing your HR function, you should have one thing in front of mind – your people. The same goes for an HRIS. Although it's digital, it can help you attract, hire and retain top talent from around the world. Remember, choosing the right HR software can help you get the best out of your team including tools for performance management, career development, employee engagement and benefits management.
Your must-have criteria for choosing an HRIS system
1. Payroll integration
Integrating your HR and payroll systems is one of the most powerful things you can do to increase your business's efficiency. When you go back to basics and think about your essential HR functions, you realise that your HR system (or paper files) have a tonne of employee information, and your payroll solution houses another set of data.
Using different sets of data across the paper and different systems can lead to a lot of confusion and time being wasted. When an HRIS doesn't integrate with a payroll system, the process of managing and paying your people becomes more complex for our friends in HR and payroll.
For many, different sets of data across systems can leave you feeling confused and frustrated. Imagine if you're looking at two or three sets of data.
How do you know which set is accurate?
When considering an HRIS, you want to ensure that your payroll software of choice will integrate seamlessly, so you can breeze through the tricky parts with confidence whilst ensuring data accuracy.
2. Securely store employee data with an HRIS system
Serious about security? You should be.
When thinking about using an HRIS system, you want to ensure that all information about your team and business is stored safely and securely. The last thing you want is for the data to fall into the wrong hands. When considering different HRIS systems, you should ask about the certifications the vendor holds, as well as how they manage and store confidential information.
Did you know that Employment Hero has achieved ISO 27001:2013 certification? This will give you peace of mind that your employee data is in the safest hands. Learn more about Employment Hero protects your data here.
3. Employee self-service
It's no secret that we're living in a society that values self-service. From bagging our own groceries to shopping on our phones, we're used to doing everything for ourselves in real-time. And this is no different when it comes to the way we manage our teams and their personal information.
What is an employee self-service portal and what are the benefits?
An employee self-service portal provides employees with access to their personal records and details whenever they want it and wherever they are and can include features such as:
Allowing employees to change their contact details
Banking information
Leave management and administrative tasks such as applying for leave, seeing their own leave history, requesting overtime, viewing compensation history and submitting their own work-related expenses
4. Compliance confidence
Time and time again, we see companies who have gotten their HR wrong – and often when they do, it's front page news. Don't become a company that gets caught up in a payroll scandal! This is a huge stressor for small businesses, especially those who are doing it manually in-house.
With an HRIS, you can have confidence that you're remaining compliant with award interpretation, single-touch payroll (In Australia) and work engine rules.
Did you know that Employment Hero has over 50 modern awards built into our system, so you can feel more confident you're doing the right thing?
5. Paperless onboarding
Onboarding is one of the very first experiences your new hire's have within your business. That's why it's essential that you create a positive experience when new employees join. You want it to be remembered for all of the right reasons!
Did you know that the Society for Human Resource Management (SHRM) estimates that 1 in every 25 employees leave their jobs due to a poor onboarding process? With so much on the line (including the hidden costs of recruitment), you can't afford to get your onboarding wrong.
When weighing up software solutions, ensure the option you choose offers paperless onboarding with the ability to:
Prepare and send letters of offer
Create or use compliant templates
Use electronic signatures so offers can be accepted online
Track new employee onboard status in real time
Develop induction content (eg. company values, company handbook, welcome video).
6. Performance management
Did you know that 65% of employees are seeking more feedback in their roles? This proves that regular and recurring feedback is key to a successful and engaged workforce – making it a critical criterion when choosing an HRIS.
You should be looking for ways you can help improve performance throughout your organisation, whether that's running regular one on ones (1:1s) or performance reviews. But it's not just that – you should investigate how easily you can develop feedback loops, set KPIs and design custom reviews.
This is your opportunity for an HRIS to help you build a positive performance culture for your business where everyone is aiming for the same goals.
7. Reward and recognition
We all know that people are the heart and soul of every business. They're the ones who keep the cogs turning, drive growth and work actively towards achieving your goals. Let's face it – without them, you wouldn't be where you are today.
But it's not just us saying this. Research backs it up, proving that organisations who regularly give thanks and recognise their employees far outperform those who don't.
When looking for an HRIS, you want to ensure that there is a way to effectively reward and recognise your team. You want to make the reward and recognition experience feel genuine, and make them feel valued for the work they're doing.
Want to learn more about effective HR management? Take a look at our introduction to human resource management.
How to choose an HRIS (Human Resources Information System) for your business
Now that you know about all the benefits of using an HRIS and how it can help your HR and employee management function, it's time to start looking for the perfect fit. With so many options available, it can be overwhelming to know where to start. But that's where we can help.
With these few steps, you'll be on your way to finding and choosing the right HRIS for you and your business needs.
Understand what you're looking for in an HRIS
When it comes to finding and implementing a new type of software for your business, sometimes you don't know exactly what you're looking for.
These few questions should get you thinking about your HRIS needs:
Is the software easy to use, does it have an intuitive user interface and is it cost-effective?
Is system implementation easy and will it cause minimal disruption to BAU activity?
Does it include self-service options and is it automated?
Does the software provider prioritise data security, visibility and employee records?
Will it streamline current HR processes and make your role easier?
Now, we'll show you how to navigate through the HRIS vendors, identify your requirements, shortlist your options and choose your perfect HRIS solution!
Identify your requirements
Imagine you're buying a car. Do you walk into the sale yard, close your eyes and choose one at random? Do you Google 'car' and buy the first thing which comes up?
Just like with a car, there's a process that comes before you purchase when looking for HRIS software.
The right HR software will meet the current and forecasted needs of your business. What processes need simplification? How could you better serve your employees? Can the software you choose improve your EVP (Employee Value Proposition)?
As you create your wish list, you need to think ahead. Your HRIS should be future-facing, allowing it to grow, develop and scale with you.
With this in mind, what do you actually need to consider when choosing your HRIS? Below, we've listed some areas and features you might want to consider. You should create a checklist and share it with the key decision-makers in your business to ensure everyone is on the same page.
Shortlist your options
You've now identified your requirements — from desirable to critical. This means you can begin to rule out software that doesn't meet your needs. You should be left with a shortlist. From here, you should:
Select at least three HRIS software products
Ask providers for a demonstration or free trial
Drill down into specific features to assess which software best meets your needs
For you to compare, we've compiled a list of Employment Hero's key features. Sign up for a free demo here. Then, trial other candidates alongside.
Do your final checks and choose your perfect HRIS
By now, you've now trialled a few software solutions. You've compared and contrasted. Hopefully, you see a clear winner. Let's make sure you're absolutely confident in your decision.
It's time to trial
During your shortlisting process, you should have requested a free trial or demonstration. Now, it's time to give your employees a go. Implement a user trial by giving one or two employees a demonstration of the new software. Gauge their honest reactions.
Is the software intuitive and effective? Are they likely to embrace this solution?
Be sure that the HR software you choose is one the whole workplace will love.
Get the tick of approval
Choosing HR software is one of those informed decisions which impact the entire organisation. It's important that the whole HR team and the HR department are on board. Now that you've done the research, it's time to present your findings to the key decision makers.
Remind your team of the key requirements you identified
Demonstrate the performance of your short-listed solutions according to their features
Confirm final budget and timeline
Lead your team to a conclusion – which HR system is right for you?
The power of word of mouth
Before signing on the dotted line, ask around. Your chosen software provider should be able to provide some references. Get a taste of what you can expect. Don't be afraid to ask the tough questions:
How long have you been using this HRIS software?
Why did you choose this HRIS software?
Did you consider other HRIS systems?
What was the implementation process like? Did you experience any downtime?
Was the project completed on schedule?
Did you find the support and employee training useful?
Did your employees find it difficult to understand the new HRIS software?
Has the software made a difference to your business?
Have you had any major problems with the HRIS software?
Is there anything you'd improve about the HRIS software, if you could?
Does it generally work the way you expected it to?
All of your HRIS needs are waiting for you
Welcome to a whole new world. It's a world where HR tasks are easier, you can improve employee engagement and you have time to focus on what matters most. This is the world made possible by the right HRIS and it's one where you can empower employees to be at top of their game.
It's time to narrow down your top HRIS vendors, choose a complete HR software solution and begin the implementation process.
Remember to read the fine print to avoid hidden costs. Let your HR success begin!
Try out Employment Hero with a demo by one of our business specialists.
In this guide, we go back to basics and talk through everything HR beginners need to know.