What's in the EOFY HR and payroll checklist?
The end of the financial year is just around the corner. Are you prepared?
Pour yourself a coffee, set aside some time in your calendar and get ready – it's that time of year again. 
We all know there's many important administrative tasks to cover when it comes to payroll and HR. Let us help you get organised this EOFY with our complete checklist, designed to help you feel confident as we see out the 2022/23 financial year. 
Disclaimer: The information in this checklist is current as at 10 June 2023, and has been prepared by Employment Hero Pty Ltd (ABN 11 160 047 709) and its related bodies corporate (Employment Hero). The views expressed in this article are general information only, are provided in good faith to assist employers and their employees, and should not be relied on as professional advice. The Information is based on data supplied by third parties. While such data is believed to be accurate, it has not been independently verified and no warranties are given that it is complete, accurate, up to date or fit for the purpose for which it is required. Employment Hero does not accept responsibility for any inaccuracy in such data and is not liable for any loss or damages arising either directly or indirectly as a result of reliance on, use of or inability to use any information provided in this article. You should undertake your own research and to seek professional advice before making any decisions or relying on the information in this article.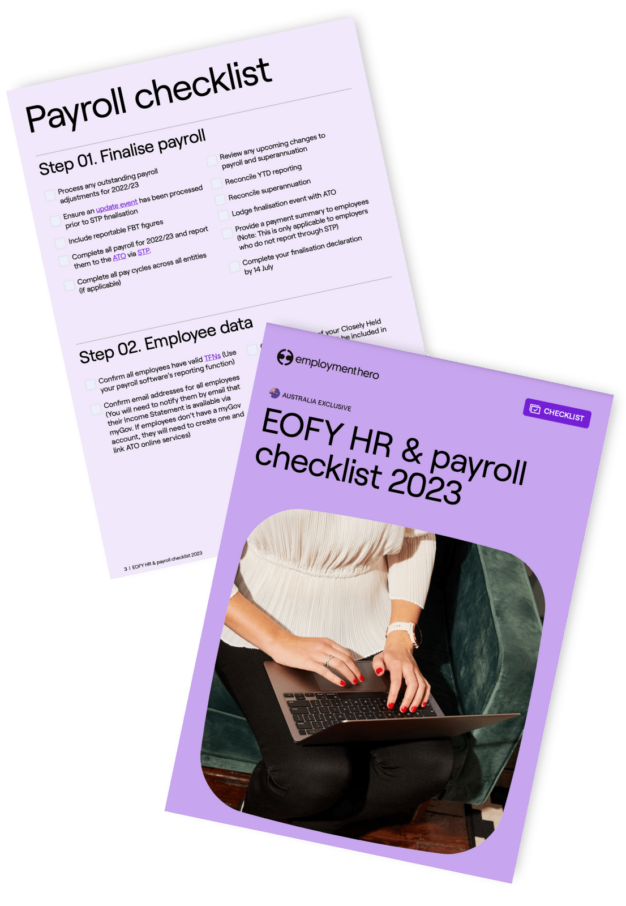 Download this checklist now.