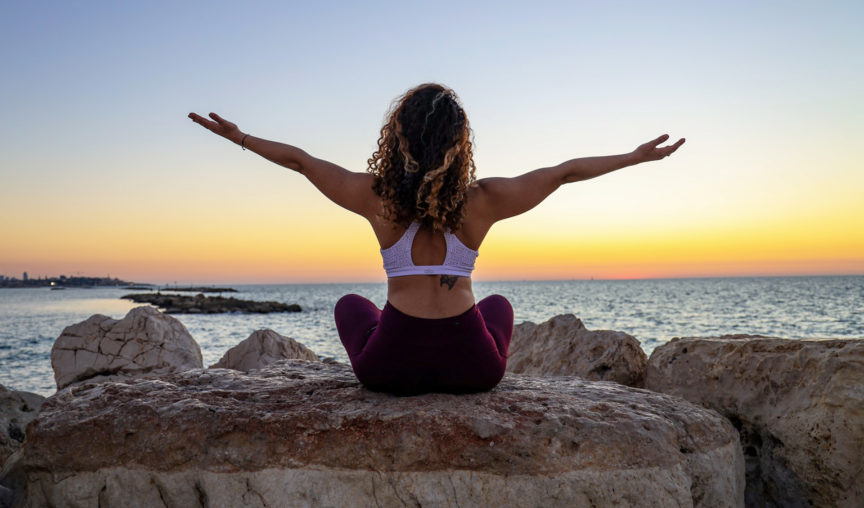 There are so many benefits to doing yoga regularly – it strengthens and tones muscles, increases flexibility, and can help with your mental health. Yoga can also help with practising mindfulness.
Gyms and studios can be expensive, and if they don't fit with your routine, it can be hard to make yoga a habit. However thanks to technology and our smartphones, we can practice yoga and reap all the benefits from just the comfort of our own homes.
Our top 5 yoga app recommendations
Whether you're a beginner looking to learn the basics of the practice or an expert yogi wanting to go straight into the flow, these apps are a great way to start the practice or find something new.
We've compiled a list of top-rated yoga apps for iOS and Android devices.
1. Daily Yoga: Workout & Fitness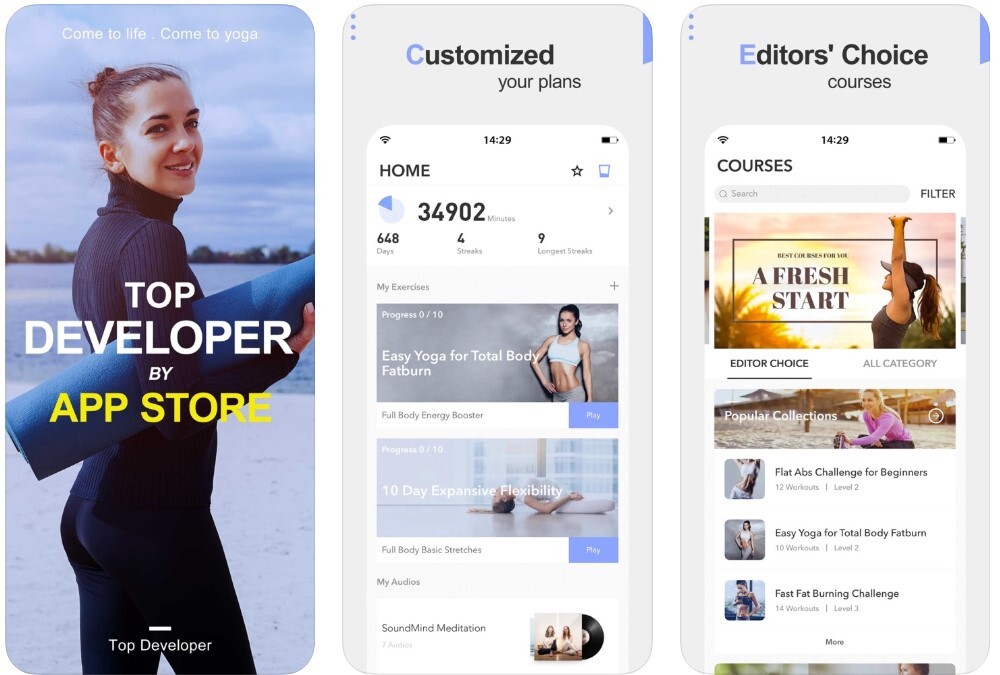 If you're looking into making yoga a regular practice, the Daily Yoga app is great for you. Daily yoga offers 500+ poses and postures (or as the experts like to call it, "asanas"), 70+ yoga programs and 500+ guided yoga, pilates and meditation sessions.
If you're a beginner and are looking to learn more about the basics of yoga before jumping into more advanced classes and flows, Daily Yoga app provides a number of guided classes. Or if you're more advanced in the practice, the app features world-class teachers for you to follow along with.
The app allows you to customise your plans to suit your needs and goals, and also provides a community platform for you to connect with other yogis and experts.
Average rating: 4.7 stars Number of reviews 117.8K Cost: Free to download; $9.99 a month for membership
2. Down Dog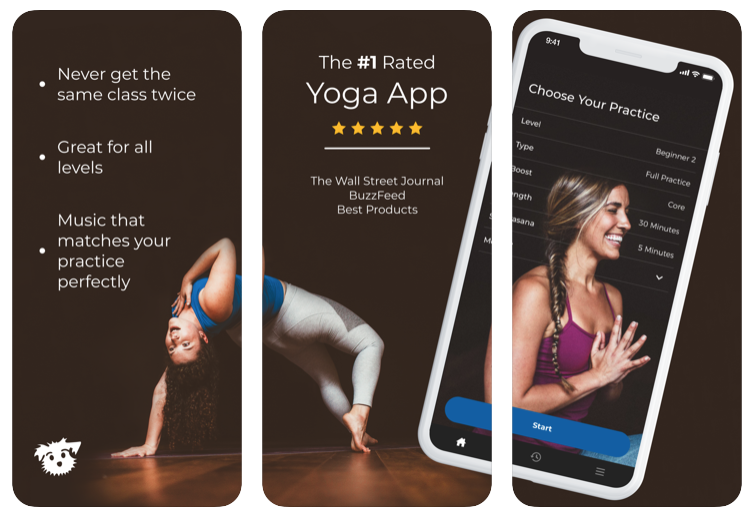 Tired of doing the same flows and poses over and over? With the Down Dog app you never get the same class twice whenever you hit the mat. Or are you a beginner?
This app offers a three-day introduction journey series designed for those brand new to yoga. It is great for all levels. You can choose from six different yoga instructors to guide you through the practice and the music dynamically changes to rise and fall with your breathing.
Average rating: 4.9 stars Number of reviews: 81K Cost: Free to download; $7.99 a month for pro membership
3. Glo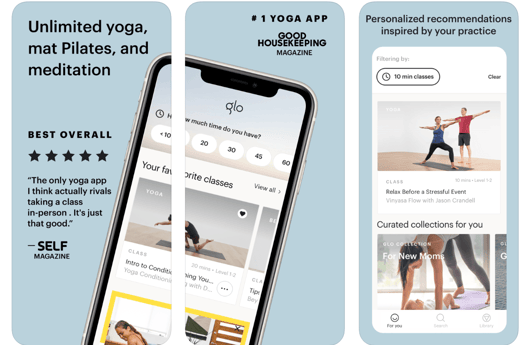 Glo is one of the top-ranked apps on the Apple App store, offering 3,700+ classes led by close to 50 teachers. With 16 styles of yoga, pilates and meditation for all levels to explore, the app allows you to save, download and organise your favourite classes.
You can also use their search page to find the best class that meets your needs; whether that's wanting a better night's sleep, a stronger core, or a quick or intensive session. Find what works best for you. With the Glo app you can personalise your experience, get class recommendations, and set practice goals.
Average rating: 4.9 stars Number of reviews: 1.8K Cost: Free to download; $18.00 per month for membership
4. 5 Minute Yoga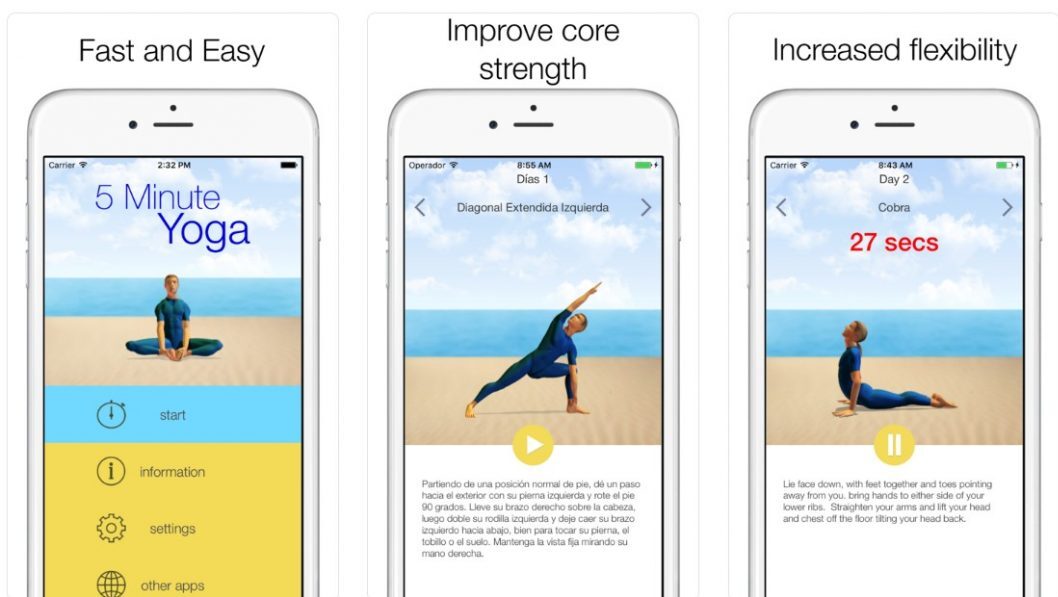 Only have a few minutes to spare? 5 Minute Yoga is a great app to have if you're looking for spontaneous yoga moments or a quick stretch before bed. No matter where you are or how much time you have, this app allows you to squeeze in a solid flow.
Each flow only takes five minutes – holding one pose for a minute each. Every pose includes a clear image and detailed instructions great for beginners wanting to start or experts with busy schedules.
It also features a timer to keep you in the moment of the stretch and prevent you from checking the time.
Average rating: 4.5 stars Number of reviews: 14.2K Cost: Free to download; $2.49 per month for premium access.
5. Yoga Studio: Mind & Body
Yoga Studio is best for finding your own personal flow. It has 190+ ready-to-go videos and meditations with frequent class updates, so you're not always stuck doing the same flow and poses. With Yoga Studio you're able to customise or create your own HD video classes, pose by pose.
There is also a class schedule to help you stay on track, and a library of 280 poses with detailed advice and instructions for beginners to experts.
Yoga studio classes vary from five minutes to an hour and include meditation moments that encourage you to be present in the moment and focus on breathing.
After downloading classes, the app allows you to play classes without an internet connection, anytime, anywhere!
Average rating: 4.35 stars Number of reviews: 8.4K Cost: Free to download; $19.99 a year for membership
Namaste
Now that you've found the best app for you, it's time to get your zen on. Whether you're new to the practice or a pro, there's something in this list for you. Now you can practise your asanas and flows anytime, without ever having to leave your living room!
We have also compiled a list of apps to keep you healthy while working from home. Note that all apps listed above are free to download, though some may require a small membership fee to access classes after the free trial.