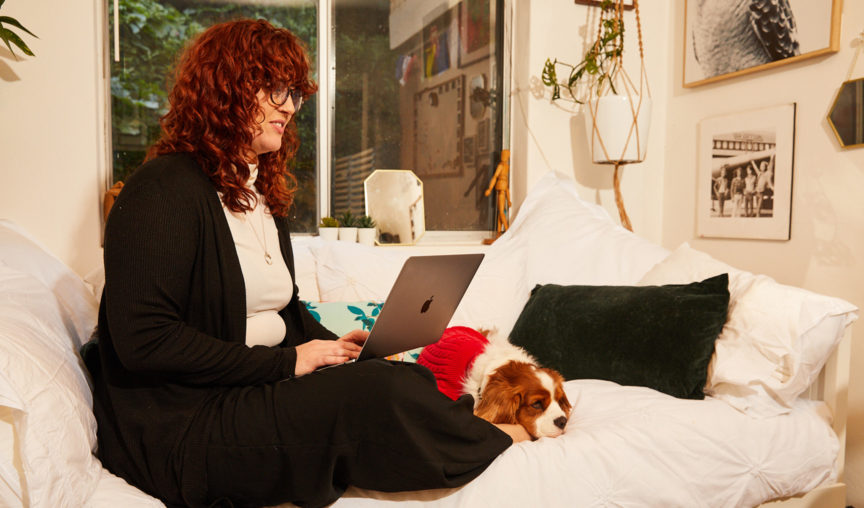 At the end of 2022 we could hazard a guess that all the world's employees felt extremely fatigued (read: outrageously over it). With persistent stress and uncertainty, who could blame us for feeling weary?
In such turbulent times, it's easy to slip into a working slump. It's essential to regularly reset and reinvigorate motivations. How can leaders help their teams bust the bad vibes and hit refresh on employee mindset throughout the year?
Let's take a look at impactful actions you can take at the beginning of the year – so your team feels recharged and energised – and at the middle of the year, when the cracks often start to show. A lot can change in six months, it's imperative that we stay on top of employee mindset all year round.
At the start of the year:
Here are our 8 top tips to kick off the year on the right foot.
1. Set new goals for the year
Making new year resolutions is an obvious (but powerful) way to get your staff feeling inspired. A new year is a great 'temporal landmark', a point that can trigger reflection upon our past behaviours and cause us to consider our desired future behaviour.
Ask your team – what kind of employee do they want to be in 2023? How do they want to improve from the previous year? What do they want to strive for? Get them to list five things that they're excited about achieving in the new year.
For your management team and yourself, what kind of leader do you want to be in the new year? How will you change your leadership style to get the best out of your team? What can you do differently to lead by example? Ask for feedback from your staff to find out what they want and need from you.
When considering professional goals for your employees or yourself, remember to always let your company values be your guide. Remembering the good work that you do and how your product or service can add value to your clients or customers' lives is a great way to build motivation.
It's an old tip but a gold tip – write your employees' and your own goals down! Write down not only what you want to achieve, but why it's important to you to achieve it. Reiterate both of these things at regular intervals throughout the year when motivation can begin to wane. Better yet, add it to the agenda of your one on one (1:1) meetings.
Get to know your employees better by also enquiring about their personal goals. Do they want to complete a triathlon this year? Maybe they want to learn how to meditate or save for a property deposit? Letting employees know that you're there to support personal and professional goals is a great way to keep them engaged.
This is especially important if you're continuing to work from home in 2023.
Our favourite way to set goals is to use Objective and Key Results (OKRs). With companies like Google and Netflix finding great success with this powerful strategy, we strongly recommend using it to kickstart work in the new year. OKRs may seem overwhelming at first, but stick with it!
It's an incredibly powerful goal-setting framework that can transform your team.
2. Throw out your old working style
If there's any time to disrupt general routines and road test productivity techniques, now is the time. Following old working styles and chasing old priorities can slow your team down significantly. Have your team start by evaluating their old commitments.
In the Harvard Business Review, management coach Elizabeth Grace Saunders pointed out that "in many work environments, tasks and projects get piled on without any clear sense of priorities or time capacity. The beginning of a new year marks the perfect time to clean house and re-evaluate what you're doing and how you're doing it."
Ask your team to brainstorm some new working styles together. There's power in numbers – if multiple people start a new habit it's more likely to stick through. Here are some popular habits to get them started:
Set times for checking emails and messages
Have you ever found yourself having difficulty getting back on track after being interrupted by an email or message? A productivity study from the University of California found that it takes an average of 23 minutes for an employee to re-engage with a task after being distracted.
The study also found that people who were interrupted more often experienced a higher workload, more stress and more time pressure.
How can you rectify this? Try scheduling a time to check your emails, like at 9am, 2pm and 5pm. Follow a similar schedule with instant messaging apps.
Schedule regular breaks
If you give your brain and body regular breaks throughout the day, you'll find it easier to stay refreshed and fight fatigue. Researchers have found that the optimum focus time is about an hour – working in cycles of 52 minutes and 17 minutes break to be exact.
There's also the increasingly popular Pomodoro Technique, where employees work in 25 minute stints, broken up with 5 minute breaks. Of course, what you do on your breaks matters. Resist the scroll and instead get up for a stretch, drink a glass of water or go for a short walk.
Remind everyone who starts a new habit that it takes 66 days on average to form a new habit – the effects might not be immediate, but they should keep going!
Do a monthly 'mindset audit'
After the exciting buzz of the new year wears off, it's important to check in with yourself to stay refreshed.
Executive coach Amanda Blessing told the ABC that workers should ask themselves three questions;
Are my beliefs and biases getting in my own way?
Is my mindset actually proactive and positive?
Am I going into things with a can-do attitude and treating my career as an "exciting playground"?
Auditing yourself on these topics can help keep you feeling excited about your work and keep you curious about evolving into a better and happier employee.
3. Take the time to make remote working awesome
2020 and 2021 saw workers around the world rush to slap together home offices and home working habits. The speed at which we were all shipped out of the office was not conducive to great remote working operations.
Remote working is here to stay for the long term – 92% of employees surveyed for our Remote Working Report said they wanted to continue working from home in some capacity after lockdown. With this front of mind, now's the time to help your employees embrace all the great things about this working style.
Ergonomics is the hot word of the moment. Allocate a small allowance so that your employees can make their home offices comfortable (working from home should not mean working from the couch). Investing in a proper office chair, desk and laptop stand can go a long way for your employees' health.
Evaluate your operational systems. How useful is your internal messaging platform? Are your team properly collaborating using task management systems? Do you have HR software solution that can easily onboard new staff members remotely? The 'clean slate' feeling of starting a new year sets the perfect scene for implementing new systems, and training staff on how to use them effectively. Not sure how to decide on the best HR system for you? We can help. Check out our comprehensive guide to HR technology.
Lastly, think about the possibilities of becoming a hybrid team in the new year. A hybrid team works from home half the time, in the office half the time, with the office generally being a destination for collaboration and brainstorming. Alternatively, if you're keen to transform your business into a remote-first workplace, check out our Remote First Workplace Playbook for tips on how you can effectively manage your team the remote-first way.
4. Prioritise wellness
Mental, physical, and financial wellness was truly tested in the past two years. Most of us finished 2021 feeling drained after fighting against the year. Last year was about keeping afloat, no one could have expected more than that. Now's the time to rebuild.
A sense of wellness is a key element of a positive mindset. Employee wellness should be examined throughout the year, with research showing that one-time wellness events are simply not helpful for most workers.
Our Wellness At Work Report also showed that employees are struggling with burnout, financial pressure, and the pandemic has decreased the importance they place on their career. Employees who rated their employer's commitment to wellness as good or excellent were 75% more likely to say they were loyal to a business – which is why ensuring that your employees are happy and supported at work is vital.
5. Remove the stigma from mental health
A new year is a great time to set up an Employee Assistance Program (EAP) if you don't already have one. An EAP is a free and confidential counselling service that you can offer your employees.
Our Wellness At Work Report found that 42% of respondents still feel uncomfortable discussing mental health in the workplace, and 36% are concerned about mental health stigma. Regular, informal check-ins with employees can also help you recognise when something has changed and when they may need assistance, so be sure to catch up often. Encourage employees to only work within stated hours and take time off when they need it.
6. Celebrate fitness at work
Allocate some time in the work week for employees to exercise, and encourage them to have fun with fitness together. Have you considered facilitating a work sports team? If there's a fitness event coming up, a training team could be a great option to help bring your employees together.
If your team is working remotely, set up a company group on Strava or Nike Running Club. This can help you keep track of your team's achievements and even provide incentives for employees that smash their goals. Looking for something online? Why not take a look at virtual yoga classes?
7. Don't forget financial wellness
Financial wellness is an easily-forgotten area of support that employees are looking to their employers for assistance. Consider offering your team sessions with a financial advisor a couple of times a year to help them stay financially well. Offer small concessions around the office – a coffee machine that makes cafe-style coffee is a low-cost way to help employees save money (and keep them happy!).
If either of these options are too expensive for your business, direct your employees to ASIC's Money Smart, or start a conversation to share saving tips. Want to give your employees access to awesome discounts on a huge range of products? Employment Hero's Discounts has great deals on everything, from everyday goods and services to gifts.
8. Be realistic about what went down in 2022, and the uncertainty of what could be ahead
It's ok to say that 2022 was probably not the most productive year on record. If your team kept their heads above water and persevered through all of the disruption, that's a huge achievement in itself.
Whilst you might want to rush into 2023 and make up for any lost productivity, we would caution against kicking the year off with too much intensity. Sadly, the pandemic isn't over yet. As the world continues to vaccinate and try to move forward, the events of 2021 are likely to linger a little longer and continue to be a source of uncertainty for your staff.
2021 taught us to be empathetic, have patience and act with kindness. It might be the only good thing to come out of the year, but it's worth bringing with us into the future.
Mid-year check in:
Six months in, it's time to reflect on your employee mindset efforts. How successful were the measures you implemented and what can be improved on? It's important to not let things lie as they are for the rest of the year — negativity and frustration can fester, and you don't want to realise that things haven't been working out when it's too late.
Take the chance to pause, reflect, and move forward with clarity into the second half of the year, with a mid-year check in on your employee's mindset.
9. Applaud achievements and highlights
First off, it's key to acknowledge the hard work your employees have put in over the past 6 months. It certainly hasn't been easy recalibrating back to either a hybrid working model or continuing on a remote work model, alongside constant changes in the workplace, so any encouragement will definitely be welcomed.
Highlight any wins or achievements they've been responsible for in the past six months — so they feel appreciated for their efforts. It also gives them a boost of confidence and motivates them to work hard for the rest of the year. Use reward and recognition tools to enhance employee engagement and help them feel valued at work.
This also provides a good opportunity for them to bring up any other wins that might have gone unnoticed by you — targets that have been met, projects that have been successfully executed, and even any positive feedback they've received from colleagues, clients, or customers. Reflecting on what went well in the past six months sets a good precedent moving forward.
10. Ask for feedback
Feedback is always important because it allows for two-way communication, and it's crucial for you to really understand what works and what doesn't for your employees, so you can help to create a better working environment for everyone.
That new working style you implemented at the beginning of the year — do they like it? Is it working for them? The goals you set out for 2023 — how are they progressing so far and are there any roadblocks or challenges your employees are facing? What can you do to better support them?
These are all vital questions that need to be asked, so you can finetune and optimise your team's processes better.
It allows your employees to feel heard and assures them that improvements will be made accordingly to help them be more productive and efficient at work.
11. Talk about tools and training
Now that your employees are halfway through the year, they've probably settled into a rhythm of doing things, with a better understanding of their roles and goals. A mid-year check in allows them to raise any concerns they have, regarding tools or services they might need to help them perform their job better.
Similarly, if they've identified areas they are interested in, and are keen to train and upskill in that area, talk to them about the development opportunities available.
It benefits both the company and the employee — and builds greater loyalty towards the company when they know they are supported and encouraged in their own growth and endeavours.
12. How are they doing?
No really — this isn't the usual, daily 'how are you' question that most people answer with a 'good, thank you'. It's time to really get into the nitty gritty details of how your employees have been faring the past 6 months.
What does their work-life balance look like? Are they feeling burnt out? Have they been exercising regularly, getting a daily dose of Vitamin D in the sun, practising self-care, or utilising the Employee Assistance Program (EAP)? As for remote workers, are they dealing with remoteliness?
Create a safe space for them in your 1:1 meetings, so they can come to you honestly and sincerely with their true state of mind and raise any difficulties. If there's a better or more flexible way for them to work, consider implementing that to alleviate their worries and concerns.
Whether it's cutting down on their work week so they have time to handle other responsibilities like parenthood, or flexible work arrangements to accommodate certain needs, it's a worthy investment to make.
You want your employees to be performing at their best — and if that means making slight changes so they can feel empowered and motivated at work, it needs to be made.
Stay across employee wellbeing and happiness
Employment Hero makes work easier and more rewarding for everyone.
Regardless of whether you're doing a mindset refresh at the start of the year or in the middle of the year, you can use tools via Employment Hero to gather feedback on how employees are finding their work and environment.
Continue that two-way conversation between leaders and their teams through Employee Happiness Surveys, for quick reviews that easily collect a snapshot of a team, or entire company performance.
Your team will be able to submit their happiness score out of 10, and it also allows for leaders and HR managers to ask for more information from those who submit low scores – all while maintaining anonymity for the employee.
For more insights on employee wellness in your region, download our Wellness At Work report today.
Get all the info you need
Download the Wellness at Work Index
Just a few quick details