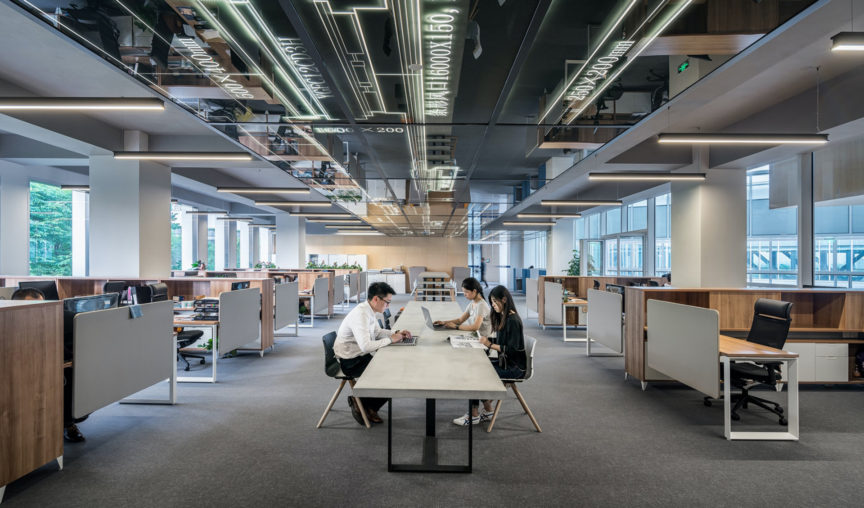 OKRs is the new buzzword amongst many businesses and have rapidly gained popularity recently. But what are they? And why should businesses go through the effort of migrating an entire workforce over to this new way of thinking?
We touched on what OKRs are previously, which is a brief introduction to OKRs for businesses that have never heard of them before. But now, we want to look into exactly why some of the world's leading companies are using OKRs to supercharge and streamline their workforce.
Recap on Objectives and Key Results (OKRs)
As we know, OKRs is a goal-setting framework for defining and tracking goals and their outcomes within a business. The Objective is qualitative, and the KRs are quantitative.
They are used to focus an entire business around one big, bold goal. OKRs are usually set during a defined time frame, most likely quarterly OKRs.
If you were to start planning out or writing OKRs, you would need to keep these two questions in mind:
What do you want to accomplish? The answer to this will be your objective.
How are you going to achieve this? The answers will give you your key results.
For example, within a human resources department an example OKR may look something like this:
Objective: Improve internal employee engagement and job satisfaction
KR 1: Conduct 3 monthly 'Fun Friday' meetings for all employees
KR 2: Conduct a survey with all employees on their needs for improving company culture
KR 3: Set up monthly meetings between every employee and manager to discuss job roles and progression
Key results give you a clear guideline of what you need to focus your effort on for that time frame to achieve the objective. Your objective must be ambitious and definite, and your key results have to be made of measurable goals.
Now you know what they are, think about what your business objectives would be and what the key results are that will help you get there.
What does an OKR implementation look like?
When it comes to OKR implementation, the objectives may differ slightly within the organisation. These will vary between departments, teams and industries so make sure you do your research.
For example, a company's CEO may have a different objective compared to his direct reports.
We found a great infographic from Der Growth Guy on Medium that gives a simple snapshot of how this would be set up in a company (ignore the euros).

There's also a great snapshot of the origin of OKRs, for all you history buffs out there: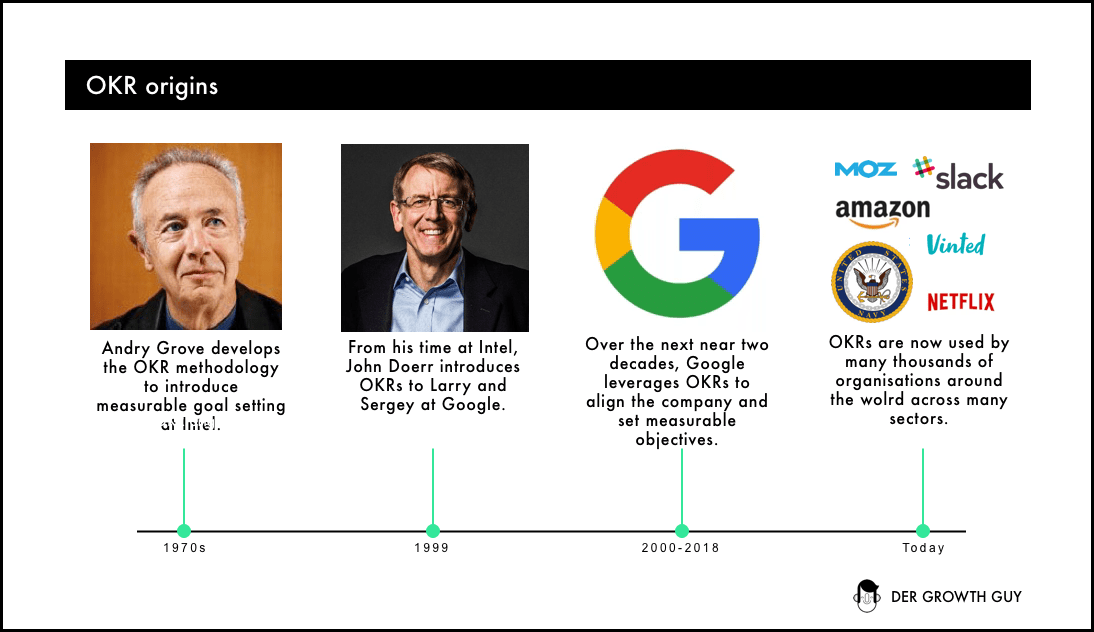 Which company uses OKRs?
Well-known companies such as Google, Microsoft, Asana, Linkedin, Atlassian and Netflix use OKRs in their business as you can see in the infographic below.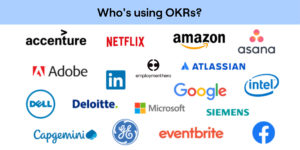 (wow!)
Why do leading companies use OKRs?
With so many benefits, it is easy to see why pioneering companies use OKR as part of their company strategy:
Better team alignment
By using OKRs effectively, you will be able to keep your employees focused on your company's goals easily and efficiently. Your entire workforce with have visibilities of the company's goals and how their team – and an individual can contribute towards that.
Read more: The servant leadership principle of putting employees first
Clear directions
Because all your employees have visibility over company goals, it allows businesses to give clear direction to every team as well as individual roadmaps about how they will be affecting that and contributing to its success.
This will, in turn, improve resource allocation and management.
Increased productivity
OKRs can boost team performance and productivity for every employee through a clear focus on business goals. If an individual knows exactly what they are aiming for in their own performance and can be recognised for their efforts towards a certain objective or company goal, they will be more productive and try harder!
Boost individuals' engagement and empowerment through your goal-setting process.
Read more: How to delegate like a boss
Trackable results
Businesses can easily track the progress towards a particular business goal, especially through cool goal-setting features like the one we have on Employment Hero…
More insight for everyone
Everyone in the company will be able to see exactly how goal progress aligns with the company's vision, strategy, and top priorities.
They will also have better insight and transparency across the business successes and areas that still need work. There's tonnes more we could list off, but we think you get the picture!
Read more: Developing a professional development plan for employees
Do you need to be a big company to use OKRs?
Although OKRs have been made popular by large tech companies, this doesn't mean that they can't be adopted and used effectively by small businesses.
In fact, we believe that OKRs are actually more important for small businesses, as smaller teams are more flexible and can adapt quickly, which is often hard to do when you have a large team.
Implementing OKRs within smaller teams helps keep employees focused on a few key areas rather than trying to achieve too many things at once.
The key is to adjust your goals so that they are achievable and relevant to the size of your company.
Why does Employment Hero use OKRs?
Alex Hattingh, Chief People Officer at Employment Hero
"The main reason we love using OKRs at Employment Hero is the transparency to align every person in the organisation to the company's annual goals. With this method, each person can develop their OKRs to make sure they align with what the company is striving to achieve."
Key Results go so much further than KPIs or a regular "task list", they have to be output-driven and metrics-driven.
There are often a lot of initiatives and to-do lists behind achieving a key result – however, the output driving team OKRs are also hugely beneficial in structuring 1:1s with your employee as you can quickly cover progress or receive employee feedback on potential roadblocks on particular OKRs.
This means more efficient and effective meetings and more productive team members.
You don't have to wait for an annual evaluation and recall an entire 12 months of achievements either, but instead, you have a nice online method of capturing accomplishments and outputs without onus performance reviews.
Finally, we love using OKRs at Employment Hero because it helps with complete transparency across the company. OKRs also drive accountability across every team, anyone in the company can see where and what any other team or person is working on at any given time."
What do employees think about OKRs?
Julia Merrick, Content Marketing Manager
"I enjoy having visibility over the whole company's OKRs, as business-wide transparency and alignment are important to me. I also like that I can update my key results each week, as this helps keep me accountable and focused on what I should always be striving towards."
Annabel Thompson, Customer Marketing Manager
"I love that I can see how my output aligns with the company's success. It makes me feel more motivated to achieve my goals, as I can see the direct impact it will have on the company. At the same time, I'd be lying if I said it didn't keep me on task. Knowing I have key results to update that are visible to the whole company encourages me to get sh*t done."
Alex Cole, HR Product Specialists
"OKRs have been able to make managing goals easier and simpler than in any other sales role previously. I am able to update and manage targets and provide real-time data to my management team showing how I am tracking for the month/quarter/year.
Using OKRs I have been able to really detail my attention to what is required for day-to-day and have been showing greater results than in any other role. I would highly recommend OKRs to any company who is looking to provide a great goal management framework that allows for overall goals and individual team goals."
Setting goals with Employment Hero's OKR software
As you can see OKRs are the new buzzword for a very good reason. This high output management tool is straightforward, easy to track and helps get your whole business working towards the same things!
It's not just beneficial for business, but employees so much prefer using them, so they know exactly how their job role contributes to the business.
We liked OKRs so much that we made sure they became a key feature in the Employment Hero's all in one HR software. If you'd like to find out more, book a demo today!