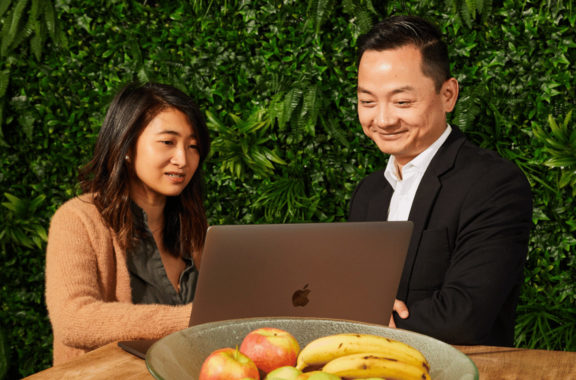 We know that internal communication is a pain point for businesses, especially now that many of us are working from home. One-on-one meetings (also known as 1:1s, 1-on-1s, one-to-ones, and 1-2-1s) could be the very thing that helps take your team's performance to the next level.
Regular one-to-one meetings between managers and employees are crucial for ensuring that employees feel valued and supported at work. They are a key ingredient as part of a holistic people management system and having a great one-to-one meeting template in place is one of the best things you can do to have effective one on ones with your direct reports.
What is in this one-on-one meeting template?
This one-on-one meeting template has editable sections that can be customised to your company's needs.
It can be used as a meeting agenda template, as it includes some sample questions you can ask during your next meeting with your team member.
These questions are focused on gauging employee engagement and probe further discussion to aid career development for your direct report.
Download our free 1:1 meeting template now and get started today.
What are one-on-one meetings?
Luckily, one-on-one meetings are very appropriately named, which makes them relatively easy to explain! A good one-on-one meeting will give a manager a chance to check in and have a conversation with their employees in a personal setting as opposed to a team gathering.
A one-to-one meeting is a dedicated time in your calendar to connect with your direct reports and talk about their priorities, challenges, and professional development. 1:1s are the ideal scenario to foster positive work relationships, set expectations, and help your direct reports be more productive.
They're a chance to build trust in an authentic and vulnerable way that provides a two-way street for understanding objectives.
One-on-one meetings should toggle a line between a professional update with action items and tasks that support the employee's objectives, OKRs, KPIs and a more impersonal chat about how the team is functioning and how your direct reports are feeling about the workplace.
They can be a long-term learning opportunity and a chance to hold your team members accountable with clear expectations and constructive feedback to better their overall performance.
Why should you perform one on one meetings?
One-on-one meetings offer a range of benefits to both management and staff, but many management teams avoid them as they feel they're uncomfortable or too difficult.
However, these meetings are essential as they can boost team productivity, morale, and engagement. All while helping management keep their finger on the pulse by understanding the real thoughts and feelings of their team members in a more personal setting.
The key to a good one-on-one meeting is the preparation of a structure that'll cover all of the necessary discussion points and make the most out of the time spent in the one-on-one meeting with your team. This allocation of time is important, but it's also a great advantage for your managers and company.
Let's take a deep dive into this version of a team meeting, how to get the most out of them, and how employee management software tools can help with this, especially if you manage a hybrid or fully remote team.
What should you cover with direct reports in a one-on-one meeting?
Each one-on-one meeting should allow the employee to share what's on their mind to give you an indication of both positive and negative talking points that may need to be given attention.
From here, you can move on to performance and development updates which are kept brief, to check in and see if the team member's goals are on track and what challenges there may be to their goal achievement.
You can then move on to significant action items or projects that are currently on the go and use the meeting as an opportunity to offer help and support resources or more time if needed.
Provide positive or negative feedback, reinforce expectations and discuss any adjustments or changes that may be needed for employee behaviour.
The meeting should also be used to facilitate learning and develop skills that can contribute to increased job satisfaction. You can resolve work-related problems, discuss employee assistance if needed, identify any personal issues and above all, reinforce how you can help.
Finish all 1-on-1s with a summary of what has been discussed and agreed to along with plans for a follow-up within a specific time frame to make sure everything will be actioned.
At the end of these, you should have a better understanding of how that particular staff member feels as well as how to get the most out of them.
How often should you have one-on-one meetings?
While this may vary based on schedules and various other preferences, it's recommended that 1:1s are scheduled every week, or at minimum fortnightly, to help with employee engagement.
This may seem quite regular, but the goal is frequent communication to ensure your employee knows you're putting effort into your working relationship with them. If a one-on-one meeting needs to be cancelled, it's vital to ensure that you don't let more than a week slip by between sessions.
Most effective one-on-ones will typically last about 30 minutes which is based around 10 minutes for their thoughts, 10 minutes for your thoughts, and 10 minutes for the sharing of information.
They can, of course, go for longer if needed, but if you're maintaining a fortnightly catch-up you don't want to take too much time out of your busy work schedule.
It should be noted that these are general rules and suggestions, and it's important that you find what works best for you. Every company, manager and employee is different, and the key to success in this style of meeting is flexibility.
You don't want to waste anyone's time, but you also want a level of fluidity so you can show your staff that this time is important and help them to feel comfortable and open up.
How should team members prepare for one-on-one meetings?
The one-on-one meetings will be a lot more comfortable and worthwhile if the participants have time to prepare for them beforehand. This effort helps your employees to feel valued, which is one of the top things they care about at work.
To help team members with this, the manager or leader running the one-on-one meeting can send a list of questions or an outline to let them know which areas will be covered during the one-on-one meeting. The manager should prepare specific content or an agenda for each one-on-one meeting as well.
If you have a regular one-on-one meeting template in place, staff may feel more confident in driving the one-on-one meetings and discussing specific issues, challenges, ideas or opportunities.
It can also be a great idea to allow space for new topics to be added during the one-on-one meeting itself as certain things may arise while having various discussions.
If you want to take it a step further, you can use an employee performance review software such as Employment Hero which enables each manager to set recurring one-on-one meetings where employees can log in and answer the questions which will then be ready for them to discuss during the meeting.
This gives staff more time to think about what questions to ask or discuss with their manager and also ensures feedback has been effectively handled both ways.
Ideas for topics to cover during your one-on-ones
There are many different questions you can ask to strengthen the relationship between your team and management during the one-on-ones.
To help, we recommend you bookmark our in-depth list of 105 questions to ask when planning one on ones in the future.
We've broken our list into sections, and here's a small snapshot of some of the key questions to ask to provide some clarity around what should be asked in one-on-one meetings discussions:
Employee engagement question examples
How do you feel your week has gone?
Did you achieve your goals from last week?
Is there anything you'd like to talk through this week?
Did you do anything different that has worked well for you this week?
How are you prioritising your tasks?
Roadblocks and challenges question examples
What were your challenges last week?
What's your most significant concern about your role right now?
What do you think you will learn from your latest challenge?
Do you feel like you have enough support resources?
Have you considered other options to overcome roadblocks?
Employee happiness question examples
How do you feel about your work/life balance?
Did you feel good about coming to work this week?
Do you have the right tools to succeed?
Would you recommend working here to your friends?
Is there anything that is annoying or upsetting you?
General communication question examples
How are you feeling this week?
How is your life outside of work?
Are there any hobbies or interests you have that you could bring to work?
Are you on track when it comes to achieving your personal goals?
What do you think about these one-on-ones?
Learning and development question examples
Are there any skills you want to improve?
What is one area here at work that you would like to master?
Is there anything specific you'd like to work on?
What method helps you learn best?
How has your learning contributed to your success this week?
Personal and professional development question examples
How have you progressed with your personal goals this week?
What can I do as a manager to help you achieve your goals?
Where do you see yourself in your career in one year's time?
What's the first step in achieving your next career goal?
Do you have any fears in achieving it?
Management feedback question examples
Is there anything that I can teach you?
Are there any specific skills you'd like to learn?
Is there a way I can be a better manager?
Do you like my management style? If not, what do you prefer?
Is there anything else on your mind?
These are just some examples of ways to regiment your meeting to a degree and get some valuable conversations flowing. Tailor them to your specific situation as needed.
Tips for productive 1:1 meetings
Remember that these meetings are all about human care, getting to know and creating a space for employee development. You want them to have psychological safety during a one-on-one conversation and know that they have a manager who is personally invested in them.
Not all meetings will be a fun catch-up. Sometimes they may need to include a difficult conversation, but on the flip side, they can be a great opportunity to celebrate wins or plan their professional goals.
Here are some extra tips to keep in mind to ensure your time is well spent:
Try to understand what's going on within your team beforehand for more effective discussions during the meeting itself
Approach the meetings as a collaborative effort, especially when planning meeting agenda items
Remember that a manager is a bridge between where the team member is and where they want to be
Always start with a check-in of how you are both feeling
Get updates on employee objectives, particularly on any action items that were set in the last meeting
Don't be afraid to dissect challenges as solving the problem together can be a great way to open up a discussion about how to best help that employee grow or develop
Be direct and ask about team morale, this shows that you give importance to team camaraderie and want to promote healthy collaboration
Recognise and reward wins, as high-performing organisations are supportive and complimentary, enter your meeting with some examples of things the employee did well
There should always be some action items, clear expectations and timelines when the meeting is done. This will help employees stay focused on their career development plan, and you can offer coaching notes to assist further.
Employees can refer to past conversations for performance reviews and contemplate problems on their own.
Organising performance feedback for individual team members
Employment Hero can make your meeting prep and documentation much more organised.
Our performance review software makes it easy for managers to keep up with action items and goals while also offering a calendar.
This makes scheduling effective one-on-one meetings much easier as everyone has transparency into their team's movements.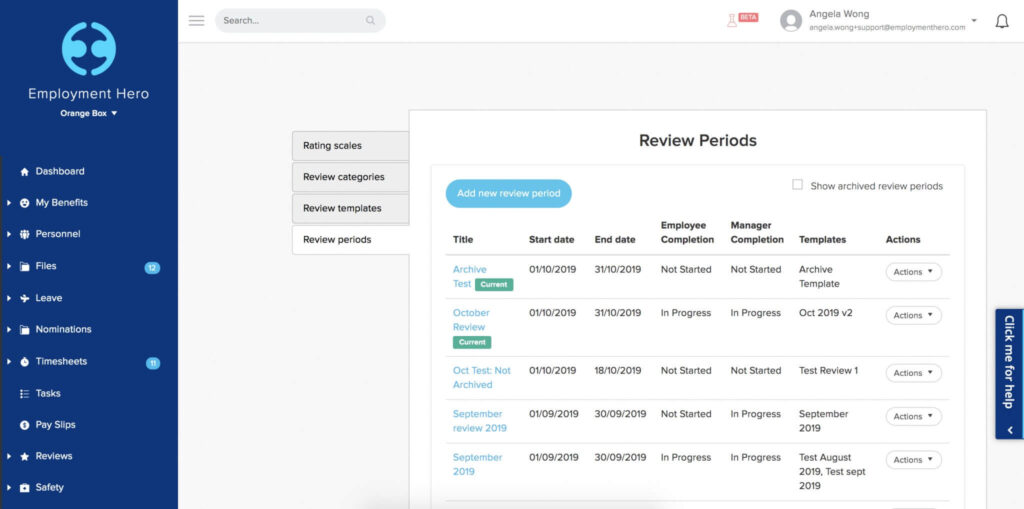 Employment Hero has a digital one-on-one meeting tool built in that helps guide managers and employees through structured and regular meetings, with the goal of providing an environment for bidirectional coaching and feedback.
It offers a range of tools for management teams to run effective meetings and follow-up processes:
Custom fields to record notes and information after 1-on-1 meetings about your employees to keep on top of discussion points and tasks
Organisational charts which allow easy creation of a staff directory
The Hero Passport allows past employees to access important documentation automatically such as payment summaries
A Company Announcements section which allows for updates to be posted about meetings and seen by the whole team
The Company Feed which is a social network style feed to share a range of information, PDFs, documents, videos and more where you can also share insights from the one-on-ones
The Assets Register keeps track of everything owned and used by the company from phones to cars
The Tasks section makes accountability and transparency easy. A great spot to list the topics discussed in meetings ensuring collaboration, accountability and productivity
By setting up individual team meetings within Employment Hero, employees are notified of their to-do tasks that were discussed in previous meetings – saving time and keeping people on track.
If you would like to learn more about how Employment Hero can help manage your one-on-ones, click here for a free demo.
Alternatively, you can download our one-on-one meeting template to get your 1:1 meetings started straight away.