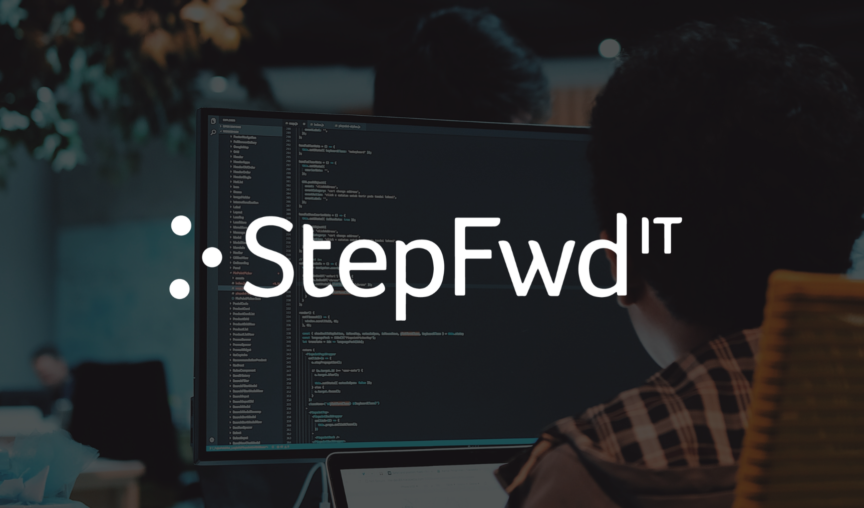 Step Fwd IT delivers services tailored to their clients' needs that allow them to reach — and surpass — their goals. The directors Olivia and Chris Mannering are experts when it comes to providing seamless IT support to their clients. They also know how important employee engagement is to business success. As a family business, the wellbeing of Step Fwd IT's team is crucial to Olivia and Chris. 
"We pride ourselves on being a family-run business," explained Olivia. "Because of that, we want to have a level of engagement with our employees. They're not just an employee, they're part of the family. It's always been very important to me that we're connected." As the business grew, Olivia and Chris were starting to reach the limit of their manual and paper-based HR processes. As IT experts themselves, they started looking for a people management platform that would streamline their HR admin and keep their team connected as they continue to grow. 
HR admin starting to take its toll
Like with most businesses looking for an HRIS, Step Fwd IT had been relying on manual and paper-based processes for their people management. They were already set up with Xero for payroll, but knew there were improvements to be made on the HR side of things. "Everything was a bit haphazard. When we had new employees starting, everything was printed out, handed back to me and then filed. I have a filing cabinet that's as tall as I am with all of the new starter info!"
On top of that, both Olivia and Chris knew that it was time to introduce IT solutions that would support their own business growth. "We'd gone through considerable growth in the business," said Olivia. "I introduced Employment Hero to the team leaders towards the end of 2019 and in 2020, it's really been a lifesaver for both Chris and I from an HR perspective. Not just the program, but the communication and the helpful documentation, procedures, COVIDSafe… All the stuff that Employment Hero has pushed down the line in terms of policies, information and procedures has been so incredibly helpful. That's when we really started using Employment Hero and pushing our team to use it."
Practicing what they preach
Step Fwd IT's mission is to create IT solutions that streamline business processes. Employment Hero hasn't taught Olivia or Chris anything that they didn't already know about employee engagement. But Employment Hero's all-in-one functionality made it so much easier for them to manage.
"We try to only have a single platform as often as possible — and not having 7 windows open to do a single task!" Chris explained. "Having somewhere to put your OKRs was great, but the 1:1 coaching has been invaluable, especially now. It's been really challenging with everyone remote. Employment Hero gives us a platform to have those conversations and regular cadences on comms and feedback from the staff. Often we would get blindsided if people weren't happy in the business. We wouldn't know until it was too late to do anything."
Keeping employee happiness front of mind
Have one conversation with Olivia and Chris, and it's clear that they recognise how vital employee engagement is to the success of their business. "In order for the business to thrive and grow, we all have to be invested," Olivia explained. "But we don't know what we don't know. Whether it's personal or job related, you have to tell us. If you don't tell us, we can't do anything. We can't work to better you or better the system." 
Step Fwd IT's team uses the Employee Happiness Score to communicate how they're feeling at work. The Happiness Score asks employees to anonymously rate their happiness at work on a scale of 1 from 10. They can also add comments to explain their score further. Employers can then continue the conversation if they need more details or want to identify next steps. Because they remain anonymous, employees feel more comfortable to be honest about their experiences. It's human nature to steer away from difficult conversations. The Employee Happiness Score circumvents that discomfort.
"It's been invaluable for our people," said Olivia. "We're an IT business so there are lots of introverts. It's a nice way for them to let them know how they're going, whether it's positive or negative. I'm not expecting everyone to write a comment on why they're feeling good. But if they're below a 4, tell us so we can do something about it."
Happy staff equals happy customers
Ensuring your team is healthy and well doesn't just make your business a better place to work; it turns your employees into brand ambassadors. Especially in customer-facing roles, employees who are engaged are happier and more invested in providing the best service to customers. This is one of the reasons that Olivia and Chris wanted to automate employee engagement through Employment Hero. They didn't need to know the 'why' behind employee engagement; they just needed a people management platform that would champion it. 
"New business is typically generated by referrals," said Olivia. "One of our key mantras is around having passionate staff and I don't think you can do that without doing the things that we're doing. We talk about turning customers into fans, and fans into referrals and we see really good referrals. If our staff love doing what they're doing, they'll provide a better level of service."
By moving their existing values into Employment Hero, Olivia and Chris now have greater visibility over their employees' happiness at work. Because of that visibility, they're also making it easier to reward and recognise their employees when they do amazing work. "We're doing Shout Outs, Recognitions and now pushing Hero Dollars. With everyone working remotely, it's so easy to put the blinkers on and get lost in your own world and the monotony of never leaving your house. Now we're able to be more aware of what the team is doing."
"We used to catch up once a year in a traditional review," said Chris. "You'd say 'Ok, let's pull out the folder and see what was done and what wasn't.' Having that weekly, fortnightly and monthly catch up gives us much better visibility on how everyone is tracking."
Striving for success despite the times
Olivia and Chris's approach to employment is exactly what is needed as we navigate our way through COVID-19 and beyond. Businesses that recognise the value of employee engagement and its impact on overall performance are the ones that succeed. Employment Hero's all-in-one platform gives small businesses like Step Fwd IT the tools they need to engage their team, streamline HR admin and stay compliant — all without an HR headcount. 
"It's given us a platform to do things as a young IT company we wouldn't be able to do without a dedicated HR resource," Chris explained. "The team leaders and myself have found it all really useful to manage a team remotely."
If you're a family-run business that cares about its people and wants to provide them with everything they need to succeed in their role, speak with one of our small business specialists today.