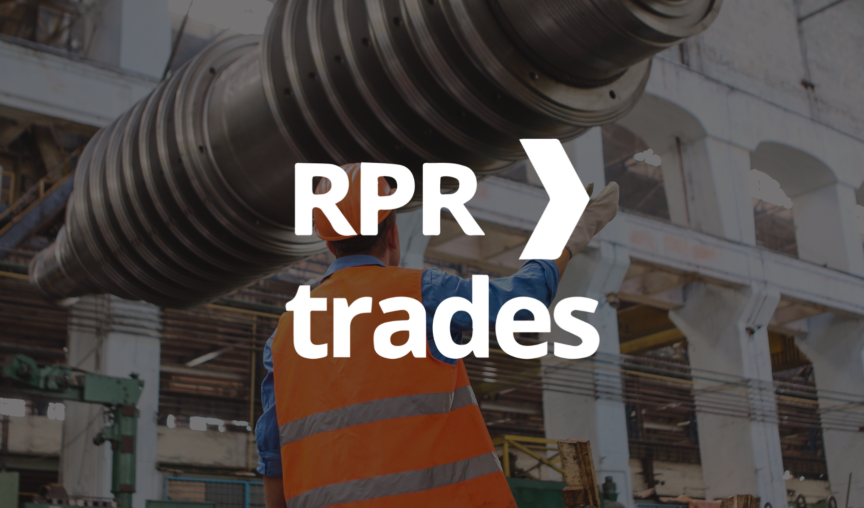 For over three years, RPR Trades has been delivering the best of the best when it comes to industrial workplace solutions. RPR's commitment to company values and its five pillars of success underscores everything they do, ensuring that their services always go above and beyond their clients' expectations.
With recruitment being one of the primary functions of RPR Trades, it should come as no surprise that their staff are at the forefront of their company values.
"RPR Trades is a company where people come first," explains Corporate Services Manager, Hayley French. "The people we work with and the clients we engage with to assist their business make it all worthwhile."
RPR Trades has eyes on expanding into the more markets. As with all small to medium-sized businesses looking to scale up, an HRIS is an important piece of the puzzle when it comes to expansion. For Hayley, whose role covers a number of different roles, no day is the same.
"A typical day for our business is all about us working with clients to get thorough job briefs so we can supply them the right person, screening candidates, interviewing, reference checking and completing summaries to send on to the client. Then it's safety inspections, toolbox talks, site visits, payroll and invoicing."
Challenge
 Drowning in paperwork 
With so much to cover and only so many hours in the day, RPR Trades needed an HRIS that could scale with the business as it grew. Having never implemented an HRIS, Hayley was growing increasingly frustrated with the existing HR processes. Sending documents "left, right and centre" with no way of tracking them, Hayley recognised the existing system was broken – and prone to error.
"We had no consistent tracking method for onboarding documents, training documents or offboarding documents," said Hayley. "It all relied on my organisation – which is good, but we all make mistakes!"
Taking advice from their HR advisor, RPR Trades looked into using Employment Hero, as well as other HRIS on the market. "We did look at a few other possibilities for due diligence purposes, but Employment Hero stood out well above the rest."
After the first demo, Hayley could immediately see the benefit that Employment Hero would have on the business.
"It looked so lovely and clean and easy for people to use. Whenever you're adding another system to an already busy business, you need to consider the ability for people to get what they need fast and the user-friendliness of the system. Employment Hero took no extra brain power from our staff as it was all so intuitive."
Solution
First impressions
RPR Trades signed on for the premium subscription with Employment Hero and with 15 employees and 3 contractors, felt comfortable implementing the platform themselves. Between the demonstration videos and help articles, Hayley was able to complete the implementation process almost entirely by herself. When she did need help, the Employment Hero support team was always there to assist. In fact, Hayley described the entire process as "seamless".
An important aspect of implementing an HRIS is integrating it with your existing payroll system. As well as providing our own payroll system, Employment Hero, Employment Hero also integrates with KeyPay, Xero, QuickBooks and MYOB.
As with every other aspect of the implementation process, it couldn't have been easier for RPR Trades to integrate Xero with Employment Hero.
"It was literally the click of a button, we turned it on and it just works. Any sync errors we have had are because we haven't allocated a leave type in Xero and it's very easy to fix."
It's important to remember that Employment Hero wasn't built for just employers. It was created to make employment easier for everyone – including employees. For an HRIS to be successful for your business, employees need to find value in it as well. Was this the case for RPR Trades?
"Everyone loves it, It's such a great centralised place for everything; they all love it and find it a great tool to use."
 Value from the get-go
One of the biggest benefits that Hayley has identified since introducing Employment Hero to RPR Trades is the ability to host all the induction material in one place. Checklists allow Hayley to see exactly where her new hires are in the onboarding process and what tasks, including certification or safety training, remain outstanding. This peace of mind is invaluable to Hayley.
Features are constantly being added into Employment Hero, meaning that there are always new functions built to streamline unnecessarily cumbersome HR processes. Since signing with Employment Hero, the platform has launched reviews, which Hayley is eager to use.
"I am really looking forward to performance reviews being a real positive within the business."
Also on the agenda is better utilising My Benefits, a suite of employee-centric features that gives employees the tools to make their pay check go further. Employees have access to benefits, health and wellbeing articles and discounts on everyday items from movie tickets to home loans.
Impact
The future is looking very bright for RPR Trades. "It's a really exciting time," explains Hayley. "We have a great team on board and a lot of really good wins coming in the pipeline." With the bulk of their HR processes now streamlined by Employment Hero, RPR Trades can focus their energy on doing what they love – providing exceptional service to their clients and on-hire employees.
"Employment Hero is a company who understand the different challenges facings companies of all sizes," said Hayley, who has some advice for anyone else that is thinking of signing up with Employment Hero.
"Definitely go ahead, do the demo and check it gives you what you need – then dives in. Your life will be so much easier!"
Want more Employment Hero info?
As you can see, Employment Hero is great for your business. We've helped tonnes of businesses improve their HR processes with our all-in-one HR, payroll and benefits software. Our HRIS helps small business people make the best of their time at work. You can streamline your onboarding, admin and more, and we think you'll love it, based on plenty of 5-star reviews.
Save time, help stay compliant and keep your employees happy with Employment Hero. It really is that simple.
If like RPR Trades you want to make your life – and employment – easier, book a demo today.👇