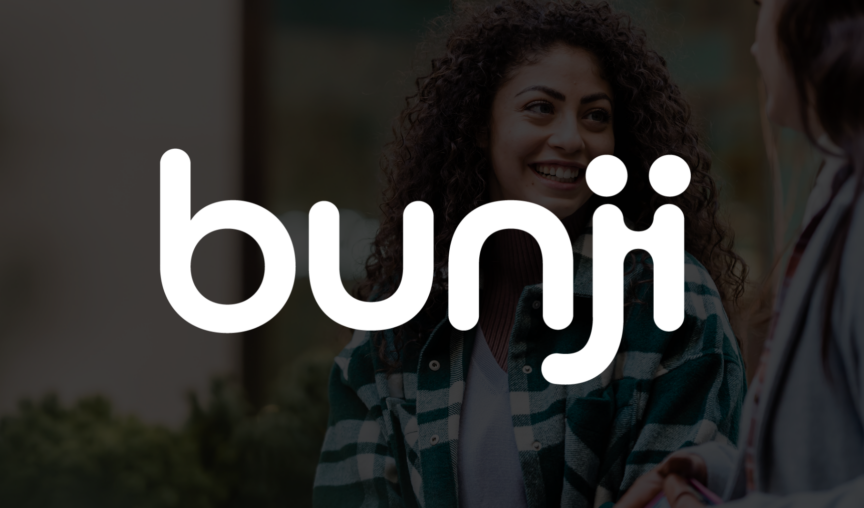 Bunji
Wollongong, NSW, Australia
45
Explore this case study if:
Your business is growing and you need HR software to help you manage recruitment, onboarding, payroll, policies and training
You have huge growth plans on the horizon and want to get prepared for scaling the business
You want to empower your employees to manage their own data through a self-service app
About Bunji Solutions
Established in 2019, Bunji Solutions is a NDIS disability service provider supporting participants across a range of social, community and in-home settings. They also deliver capacity-building programs, service coordination and employment support, whether that's through social groups in the community, helping young people into employment or taking people away on holidays. 
Their primary goal of providing home and community-based care helps people live their life to the fullest – with everything they do centred around giving the best care and experience possible. 
With such a strong mission and set of company values, making sure they have the right people in their team is essential for their success. Having grown from 8 staff and 30 participants, to 40 staff and 125 participants, Bunji were looking for a way to streamline their people management processes. 
We asked Ryan Kiddle, Head of Operations at Bunji, about the difference Employment Hero HR and Payroll has made to their business.
Challenges
Growing pains that come with scaling…
Like with any period of business growth, the team at Bunji were starting to notice the growing pains that come with scaling a business. The process of managing employment during a period of high growth was time consuming and challenging.  Coordinating staff recruitment, onboarding, payroll, managing policies and training were just a few of the areas that they were looking to automate and improve. 
Admin time was taking time away from providing care to clients
Providing a high level of support to their participants is the number one priority for the team at Bunji. However, with lots of time spent on administrative tasks, this meant that it was taking away extra attention that could be directed to participants. 
"Bringing on Employment Hero has been a godsend for us. It allows Bunji to have a fully automated, self-service portal for our employees, for training, for payroll, for everything… It means that the management team has more time to be able to focus on the people rather than the process. It just simplifies everything."
A distributed team that needs to stay connected
The team at Bunji can often be working in remote locations as they don't have a set office or workplace. With this in mind, keeping the team connected and ensuring that no one feels lonely was a priority. Having software that could keep everyone in touch was something they were looking for – especially when their team members were in isolated locations.  
But it's not just the social aspect of keeping connected. It was ensuring that everyone could access important information like policies, training and their own payslips on the go, "having that palm of your hand is fantastic and makes life a whole lot easier for them". 
Solutions
A simple recruitment process that puts an end to manual sorting
Hiring at scale is no easy feat – and the team at Bunji knew how important it was to find the right people to fill open positions. Having a system that could automatically filter through standout candidates was a game-changer. 
"We link straight in to SEEK to recruit now – and the whole process, from the staff member applying, to the phone screen interview, the in-person interview, and finally making the offer – all of that is all organised through Employment Hero. There's no manual function where we have to sit down and discuss anything. We review the applications, we push it through the phone screen interview and our people and culture team are able to see who we want to interview."
What was once a time-consuming process has been automated with Employment Hero. 
New hires are up and running in no time
Setting your new hire up for success starts before their first day on the job. Not only does proactive onboarding give a great first impression, it shows that you're organised and that they've made the right decision to join the company. There's also no need for signing paperwork on the first day and running through company policies – all have the ability to all be completed prior to starting. 
"Having a platform like Employment Hero to be able to support onboarding as fast as possible, to the point where they've read their key policies and are ready for induction – well, that's a huge win for us, because it means that we're able to draw the good talent in as quick as possible and get them started with us ASAP."
The best part about getting new hires set up and onboarded with Employment Hero? The great feedback Ryan receives about just how easy it is to use and how much they've improved their process – "our onboarding processes are now streamlined, saving up to 3 hours on average per recruit."
Training that employees can complete in their own time
Working in the industry that Bunji operates in requires mandatory training to be completed by their employees. With Employment Hero, they have everything stored securely in one place, keep records of completed training modules and also assign training material. Once complete, everything is saved to the employee file, making it easy for auditors to assess all records – it's been a compliance gamechanger for them. 
With so much to learn, having easy access to training modules on the go has been instrumental in ensuring the Bunji team give the best support – "our 35 staff have the ability to access over 200 hrs of training resources directly through Employment Hero."
One app that can do it all 
Implementing an end-to-end HR and payroll system allowed Bunji to streamline their people and culture function, payroll and policies, whilst giving their team the ability to access a self-service portal. This meant that they could give more time back to focusing on their participants, rather than clunky employment administration. 
Having one app that securely stores everything in one place was essential for the Bunji team. With over 50,000 hours dedicated to supporting 125 participants annually, saving time on employment-related admin was a priority. 
"Employment Hero has been a lifesaver for Bunji. Before Employment Hero, we were struggling to coordinate our staff recruitment, onboarding, payroll, policies and training, even as a small startup. We'd been feeling a number of growth pain points and increased administration burden limiting our ability to strategically position ourselves for scale."
"Being a self-service portal for our staff also means we have more time to focus on the support of our participants who rely on us as their provider."
Employment Hero is helping businesses achieve their growth plans with streamlined HR and payroll processes
This case study was submitted under the Grow category in the 2022 Transformation Awards by Bunji Solutions. 
The Transformation Awards was established to recognise the inspiring achievements of our customers from around the world. These annual awards are a great way to showcase and recognise the remarkable efforts of our customers, applauding businesses who've transformed their overall employee experience, scaled their business or increased community impact using Employment Hero.
Want to get involved in the 2023 Transformation Awards? Keep an eye out on upcoming editions of the customer newsletter for more or check out last year's award categories here.  
Your HR and payroll helping hand that will grow with you 
Growing a business is tough, but we're here to support you every step of the way. Employment Hero freed up precious time for the growing Bunji team, allowing them to focus on providing high quality support to their participants. 
At Employment Hero, our customers are at the core of everything we do. From our sales executives, HR and payroll education team, right through to implementations and support – we're ready and waiting to help you reach your ambitious goals. 
Like Ryan and the team and Bunji Solutions, we're always striving to be better and innovate. If you'd like to learn more about how Employment Hero can transform your HR and payroll processes, speak to one of our business specialists today.