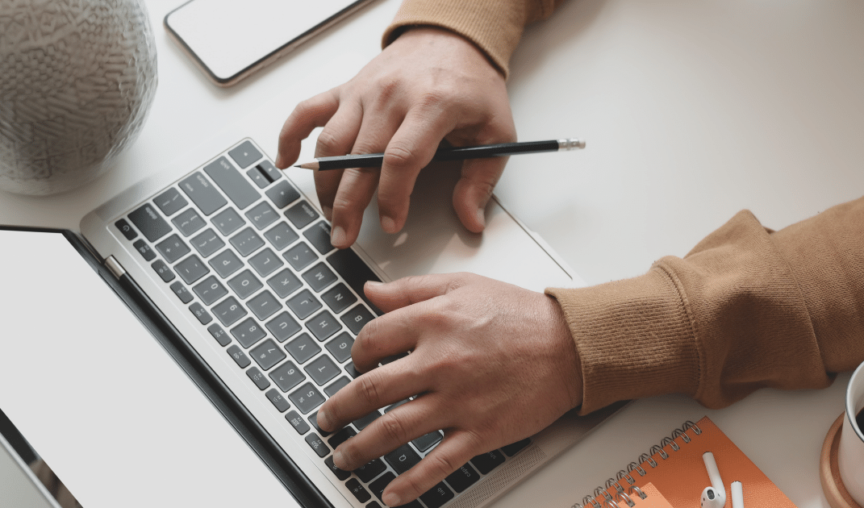 Hello and welcome back to the Employment Hero monthly product update! Like with any new month, we've got lots of exciting updates to share with you.
In our September product wrap up, you'll learn all about the new and exciting improvements to our applicant tracking system, the introduction of our one-click careers page and updates to our documentation templates.
If you'd like a quick overview of some changes in September, take a look at the video below. If you're looking for something more comprehensive, continue reading or check out our help centre.
New updates to our Recruitment module (ATS)
We all know that recruiting and hiring right now is tough. Talent is more scarce than ever, so it's never been more important to be across every stage of the candidate journey. Losing top talent due to clunky processes could cost you and your tea – both now and in the long run. That's why we're as committed as ever to continually update our ATS. This month we have lots of new features, all designed to help you attract and retain standout talent.
A new addition to the Recruitment module is the optimisation of posting SEEK adverts. Recruiters can now add screening questions to the job advertisements which candidates must answer when applying for the role. Those who don't qualify can also be auto-disqualified. Learn more about SEEK screening questions here.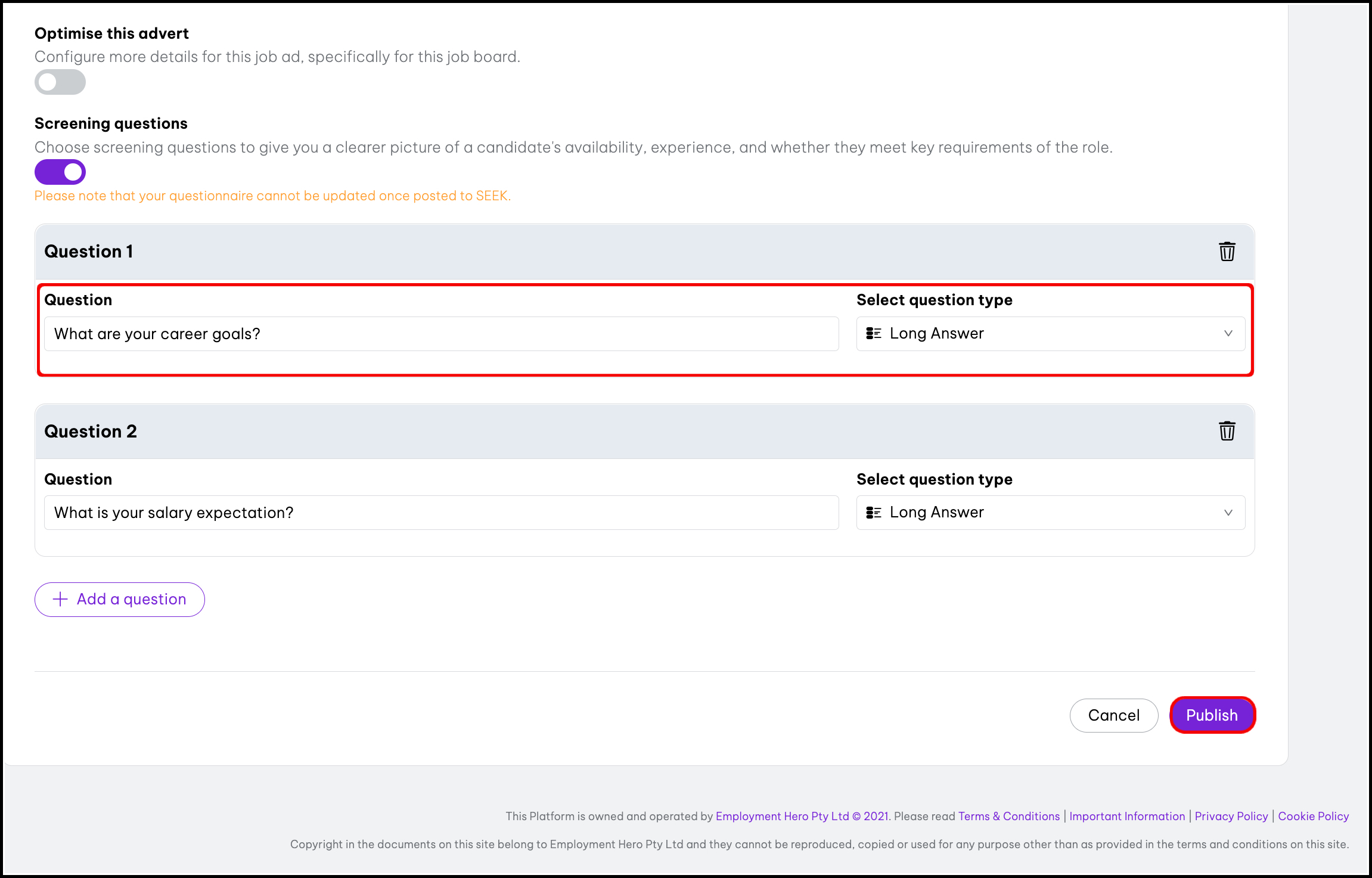 Choose your Screening Questions
We've also worked on improving the user interface of our Recruitment module to make the workflow easier and more efficient. You can now add in team members to the Create-a-Role workflow, prompting recruiters to allocate hiring managers and collaborators to new roles.
Following the success of our beta Microsoft Outlook Integration feature, we have now introduced another beta feature – Candidate Communication Standard. You can use this feature to email candidates from within the Recruitment module without having to connect your HR Platform to a Microsoft Outlook account.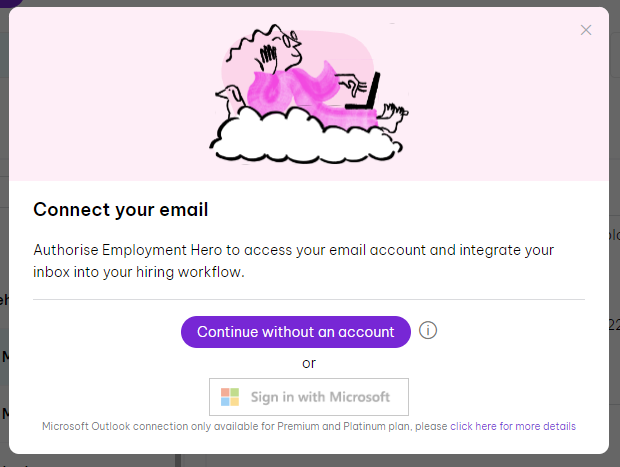 Connect your email or continue without an account
We've also given applicants the ability to upload certifications earlier in the candidate process, during the 'find work' phase. This allows qualified candidates to stand out of the crowd by proving that they have the skills and qualifications required pre-hiring. This also saves recruiters time as they can clearly see who has the right qualifications for the advertised role.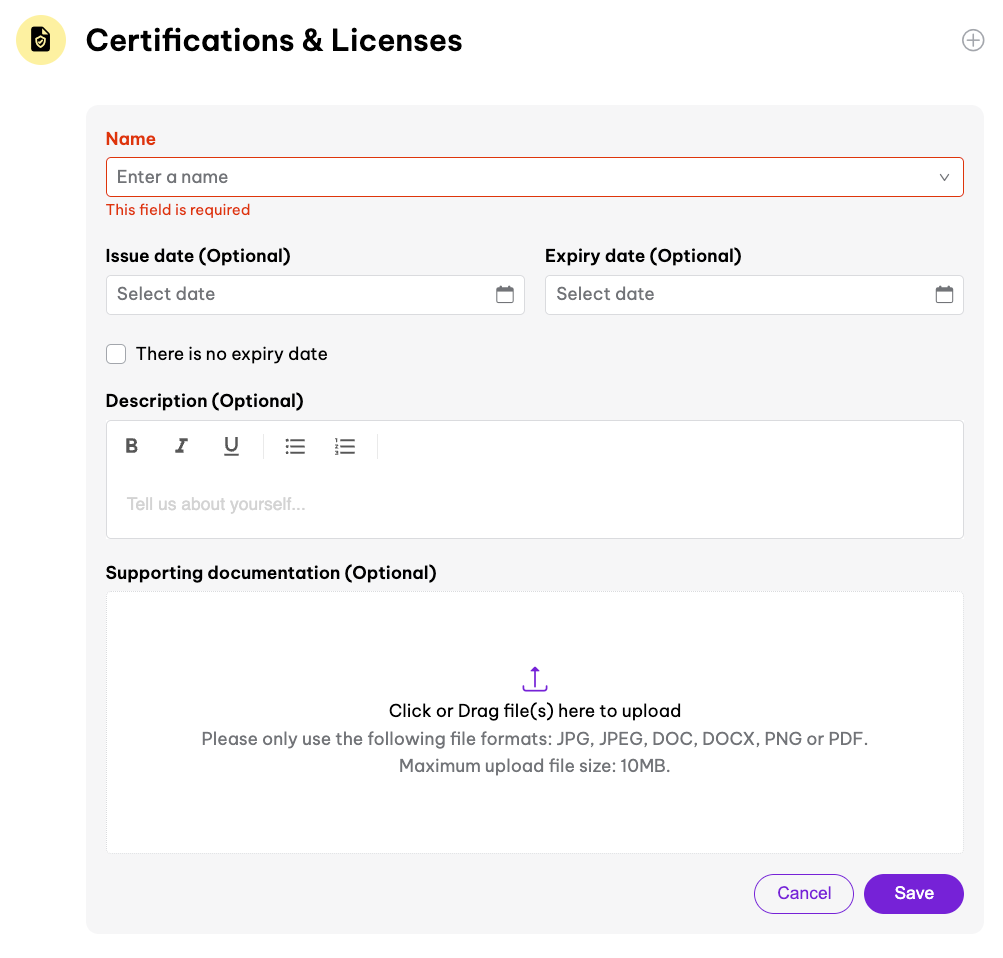 Candidates can upload certifications here
And lastly, we've now introduced the option for you to upload a job advertisement with the specific workplace type. Choose from remote, hybrid or on-site roles, so you can let your candidates know where they'll be expected to work from. This feature can open up your role to a world of talent if you choose to hire internationally. Looking to broaden your talent pool and hire anyone across the globe? Our Global Teams service has the power to hire employees internationally, opening you up to a world of talent.
Not sure how to get started with the Recruitment and ATS module? We've also now added a walkthrough that shows you the basics and getting started.
Activate your careers page in just one click
Getting your job ads in front of ideal candidates is crucial for finding top talent. That's why we've made it easier than ever to create your career page. In just one click, you'll be able to create a career page for your business and any open roles.
From the job boards page, you can select a one-click prompt that will ask you if you want to customise your company's careers page. You'll then be prompted to add a company overview and logo to grab the attention of your candidates.

Updates to documentation and templates
We're as committed as ever to make sure that the documentation we provide to our customers aligns with the legislative, statutory and regulatory environments we operate within. This includes template amendments to improve accuracy and relevancy across all regions.
We've made updates and changes to a range of different document and template types including employment contracts, HR guides, HR work policies and HR documents. You can see the full list of documents we've updated here. 
Keep track of changes with the superannuation audit trail
Staying on top of changes to employee superannuation details can be time-consuming. Now, you'll be able to see the audit trail of super details updates. This can help increase efficiency as you can clearly see what fields have been updated and when.
Follow along every month for the latest and greatest product updates
We want our customers to get the most out of our platform. Whether it's HR, payroll or benefits, you can expect to find new updates here – all designed to make your world at work easier. If you'd like to stay up to date with all of our content, you can visit our resource hub or follow us on LinkedIn.