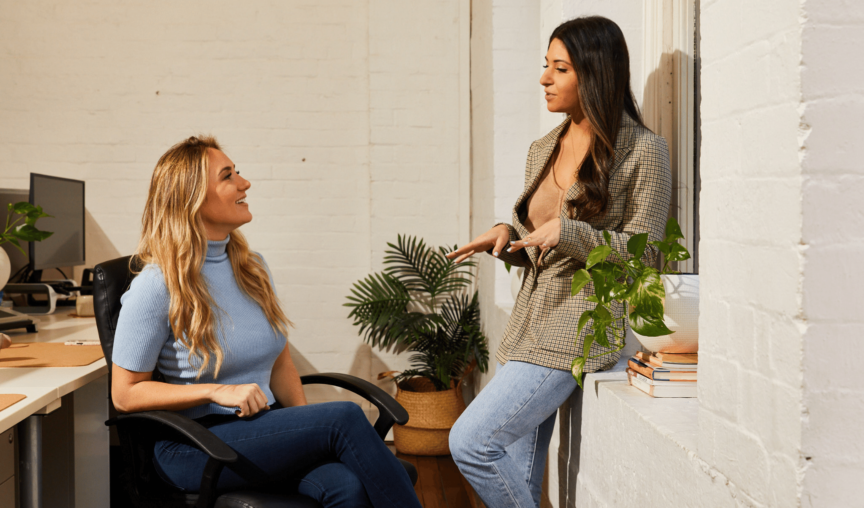 Although it can feel like a sting of rejection, employee resignation is just another part of being a leader. People quit their roles for all sorts of reasons, and even a company with amazing turnover reduction strategies will lose people from time to time.
The Great Resignation phenomenon – which is seeing record numbers of employees leave from their roles – is well underway. It's extremely likely that you'll see higher levels of resignation over the next six months, which is why it's so important to put a plan in place for your employee offboarding process now.
What is Employee Offboarding?
Offboarding is a collaborative process between the resigning employee, their manager, human resources and the employer. It covers everything that happens from the employee's resignation through to their final day at the business.
The offboarding process is a combination of administrative, practical and communicative tasks. Not every offboarding will be exactly the same, especially when you look at the two kinds of employee departure; voluntary and involuntary.
A voluntary departure would see the employee hand in their resignation, with a notice period that was set out in their employment contract. An involuntary departure would see the person's employment be terminated, possibly due to misconduct or poor performance. It could also be a result of them being made redundant.
Involuntary departures are difficult situations to tackle as an HR professional or employer, and call for case-by-case considerations for offboarding that should be arranged with an employment law specialist. In this article, we're talking specifically about voluntary departures.
The importance of having an employee offboarding checklist in place
Offboarding is a detailed process made up of many moving parts. Today, we'll be going over the process for a successful departure, but for best practice, you should always use an offboarding checklist. This will make sure that no part of this important process is forgotten.
Employment Hero has an on-platform offboarding checklist. Never miss a step in the offboarding process, and customise your checklist with any additional offboarding tasks that are unique to your company. You can assign the checklist to the departing employee, set due dates and keep track of what still needs to be done. It's your easiest, and most transparent, offboarding process ever.
What are the steps to a successful employee offboarding process?
Here are the core elements of a successful onboarding process, so you can send off your team members and gain valuable feedback along the way.
1. Organise an exit interview
Exit interviews have traditionally been quite an awkward meeting full of cringe-worthy silences, but they really don't have to be. These meetings are a golden opportunity for honest feedback. As the employee's responsibilities wrap up and they take a backseat in the business, they are more likely to speak candidly.
When you ask about their personal experience, their view of their department and the wider business, and their role – you're likely to hear about potential red flags you've never considered, or be made aware of behaviour you've never been privy to. You're not going to get that kind of insight every day.
2. Communicate the departure date
Don't let rumours or chatter cloud your employee's departure.
Soon after the person has resigned and their direct manager – and the HR manager and the employer are made aware – write a considered email or message to announce the person's resignation to the team.
This step can often be forgotten in the rush of offboarding admin, but it's an essential one. It encourages transparency in your team and communication throughout the business.
Struggling to find the right words? Download our complete Guide to Employee Offboarding to access our employee departure email announcement template.
3. Transfer the employee's knowledge with a detailed handover
Most of the time, a leaving person's role will be unfilled for a period of time, meaning that responsibilities must be passed on to other team members and then their replacement. In order for a role to be completed to the standard as your leaving team member, a knowledge transfer process is essential.
Once you've decided how your employee's work will be distributed, host an initial meeting with the person who is leaving and the people to whom their work will be allocated.
Make a list of tasks that are part of the person's everyday workload and allocate them to the new owners, then create a cloud-based, accessible (but secure) place for the team to access the departing person's work and documents.
4. Notify the person's external contacts
Your departing team member is likely the person of contact for many customers, clients and vendors or suppliers. Especially in the case of customers and clients, it can be a bad look if their main contact at your business just disappears.
Make sure that your staff member is notifying them of their departure and passing on the contact details of the next relevant person.
5. Recover company assets
It can be difficult to get a hold of equipment after your employee has left, especially if that employee is moving abroad for their next role. Make sure that before or as they are finishing, you can recover any company equipment, including; laptops, office furniture, keyboards, mobile phones, credit cards, uniforms and any other items that the company has given them for their role.
Employment Hero's Asset Register feature allows you to create a list of assets owned by your organisation, specify the code, the category it falls under, the purchase amount and the name of the item owner. With filtering, viewing and uploading options; it's the easiest way to keep track of equipment around your business.
6. Update your org charts and company directory
Many companies, especially those that have employees working remotely, rely on up-to-date organisational charts and company directories. These should always be a source of truth, so don't forget this quick but important bit of admin after your employee has departed.
7. Complete final payment process
When your employee finishes up with your business, they will need to be paid out any entitlements, which may include annual leave as part of their last paycheck. Always check in with a finance or payroll expert to make sure that you're processing your employee's last payroll according to local compliance.
When you use Employment Hero Payroll, you can easily view and process compliant payments, and the relevant records will be stored within the platform.
8. Thank the departing employee
Creating a special moment for your team to acknowledge the person's departure and celebrate their time with the business is really important. It's an essential part of showing that you have respect and appreciation for everyone in your team, no matter where they are in the employee lifecycle.
Make sure that you organise a virtual or physical farewell for your departing staff member. Schedule the farewell event within work hours, so that you can have as much of your team attend as possible. If your departing team member's last day is a Friday, Friday afternoon drinks are the perfect option.
At their farewell party, present the person with a card (or virtual card) signed by the whole team and a gift from the company. This will have them leaving with fond memories and good sentiments around your business.
Looking for more intel on how to send off your employees in the best way? Watch our Talent Wars 2022 panel discussion on how to help your exiting employees depart with care.
9. Provide letters of reference and exiting documentation
This is the final thing that you can do for your departing employee. Assuming you are happy with the work that they did for you during their tenure, be sure to offer to provide letters of reference. This is the best way to finish a positive offboarding experience and turn your exiting employee into an advocate for your company.
10. Keep in touch
Now that the offboarding is over, so is your relationship with your former employee, right?
Not necessarily. We strongly recommend keeping in touch with your former employees if you are able to do so. Especially if you left things on the best possible note (due to an epic offboarding experience), you should maintain a relationship even as they pursue their next step.
There are also the general networking benefits of maintaining a friendly rapport with the departing staff member. Doing so makes it much easier to reach out to them to see if they know anyone that might be appropriate for a role you're recruiting for, or for possible mentorship opportunities for your current and prospective employees.
An easy way to do this is to connect with them on LinkedIn if they have one. This makes it easy for you to keep up with them and their professional achievements.
It's never fun to say goodbye…
…but it can be a positive experience for everyone involved. If you get it right, you could even improve your overall workplace morale or, even better, see team members boomerang back to your business in the future.
We've only scratched the surface of the offboarding process. To give yours a total refresh, download our free ultimate guide to offboarding; it includes all the information, templates and tools you need to master this essential HR function. Download the guide here.
Disclaimer: While due care has been taken in preparing the document, no responsibility is accepted by the author for the accuracy or suitability of the information contained. All liability is expressly disclaimed for any loss or damage which may arise from any person relying on, using or acting on any information contained therein.