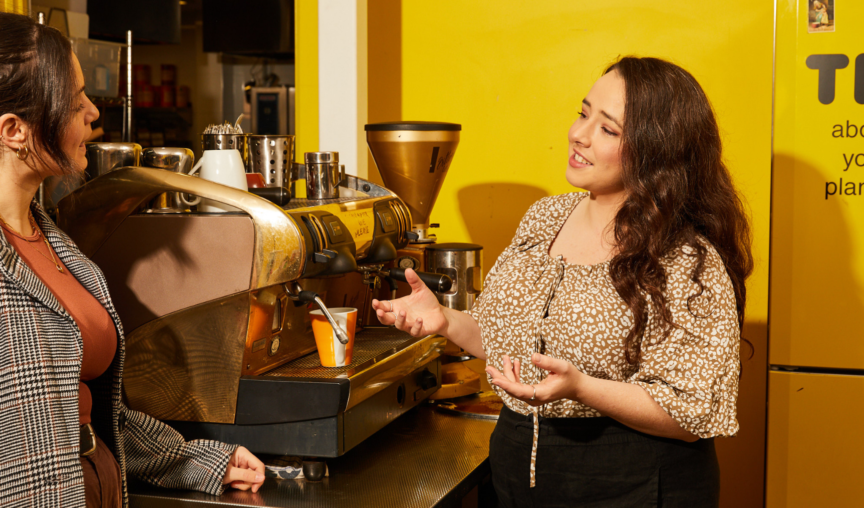 Everyone's heard about those who've jumped ship from their industries during the pandemic.
There are the big dreamers – like those who've jumped out of corporate careers and into cheesemaking in remote locations – but there are just as many people who've decided to pivot their career paths and pursue another industry.
Even though the pandemic is stabilising in many countries, this trend is far from over. Our Employee Movement and Retention Report found that 28% of workers would like their next role to be in a different industry. With 48% of workers looking for a new role within the year, this could see a significant amount of skills movement.
Pandemics cause unprecedented shifts in society, and the workplace is one of the key areas in which we're seeing transformation. Along with the jump to remote working, which is likely to become a permanent fixture in businesses across the world, we're also seeing a dramatic change in employee mindset when it comes to career.
For millennial and Gen X employees that tried to develop their careers during the recession of the noughties, a historical mindset of job scarcity and anxiety is fading away. As we enter a period of post-pandemic growth, there are more job vacancies than ever and subsequently, more opportunities to seek fulfilment. According to research from Gartner on employee attitudes, 65% of workers are rethinking the place that work has in their life.
It's our theory that rather than job anxiety, in 2022, workers are experiencing 'fulfilment anxiety'. After the disruption of the pandemic they're questioning their career paths and wondering; could there be something better out there for me?
What is occupational wellness?
Occupational wellness is the antidote to fulfilment anxiety. Occupational satisfaction, or occupational health, can be defined as how fulfilled you are by the work that you are engaging with. It measures how strongly you associate with the values, beliefs and goals relating to the work that you do.
Occupational wellness is one of the key Seven Dimensions of Health, along with physical, mental, financial, spiritual, recreational and relationships. By recognising occupational wellness, we acknowledge that our work has the ability to influence our overall feeling of life satisfaction and wellbeing.
How to identify poor levels of occupational wellness?
Are there any warning signs of poor occupational wellness that could signify your staff member is about to jump industries? Keep your eyes peeled for these red flags.
Productivity
Maybe once your employee was going above and beyond in their role, but now they are doing the bare minimum. Their timelines might stretch out, and their work may be returned unpolished.
Team interaction
Engaged team members play an active part in team discussions. If your employee has stopped contributing to conversations or brainstorming sessions, this might be a big red flag, signalling their head may be elsewhere.
Opportunity uptake
When your employee is offered coaching or development opportunities in their area, do they want to take them up? Are they instead showing interest in skills or courses that are outside their area, or maybe they don't want to sign up for training at all?
How can we retain industry-switchers?
So, you've noticed that your team member is displaying some of the above behaviours. What can you do to refresh their interest in being on your team?
Be open to movement within your business
It's much better to keep great talent within your business by reappointing them, rather than losing them to another company. There may be training costs and a learning curve, but keep in mind – the person already knows a lot about how your business operates and its processes.
Talk to your team member about their role, and ask if there's any other area of the business that they're interested in exploring. Talk about how you could make their move easier with internal mentorship, a gradual transition or job-sharing.
Evolve their role with on-the-job training
During the discussion with your team member, you might find that they are open to evolving their role instead of jumping industries. They may have started thinking about other industries because they have outgrown their current role.
Maybe you could add or remove responsibilities, give them ownership over a part of the business or set up a promotion pathway. If they're not ready to step straight in, consider what on-the-job training opportunities they could pick up to make it an easy transition.
Be open to flexible working in terms of location or time
Sometimes, a desire to jump industries might be confused with a desire for more work-life balance. During the pandemic many people decided that they wanted to invest more time in hobbies, seeing family and friends or starting a side hustle. They might believe that the only way to do that is to switch roles or industries.
If your employee seems like they're looking elsewhere, float the conversation about increased flexibility. Would they like to drop to three or four days a week? Would working from home all or part of the time give them greater access to their personal interests? Reach a resolution and then confirm it with a remote working agreement.
Reiterate your company's values and mission
If you're concerned about losing staff to fulfilment anxiety, it could be a good time to reiterate your company's values and mission.
Values have the power to shape decision-making, attract and retain talent and motivate your employees. The most common values are integrity, boldness, honesty, fairness and trustworthiness, but there's no shortage of values to choose from. What's important is that they're clearly communicated, embodied by leadership and reinforced frequently.
Everybody wants to feel like they're a part of something and working towards a meaningful goal. Without clear values that come to life within the business, it can be difficult to remember the why of it all. Consider organising a fun catch-up where you can open up the conversation about the company's values and how they can be incorporated into working life.
The career path has changed. For good.
Since the stress and disruption of the pandemic, workers are looking for a greater sense of fulfilment – and that's a positive thing. It's no longer a reasonable expectation that a person will have one career for life. But with change comes refreshed thinking, more opportunities and dynamic workforces.
It's an interesting time for employers to think about employee engagement through the lens of employee fulfilment, happiness and balance.
Over the next couple of months, we'll be diving deeper into everything you can do to support employee wellbeing at your organisation. Keep your eyes on this space, and in the meantime, check out our Workplace Wellness Pack.
Workplace wellness bundle