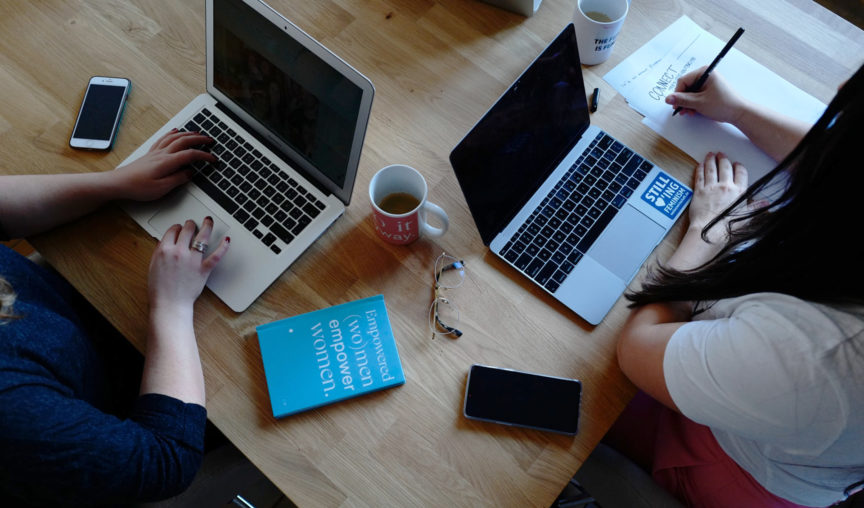 Have you ever heard of 'Blue Monday'?
Blue Monday is a modern phenomenon that indicates that the third Monday of January – in 2021 this falls on January 18 – is the most depressing day of the year for employees around the world.
After the holidays, workers can feel a sense of sadness about settling into the work year and start longing for their next vacation. While the term was actually coined by crafty travel marketers, there's some truth to the feeling of waning motivation after the initial glow of new year's resolutions has worn off.
The silly season is in the rearview mirror and the end of the year is nowhere in sight.
Employees are likely to be standing at the bottom of a mountain of goals, looking up into the chaos and possibly feeling exhausted in advance.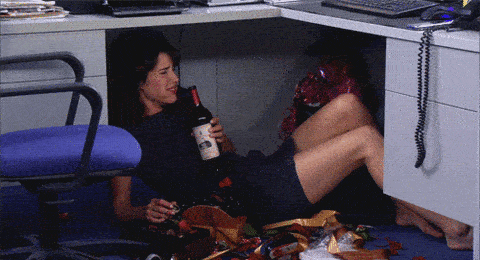 Let's avoid this situation, shall we?
But goal setting doesn't have to be this way. Your team doesn't have to make a huge to-do list and then mindlessly plough away as the year goes on. In any case, they're not likely to stay motivated if they do.
All companies need is some strategic thinking to unite their goals and structured habits to keep them motivated and on the right track.
Come in habits from the book "Mastering The Rockefeller Habits", the habits and goal-setting system are credited for supercharging the growth efforts of world-leading businesses. Never heard of them? We're here to help!
Let's break down exactly what Rockefeller Habits are and how they can quickly scale up your business, set up amazing routines for your team and help boot the January blues.
What are the Rockefeller Habits?
"Don't be afraid to give up the good to go for the great." – John D.
Rockefeller Entrepreneur Verne Harnish was inspired by the leadership principles set out by John D. Rockefeller, a businessman renowned for his management skills (and the fact that he was likely the richest man in history).
America's first billionaire, the oil tycoon was known for his honesty, perseverance and kindness towards his employees. In 2002 Harnish authored 'Mastering the Rockefeller Habits: What you must do to increase the value of your growing firm', solidifying the principles he had been using to help major businesses grow quickly.
In the book, Harnish outlined 10 major habits that would help companies create a thriving, motivated and growth-oriented culture. Since its release over 70,000 companies have used Rockefeller's habits to scale up to multi-million and in some cases billion-dollar businesses.
The foundations of Harnish's book, when reduced to a simple formula, are:
Clear Vision (Goals) + Discipline (Routine) = Success
A company that runs on a tight routine would unravel if they weren't working towards a clear common goal. A company that has an articulated vision in mind but doesn't have the organised routines to make it happen will also find its growth stalling.
Companies can hit a sweet spot only when their entire teams know exactly what goals they're working towards and have clearly articulated habits to help them get there.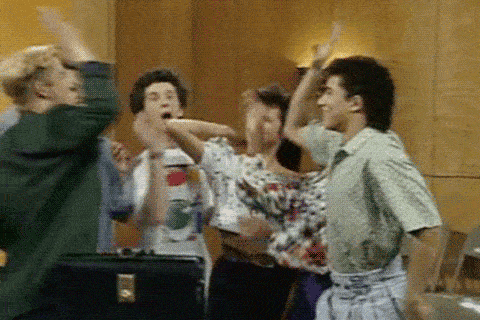 Achieving-your-goals energy.
Which companies use Rockefeller Habits?
'Show us the money!' – we hear you say. We like your enthusiasm. Mastering The Rockefeller Habits is a book that has some famous followers.
Here's how organisations around the world have incorporated Rockefeller Habits to grow.
Atlassian
Australian software company Atlassian has grown rapidly since founders Mike Cannon-Brookes, and Scott Farquhar established the organisation in 2002. Now worth over $42billion USD, the company stands as one of the world's biggest business successes with its founders as masters of the tech boom.
Atlassian's emphasis on core values and purpose hits the heart of Rockefeller Habits, and they have remained constant from when the company had 50 employees to its current count of over 3500 employees.
Atlassian built their core values in their own language, like 'open company, no bullshit' and 'be the change you seek'. Building core values from a sense of purpose help your team act with empathy toward clients and stay on task.
"Scaling up a significant business requires precisely the kind of discipline and focus detailed in Verne's practical and 'how-to' driven book," Scott Farquhar, Atlassian Co-Founder
Rackspace
Dominic Monkhouse used Rockefeller Habits to grow UK tech company Rackspace from four employees to 150 employees. Under Monkhouse's management, the company was recognised as one of the top companies in Europe to work for.
"The Rockefeller Habits were instrumental in the stratospheric growth of Rackspace, taking the company from zero to £26m in only five years in the UK," Monkhouse writes. "I've seen first-hand the difference they make to businesses… I was blown away by their ability to focus on the things that mattered."
Remote Year
Rockefeller Habits helped Remote Year get a handle on the dramatic growth that was challenging the new company. The business, which facilitates travel and accommodation for remote employees, found itself growing faster than it could handle after two successful first years.
With burnout threatening the team, co-founder Sam Pessin used Rockefeller Habits to help the company scale up sustainably. The Rockefeller communication techniques were a key takeaway that helped Remote Year's employees adapt to a boom in growth while keeping their eyes on the company's vision.
"Helping people understand what's going on is so important to a startup these days," says Sam."People want to be a part of it, people want to know what's going on. People want to know what decisions are being made and why they are being made."
Employment Hero
Shameless self-promotion alert! Yes, we here at Employment Hero are big fans of Mastering The Rockefeller Habits. Our CEO Ben Thompson adopted the Rockefeller Habits when we were a company of just 10 employees. Harnish's principles have helped us grow, stay true to our company values and keep our customers' needs front of mind.
The Rockefeller Habits also help us stay focused on our goals, which we consider on a regular and official basis. Ben spoke about the Rockefeller 90-day rule with Entrepreneur Magazine,
"At our quarterly planning sessions, we determine the biggest issue or opportunity to focus on each quarter by answering the same question every 90 days: 'What is the number one thing we can achieve in the next 90 days that will take us as far as possible from where we are today towards where we want to be in one year from now?'"
But enough about us, here's how your company can use Rockefeller Habits to achieve business success.
Let's walk through the key components of each habit
1. The leadership (executive) team is healthy and aligned
The executive team at any company, no matter how big or small, must lead by example to set the Rockefeller Habits in motion – and keep them consistent as the company grows.
This is the reason that, while the rest of the Rockefeller Habits can be completed in any order, having your leadership aligned on company goals and routines must come first. Everything comes from the top!
🎥 Learn how to build high performing team. Watch our webinar on Effective Leadership with our CEO Ben Thompson and business leader (and Rockefeller Habits advocate) Naomi Simson.
On Harnish's Rockefeller Habits Checklist, he outlines the four elements of a leadership team that's poised for success:
Team members understand each other's differences, priorities, and styles
The team meets frequently (ideally weekly) for strategic thinking
The team participates in ongoing executive education on a monthly basis
The team is able to engage in constructive debates, and all members feel comfortable participating
Trust lies at the heart of these items "It is crucial that your team has a level of trust that allows for healthy debates and constructive conflicts," says Harnish.
What's on the not to do list? Red flags that indicate dysfunctional leadership teams include a lack of trust, avoidance of accountability and a lack of attention to results. This is very much the foundation of the Rockefeller Habits.
Master your leadership team's working and communication style and then dive into the rest of the habits in whatever order works best for your business.
2. Everyone is aligned with the #1 quarterly priority to move the company forward
Put a meeting in your calendar every 90 days because a quarterly strategy session is critical in keeping the wheels turning for your company's success.
But what do you discuss in that meeting? The meeting's purpose is to decide on a single goal for the quarter. Within this goal, decide on a 'Critical Number' that you all deem will move the company forward over the next 90 days.
Choosing one goal to focus on for the quarter will keep your employees from drifting off into work that's not relevant to the main priority, it will also give them an easy reason to reject any work that doesn't align with the goal.
When the goal has been decided on, it's time to develop a 'Quarterly Theme' – a phrase that encapsulates the goal and can be used as a motivational mantra throughout the month. Management should then share the details of a reward for the team if they achieve this goal.
For example: Let's say you run an ice cream shop and you want to scale up the business by successfully expanding into the online sales of ice cream cakes.
To reach this goal you need to hit a Critical Number – selling $20,000 worth of cakes over 90 days. Your Quarterly Theme that all staff are repeating is 'Cake it Happen'. Your reward is a nice team lunch on the company, followed by the afternoon off.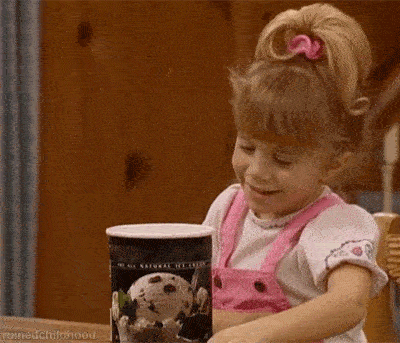 Ice cream is life.
A key component of this goal is making sure the entire team is complete across the goal, why it matters to the company and what each person's contribution is. This transparent approach can keep everybody feeling connected and motivated to make huge strides together.
3. Information moves around the company quickly and accurately
For so many companies, a communication breakdown can spell absolute disaster. A lack of communication can cause your employees to become frustrated, lead to double-handling of work, see a decline in trust and hit employee engagement hard.
At the same time – endless, unstructured meetings are also not very helpful. Regular lengthy meetings can be a time drain and demotivating for busy employees (read: boring). Effective bursts of communication are the solution.
Harnish calls this getting into a communication 'rhythm'. He suggests;
A daily huddle for all employees, this can be done in teams and should last less than 15 minutes
A weekly meeting in which teams take a deeper look into the week's numbers and activities, time this one to last about 60-90 minutes
A monthly meeting in which middle managers and the executive team spend half a day discussing key numbers, problem-solving and sharing information
A quarterly and annual session that spans 1-3 days, where middle managers and the executive team come together to work on the '4 Decisions' – Strategy, Execution, People, Cash
Get into this rhythm and commit to it! Sticking with this meeting routine will help your employees stay on top of important information and encourage them to provide essential feedback.
💻 Are some of your employees working remotely? Check out our guide to managing company goals for hybrid teams. 
4. Every area of the organisation has a person assigned for accountability for ensuring goals are met
"If more than one person is accountable, then no one is accountable, and that's when things fall through the cracks." – Verne Harnish.
As you might be able to tell already, transparency and accountability are key parts of Rockefeller's Habits. All elements of your business should be clearly structured, with different employees taking responsibility for assigned areas.
This habit is helpful for two big reasons.
Firstly, it clearly maps out how responsibility is distributed across the company. Every member of the team should be able to easily recognise who is taking care of which element and each action can be clearly linked back to that team member.
Secondly, it gives employees the chance to take ownership of their area – keeping them engaged and moving forward towards their goal (and the glory of achieving it).
5. Employees have ongoing input to identify obstacles
Your people are your company's greatest asset, don't let their valuable feedback get lost in the busyness of the day-to-day.
Opening your ears to your employees, from entry-level to executive, can make all the difference in creating an amazing business. Diversity of thought is one of the most powerful problem-solving tools you have, so make time to gather these insights.
Conversations should happen on a weekly basis between managers and staff and can be kicked off with the question – "What should the company stop/start/keep doing?" 
Take special note of the 'Stops' your staff suggest, as these are the roadblocks which are stopping them from achieving their goals. Make the discussion a judgement-free, constructive zone where your staff will feel empowered to be honest with you.
Each manager should take notes from these conversations and be able to clearly articulate any concerns to the executive team. Your company's next great concept (or next massive disaster) could be drifting around the mind of a junior staff member.
Don't let their insights go unnoticed. 🤝
What's the best way to gather this feedback? We would recommend a regular 1:1. Use our 1:1 meeting template to get started.
6. Customer feedback data is collected and analysed as often as financial data
You've collected data in the form of insights from your staff, now it's time to unlock the resource that is your customer base. This one's really a no-brainer.
Listening to and acting on customers' concerns, wants and needs is a great way to let them know you care about their experience and refine your product or service for future customers.
Make it a team effort! This Rockefeller habit should be executed across every level of the company, with all employees regularly collecting customer data.
It's easy for employees to disconnect with their customers, especially if they aren't in a customer-facing role, so regularly interacting with feedback can keep their needs front of mind.
Ideally, senior leadership will check in with a customer once a week. These insights should be discussed at the executive team's weekly meeting, and middle managers should be responsible for closing the loop on any conversations.
Remember to regularly give your customers the mic.
7. A company's core values and purpose are at the heart of all tasks and actions
Sure, you want to make money and have a successful company, but what's your reason for existing? It's a bit of an existential question, but your answer should keep your team firmly grounded.
Your purpose should be a clear articulation of your vision – what is the 'why' behind your company? An overall focus on what you want to achieve, this is your long-term goal in a sentence.
Values on the other hand act as a guide for a company's culture and function. A set of core values can help with decision-making, hiring, recognition and overall behaviour.
When you're thinking about company goals or considering tough solutions, your first question to ask should be 'does this align with our values'?
Want some examples? Why not take a stickybeak at Employment Hero's core values?
We work and play as one team – we know that the strongest teams foster diverse personalities, talents and skills. We believe in using our experience to help others achieve their best.
We're ambitious and bold – we want to inspire by throwing everything into achieving our goals. We act with ambition and aspire to continuously learn, grow and strive for excellence.
We invent solutions – It's all about outcome-orientated thinking. We challenge prevailing assumptions and suggest better approaches to get the job done.
We serve others – Our clients are at the centre of everything we do, and we are constantly putting ourselves in our customers' shoes. In fact, we are our own customers, so this is never too difficult!
How To Create Company Values [Free Guide]
8. Employees can articulate the key components of the company strategy
Pop quiz! Can you talk through your company's goals and top-line strategy with ease? If you can't, there's a strong chance that your team can't either. And that's a problem.
To work towards your company goals at speed, fly past your competitors and achieve the growth you want, everyone in your company needs to be clear on the company's strategy.
You can break down your company's strategy into some distinctive elements. A Big, Hairy, Audacious Goal (BHAG). It's a powerful name for a powerful concept – dream big by setting an epic long-term goal for your company.
Thinking in terms of 10 to 25 years, the BHAG can help stop you from dreaming small and open your mind to visionary thinking. It might seem aggressive, but the BHAG should be inspirational – what could you achieve? Why not aim for the stars?
⚡ Can you guess which company has the BHAG 'Organise the world's information?'
Knowledge of your core customer base
You exist to serve them, but who really are 'they'?
As your customers are at the heart of what you do, all of your staff should know a few core profiles and be able to speak to their qualities.
This is where the Three brand promises + your company's elevator pitch come to play.
Do your staff know exactly what your product or service will do for your customers? They should be able to speak to three brand promises that you can ensure for your customers. Can they speak to the company's mission in under 30 seconds?
Mastering the elevator pitch can help employees stay on track with the company's vision and be great advocates for the business.
9. Employees can easily analyse their performance in quantitative terms for the day or week
If your employees don't know how to evaluate their own performance, they're unlikely to be able to grow and improve (or lead the company to do so).
Key performance indicators (KPIs) – clear metrics that measure success – are a classic tool for a reason. Give each employee 1-2 KPIs that they can report on weekly and one personal Critical Number that aligns with the quarterly Critical Number we talked through in habit #2.
Each staff member should know whether they had a good day or week of performance based on these numbers.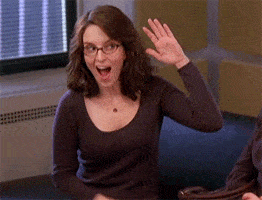 Self-fives all around.
Your managers should be coaches and cheerleaders that help your wider team identify obstacles and opportunities.
This includes monitoring KPIs, looking out for behaviour changes, checking in on wellbeing, keeping accountability and celebrating achievements.
10. The company's plans and performance are visible to everyone
We round out the circle of the Rockefeller Habits by returning to the importance of transparency and communication. This habit urges business owners to make sure plans and performance are made loud and clear to their teams.
You're not likely to forget your company's Big Hairy Audacious Goal if it's written on a poster on the office wall (bonus points for a Big Hairy Audacious Font). Your staff won't lose track of company performance if there are metrics on screens that are always in sight.
The more you can make your goals, values, quarterly themes and performance visible to your staff – the more likely they are to engage with them! Out of sight, out of mind – it's really as simple as that.
If you work remotely, feel free to get creative with it. Maybe there's a Slack channel in which your managers are regularly posting updates. Maybe your quarterly theme is at the bottom of every email update. Start doing it and stick with it for the best results!
Want more details on all of the Rockefeller Habits? Read Verne Harnish's Rockefeller Habits Checklist in full.
Start mastering the Rockefeller Habits
We get it, there are a fair few habits to work through here. Implementing all of the tasks at once is a big task! We get it, and so does Harnish. He suggests starting with Habit #1 of having a healthy and aligned leadership team and working up from there with two habits a quarter.
Good luck! We hope you have a prosperous, productive and amazing year ahead! Employment Hero's complete HR platform is built around Rockefeller Habits.
We can help you achieve your vision in 2022 with software solutions that make people management easy. Let's talk about your goals, book a demo with one of our business specialists today!