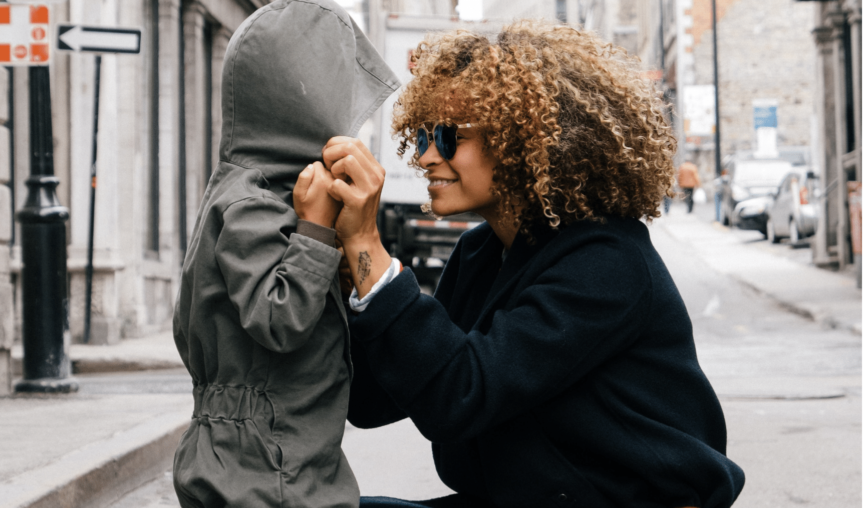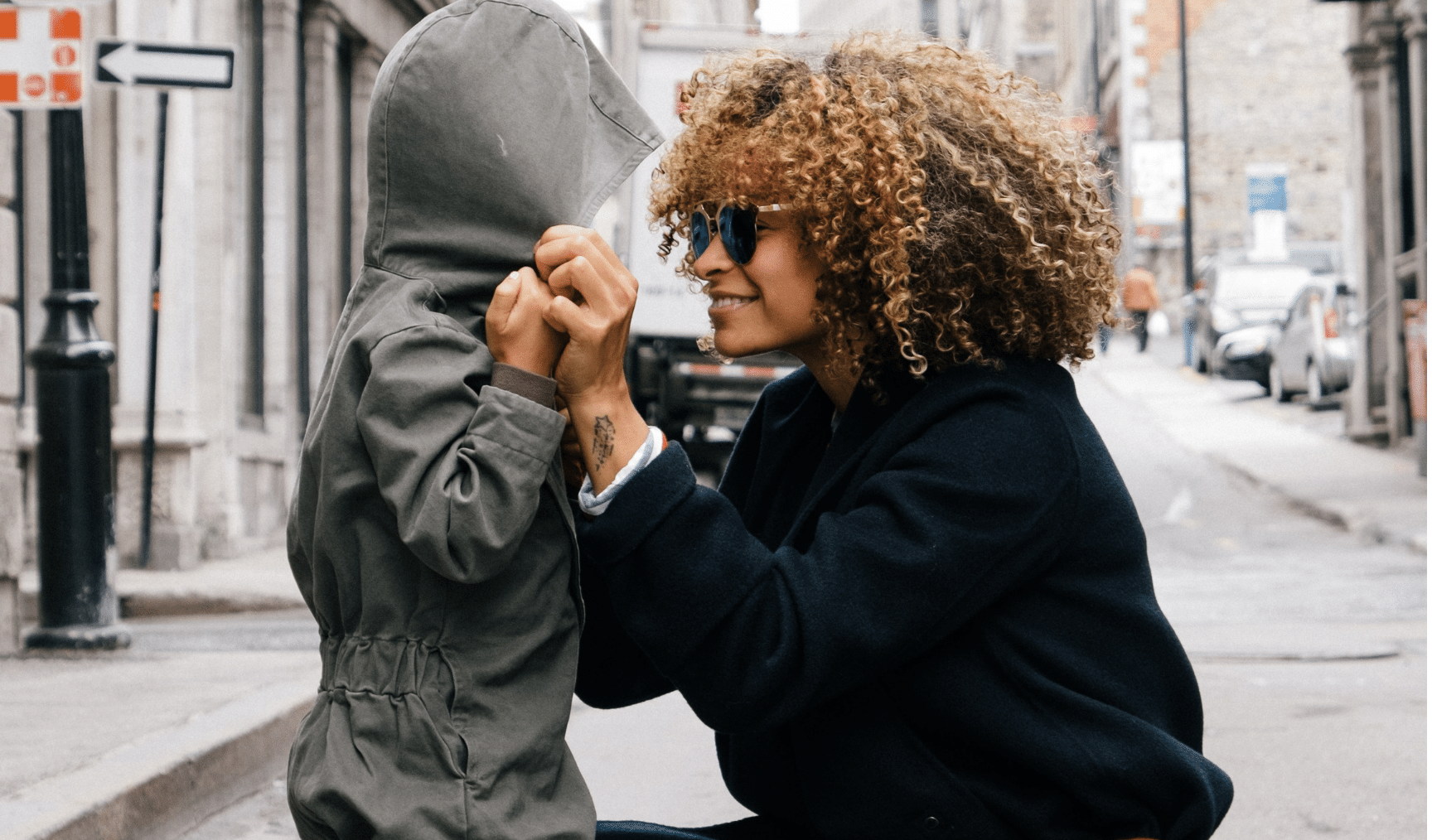 Working parents are one of the primary pillars of all modern workforces. Most of your employees will have some experience with parenthood or care throughout their careers – and everyone benefits when we support and celebrate employees' family life.
It's taken a long time for working parents to be properly recognised in the workplace, and the business world still has a long way to go to ensure parental equality; for working parents of all genders to receive adequate leave, equal opportunities, and flexible working arrangements. The pandemic shone a light especially on this last point; as parents juggled the impossible task of homeworking, teaching and childcare during lockdowns.
Giving thoughtful consideration to your parent employees can have an incredibly positive impact on your overall team – and can be part of an effective employee wellness strategy. But in order to do that, it's helpful to know the facts of what support working parents in the UK want to see.
For this year's Wellness at Work Report we surveyed 2,000 employees in the UK, 830 of whom were working parents. Our findings, plus other helpful statistics, can help you provide the best support possible to your team.
How many working parents are there in the UK?
According to the Office of National Statistics (ONS), there were around 8 million families with dependent children in the UK in 2019. 6.2 million of these are 'couple families' (that is married or cohabiting families). 73.2% of couple families had both parents in employment. That year, there were also 1.8 million single parent families, 69.9% of which were in employment.
How can childcare responsibilities influence employment participation?
For many different reasons, having a child can influence employment participation – and this disproportionately impacts women.
In 2019, 56.2% of female parents said that they had made a change to their employment for childcare reasons, compared with 22.4% of male parents. Female parents were most likely to say they had "reduced working hours" due to childcare, with 3 in 10 selecting this. Comparatively, only 1 in 20 fathers reduced their working hours for childcare.
Seeking alternative employment is another common action for working parents. Around 1 in 12 female parents said they had switched to another employer to make childcare arrangements more manageable. Only 1 in 50 male parents said the same.
These statistics show the difficulty of managing childcare and work, and also demonstrate that employees are more than willing to seek alternative employment if they're not feeling supported in this balancing act. Keep in mind that this is all prior to the pandemic, which has boosted these sentiments.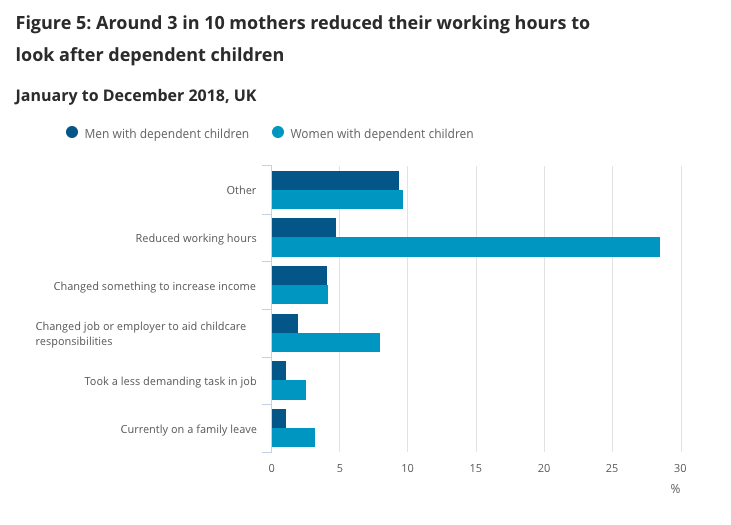 The story that these statistics tell, as we see it? Employees can be retained if you help them manage the responsibilities of family life. If these are ignored by the employer, your turnover could jump – especially with female employees. For businesses that are striving for great retention and equitable workplaces, not considering parental needs is a big risk.
What pressures are parents dealing with in 2022?
The ultimate balancing act
It's important for employers to understand that many parents in the UK are pulling off the ultimate balancing act, and the majority of them are doing so without any external support; whether that be from family members, a nanny or a community network.
Excluding partner support, nearly half of the parents surveyed for our Wellness at Work Report said they never had help at home, while another 45% had help occasionally. Only 7% said they always had help available.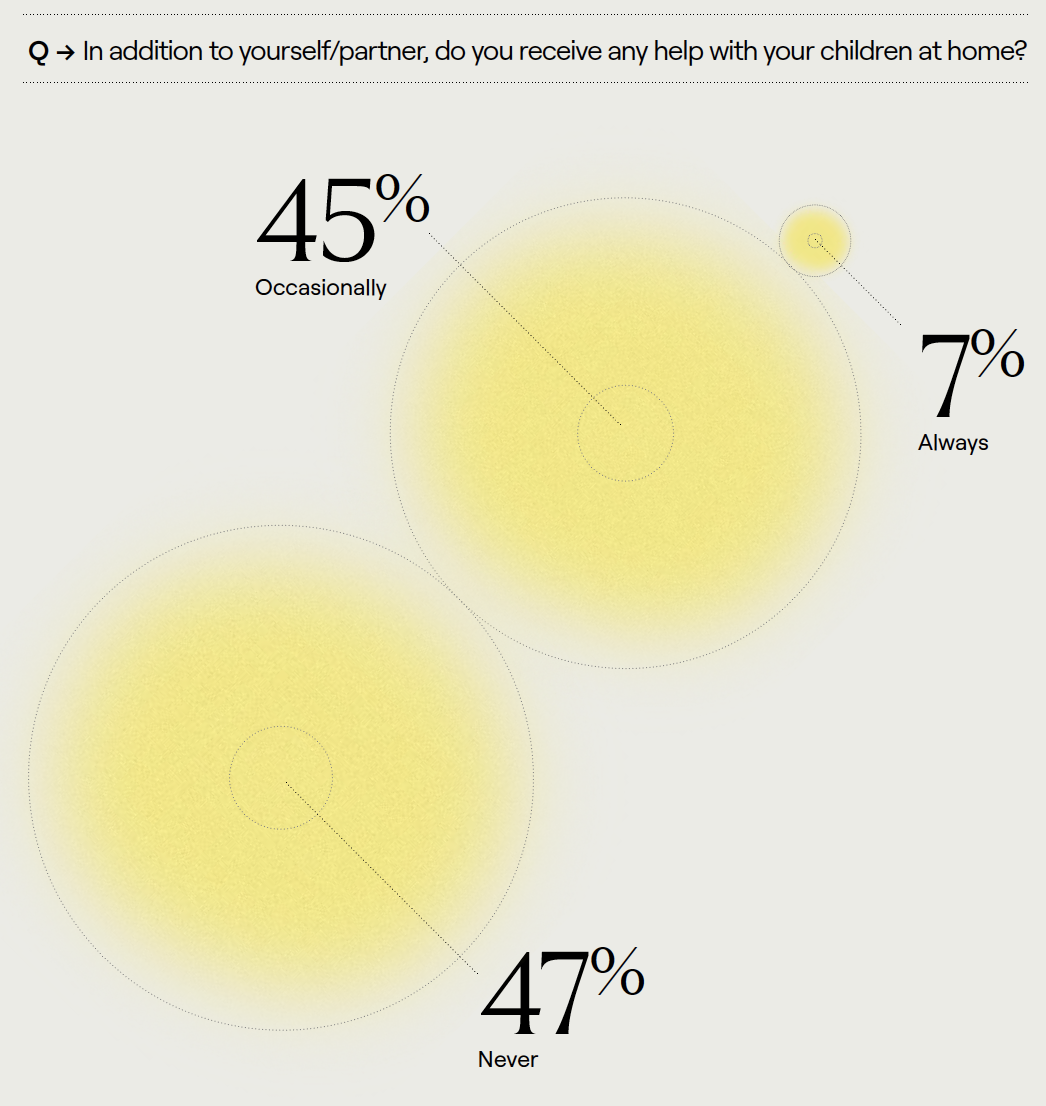 When asked about their mental health at work, parents were 7% more likely than non-parents to rate their productivity at work as high, and 10% more likely to agree they felt burnout from their work in the last three months.
Global statistics show that, again, this sense of burnout is likely to be disproportionately affecting women. A 2018 study showed that women were performing more than 72% of unpaid work around the home, including caring for children, spouses and elderly family members. The research found that, on average, women spend 4 hours and 25 minutes per day on unpaid work, compared with only 1 hour and 23 minutes for men.
While employers have limited influence on the distribution of unpaid work – it's a social problem that every individual needs to work to solve – these numbers shed some light on what your employees are going through in their day to day.
"As a female, you have to either pick career or your child," one of our respondents remarked. "It would be good for females to be able to have both."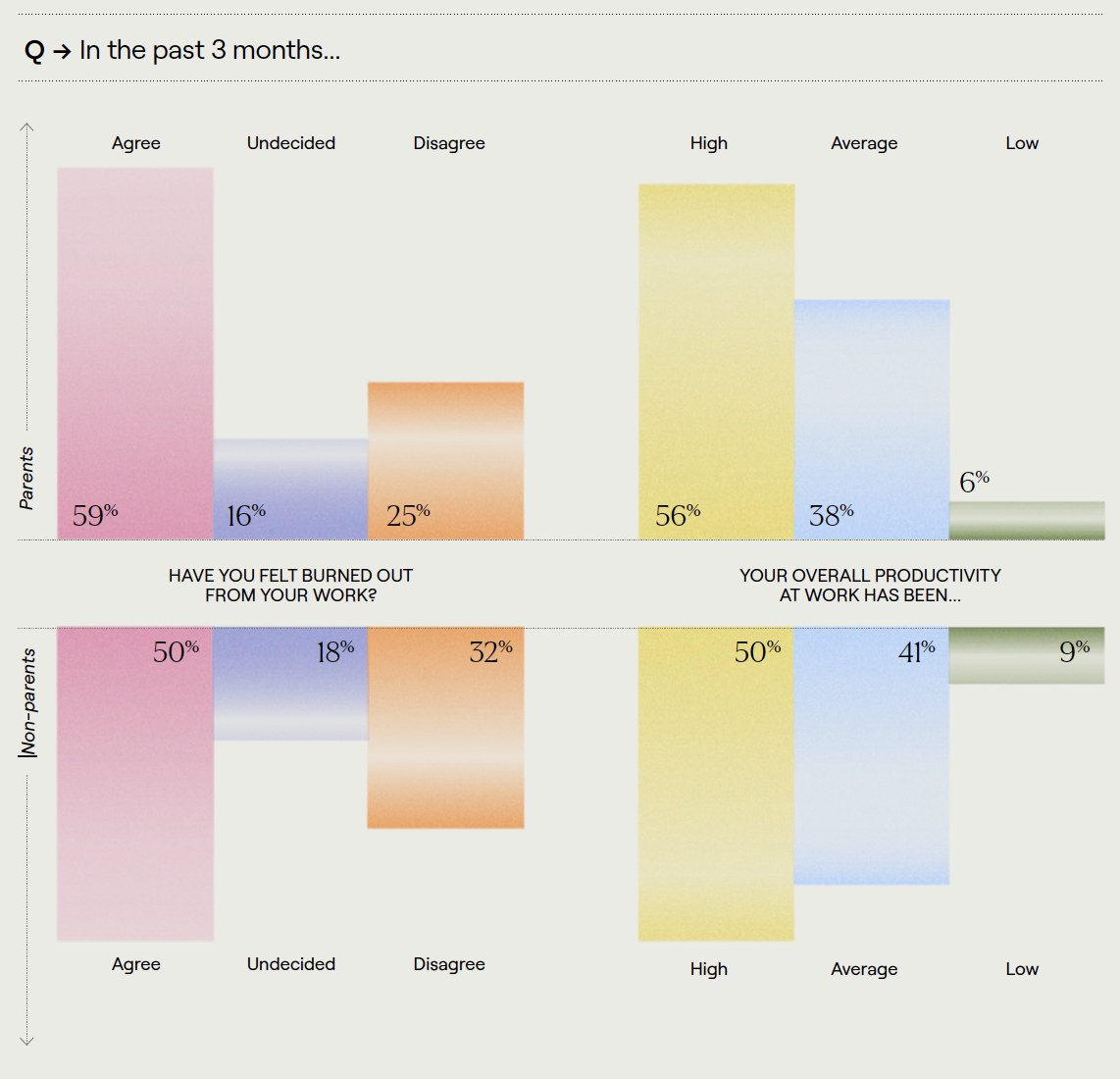 Inflation, the pandemic and finances
While the pandemic was universally challenging, we all know that working parents have had an especially hard time over the last two years.
While a large proportion of non-parent employees (53%) felt stress around the impacts of Covid-19, a much higher proportion of parents (61%) felt the same. In terms of overall mental health impacts from the pandemic, 49% of the non-parent working population felt negative impacts, whereas 54% of working parents felt negative impacts.
In every area of mental health around the pandemic, we found that parents had a worse experience. Responses around financial stresses tell a similar story. While 54% of non-parents are feeling concerned about money, 64% – that's almost two thirds – of working parents are stressed about finances.
Following the peak of the pandemic, many children are back at school or childcare. But childcare costs can be a significant source of pressure when it comes to finances. Research from the Organisation for Economic Cooperation and Development (OECD) shows that the UK has the third most expensive childcare system in the world.
Full time childcare is costing, on average, £12,376 each year. For dual income families, this means they are spending approximately 22% of their take home income on childcare. When we balance this against the rising cost of living and inflation, it's a big piece of the pie.
"More options for flexible working to allow reduced childcare costs and more time with my children", one of our survey respondents commented, when asked what employers can do to help.
Opportunities and career development
When it comes to career health, our survey received a considerable proportion of positive responses. The majority (56%) of parents agreed they had the same level of career opportunities compared to non-parents. However, 26% of working parents did not feel that they had been given equal opportunities.
Female parents were 16% more likely to feel that they had not received the same opportunities as their non-parent counterparts. People from the 25-34 year old age bracket were 33% more likely to also feel this way, which aligns with the average UK childbearing age of 30.7.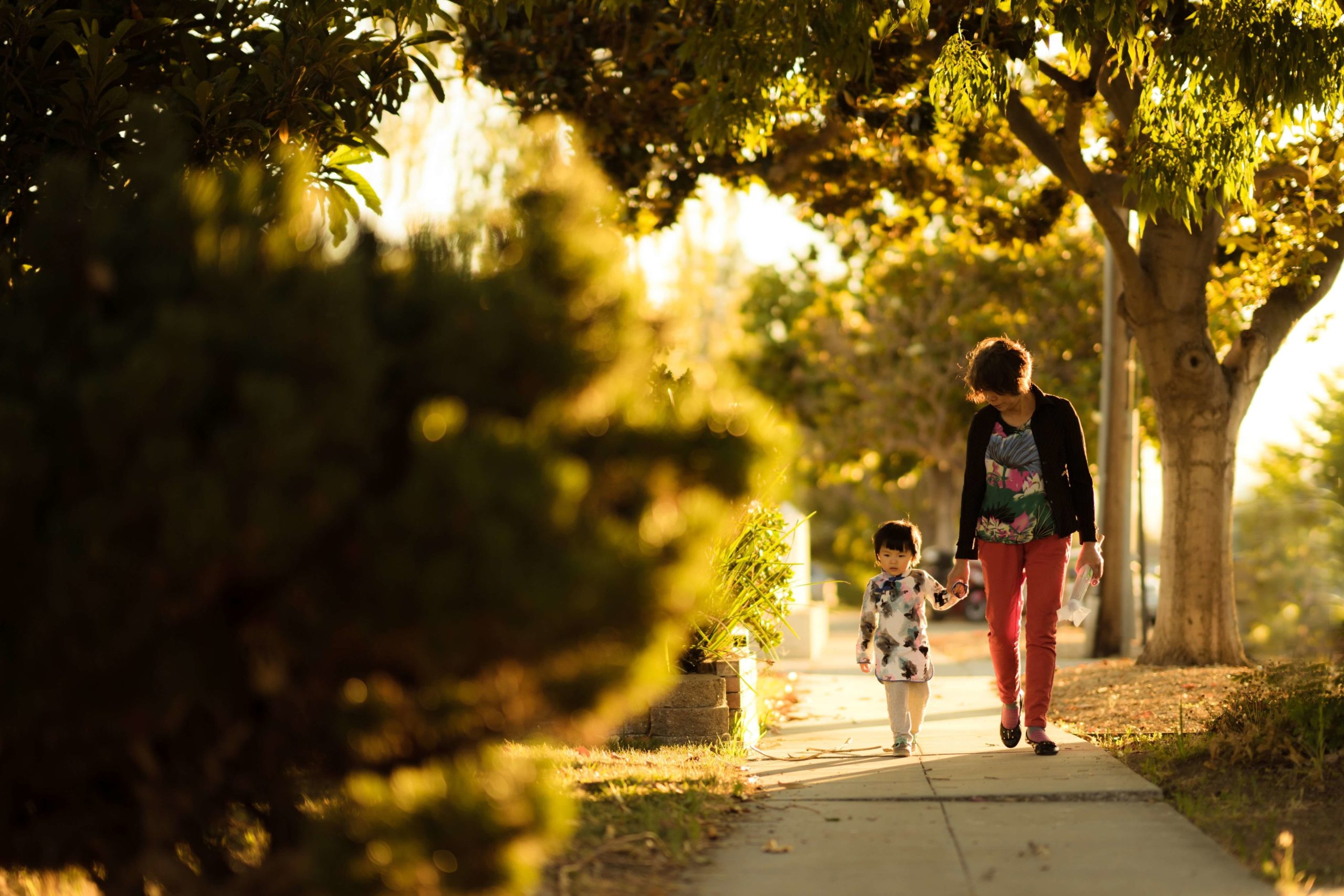 How do employers currently support working parents?
Let's quickly examine what's currently on the table between employers and working parents.
Our survey found that many workplaces are making moves to show their support. 38% of working parents were employed by companies that supported them with flexible working arrangements, and a further 18% were employed by companies that offered remote or hybrid working arrangements. This is undoubtedly one of the best ways that you can accommodate working parents.
However, there is a worrying trend when it comes to parental support offered by employers. It appears that in many workplaces, male parents are receiving more than their female counterparts.
Male working parents were more likely to say they received remote and hybrid arrangements, with 22% of male parents offered this versus 17% of female parents. Similarly, 15% of male parents received additional leave days versus 9% of female parents, and 12% of male parents received a generous parental leave policy versus 8% of female parents. Female parents were 23% more likely to say that their employers did not support their wellbeing as a parent.
What support do working parents want to see?
So, what are the solutions here? Here's what our survey respondents told us.
Flexible working hours
We've already mentioned how important flexible working is for working parents, but let's talk a little more about why employees – parents or not – are so eager to have it.
Flexibility is the cornerstone of diverse and inclusive workplaces. It doesn't just benefit parents; it can have a hugely positive impact for everyone in your team, and for yourself as an employer, which is why we always recommend implementing it as a company-wide policy.
Easing the rigidity of the 9-5 and in-office standard can be transformative for teams. It's a clear way to show your understanding that parenting (and life) doesn't have a set timeframe. These positive impacts also generally flow back to employers. It increases trust, helps employees achieve better work-life balance and has the potential to improve productivity.
The research that flexible working supports productivity has been clear even prior to Covid-19. FlexJobs' annual survey in 2018 found that 65% of respondents are more productive in their home office than at a traditional workplace. With less distractions from other workers in the office, it's a great opportunity for people to complete focus-intensive projects and tasks, leaving the collaborative work for the time in the office.
With an overwhelming amount of survey respondents telling us that flexible working is the number one support they were seeking, embracing this at your business could be game-changing.
Here's just a few of the responses we received when we asked parents what would make their working life better;
"Earlier finishes to participate in children's after-school clubs, and help with the parenting workload."
"Leniency towards days off and lateness."
"Flexible working hours. Reduce workloads and allow me to be a mum first."
"Allowing time off for emergency childcare without repercussions."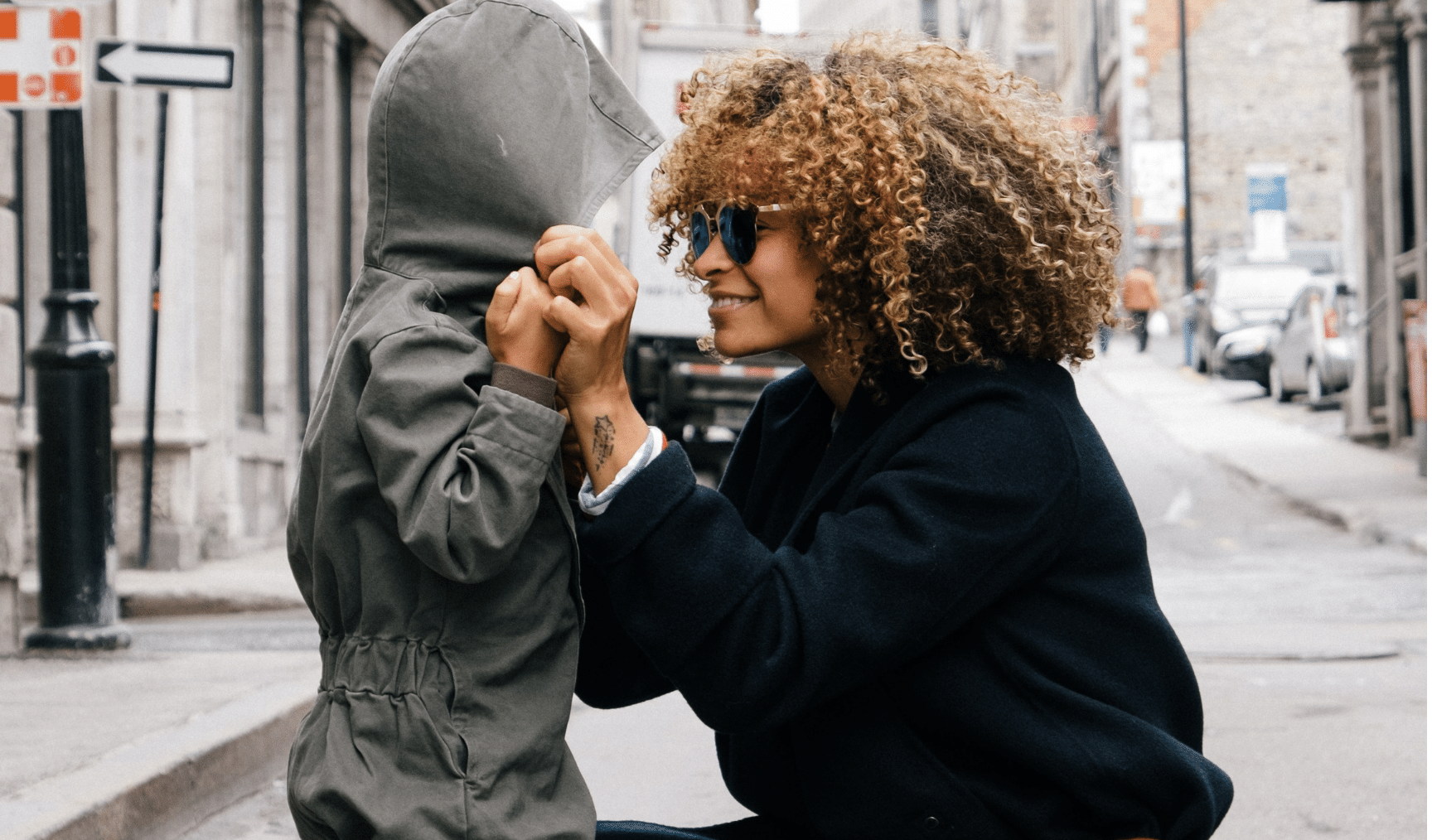 Reduced working hours
There's currently a lot of buzz about the 4 day workweek in the UK, with the largest trial of the concept due to take place in the coming months.
Whether it becomes mainstream practice or not, reduced working hours can greatly benefit those with family responsibilities. Whether it's moving to a job-sharing format or allowing people to take their roles part time, giving the option to reduce working hours can make a big impact.
Although working parents with newborn children may require this flexibility the most, it can also benefit families with older children. As one respondent told us; "Acknowledge that having a teenager at home remote learning is disruptive and time consuming, and that time needs to be given to support them as well as trying to work."
For those who are not in full time roles and can't necessarily accept reduced working hours, thoughtful and strategic rostering might make a positive impact. "Take into consideration parenting responsibilities within rota and shift patterns," said one respondent. "Specifically for single parents." 
Equal parental leave policies and programs
Providing a good amount of paid maternity leave, alongside Statutory Maternity Pay and Leave requirements, is important for parents who give birth. But this is only part of the equation.
More discussions are emerging about how organisations should be supporting the partners of people who give birth. Many believe that providing equal parental leave could make all the difference in finally achieving gender equality in the workplace.
A study from Sweden, where equal parental leave is commonplace, showed that a woman's earnings rise by about 7% for every month of paternity leave taken by her partner. But it's not just the mother who benefits. According to the World Economic Forum, research shows 80% of dads said they'd do anything to spend more time with their children.
The children benefit immensely too; another study showed that if dads spend more time with kids during early childhood, couples are 40% more likely to stay together. Kids also do better in the education system.
Empathetic leadership
Whatever your business is, and whatever program or work model is available to you, there is always one thing that you can do right now. Show empathetic leadership.
Put yourself in your employee's shoes – how would you feel if you had a full workload and a sick child at home? What would you want your manager to do to ease the stress? What are some simple and practical things that could make a difference?
At the core of empathetic leadership, we have the attempt to genuinely understand something from another's perspective. Career and life coaching platform BetterUp suggests that empathetic leadership has five primary characteristics.
Motivation; Empathetic leaders have the ability to motivate others by understanding their personal working styles, goals and ambitions; and aligning these with business objectives and innovative thinking.
Communication; They will be engaged listeners, and they will ask thoughtful questions to understand an employee's point of view better.
Support; Empathetic leaders will foster a sense of psychological safety within their team; meaning that their team members feel respected, empowered to share their ideas and unafraid to make mistakes or not have all the answers.
Community focus; Empathetic leaders generate "a sense of community, belonging, and purpose." They share the spirit of empathetic thinking with their teams to create a sense of unity and shared understanding.
Awareness; When you lead empathetically, you're aware of your team's feelings in your decision-making. Through this, leaders go beyond serving their own mission or business objectives, they make choices that represent their team's needs.
By embodying these characteristics, anyone can be an empathetic leader – whether they have experience as a parent or not. You can always take steps to put yourself in another's shoes.
Looking for more expert advice on managing and supporting working parents?
So, you know what parents want, and you know the statistics (and you can always explore our Wellness Data Dashboard for more) – how can you turn this into action?
Join our CEO Ben Thompson as he sits down with experts on parents at work, Jodi Geddes and Kate Pollard of Circle In. This exclusive Fireside Chat will unpack;
Debunking working parent myths

Balancing flexibility with structure

Fostering a culture of trust and collaboration

Setting expectations and accountability

Tangible ways you can support working parents