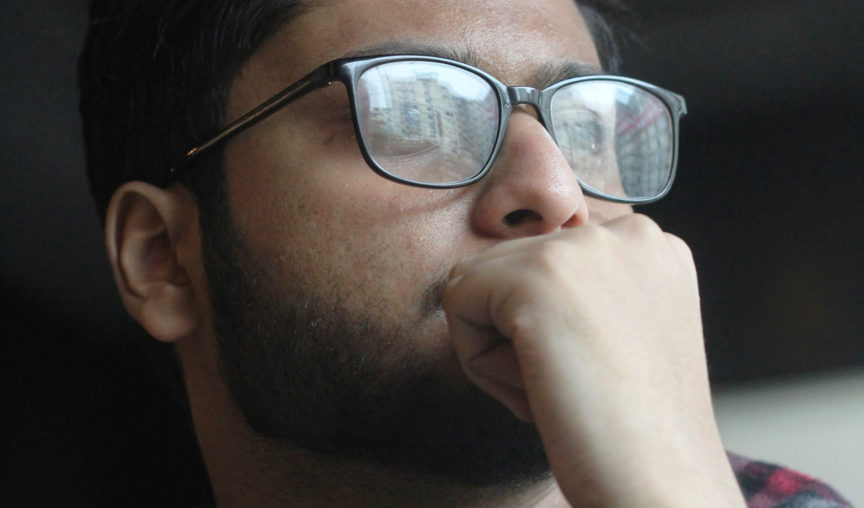 In March 2019, the Australian Federal Government passed new whistleblower legislation to ensure that people have the ability to anonymously report unethical or illegal behaviour occurring in Australian businesses. Companies who fail to follow the new federal whistleblower laws could face penalties of up to $10.5 million. Can your business afford to take that risk? We've written the following to help you understand what the laws and whistleblower policy requirements are and how you can follow them to keep your business safe.
What we'll cover:
What Are The New Whistleblower Laws?
What is a Whistleblower Policy?
Who Can Be a Whistleblower?
Who Needs a Whistleblower Policy?
When Do You Need a Whistleblower Policy
What Happens if Your Business Doesn't Have or Update Their Whistleblower Policy?
The Consequences of Whistleblower Policy Breach
How We Can Help…
What are the new Whistleblower laws?
In March 2019, the Australian Federal Government introduced new changes to the whistleblower legislation. In April 2019, these changes were enacted known as, 'The Treasury Laws Amendment (Enhancing Whistleblower Protections) Act 2019 (Act)'. This passed both houses of Parliament and commenced on 1 July 2019. The new Act aims to encourage ethical whistleblowing and discourage unethical, illegal, corrupt, fraudulent and other undesirable conduct, while holding employers accountable for protecting eligible whistleblowers. The Act makes significant changes to the existing Corporations Act 2001 (Cth) and the Taxation Administration Act 1953 (Cth). These changes will affect almost all Australian companies, including foreign corporations, trading or financial corporations formed within the limits of the Commonwealth, authorised deposit-taking institutions (ADIs), non-operating holding companies (NOHCs), super funds and insurers. In short, the amendments to the Corporations Act will affect most Australian businesses. It is therefore vital that organisations take action by 1 January 2020. Thousands of Australian employers will need to rapidly change their approach to whistleblowing.
What is a Whistleblower Policy?
A whistleblower policy is a legal document that companies must make publicly available and easily accessible for all employees and other persons engaged by the company. Employment Innovations have shared what should be included in a whistleblower policy. The mandatory policy must include information about:
the protections available to whistleblowers;
who employees can disclose information to and the process they can follow to do so;
how the company will support whistleblowers and protect them from detriment;
how the company will investigate the information whistleblowers disclose;
how the company will ensure fair treatment of employees who are mentioned in protected disclosures and;
how policies will be made available to officers and employees of the company.
Who can be a whistleblower?
Changes made to the Corporations Act have broadened the definition of a whistleblower. A whistleblower as defined by ASIC can include:
Current employees
Former employees
Contractors
Employees of contractors
Associates
Trustee
Relatives or dependants of the aforementioned
The new laws also permit anonymous disclosures to protect the identity of the whistleblower.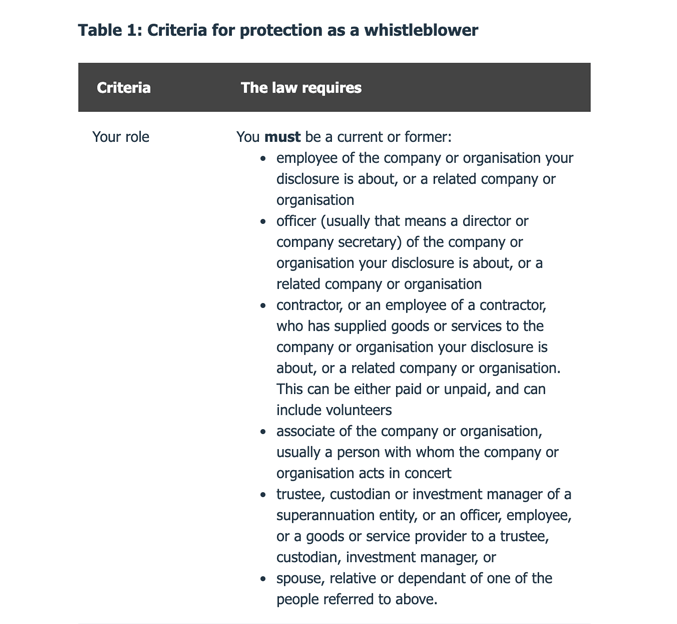 Source: Table 1: Criteria for protection as a whistleblower. For more information and tables 2 and 3, please visit Whistleblower rights and protections, ASIC website.
Who needs a Whistleblower Policy?
A whistleblower policy will apply to public and 'large proprietary' companies. This means your business does at least two of the following:
The number of employees in your company and any entities it controls at the 2018/2019 EOFY is 100 or more
The consolidated revenue for the financial year of your company and any entities it controls is $50 million or more
The value of the consolidated gross assets at the end of the financial year of your company and any entities it controls is $25 million or more
The deadline to implement a whistleblower policy for qualifying companies is 1 January 2020.
When do you need a Whistleblower Policy?
The amendments to the legislation that protects whistleblowers has been in the pipeline for the last 12 months, with the new law taking effect on 1 July 2019. Every business across Australia must have the whistleblower policy in place before 1 January 2020.
What happens if your business doesn't have or update their Whistleblower Policy?
If your business does not have a whistleblower policy in place by 1 January 2020, you may face fines of up to $126,000. It's imperative that your business enacts a company whistleblower policy ASAP to avoid penalties. Most businesses will need to implement company-wide training sessions to ensure those new whistleblower policies are recognised and dealt with confidentiality and correctly by the team.
The consequences of Whistleblower Policy breach
There are some other HUGE ramifications for companies who fail to be compliant with the new whistleblower laws. If an individual breaches the confidentiality of a whistleblower's identity, they can be fined up to a staggering $1.05 million. Meanwhile, companies could rack up to $10.5 million if they breach confidentiality. These new laws are definitely not something to be taken lightly. Another thing to note, is that if an individual or business is seen to victimise or threaten a whistleblower, the same fines can apply.
How we can help….
We have an updated whistleblower policy drafted by employment lawyers on the platform for you to use. If you'd like to access the whistleblower policy now, head to this page to find out more.