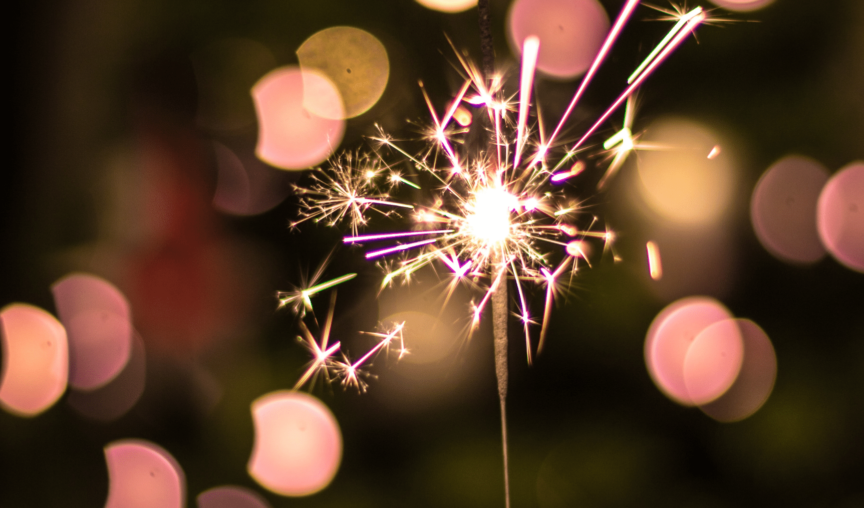 Ah, the silly season in the workplace. As work slows down for the year, it's the perfect time to celebrate some brightness with your team.
For employers and human resources teams, the end-of-year celebrations can be a source of stress – not just because there's always one person who goes a little hard on the eggnog. Organising a gathering can be tricky at the best of times, but remote working, international employees and the sharp rise of Covid-19 (just in time for the holidays, no less) have added layers of complexity to the task.
Many teams will be celebrating virtually or remotely this year, but that doesn't mean it should be any less special. You might just need a little inspiration, and we're here to give it!
How should we approach the festive season at work?
If you've been wondering how to celebrate the silly season at work in a remote world, you're not alone. When you're organising your celebrations, it's worth revisiting why you should make a big deal of the holiday season.
End-of-year parties are a key opportunity to show your appreciation to your team. At the tail end of 2021, at the cusp of the Great Resignation, this is more important than ever. According to our Employee Movement and Retention Report, a 'lack of appreciation or recognition' was a top reason for employees seeking a new role. 26% of our job-seeking survey respondents cited this as the source of their dissatisfaction.
Additionally, levels of end-of-year burnout are at an all-time high this year. Many employees are experiencing fatigue, a drop in motivation, stress and overwhelm, and other mental health impacts.
So, while we don't want to amp up the pressure, the end-of-year celebration is not the time to drop the ball. And it goes beyond your Christmas party; there's so much that you can do to show your team some love this Christmas.
What if I have a hybrid (partially remote/onsite) workforce?
In 2021, hybrid working – where you have team members working in the office and remotely – has become incredibly popular. You can see why; your workforce gets to choose where they do their best work.
If you have this kind of set-up at your workplace, thinking remote-first is the way to go. We practise this ourselves at Employment Hero. For meetings, unless 100% of attendees are physically present, we will host it virtually.
This approach means that everyone feels valued and included over the holiday period. No one's involvement is lost, and your team can build connections with each other from wherever they're located.
How to celebrate the silly season at work
1. Host a virtual holiday party
If you can't host an in-person Christmas function, online is naturally the way to go!
You might be wondering, can an online event really spread the same level of Christmas cheer as our 'normal' festive get-togethers? It can be tough to celebrate Christmas and the end of the year online, but it just takes a little bit of creativity.
Throw your team into a Zoom call without any prearranged activities, and it's likely to make everyone feel a little Scrooge-worthy. Avoid awkward silences by creating a proper structure for your event, which could include any of the following ideas.
2. Hire virtual entertainment
You no longer have to sit in a crowded bar or theatre to experience the magic of a live performance. Over the past two years, artists have quickly adapted to the virtual environment and now offer performances over Zoom.
When you organise a virtual event without a specific schedule of entertainment, speeches or other activities, it can quickly descend into an awkward silence. Make it easy for your team to engage by hiring an artist that can run interactive events of a festive nature. Some of our tried and tested favourites include Zoom magicians and virtual drag queen bingo.
3. Include a virtual award ceremony
If you were getting together in person, leaders of the business would be giving a speech to highlight the key achievements of the year. Why should this be lost just because you're not meeting up physically?
Try hosting a virtual awards ceremony to celebrate your top performers and the best moments from the year. Go beyond a speech from the CEO and make your ceremony pop with a uniquely designed presentation, complete with graphics, photos of your team and festive gifs!
4. Use festive backgrounds
In our opinion, the Christmas period extends all December long! It's never too early to introduce some festive cheer to your virtual workspace, and one of our favourite ways to do that is to use festive backgrounds.
Sure, you could google a great picture of a wintery cottage or Christmas market to use, or you could take a *festive* shortcut and download our free holiday Zoom backgrounds right here. Go forth and spread that Christmas cheer!
5. Share festive recipes
Even though Covid-19 may have shut down dreams of a holiday buffet, over-indulging in rich and unhealthy foods is mandatory in the festive season.
Before the virtual Christmas party, get your team to swap ideas for seasonal treats. Some easy food ideas include Christmas cookies, mince pies and rocky road.
For recipes that amp up the novelty factor, try these strawberry Santas or elaborate gingerbread houses.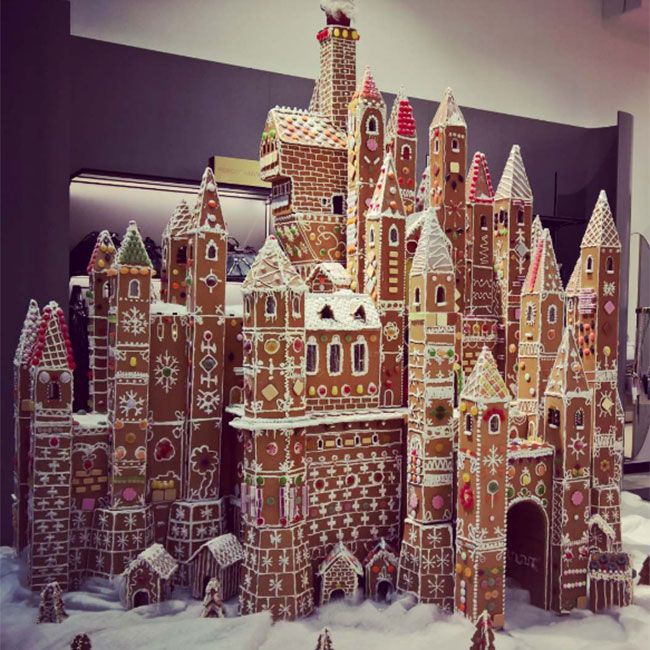 6. Host a festive wine, cocktail or gin tasting
Let's be honest, one of the things that many employees love about the Christmas party is enjoying a festive season beverage with colleagues. We can very safely say that after the last two years, we all deserve to blow off a little steam with a cocktail or two.
Thankfully, cocktail and wine delivery has become very much a thing. Why not treat your team to a pack of swanky delivered beverages and taste them together virtually? This way, you can turn the gift into a shared experience and have a lot of fun together.
If you're based in the UK, NIO Cocktails can help bring this idea to life for you. They even have fun Christmas flavours like 'Snow Daiquiri', 'Apple Rum Punch' and the 'Christmas Margarita'.
In Australia, Three Foxes have a delicious Foxtails & Co Gift Set, with three ready-to-drink cocktails delivered in one very festive pack.
7. Organise a festive book club
Has your team ever talked about starting a book club? The silly season is the perfect opportunity!
Getting together over a holiday read (and a glass of wine or two) is a great opportunity for your team to have some laughs and forge new friendships.
8. Share Christmas-sy playlists
Are you the person who usually blasts Christmas carols on the office stereo? We have an alternative option to ensure a festive mood!
Share some festive playlists so your team can easily play Christmas carols during the week. Our favourite pick is Spotify's Cozy Christmas Jazz. It sets the perfect mood for any December workday.
9. Set up a long-distance Secret Santa
A Secret Santa or Kris Kringle, where each member of your team anonymously buys a present for another, is a wonderful office tradition. But, how is it possible to send candles, books and games from long distances without paying a fortune in shipping costs?
We challenge you to take your Secret Santa online through the magic of gift cards! With a gift card, your team doesn't have to worry about navigating the postal service during the holiday.
It's a thoughtful gift that can be easily personalised to the recipient. Bonus points if you can support a local bookstore, cafe, museum or shop.
Remember, there are lots of costs involved in the holidays, so always cap the spending for your team's Secret Santa to a reasonable amount.
Did you know you can get discounted gift cards through our employee engagement platform? Reach out to us today to find out more!
10. Challenge your team to Christmas trivia
There are lots of online games that teams have leaned on during the year to lift their spirits.
For the holiday season, why not put a festive spin on some of your favourites? Our best pick for teams is to run a Christmassy trivia, complete with prizes, to get everyone feeling engaged and laughing along.
What kind of questions can you pull out to have a great time? Have you ever thought about writing your own? That way you can personalise it to your team and shout out some great achievements from the past year.
E.g. Question: How many blogs did our content team write in 2022?
Multiple Choice: 33, 45, 67, 92
You can also go for a more traditionally Christmassy approach. Here's a few question ideas from Thought Catalog to get you started.
Question: What was the highest-grossing Christmas movie of all time?
Answer: Home Alone.
Question: What did the other reindeer not let Rudolph do because of his shiny red nose?
Answer: Join in any reindeer games.
Question: In the song Twelve Days of Christmas, what is given on the 7th day?
Answer: Swans a-swimming.
Question: Which country started the tradition of putting up a Christmas tree?
Answer: Germany.
Need more inspiration for virtual-friendly team-building games? We've got 39 fantastic options right here.
11. Watch a Christmas movie as a team
Hosting a team movie-watching party can be an amazing way to bond. Set a time and date to tune in together, then have a full debrief at your team catch-up the next morning. Alternatively, you can stream it all together using Teleparty (formerly Netflix Party).
Choose a movie that's easy to find; holiday favourites are always a good option – try Elf, The Holiday, Die Hard or Home Alone. While Love Actually is a beloved pick, it's a bit NSFW, so take caution!
12. Organise an anonymous candy cane delivery
The hit movie Mean Girls made the mystery candy cane delivery an instant tradition. In the film, students can send each other anonymous candy canes with anonymous messages. It's a really fun way for your peers to recognise each other's great work from the year.
How can you do it with a remote team? Deliver to your team a card, a candy cane (or four if they're sending to Glen Coco) and a pre-stamped envelope that they can send on to a person of their choosing. It does rely on snail mail, but there's nothing more fun than receiving a personalised bit of appreciation (and a delicious minty candy cane!).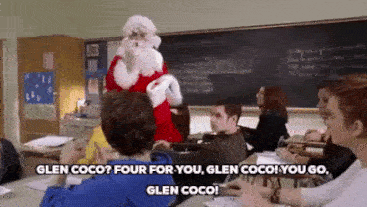 13. Run a Christmas cookie decorating contest
Here's another fun activity that revolves around sweet treats! Host a virtual Christmas cookie decorating contest. With 0 emphasis on taste, this competition is alllllllll about festive aesthetics.
Whether your team revisits the classics like reindeers, gingerbread men, snowflakes and Christmas trees, or takes creative license with something like ugly Christmas sweaters, they just need to make it pop for the Zoom camera. Have the rest of the team vote on their favourites, and send the winner a special prize.
14. Encourage your team to decorate their workspace
Decorating is a great way for your team to feel connected when working in different locations. So, encourage your team to give their workspaces a seasonal makeover. Play around with tinsel, wreaths, baubles, fake snow and holly. The more elaborate, the better!
15. Share Christmassy gifs and memes
If your team is anything like Employment Hero's, you'll love sending each other GIFs and memes to express your every thought.
During the silly season, challenge your team to send only holiday-themed gifs to react to each other. With so many great sources to choose from, this shouldn't be difficult, but it will make your team communications a lot more festive and fun!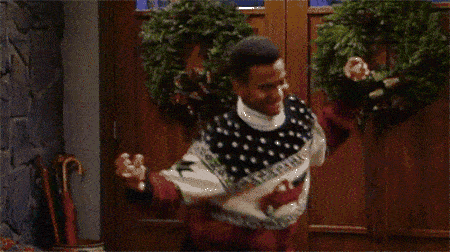 16. Share festive podcasts
Do you find that you're always seeking new podcast recommendations? There are lots of festive podcasts to share with your team to listen to during those long end-of-year administration afternoons.
Here are some great picks to make you look like a podcast pro:
Christmas Past, which unpacks your favourite holiday traditions
The Calm Christmas Podcast, has all the tips and tricks to keep the holiday season fun and stress-free
Stuff You Should Know, which has great episodes all year round but always does a few fantastic holiday specials every December. This year is 'How Snowmen (and Snowwomen) Work'.
17. Host a festive virtual dinner party
People have always come together over food, and the virtual sphere doesn't change that. Providing an amazing virtual end-of-year dinner is not only a covid safe celebration, but it can also keep your team feeling engaged and occupied while they catch up.
There are two ways to do this; if you have a distributed team or a team of picky eaters, providing an UberEats voucher is definitely the way to go. Your team can choose their own feast and enjoy it with the company.
If your team is local, you might prefer to organise lunch delivery for them from a fancy restaurant. Knowing that you're all eating the same food makes a virtual lunch as close to an in-person lunch as it could possibly be. Don't forget to also deliver a beverage for a team toast!
18. Celebrate festive pets!
One of the best things about working remotely is when your team's cute pets make an appearance! If we know pet lovers, we know that they love dressing them up for the silly season.
Don't let these incredible displays of cuteness go unnoticed! We promise you that the whole company will be delighted if you finish off your final all-staff meeting with a virtual festive pet parade!
Dogs in hats?! Kittens in scarves?! Guinea Pigs with reindeer antlers?! That sounds better than any end-of-year function we've ever been to.
Here's to 2023!
Happy holidays from the Employment Hero team!
Congratulations on making it through 2022! We hope that you can enjoy this silly season, be it in-person, virtually or in a distributed way, and take a much-needed break before 2023.
It's going to be another big year (and a less turbulent one, we hope!). If you'd like to get ahead during the work break up, download our free e-book to 25 HR trends to watch out for.
For more resources on festive celebrations at the workplace, look here: